Introducing Options Discovery by OKX: Buying crypto options in 4 steps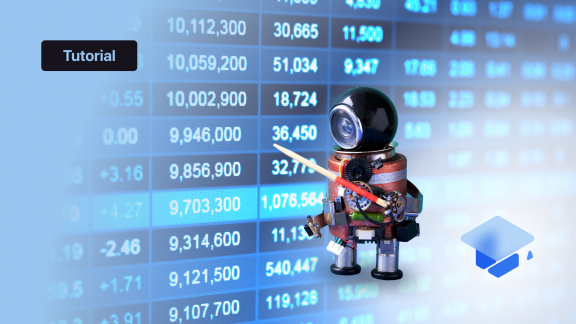 Options, like futures, are derivatives that track the price of an underlying asset. OKX offers options trading for Bitcoin (BTCUSD) and Ether (ETHUSD), allowing users to buy and sell call and put options.
A call option gives the holder the right, but not the obligation, to buy the underlying asset (BTC or ETH) at a certain price (called the strike price) on a certain date (the expiry) in the future. Similarly, a put option gives the holder the right, but not the obligation, to sell the underlying asset at a certain price, on a certain date in the future.
Even though derivative trading is an increasingly popular strategy, new traders often face a steep learning curve. In order to help users get acquainted with options, OKX presents the Options Discovery feature, which walks you through the process of buying options.
Traders can now use Options Discovery to simulate the outcomes of their trades, understand the risks, and chart their P/L (i.e., profit and loss) scenarios.
Watch the tutorial video or follow the steps below to start using the Options Discovery feature on OKX.
Step 1: Go to the Options page
Navigate to Trade at the top of the homepage and then click on Basic under "Options." Next, go to the Options Discovery tab.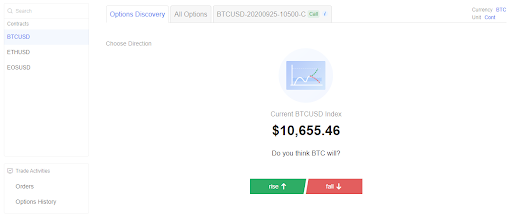 Step 2: Do you think the price will rise or fall?
Now, choose the direction you think Bitcoin/Ethereum will go. Let's take BTC as an example — do you think BTC's price will rise or fall? In this case, let's say you think BTC's price will increase from the current BTCUSD Index price. Click on rise.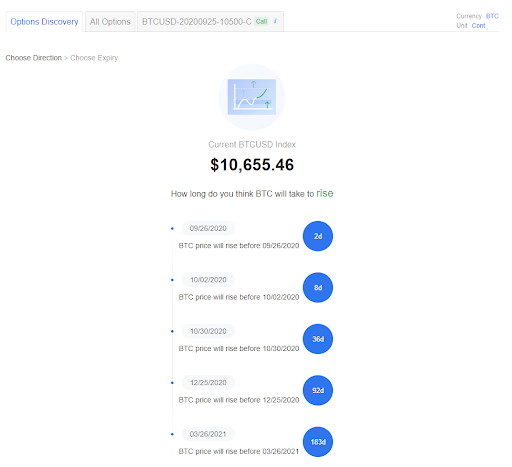 Step 3: Choose a time frame
You will now be able to choose the time frame that you think BTC needs to go up. Let's take 8 days for this example — click on 8d.
The Options Discovery tool will now show different options contracts that are available on OKX with different levels of cost, rate of return and risk. For each contract, you'll see the price prediction for BTC after 8 days — i.e., the strike price.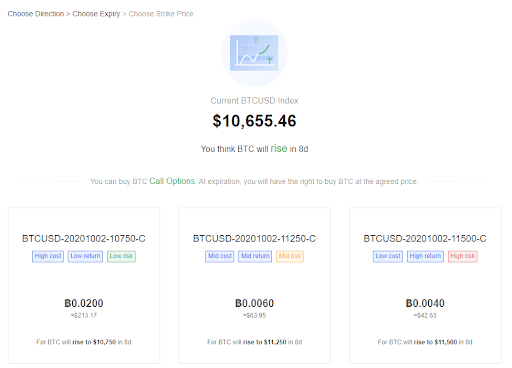 Step 4: Select your contract and amount
After clicking on the contract you prefer, you will now be able to choose the number of options contracts (or Cont for short) that you want to buy. Alternatively, you can use the slider to calculate how many contracts you are able to buy based on the percentage of your account's available balance.
The graph below shows the price BTC must reach for you to break even (aptly named the break-even point) as well as the potential profit you could make if BTC's price were to go higher.
Once you're ready to make a real trade, click Buy Options. If you're not logged in to OKX, click Login and Trade instead — your order will still be there once you've logged in.
If the trade fails, it may mean that there are not enough contracts available to buy. In this case, you will need to reduce the Cont amount of your trade. Finally, after a successful purchase, click Check details to return to the Options page, where your position will appear as a tab.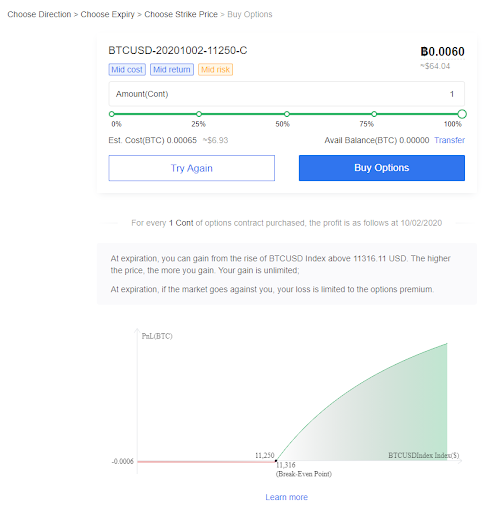 If you want to try out simulated trades on all our products, not just options, check out our Demo Trading mode by clicking on Assets in the top right corner of the main navigation bar and then clicking Start Demo Trading. You can also check out our step-by-step guide to Demo Trading.
---
Disclaimer: This material should not be taken as the basis for making investment decisions, nor be construed as a recommendation to engage in investment transactions. Trading digital assets involves significant risk and can result in the loss of your invested capital. You should ensure that you fully understand the risk involved and take into consideration your level of experience, investment objectives and seek independent financial advice if necessary.
---
Follow OKX on:
Twitter: https://twitter.com/OKX
Facebook: https://www.facebook.com/okexofficial/
LinkedIn: https://www.linkedin.com/company/okex/
Telegram: https://t.me/OKXOfficial_English
Reddit: https://www.reddit.com/r/OKX/
Instagram: https://www.instagram.com/okex_exchange