BSN's Blockchain Integrations, Alibaba's Lead in Blockchain Patents and Yearn.Finance's 35,000% Gains — China Market Watch
A weekly overview of blockchain and cryptocurrency news from China and Hong Kong.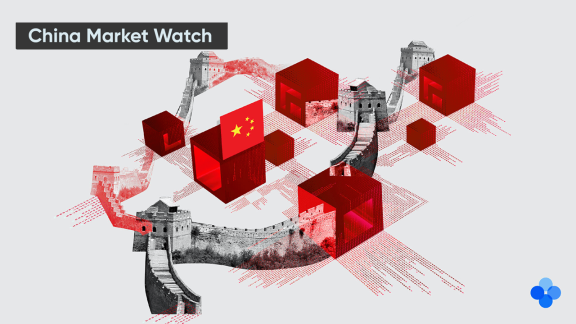 The stock market in China and Hong Kong saw a slight decline this week. The Shanghai SE Composite and CSI 300 currently run at 3,289 and 4,656 with a slight weekly drop of 1.09% and 1.19%, respectively. The Hang Seng Index also posted -2.38% this week, currently standing at 24,661.
The loss in the Chinese stock market can be attributed to the surging COVID-19 cases in China. China reported 105 new COVID-19 cases on Thursday, the highest daily spike in the last three months. However, losses were limited by the U.S. Federal Reserve's vow to bolster the global economy. Fed Chairman Jerome Powell acknowledged the slowing pace of economic recovery after the COVID-19 pandemic in the U.S., stressing that the path to recovery is "extraordinarily uncertain."
The decline of the Hang Seng Index is driven by the recent announcement of GDP in Q2 2020. Hong Kong's economy shrank by 9% in the second quarter, which is worse than the median forecast of -8.3%. The surge of registered COVID-19 cases, where 150 new cases were found on Thursday, is another factor leading to the Hong Kong stock market's decline.
Meanwhile, the SZSE Blockchain 50 index currently stands at 3,982, with a weekly drop of 2.01%. Among the 50 stocks included in the index, Jiangsu Akcome Solar Science & Technology (002610.SZ) is the daily top gainer, with a 9.88% increase, while Red Phase Inc. (300427.SZ) is the top loser, with a weekly performance of -4.96%.
News of the Week
From the Blockchain Service Network's blockchain integration to Alibaba's leadership in blockchain patent ranking and Yearn.finance's hype in decentralized finance — aka DeFi — OKX Insights takes a look at this week's top three crypto news stories from China and Hong Kong.
Blockchain Service Network aims to integrate 40 public blockchains by June 2021
Launched in April, the Blockchain Service Network is the first blockchain initiative backed by the Chinese government. He Yifan, the CEO of Red Date Technology, which is the private company behind BSN, recently said that BSN aims to integrate 40 public blockchain networks by June 2021.
BSN was initially designed to help small to medium-sized businesses deploy blockchain applications on permissioned blockchains. However, BSN has updated its strategic focus following the creation of BSN-International in July. The new entity aims to support the network's international expansion.
With the support of BSN-International, BSN has integrated six public blockchain networks as of July 21 — namely Ethereum, EOS, Tezos, Neo, Nervos and IRISet. Starting Aug. 10, developers of these public blockchain networks will be able to use data storage and bandwidth from BSN's overseas data centers to deploy their decentralized applications, also known as DApps.
Key takeaways
Blockchain Service Network aims to integrate 40 public blockchain networks by 2021.
In July, BSN-international was created as a separate entity to support the international expansion of the BSN.
BSN has integrated six public blockchain networks as of July 21, including Ethereum and EOS.
Alibaba topped the blockchain patent ranking in the first half of 2020
IPRdaily, a media outlet in the intellectual property industry, partnered with incoPat Innovation Index Research Center, a blockchain patent data provider, to release the "Global Enterprise Blockchain Invention Patent Ranking for the First Half of 2020 (TOP 100)."
The blockchain patent ranking considered the number of blockchain patent applications filed by enterprises between January and June 2020. According to IPRdaily's ranking, Alibaba ranked first with 1,457 blockchain patents filed, followed by Tencent with 872. Among the non-Chinese enterprises, IBM topped the chart with 251 blockchain patents filed.
It is important to distinguish between blockchain patent applications or filings and actually awarded blockchain patents. An awarded blockchain patent means the blockchain patent has been approved by regulators, such as the United States Patent and Trademark Office.
The China Patent Protection Association released the 2020 Blockchain Global Patent Authorisation Report in early July. The report included the top global enterprises in terms of awarded blockchain patents. According to the report, Alibaba remains the leader in blockchain patents with 212 awards, while IBM came second with 107 awarded blockchain patents.
Key takeaways
Alibaba is currently the leader in blockchain patents, both in terms of blockchain patent applications (1,457) and awarded blockchain patents (212).
Awarded blockchain patents are different from blockchain patent applications, as the former are approved by regulators.
Yearn.finance's liquidity mining drives huge Chinese DeFi market hype
Following the hype of Compound and Balancer in DeFi over the past month, the rise of yearn.finance has been widely discussed among the Chinese community.
Yearn.finance is a decentralized lending aggregator that allows users to select DeFi lending providers, such as Compound and Aave. The protocol's creator, Andre Cronje, announced the release of its governance token, YFI, on July 17.
The distribution of YFI follows a liquidity-mining mechanism, allowing users to earn extra units of YFI by providing liquidity to the yearn.finance platform. Liquidity mining refers to a situation when a yield farmer participates in market-making to contribute needed liquidity to a specific coin or token — and in doing so, earns the rate of return in addition to an extra unit of the protocol's token.
The liquidity-mining model of yearn.finance has led to massive yield-farming activity by YFI holders. According to Uniswap, YFI resulted in an upward return of 35,000% in the first week of its listing. Yearn.finance also received a huge boost in total value locked since July 18, from $9.3 million to $345 million on July 26.
Despite the market hype, the price of the YFI token can be driven by the token price of DeFi lending platforms available on yearn.finance platform. For instance, if there's a significant value drop in the Compound and Aave tokens, the value of the YFI token could post a massive drop as well.
Key takeaways
Yearn.finance is a decentralized lending aggregator that allows users to select DeFi lending providers, such as Compound and Aave.
Yearn.finance has gained popularity among the Chinese community with its liquidity-mining model. YFI consequently surged upward of 35,000% in the first week of being listed on Uniswap.
The price of the YFI token can be driven by the prices of tokens native to DeFi lending platforms available on yearn.finance.
---
Disclaimer: This material should not be taken as the basis for making investment decisions, nor be construed as a recommendation to engage in investment transactions. Trading digital assets involve significant risk and can result in the loss of your invested capital. You should ensure that you fully understand the risk involved and take into consideration your level of experience, investment objectives and seek independent financial advice if necessary.
---
OKX Insights presents market analyses, in-depth features, original research & curated news from crypto professionals.