OKX users asked for an overhaul of our old referral system, and we listened! Mystery Box is one of the ways we thank users who bring their friends and family to experience our world-leading crypto ecosystem. Invite your contacts and when they sign up and deposit, both of you will receive Mystery Boxes that might contain free crypto rewards.
Some Mystery Boxes contain gifts of up to $10,000 equivalent in cryptocurrency or trading fee rebate cards. This guide will tell you all about this exciting and potentially lucrative promotion, and explain how to claim and open Mystery Boxes on the OKX app. It assumes you've already created an account and downloaded the app. Let's go!
What is a Mystery Box?
Mystery Box is OKX's refer-a-friend special offer. When a contact you invite joins OKX, both you and your friend will receive a Mystery Box. Inside might be a gift of up to $10,000 in free crypto.
The cryptocurrencies hidden in our Mystery Boxes are not always the same, and we choose the prizes from the most popular crypto assets. We also include trading fee rebate cards to help you save on trading fees when buying and selling crypto on the platform.
Best of all, there's no limit on the number of Mystery Boxes you can claim. Referring more friends will give you even more chances to win. As a special thank you to users actively recruiting friends and family to OKX, we've hidden special double referral rewards inside the second, fifth and 10th Mystery Boxes you receive.
You can receive up to two Mystery Boxes per invitation. You and your friend will receive one Mystery Box when they create an account and a second if they buy or deposit crypto worth $50 or more.
How to invite friends and claim Mystery Boxes on OKX
Claiming a Mystery Box for yourself and the contact you invite is easy. Here's how to do it on the OKX app.
From the app home screen, tap the banner highlighted below. You can also tap More and then Referral to arrive at the Mystery Box screen.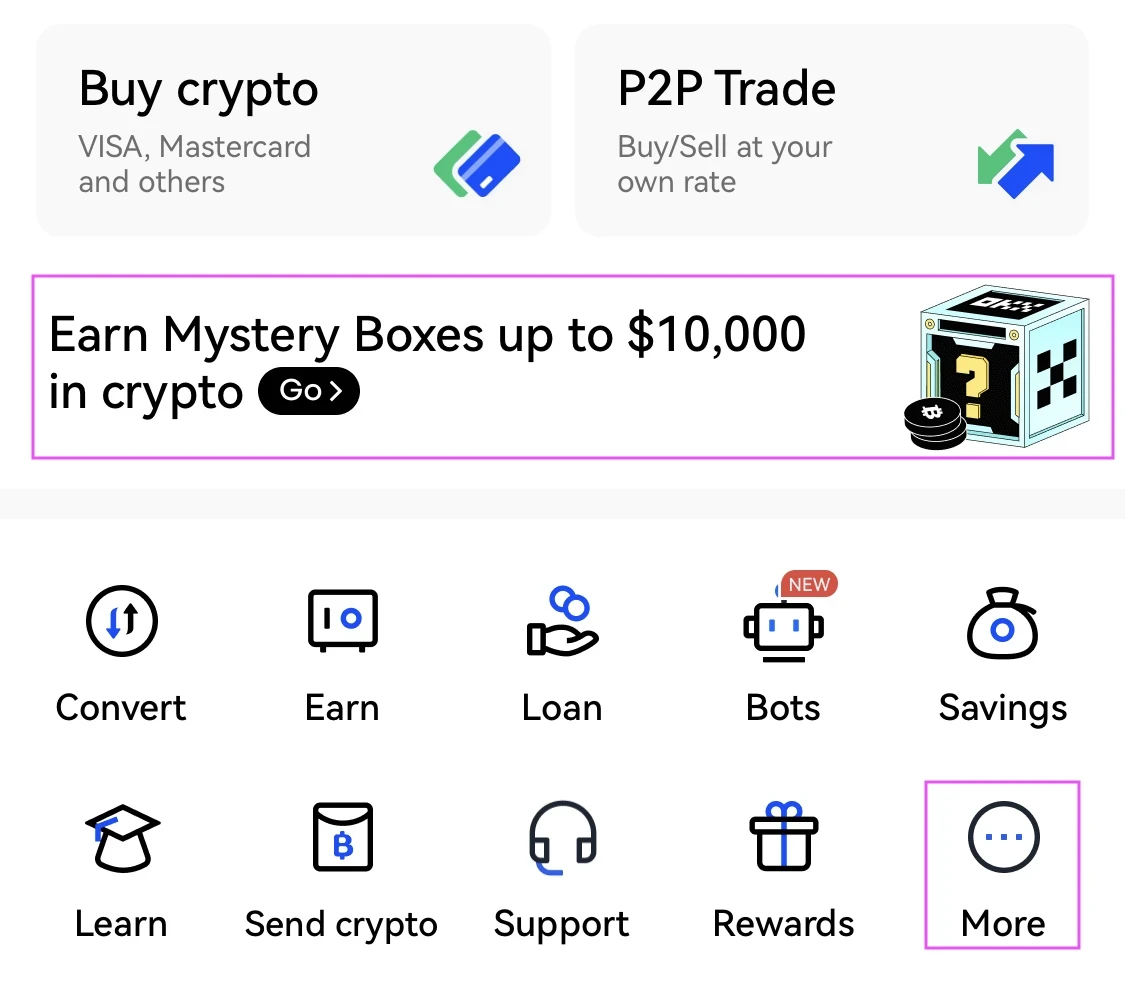 At the top of the Mystery Box home screen, you'll see recent prizes our users received from their Mystery Boxes.
To have a chance of winning crypto prizes yourself, tap Invite from contacts or More ways.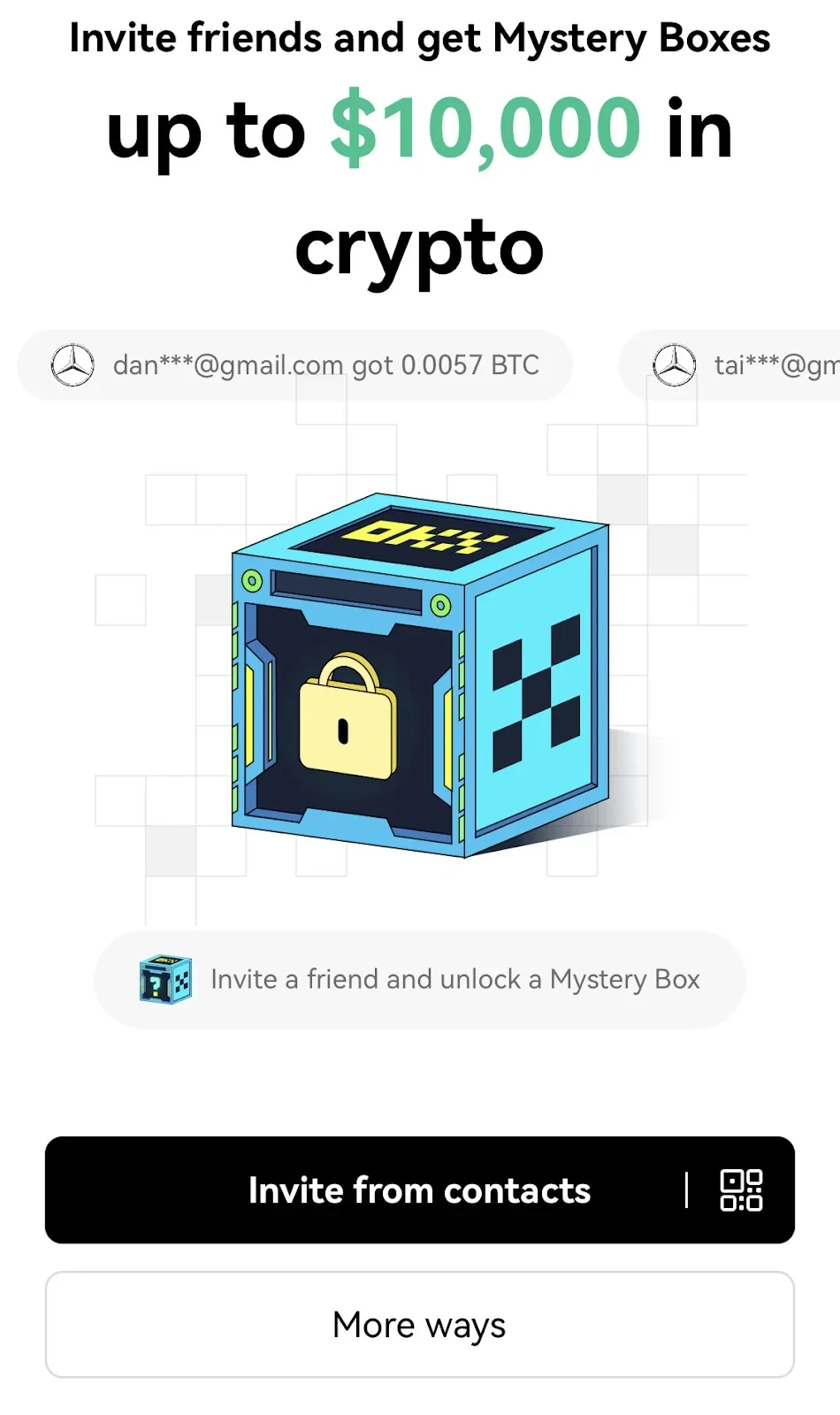 Tapping Invite from contacts will bring up all the contacts saved to your phone. Select the contacts you want to invite to send them the sign-up link. Then, tap Invite.
Tapping More ways gives you a couple of different ways to invite your friends. Firstly, you can copy the referral link into a direct message, email or SMS and send it to them.
Secondly, you can send them your referral code. They can then visit OKX.com and enter the code when creating their account.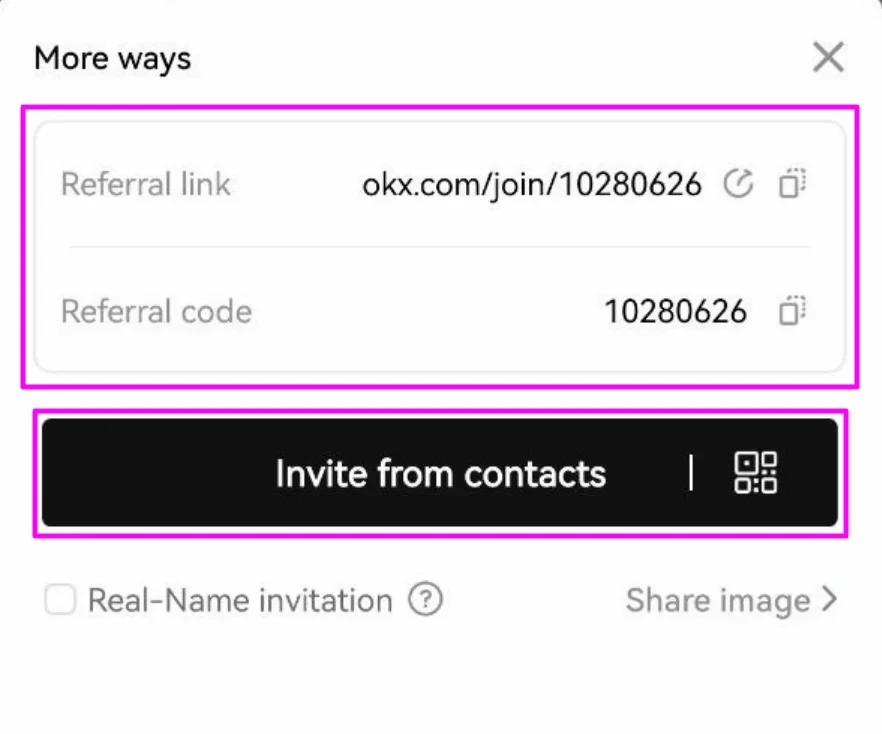 You can also create a stylish poster containing everything required to invite a friend to OKX via a QR code that will guide them through the sign-up process. Share your poster on social media to invite all your followers to join the OKX family.
Tap Share image to access the invite posters. Choose which poster you want to share by swiping left and right. Then, use your device's sharing function to send or share the poster via popular social media and messaging apps.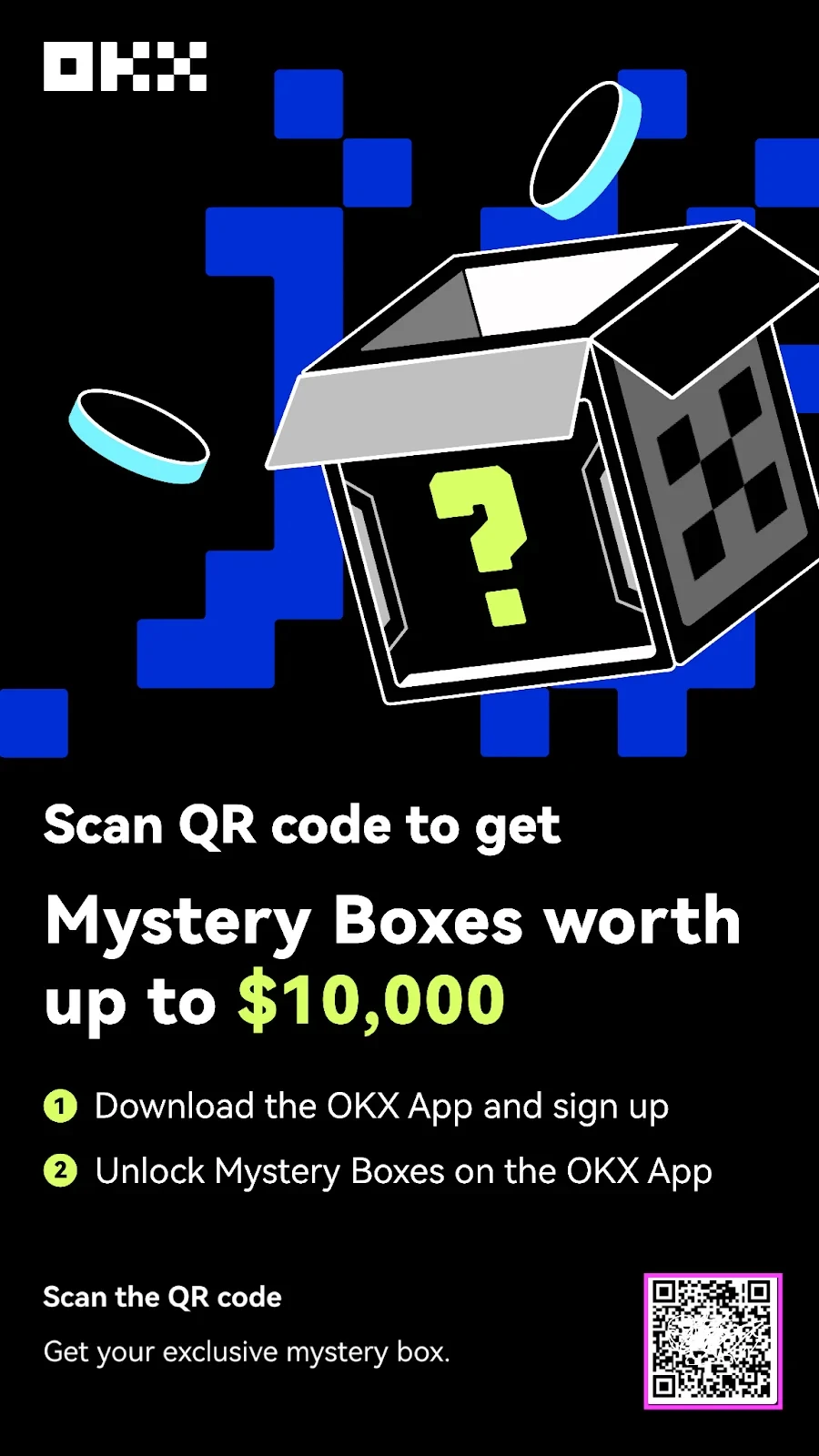 If you'd like to include your name on the invitation, check the "Real-Name invitation" box on the referral link screen.
When your friend receives the invitation and follows the link, they'll arrive at the sign-up page. They must use the link, QR code or referral code when signing up. OKX has no way of knowing that you actually referred them if they don't use the correct referral information!
You and your friend will receive a Mystery Box when they sign up via your invitation. You'll also receive a second Mystery Box if they go on to deposit or buy $50 of crypto or more within 30 days of registration.
How to open Mystery Boxes on the OKX app
When you've received your Mystery Box, it's time to open it and see your prize!
From the app home screen, tap the Mystery Box banner or More then Referral.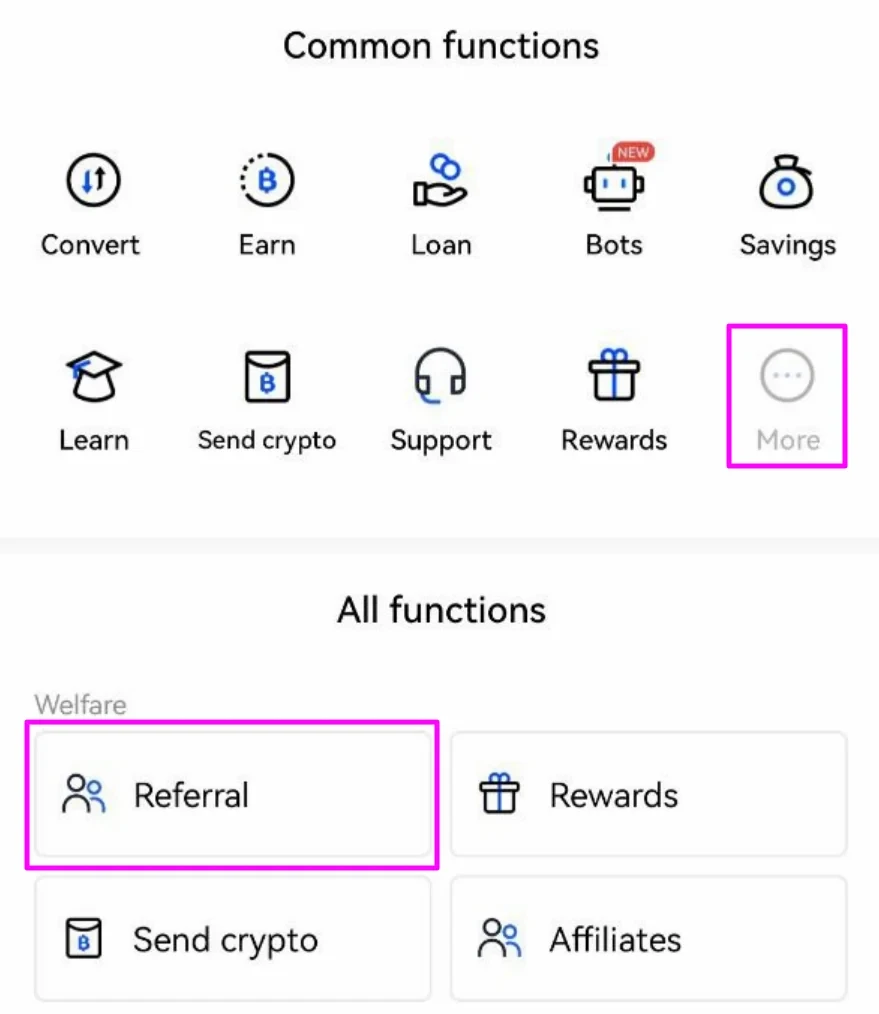 Then, tap the Mystery Box.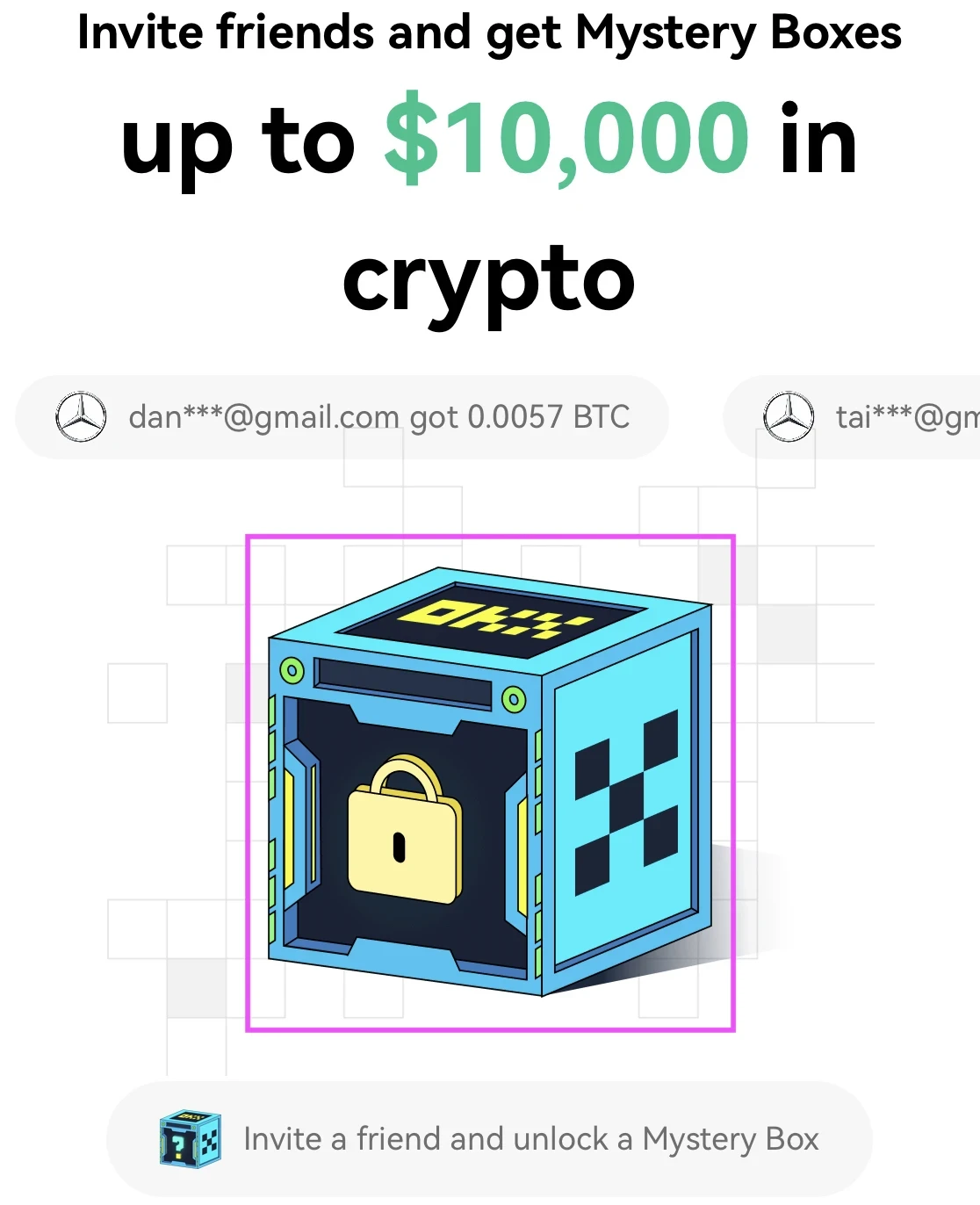 Finally, give your device a good shake to open the box and reveal your prize.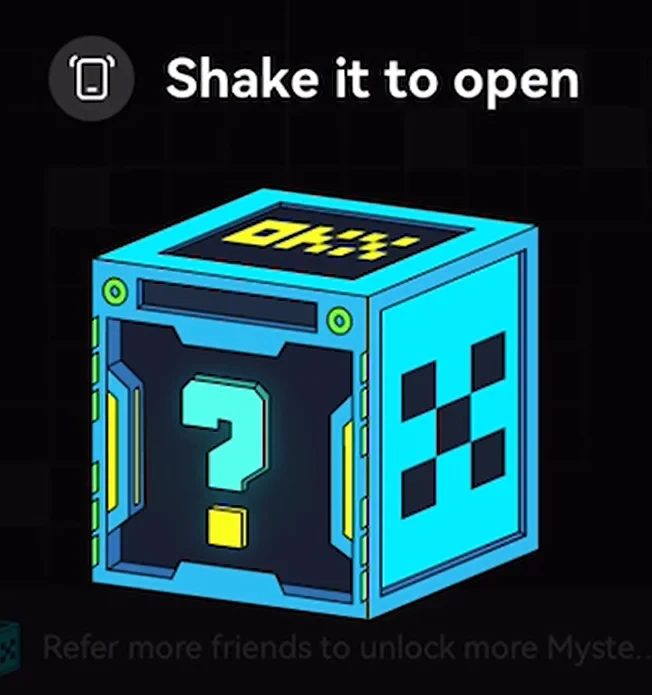 You'll see your reward appear, which will be automatically credited to your account within one hour of opening the box.
To view crypto assets received, check your Funding Account. You'll also see the reward in the "Recent transactions" section in your account overview by tapping Assets from the app home screen.
If you received a fee rebate card, tap the account icon in the top-left corner of the app home screen. Then, tap Trading fee tier.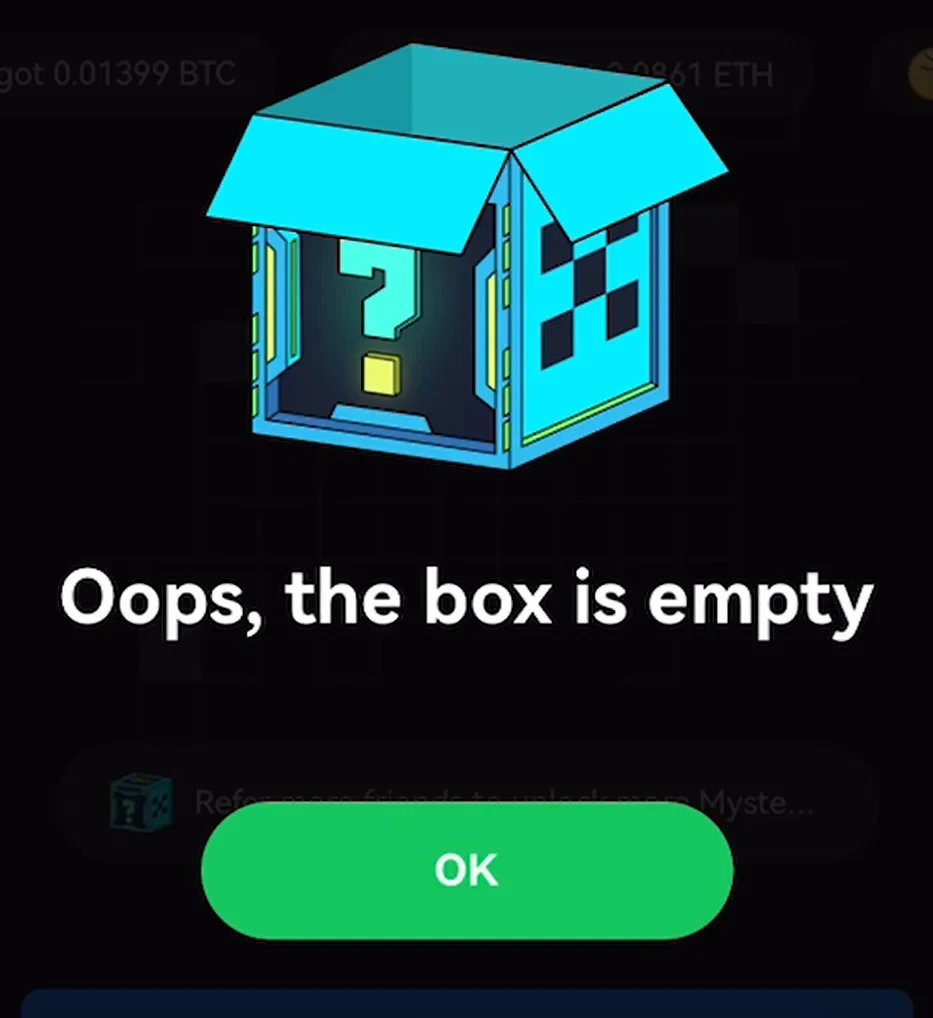 Important Mystery Box rules
When participating in the Mystery Box promotion, there are a few rules that you must follow. If you don't, we won't be able to reward you for inviting your friends to join the OKX community.
You can check a full breakdown of the Mystery Box rules here. A few of the most important ones are:
You can invite as many contacts as you like to receive additional Mystery Boxes.
Make sure your friend uses your invitation to create an account — that's how OKX knows it was you who referred them!
Both you and your friend will receive one Mystery Box when they create an account and log in to the OKX app within 30 days of registration.
You'll both receive a second Mystery Box if they buy or deposit $50 or more in crypto within 30 days of creating their account (deposits from internal transfers and rewards do not qualify).
Mystery Boxes remain valid for 30 days after you receive them — after 30 days, they expire.
Mystery Boxes can contain either crypto prizes or fee rebate cards, but not all Mystery Boxes contain a reward.
OKX reserves the right to disqualify users we believe have abused this goodwill promotion in any way.
Refer friends for free crypto rewards on OKX
We're always looking for ways to reward our users and invite more people into the OKX family. With our Mystery Boxes, you can win up to $10,000 in free crypto prizes for referring friends to our industry-leading crypto ecosystem. 
Not only will you and your friend stand a chance to win up to $10,000 in free crypto each, but you'll also benefit from our cutting-edge trading tools, opportunities to earn passive income, and access to the world of decentralized finance, NFTs and more. Game on!