What's driving demand for USDT in the run up to Bitcoin's halving?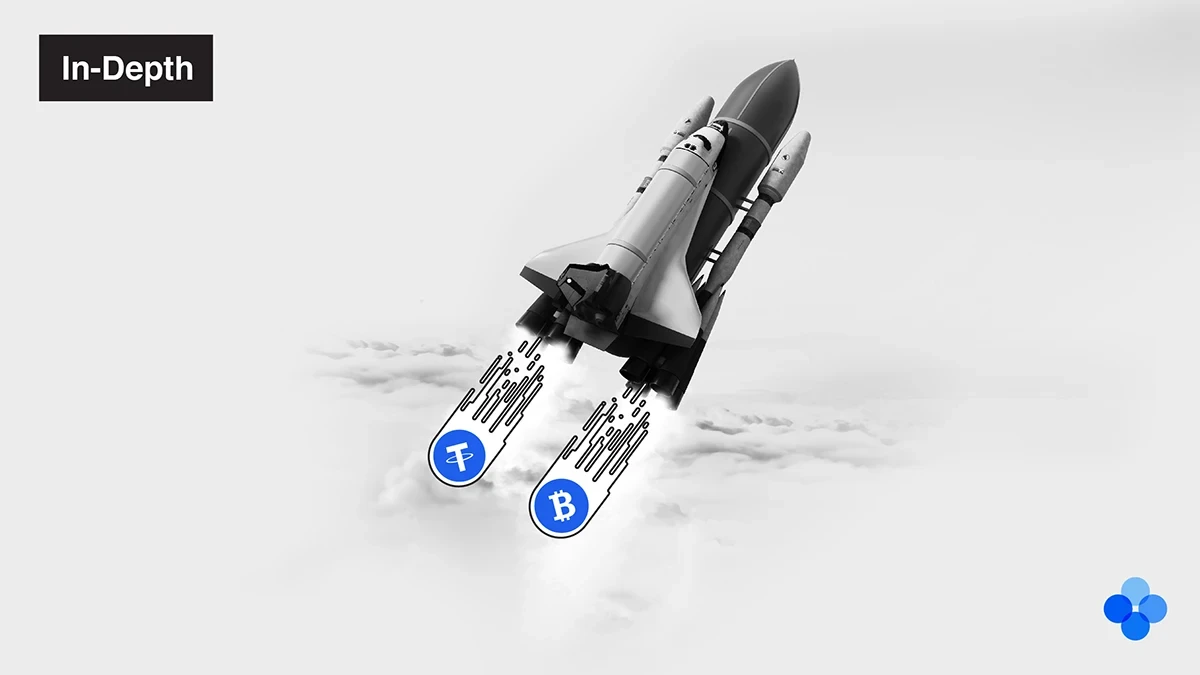 As Bitcoin approaches its third block reward halving, the Tether printer has been minting billions of dollars worth of its USD-backed stablecoin, USDT.
While the company and others attribute the printing wave to a surge in demand during a time of extreme economic volatility, uncertainty remains about the stablecoin's legality and tenuous position as a truly safe safe-haven cryptocurrency. Many are also wondering why tethers are so desirable in the first place.
Tether explained
Tether is a stablecoin pegged to the price of the United States dollar. More specifically, it is a digital currency that is created from the conversion of cash fiat currencies, such as the U.S. dollar, the Euro and the offshore Chinese yuan. 
As such, Tether's issuing company, iFinex, claims that the coin is 100% backed by the company's reserves of traditional currency, "cash equivalents" or "other assets and receivables from loans made by Tether to third parties."
USDT is, by a large margin, the dominant stablecoin in the cryptocurrency market. In fact, it is the fourth-largest cryptocurrency by market capitalization, as of the time of writing, according to leading cryptocurrency market tracker CoinMarketCap.
Continued and unrelenting mintings of USDT have further cemented it as the king of fiat-backed digital currencies. Tether's market capitalization is currently $8.28 billion — significantly higher than competitors USD Coin ($707.3 million), Paxos ($244.67 million) and TrueUSD ($137.24 million).
However, the dominance of USDT in the cryptocurrency market gives some in the industry cause for concern — as Tether, its sister exchange Bitfinex and parent company iFinex have often been tangled in controversy.
Tether was accused of manipulating the Bitcoin market in 2017, and is currently embroiled in high-profile legal battles taking place between iFinex and U.S. financial authorities.
As Bitcoin's halving approaches and the amount of USDT in circulation increases, the question of what is driving demand for Tether is even more pressing than usual. One of the main factors to consider in investigating this demand is the evident correlation between the controversial stablecoin's market capitalization and the price of BTC.
Tether has been accused of manipulating the Bitcoin market
Ever since Bitcoin entered mainstream consciousness — via an epic multi-year bull run that culminated in the coin reaching its all-time-high price — many have been skeptical of Tether and its role in the cryptocurrency market.
In June 2018, approximately six months after the price of BTC peaked around $20,000 per coin, the New York Times ran an article titled "Bitcoin's Price Was Artificially Inflated, Fueling Skyrocketing Value, Researchers Say" — in which Tether was noted in the mainstream media for its potentially-disingenuous role in propping up the Bitcoin market.
The New York Times article sourced a paper written by John M. Griffin from the University of Texas at Austin's Department of Finance and Amin Shams from Ohio State University's Fisher College of Business called "Is Bitcoin Really Un-Tethered?" The paper's abstract made clear Tether's questionable role in the 2017 cryptocurrency bubble, stating:
"Using algorithms to analyze blockchain data, we find that purchases with Tether are timed following market downturns and result in sizable increases in Bitcoin prices. The flow is attributable to one entity, clusters below round prices, induces asymmetric autocorrelations in Bitcoin, and suggests insufficient Tether reserves before month-ends. Rather than demand from cash investors, these patterns are most consistent with the supply-based hypothesis of unbacked digital money inflating cryptocurrency prices."
The New York Times was not the only mainstream and prominent periodical to pick up the controversial findings. Newsweek, CNBC, The Wall Street Journal, Bloomberg and others all published pieces stemming from the study. The mainstream coverage put the legitimacy of the entire Bitcoin and cryptocurrency market in doubt at a time when many already viewed BTC's 80% price drop from its peak as highly suspect.
In the face of bad press, Tether and Bitfinex have regularly and repeatedly denied any wrongdoing or price manipulation. Backing up Tether's defense is a recent column from UC Berkeley Chief Innovation & Entrepreneurship Officer Richard K Lyons and Warwick Business School Assistant Professor of Finance Ganesh Viswanath-Natraj. Titled "Stable coins don't inflate crypto markets," the study contradicts the Griffin/Shams study that garnered mainstream attention by concluding:
"We find no systematic evidence that stable coin issuance affects cryptocurrency prices. Rather, our evidence supports alternative views, namely, that stable-coin issuance endogenously responds to deviations of the secondary market rate from the pegged rate, and stable coins consistently perform a safe-haven role in the digital economy."
Regardless, skepticism surrounding the entire Tether situation did not get any better once it became a legal issue in the state of New York.
iFinex still faces securities and commodities fraud charges
Tether came under further fire in 2019 when New York Attorney General Letitia James dragged it into a legal war, of sorts. The NYAG claimed that iFinex Inc. was operating in violation of the law for covering up an alleged and improper transfer of $625 million — funds which were supposed to be backing USDT — in an effort to conceal liquidity issues. If true, this would likely constitute securities and commodities fraud, the NYAG's brief argues.
However, lawyers for Bitfinex and Tether dismissed these allegations, claiming that "tethers are not securities or commodities" — statements that James found "particularly perverse." Tether has also gone on record in an official reply to the NYAG, writing:
"At the end of the day, the Attorney General has not identified any victim in this whole proceeding, because there is none. Holders of tethers are entitled to redeem them for exactly what they paid for them – no more and no less – and Tether has had no issue satisfying redemption requests to anyone, even after the New York Attorney General's incendiary case."
Despite protesting against any past liquidity issues, a senior official at Bitfinex is on record as stating that "BTC could tank to below 1k if we don't act quickly" in communication with an external payment partner. According to the court documents, the communications reportedly occurred while Bitfinex was experiencing major issues fulfilling customer withdrawals in October 2018.
Lately, iFinex itself has since taken a legal offensive of its own in an effort to recover no less than $800 million in seized user funds, held in four different countries, following the freezing of the company's payment processor's bank accounts. Tether's parent company has applied for subpoenas to depose SunTrust Bank employees in Georgia, the Bank of Colorado and ABT & Trust in Arizona.
Why is Tether's printer working overtime?
With Bitcoin less than 800 blocks away from its third block reward halving, the rate at which new tethers have been minted has been dramatic, to say the least. As noted by The Block's director of research, Larry Cermak, the total supply of stablecoins has increased to $9.62 billion — up from $5.68 billion only two months ago.
Unsurprisingly, Tether accounts for the lion's share of the bolstered stablecoin market, with 84% of the supply being in USDT.
In April, alone, Tether Ltd minted over $1 billion USDT. The printing spree did not go unnoticed in both mainstream financial and cryptocurrency media.
As previously reported, almost-unprecedented demand for USDT may also stem from investors looking for yield in a time of unprecedented market instability and volatility. Exposure to digital currencies backed by fiat facilitates greater exposure to the volatile cryptocurrency markets, where gains can — arguably — be more easily made.
Bitfinex itself explains the recent surge in USDT this way as well. In a statement to OKX Insights today, May 7, the firm's general counsel, Stuart Hoegner, noted:
"Possible reasons for this demand might include users wishing to buy other digital assets and using stablecoins as a low-friction on-ramp."
That said, not everyone is convinced that Tether has actually minted this amount of USDT. The crypto industry commentator known as CasPiancey on Twitter, an outspoken critic of Tether, explained to OKX Insights that these numbers are the result of broken APIs from the likes of CoinMarketCap, Coingecko and other similar crypto data services. According to CasPiancey, the issue stems from complications arising from the fact that USDT is issued on a multitude of blockchains, including Omni, Ethereum, TRON and EOS.
Does Tether influence the price of Bitcoin?
Despite questions surrounding the actual number of tethers in circulation, analysts claim the existence of a relationship between the price of Bitcoin and the market capitalization of Tether is undeniable.
Popular market analyst and Decentrader founder FilbFilb has conducted his own study illustrating the correlation between the issuance of stablecoins and the price of Bitcoin. In 2019, there was a correlation of approximately 0.8 between the market capitalization of Tether and the price of the leading cryptocurrency. If a 30-day lag is taken into account, the correlation increases to approximately 0.9.
In a conversation with OKX Insights, FilbFilb stressed that Tether is not, however, just being used for exposure to Bitcoin. According to him, USDT is also clearly being used as a flight to safety amid extreme global economic uncertainty in the midst of lockdown measures to combat the spread of COVID-19.
It also stands to reason that demand for tethers in 2020 is also being largely driven by Chinese capital. In June 2019, blockchain analysis firm Chainalysis provided Diar with data that illustrated the sheer demand for tethers from China, with $10 billion already having been received by exchanges servicing the Chinese market. The previous year, the firm reported $16 billion in USDT received.
This reasoning is bolstered by the high premiums we have seen in Chinese over-the-counter markets. In March 2020, the Chainext USDT OTC Trading Premium Index illustrated that the premium for tethers went as high as 6% in March 2020.
Finally, it is also worth noting that approximately 65% of the total Bitcoin mining hash rate comes from China — a fact which should not be divorced from a conversation about Chinese demand for tethers.
Is it safe to hold tethers?
Tether still remains in a tenuous position today in the eyes of many individuals.
Well-known trader Peter Brandt likened the stablecoin to a "Nigerian Trinket" in a recent tweet, writing:
"Tether. Now that is an interesting story. Holding tether is about as safe as holding the Nigerian Trinket. I think people are fools for holding wealth — even overnight — in tether. It is a joke when [people] condemn USD as fiat, yet hold tether."
Brandt also wrote that holding tethers is similar to storing wealth in what essentially amounts to "a patch-work of exchanges not subject to regulatory authorities and for whose financial strength you know little about." He also reminded his audience that USDT and other cryptocurrencies are not outside the purview of the Internal Revenue Service.
Bolstering Brandt's belief is the fact that Tether has experienced issues maintaining its one-to-one peg with USD in the past. The price of one tether fell to approximately 92 cents in October 2018, according to CoinDesk. This volatility provoked Chief Compliance Officer Leonardo Real to state "all USDT in circulation are sufficiently backed by U.S. dollars (USD) and that assets have always exceeded liabilities."
Nevertheless, the cryptocurrency market has historically shown that tethers may trade below one dollar. This fact has been used as an arbitrage opportunity, especially when tethers have been shown to trade over-the-counter in the Chinese markets at high premiums.
Brandt is not the only one who remains skeptical of Tether. Kyle S. Gibson, an outspoken critic of the stablecoin, told OKX Insights that "anybody that reads the original NYAG document from April knows Bitfinex and Tether is a fraud." He also affirmed his belief that "they are still a fraud, today."
CasPiancey, meanwhile, told OKX Insights that he would "like to kindly request a proper attestation of Tether's books between January 2017 and present by a professional auditing firm." The comment illustrates the analyst's doubts — shared by many in the crypto industry — about Tether's existing "proof of funds" statement.
The document from 2018 attests that a U.S.-based law firm reviewed and verified the reserves backing Tether.
In their statement to OKX Insights, Bitfinex underlined that the firm has "made public various documents validating our reserves over the years, and our commitment to such measures is ongoing."
However, Tether's repeated claims over the years and its 2018 "proof of funds" documentation leave many in the cryptocurrency world skeptical, especially as the text contains the following disclosure:
"The above confirmation of bank and tether balances should not be construed as the results of an audit and were not conducted in accordance with Generally Accepted Auditing Standards."
Tether remains dominant but tenuous
While the world's leading stablecoin approaches a market capitalization in the 11-digit range, the company behind it remains involved in a high-level legal dispute with the New York Attorney General and various banking authorities.
At the same time, the correlation between the price of Bitcoin and the market capitalization of USDT appears evident. Whether or not that correlation constitutes manipulation is a matter of debate among academics and industry professionals.
Also up for debate is the motivating factor apparently driving funds into the USD-pegged stablecoin. It stands to reason that capital from China is driving the issuance of tethers, as it has in the past. Unlike the past, however, the current economic uncertainty surrounding COVID-19-related lockdowns may be playing a larger role — with many around the world potentially eager to gain low-friction exposure to a USD-pegged digital currency.
This comes at a time when the industry's focus is firmly on Bitcoin's third block reward halving — an event that will affect the Bitcoin mining industry, which is dominated by China-based miners.
Finally, we have seen historical evidence that Tether can temporarily lose its one-to-one peg on cryptocurrency exchanges — illustrating that it could potentially be an unsafe place to store value.
Despite all of this controversy, USDT remains the most popular stablecoin in the cryptocurrency market.
---
Disclaimer: This material should not be taken as the basis for making investment decisions, nor be construed as a recommendation to engage in investment transactions. Trading digital assets involve significant risk and can result in the loss of your invested capital. You should ensure that you fully understand the risk involved and take into consideration your level of experience, investment objectives and seek independent financial advice if necessary.
---
OKX Insights presents market analyses, in-depth features, original research & curated news from crypto professionals.