OKX to List DMG and CELO, Reinforcing Ambitious Stance on the Development of DeFi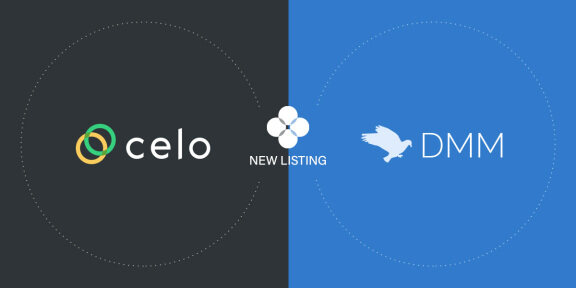 Valletta, Malta, July 15, 2020 — OKX (www.okex.com), a world-leading cryptocurrency spot and derivatives exchange, has today announced that it will list two more emerging DeFi projects: DMM Governance Token (DMG) and Celo Gold (CELO), with trading pairs against Tether (USDT) and Bitcoin (BTC).
DMG spot trading will begin at 3:00 am UTC on July 17, while deposits of DMG will be available starting from 3:00 am UTC July 16. Withdrawals will commence at 3:00 am UTC on July 20. For CELO, spot trading will start at 7:00 am UTC on July 17. Deposits and withdrawals will be available beginning at 4:00 am UTC July 16 and 9:00 am UTC June 20, respectively.
Following the listing of one of the most promising and popular projects in the DeFi space, Compound (COMP), this latest decision by OKX to add two more DeFi projects for its users consolidates the exchange's bullish stance on the continued development of the DeFi industry.
"OKX has long-regarded DeFi as one of the most important development directions of blockchain and cryptocurrency. From passive income to digital currency lending, as an innovator in the industry, OKX has been expanding our footprint in this growing arena," said OKX CEO Jay Hao.
"We are very pleased to see projects such as DMG and CELO with innovative breakthroughs in the lending and stablecoin fields as we believe that they represent the future innovative direction of DeFi and blockchain."
Stablecoins, lending and DEXs promote the development of traditional DeFi
If the development of DeFi were divided into several stages, August 2018 — when the concept of DeFi was first proposed — to 2019 would be its budding period.
In August 2018, Brendan Forster, a co-founder of crypto-lending platform Dharma, published an article called "Announcing De.Fi, A Community of Decentralized Finance Platforms," which officially announced the birth of DeFi.
2019 is also called the first year of DeFi. As people gradually came to understand the blockchain, the advantages of DeFi's strong security, high transparency and privacy protection have also become gradually known to the public.
DeFi proposer Brendan Forster believes that DeFi should have four major characteristics: 1) be built on the blockchain, 2) belongs to the financial field, 3) have code that is open-source, and 4) have stable developers. However, as of the first half of 2020, all financial products based on a blockchain network, including cryptocurrency, smart contracts, protocols and DApps, can be called DeFi.
At this point, a variety of DeFi products have begun to emerge, and the sudden rise of Compound undoubtedly pushed this stage to a climax.
Although the proportion of infrastructure/development tools (22%) and data analysis (17%) are relatively high, what are really well-known and promote the further development of DeFi are financial applications, including stablecoins, lending and decentralized exchanges — which are also the most promising tracks of DeFi.
From the perspective of total assets locked on DeFi protocols, lending has an absolute advantage. Five DeFi lending projects are included in the top 10 of the whole market. Among them, Compound is currently the project with the highest market value of locked assets, followed by Maker — whose governance tokens are also listed on OKX. In addition, the decentralized exchange Balancer also occupies a position among the top 10.
Post-traditional DeFi period: Innovation will dominate the development of DeFi
As we came into 2020, the race toward DeFi entered a new chapter.
"While DeFi is developing rapidly, we should not ignore the hidden dangers, in terms of security and economic models, etc.," said Jay Hao.
"Besides, the development direction of DeFi is to get rid of the dependence on the dividend brought by the concept of 'blockchain' and focus on the application scenarios to solve the problem of unbanked under the existing world financial system. Given that, innovation is the only way out."
Different from other DeFi lending projects, DMM, the foundation behind DMG, offers an onchain-to-offchain lending service. For example, the amount of money in loans currently generated by mortgaged cars in the United States exceeds $8.7 million. By transplanting this mortgage-backed-loan model, DMM is expected to provide users with cryptocurrency loan services in the form of physical mortgages.
CELO aims to build a global financial system, providing financial services to people around the world — who may not have bank accounts — via their smartphones.
Established on an open proof-of-stake public chain, the most noteworthy feature of CELO is its lightweight identity protocol, which can map the hash of a public key and a mobile phone number, allowing users to send CELO Dollars to the address corresponding to the phone number without the complex public key address. So, anyone with a smartphone can easily send digital currency to any other smartphone anywhere in the world.
"OKX appreciates the innovation of DMG and CELO in DeFi, and we also believe that more and more such innovative and practical projects will appear in the future. As a pioneer in the industry, we are very willing to cooperate with it to promote the further development of DeFi," Jay Hao noted.
END
About OKX
A world-leading cryptocurrency spot and derivatives exchange, OKX offers the most diverse marketplace where global crypto traders, miners and institutional investors come to manage crypto assets, enhance investment opportunities and hedge risks. We provide spot and derivatives trading — including futures, perpetual swap and options — of major cryptocurrencies, offering investors flexibility in formulating their strategies to maximize gains and mitigate risks.
Media contact
Vivien Choi
Email: [email protected]
Telegram: @vivienchoi
Follow OKX
Twitter: https://twitter.com/OKX
Facebook: https://www.facebook.com/okexofficial/
LinkedIn: https://www.linkedin.com/company/okex/
Medium: https://medium.com/@OKX
Telegram group (English): https://t.me/OKXOfficial_English
Telegram group (Russian): https://t.me/okexofficial_ru
---
Disclaimer: This material should not be taken as the basis for making investment decisions, nor be construed as a recommendation to engage in investment transactions. Trading digital assets involve significant risk and can result in the loss of your invested capital. You should ensure that you fully understand the risk involved and take into consideration your level of experience, investment objectives and seek independent financial advice if necessary.
---