Bitcoin hits $1 trillion market cap while centralized exchange tokens steal spotlight
Market Watch Weekly is a review of crypto markets and developments each week.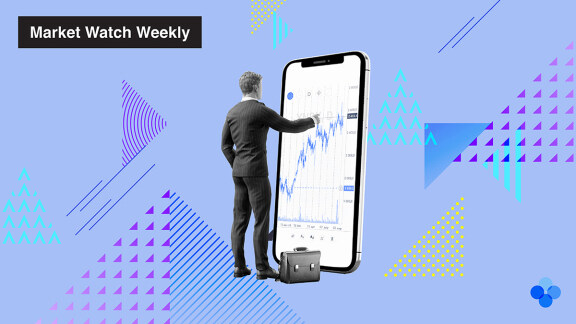 Bitcoin started a strong upward trend after falling to 46,000 USDT levels last Monday, reaping a 15% weekly return and setting a new all-time high of 58,318 USDT on Sunday morning, as per the OKX spot price.
The market leader has achieved four consecutive weeks of rallies and a monthly return of nearly 70%, meanwhile, Bitcoin's total market capitalization surpassed the $1 trillion mark for the first time. The speculative trend is also reflected in the persistently high funding rates, which hovered around 0.1% for an extended period of time across exchanges in the middle of the week.
Such huge gains have led many investors to start reducing their positions and taking profits, as reflected in how the Strategic Bias for Bitcoin — an indicator measuring investors' perception of value — declined by 13% last week. On the other hand, institutional investors continue to bet on BTC. MicroStrategy completed a $1.05 billion debt offering at a 0% coupon and 50% conversion premium to purchase more Bitcoin. According to OKLink, there are now at least 24 publicly traded companies that hold a combined 149,700 BTC.
The probability that the bull market will end in the short-term remains small, as new money flowing into cryptocurrency is still rising. The Purpose Bitcoin ETF, which was recently approved by regulators in Ontario, has attracted $421.8 million worth of assets to the exchange-traded fund over only two trading days. The launch of this first Bitcoin ETF in North America is expected to facilitate the approval of other Bitcoin ETF products, which will allow more retail investors and institutions to gain exposure to Bitcoin. 
Centralized exchange tokens become new market hotspots
Due to the current high gas fees on the Ethereum network, many retail investors with small funds had to give up participating in DeFi. Identifying the opportunity, top cryptocurrency exchanges began to make efforts to build their own public chain ecosystems. For example, OKX launched the Swap and Farm DApps on OKC in late January. As a result of the high mining rewards in centralized DeFi projects, top exchanges attracted large amounts of capital and users, which also boosted valuations of centralized exchanges tokens. In the past week, OKB surged 117% while other exchange tokens also noted gains. The competition between DeFi and CeDeFi is becoming increasingly fierce.
In addition, data from Nasdaq Private Market shows institutional investors have pushed the valuation of Coinbase to over $100 billion. This news has also boosted the price of top exchanges' native tokens.
Other major altcoins that outperformed BTC in the last week were Cardano (ADA) and Polkadot (DOT), up 39% and 22%, respectively. Market participants' interest in "old" altcoins was diminishing, with both XRP and Bitcoin SV (BSV) seeing declines of more than 10%. Ether (ETH) and Litecoin (LTC), on the other hand, were lukewarm, both up around 4%.
After CEX tokens saw a spike last week, DEX native tokens played catch-up over the weekend, with Uniswap (UNI) and SushiSwap (SUSHI) reaping weekly returns of 32% and 10%, respectively. However, other major DeFi protocols generally underperformed, with negative weekly yields.
The total value locked in DeFi protocols reached an all-time high of $62.88 billion on Sunday, as per data from DeBank. As per individual TVLs, the lending protocol Maker (MKR) topped the list with $4.7 billion locked in value, followed by Compound's (COMP) $5.4 billion.
Institutions' views are divided on the post-market
CME updated its latest (as of Feb. 16) Bitcoin futures position data on Feb. 20. Under this reporting period, Bitcoin's sharp rise had stalled, with the price going up by only about $1,000.
During this time, open interest increased from 11,055 to 11,426, rising for the second consecutive week and hitting a new high of nearly four weeks during this consolidation period.
Asset-manager accounts saw their long positions shrink from 387 to 368, while short positions remained unchanged at 564. This reflects asset managers' more cautious attitude toward the post-market.
Leveraged fund accounts saw their long positions increase from 3,149 to 3,301, while short positions were up from 8,481 to 8,750. This increase in both directions acted as a positive signal, indicating leverage funds are still bullish on the future market.
Looking ahead this week
The S&P Index hit a new all-time high last week, but after consecutive sharp gains, the market is showing slight weakness. United States Federal Reserve Chairman Jerome Powell will participate in the semi-annual monetary policy hearings in Congress on Tuesday and Wednesday, which will be the focus of global capital markets.
Meanwhile, in the crypto space, the community is expecting announcements related to the Cardano project, which could either push the token price higher or result in a steep correction depending on how market participants receive the news.
Not an OKX trader? Learn how to start trading!
---
OKX Insights presents market analyses, in-depth features, original research & curated news from crypto professionals.