3 emerging DEX aggregators are becoming one-stop shops for DeFi traders
1inch, Tokenlon and Matcha have proven themselves to be DeFi's hottest new decentralized exchanges.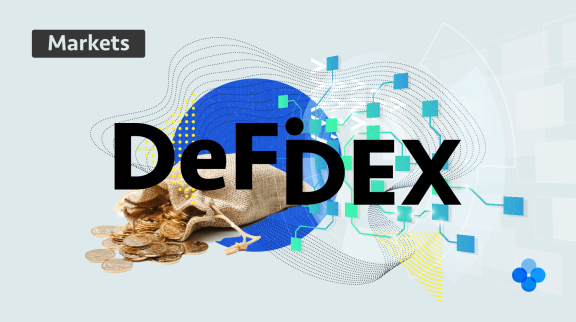 The decentralized finance market has surged in popularity over recent months, and nowhere is that more evident than in decentralized exchanges. The total trading volume of DEXs reached almost $60 billion in January. This figure is already higher than the two previous highest monthly volumes, combined.
Based on current volume projections, there is a good chance that February's volume will be on par with January's. In January, Uniswap reached $25.86 billion in terms of monthly volume — ranking first. It was followed by SushiSwap at $12.23 billion and Curve Finance at $6.28 billion, as per data from Dune Analytics. The price of Uniswap's and SushiSwap's governance tokens surged to new all-time highs in mid-February, and Curve's native token, CRV, soared 400% in a month.
It is worth mentioning that protocol 0x ranked fourth in January with a monthly trading volume of $5 billion. Unlike the top three, however, 0x is not a DEX. It is a DeFi protocol on which different DEXs may build and share liquidity. It is also a request-for-quote, or RFQ, platform where DEXs built on it may request quotes. 
As of the time of writing, the top DEXs with the most users in the last 24 hours are Uniswap, 1inch, Matcha, SushiSwap and Tokenlon, as per data from DeBank. OKX Insights has already covered Uniswap and SushiSwap in detail in previous articles. As such, this article will be more focused on the other three emerging names.
1inch has rapidly acquired users. With more than 4,000 daily active users on Feb. 18, it has become the second-most popular gateway for DeFi participants — behind Uniswap. The lesser-known Tokenlon ranks fifth with about 600 daily users. Matcha, which has surprised many, surpassed SushiSwap in third place with over 3,300 daily users. Both Tokenlon and Matcha, however, are far behind 1inch in terms of volume. 
1inch is the largest DEX aggregator, despite controversy
1inch sources liquidity from multiple DEXs to provide the best potential exchange rates for traders swapping tokens. The DEX aggregator has approached the $20 billion mark in total volume with its seven-day volume breaking $1.6 billion, as per data from Dune Analytics. Generally, aggregators may attract more users and volume for DEXs, as they offer a price comparison service with the ability to optimize slippage and fees.  
We used the price comparison feature of DeBank, a more neutral third-party site, and found the exchange rate on 1inch to be, in many cases, more attractive — especially when executing large trades. This could be due to its large number of supported sources and its own liquidity pools, where liquidity providers can earn 1INCH token rewards. 
Specifically, the Pathfinder feature on 1inch shows us how it discovers the most efficient swapping routes across leading DEXs to finish the pictured 1 million USDT trade.
However, a recent article from the 0x team states that the best-quoted price doesn't always result in the best-adjusted price. In reality, optimizing to win quoted prices enables an aggregator to entice more users. This is an important factor of 1inch's success in attracting over 135,000 users and nearly 800,000 total transactions in a very short period of time.
Another controversial point is that 1inch gains revenue through positive slippage — the difference between a quoted price and a realized price, at the trader's expense. For example, 1 ETH might be quoted at 1,500 USDT but settled at a realized price of 1,490 USDT, which results in a positive slippage of 10 USDT.
Interestingly, 1inch names the slippage as a Spread Surplus and lets its token stakers decide the distribution of the surplus. This may help 1INCH token prices, in the short term. However, since traders always look for better prices and don't want to give away the slippage, we need time to see the long-term effects of this mode — especially since the annualized yield for staking 1INCH tokens has now dropped from 200% to less than 15%.
Judging from the current performance of its token price, the widespread impact of the previous UNI airdrop caused many users to create multiple addresses before the 1INCH airdrop in order to receive token rewards — which caused its token price to face a massive sell-off after it started trading. However, the price of 1INCH has risen from less than 1 USDT to nearly 5 USDT on OKX. At the time of this writing, 1INCH is trading around 5.10 USDT with a market capitalization of roughly $490 million. With a total supply of 1.5 billion tokens, its fully diluted value would be around $7.6 billion — but the timeline for its token emissions shows very limited growth until the end of 2021.
Tokenlon, with mixed mechanisms, has good financials
Tokenlon, a DEX created by imToken — the largest Chinese Ethereum wallet — recently released its January data report, which shows a strong monthly volume of $2.23 billion as well as unique addresses reaching 18,960. 
Tokenlon adopts the aforementioned 0x protocol for trading, which uses an off-chain order book or relayer to quote best prices but completes transactions on-chain. It brings professional market makers for RFQ and recently added other on-chain sources of liquidity, such as Uniswap and Curve Finance. Compared to traditional automated-market-maker mechanisms, such as Uniswap's, Tokenlon's mixed mechanism not only has lower slippage but also greatly lowers revert rates.
On the other hand, the weakness of this mixed model is also obvious — i.e., it chooses a centralized server for front-end interaction and information aggregation, and only 26 cryptocurrencies have been listed on the exchange.
Looking at Tokenlon's trading volume, it started to rise rapidly from September 2020, which may be attributed to its trade mining and referral program. It has exceeded $7 billion in total volume, with a seven-day volume of around $500 million. The highest monthly count of traders reached 27,000 in December 2020. 
Moreover, in the DEX sector, only Uniswap's governance token, UNI, has more holders than Tokenlon's. UNI currently has 161,252 holders, as per Etherscan's data, while Tokenlon's LON has 47,727 holders — surpassing SushiSwap's 34,501 SUSHI holders. These numbers help explain its popularity in China.
More impressively, Tokenlon's past 30-day total revenue reached $6.08 million — which ranks fourth after Uniswap, SushiSwap and 1inch, as per data from Token Terminal. This gives Tokenlon a low price-to-sales ratio of 18.32, which is very close to Uniswap's 18.40. In comparison, SushiSwap has an 8.87 price-to-sales ratio, leading the DEX sector.
Tokenlon currently has a market capitalization of $135 million, and its fully diluted value is around $1.34 billion, based on a max supply of 200 million tokens. LON was listed on OKX at the end of December — and, after a period of price discovery, LON started to rise by more than 500% in the past month. If Tokenlon can maintain its current rate of revenue growth, its valuation at this stage may still be considered reasonable.
Matcha is popular among DeFi investors for its good experience
Under the hood, Matcha also uses 0x's API. Although no native tokens have been issued yet — thus having no token-reward incentives — many DeFi users have already used this DEX aggregator as their DeFi gateway. This is because Matcha has always focused on giving traders the best-adjusted price, which is what a user receives after a transaction is completed on-chain, and gas and fees have been paid. Also, Matcha pays a lot of attention to its product design and front-end experience, and it appears very retail-friendly.
Matcha has accumulated $3.28 billion in trading volume from approximately 174,000 traders. There is reason to believe that this more retail-friendly DEX aggregator will attract even more traffic in the future. Also, traders will be watching to see if Matcha will make a token offering.
---
OKX Insights presents market analyses, in-depth features and curated news from crypto professionals.