The OKX NFT Marketplace is the most comprehensive multichain open NFT marketplace in Web3. Supporting 11+ blockchain networks and all major NFT marketplaces like Opensea, Looksrare, Magic Eden, and more, OKX is your one-stop-shop for buying, selling, trading, and collecting NFTs.
What is the OKX NFT Marketplace?
The OKX NFT Marketplace aggregates NFT collections from other major marketplaces and offers zero-fee trading on 11+ blockchains. Currently, OKX supports NFTs on Ethereum, Solana, OK Chain, Binance Smart Chain, Polygon, Immutable X, Aptos, Arbitrum, Optimism, Klaytn, and Avalanche Chain, with more being added soon.
On the OKX NFT Marketplace, you can:
Create your own NFTs: We make it easy for anyone to create and mint NFTs for free, with simple no-code tools. Creators get to set their own secondary sale royalties for their NFTs, and we even offer the option to generate AI art for those looking to experiment.
Sell with confidence: Unlike other platforms, we don't charge any additional fees to list your NFT for sale. You'll have the flexibility to set custom expiration dates, accept offers, and more.
Buy with diligence: On OKX, you have the option to bulk buy by adding NFTs to your cart, making an offer with a custom expiration date, or buying the NFT at the listed price. See properties like rarity scores, trading history, active offers, verified collection descriptions, and more before you bid.
How do I navigate the OKX NFT Marketplace?
To start, we suggest downloading the OKX Mobile App for iOS or Android, or connecting your OKX Wallet to the browser if you prefer to use a computer. To learn more about how you can get started with the OKX Wallet, check out our guide on Creating and managing your OKX Web3 Wallet.
The OKX NFT Marketplace is divided into four sections:
Featured
Marketplace
Launchpad
Stats
You can access each section using the menu at the top of the screen.
What's the Featured section?
Under the Featured section of the OKX NFT Marketplace, you can discover the latest high-ranking and trending NFT collections.
At the top of the page, you'll find currently featured NFT launches, such as the Tribeca Festival x OKX NFT Official Pass.
You'll also find a list of currently trending collections, as well as collections with top recent floor price trends over a selected period of 24 hours, 7 days, or 30 days.
If you're looking for a specific type of NFT, you can browse by category: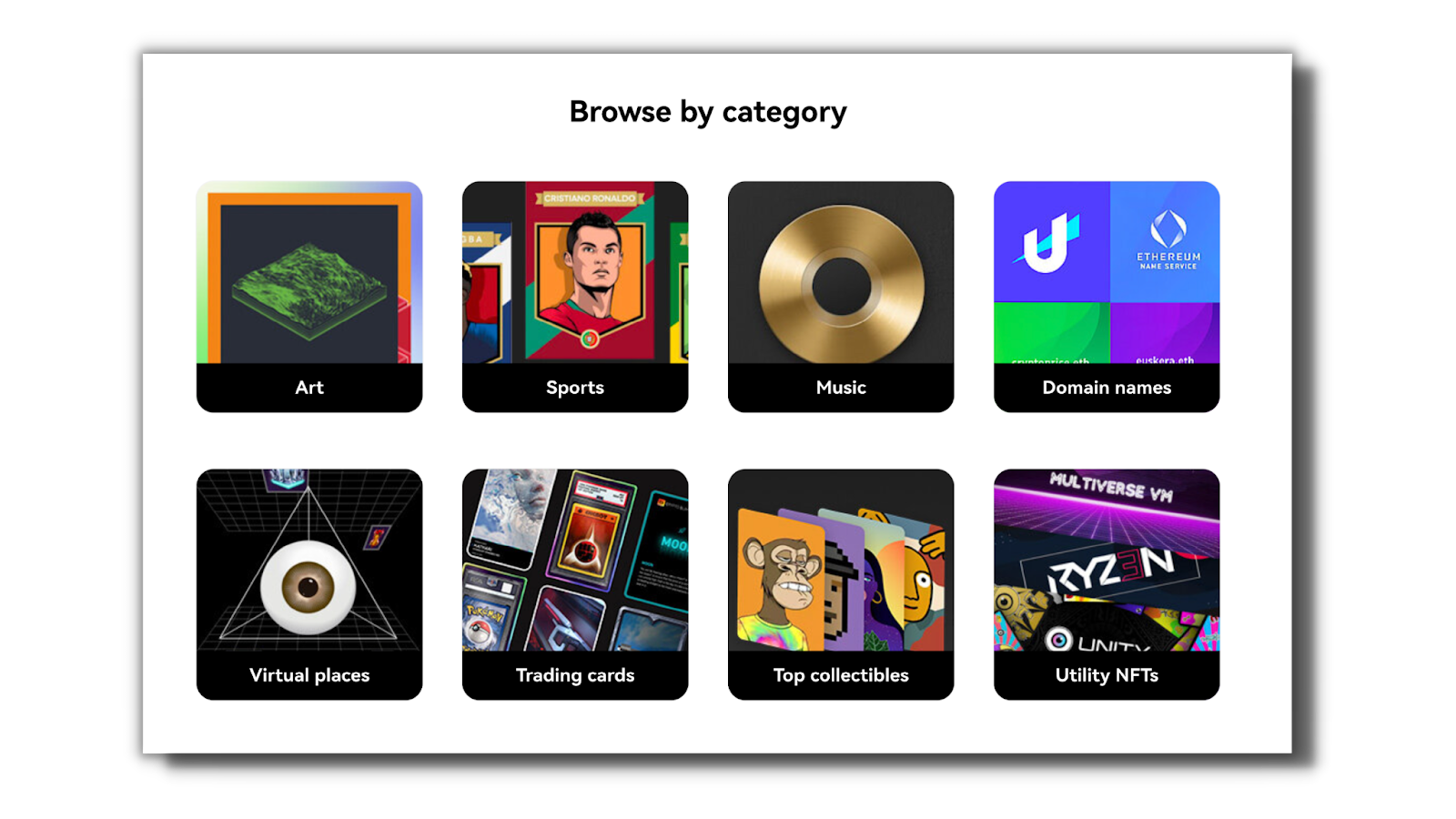 To make it easier for you to browse, we've sorted all NFTs into categories like Art, Sports, Music, Domain names, Virtual places, Trading cards, Top collectibles, Utility NFTs, and more.
At the bottom of the Featured section, you can browse all popular NFTs based on sales volume across 24 hours, 7 days, or 30 days.
What's the Marketplace section?
The Marketplace section of the OKX NFT Marketplace is the best place to trade NFTs. We've aggregated collections across other major marketplaces and blockchains to bring you the biggest collection of NFTs, all on one platform.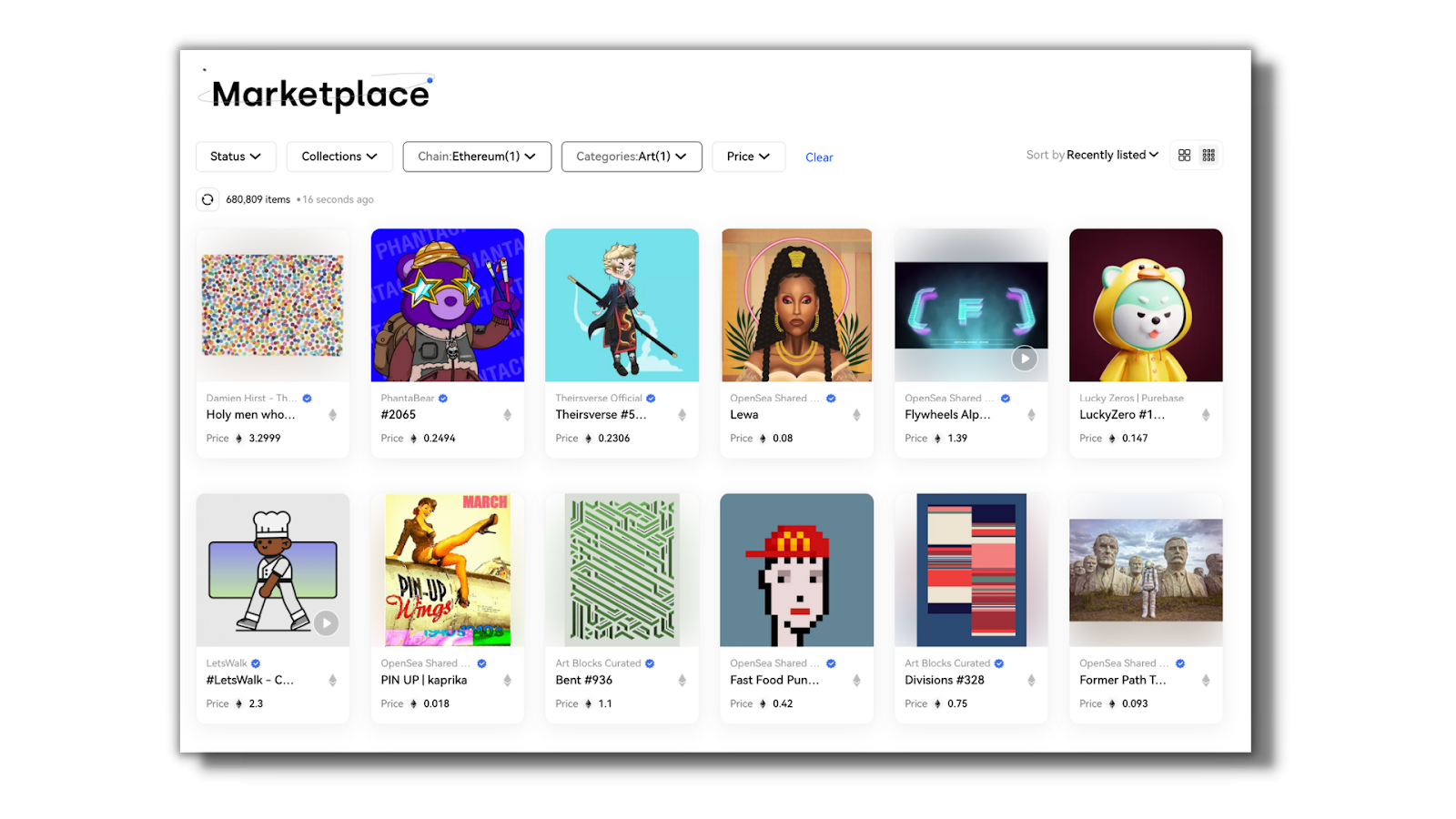 If an NFT is listed for sale on the OKX Marketplace, you'll pay zero-fees aside from the on-chain network/gas fees required for all transactions.
To navigate the Marketplace, you can filter for the right collections based on categories like trading data, blockchains, NFT categories, and more. If you want to purchase several NFTs at once, you can add them to your cart and buy them in bulk.
What's the Launchpad section?
The Launchpad section features notable NFT collections and creators, curated by the OKX NFT team. You'll find information about the artists and projects, as well as the time and date that sale (either fixed price or auction) will begin.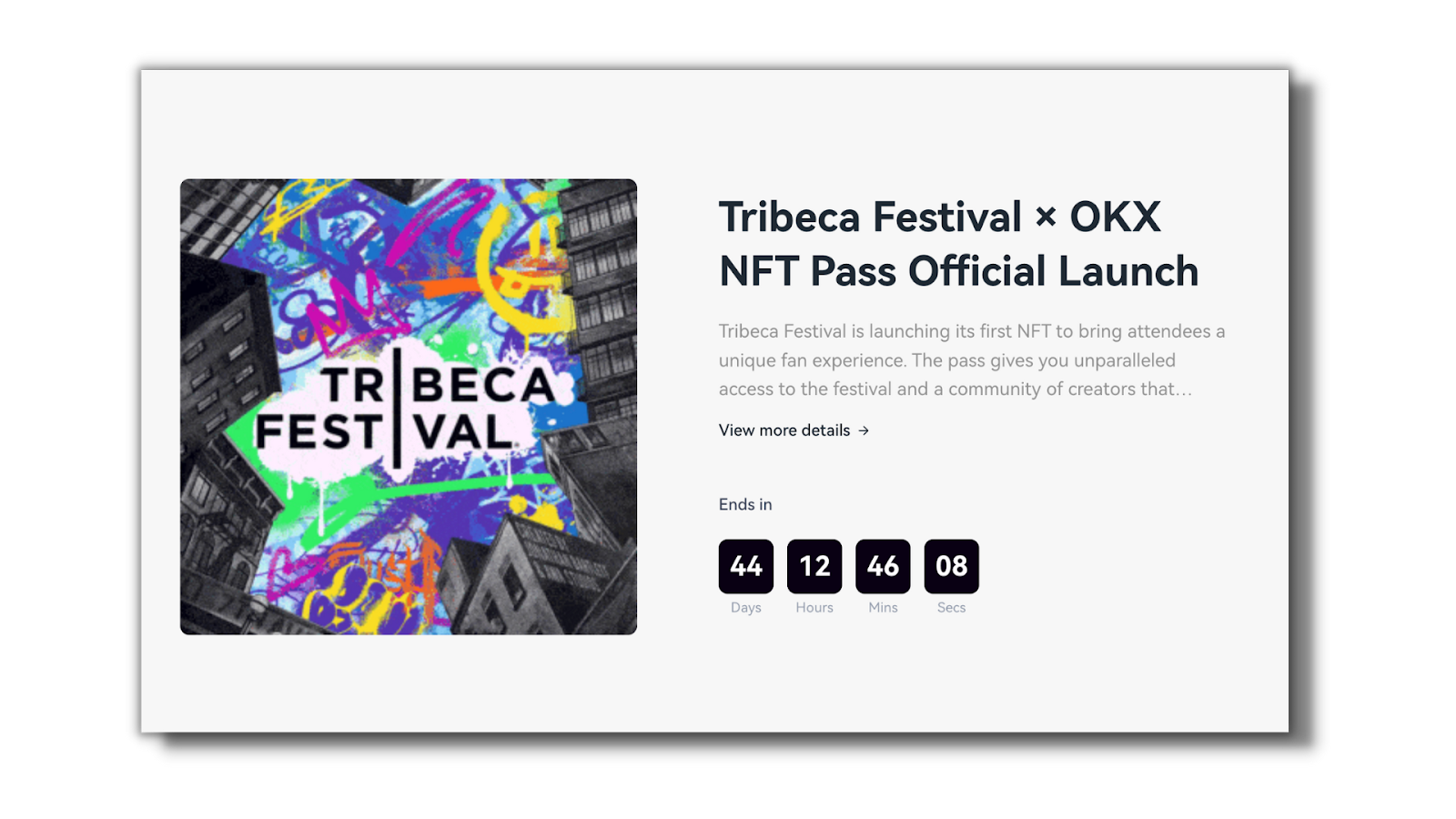 On Launchpad, market fees are lower than those typically found in traditionally curated collection sales. Additionally, Launchpad houses exclusive NFT events including allowlist raffles, flash sales, auctions, and more.
Creators can apply to be an issuer and have their collection launched in the NFT Marketplace's primary market.
What's the Stats section?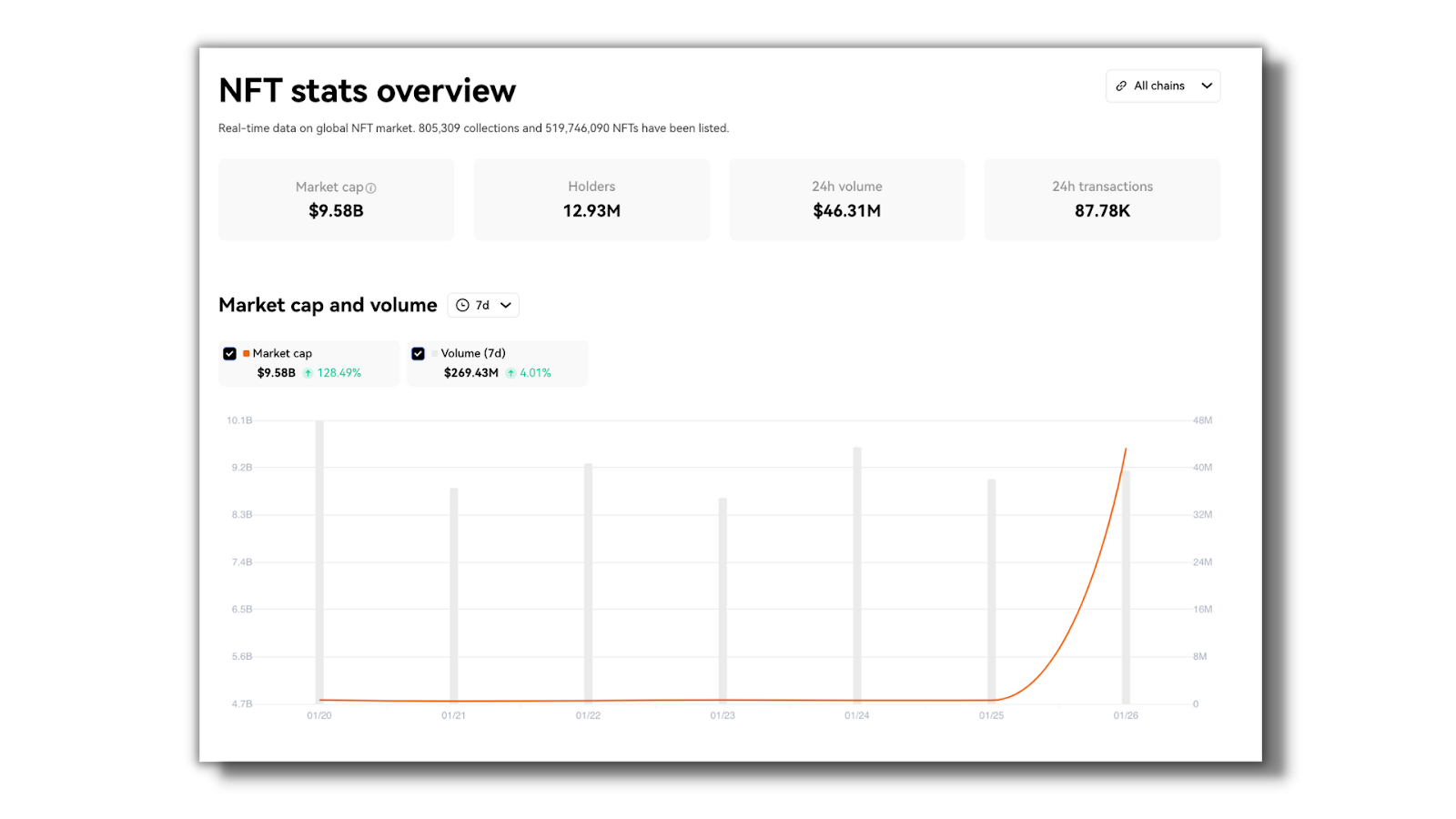 The Stats section gives you the power to make data driven decisions and check out key performance metrics based on on-chain and marketplace data. We feature global NFT rankings that are sorted by marketcap, holders, volume, volume change, floor price, floor price change, number of transactions, liquidity, owners and number of items in a collection.
How do I use the OKX NFT Marketplace?
The OKX NFT Marketplace is simple and straightforward to use. Since the OKX NFT Marketplace is decentralized, you do not need an OKX exchange account to use it. However, we recommend creating an OKX Wallet to easily navigate the NFT Marketplace.
How do I connect my OKX Wallet?
To connect your OKX Wallet, you can either create a new wallet directly through the OKX mobile app or desktop browser extension, or restore your existing wallet. For comprehensive steps on how to create your OKX Wallet, check out our guide on Creating and managing your OKX Web3 Wallet.
In the mobile app, click on the NFT Market tab to start exploring NFTs. On the desktop website, connect your Wallet and click on the NFT Marketplace tab.
How do I create or mint NFTs?
On OKX, it's easier than ever to mint your own NFTs in a few simple steps. And best of all, it's free. For a detailed guide on how you can mint your own NFTs on OKX, read our guide on How to create NFTs on OKX.
How do I buy or sell NFTs?
On OKX, buying, selling, and trading NFTs is simple and straightforward. By aggregating from every major marketplace (including Opensea, Magic Eden, etc.) across 11+ blockchains, the OKX NFT marketplace is the most comprehensive NFT platform in Web3. For a detailed guide on how you can start trading NFTs, read our guide on How to buy/sell NFTs.
THIS ARTICLE IS PROVIDED FOR INFORMATIONAL PURPOSES ONLY. IT IS NOT INTENDED TO PROVIDE ANY INVESTMENT, TAX, OR LEGAL ADVICE, NOR SHOULD IT BE CONSIDERED AN OFFER TO PURCHASE OR SELL OR HOLD DIGITAL ASSETS. DIGITAL ASSET HOLDINGS, INCLUDING STABLECOINS, INVOLVE A HIGH DEGREE OF RISK, CAN FLUCTUATE GREATLY, AND CAN EVEN BECOME WORTHLESS. YOU SHOULD CAREFULLY CONSIDER WHETHER TRADING OR HOLDING DIGITAL ASSETS IS SUITABLE FOR YOU IN LIGHT OF YOUR FINANCIAL CONDITION. PLEASE CONSULT YOUR LEGAL/TAX/INVESTMENT PROFESSIONAL FOR QUESTIONS ABOUT YOUR SPECIFIC CIRCUMSTANCES.