With data provided by Kaiko, OKX Insights examines DeFi's boom-and-bust cycle in 2020.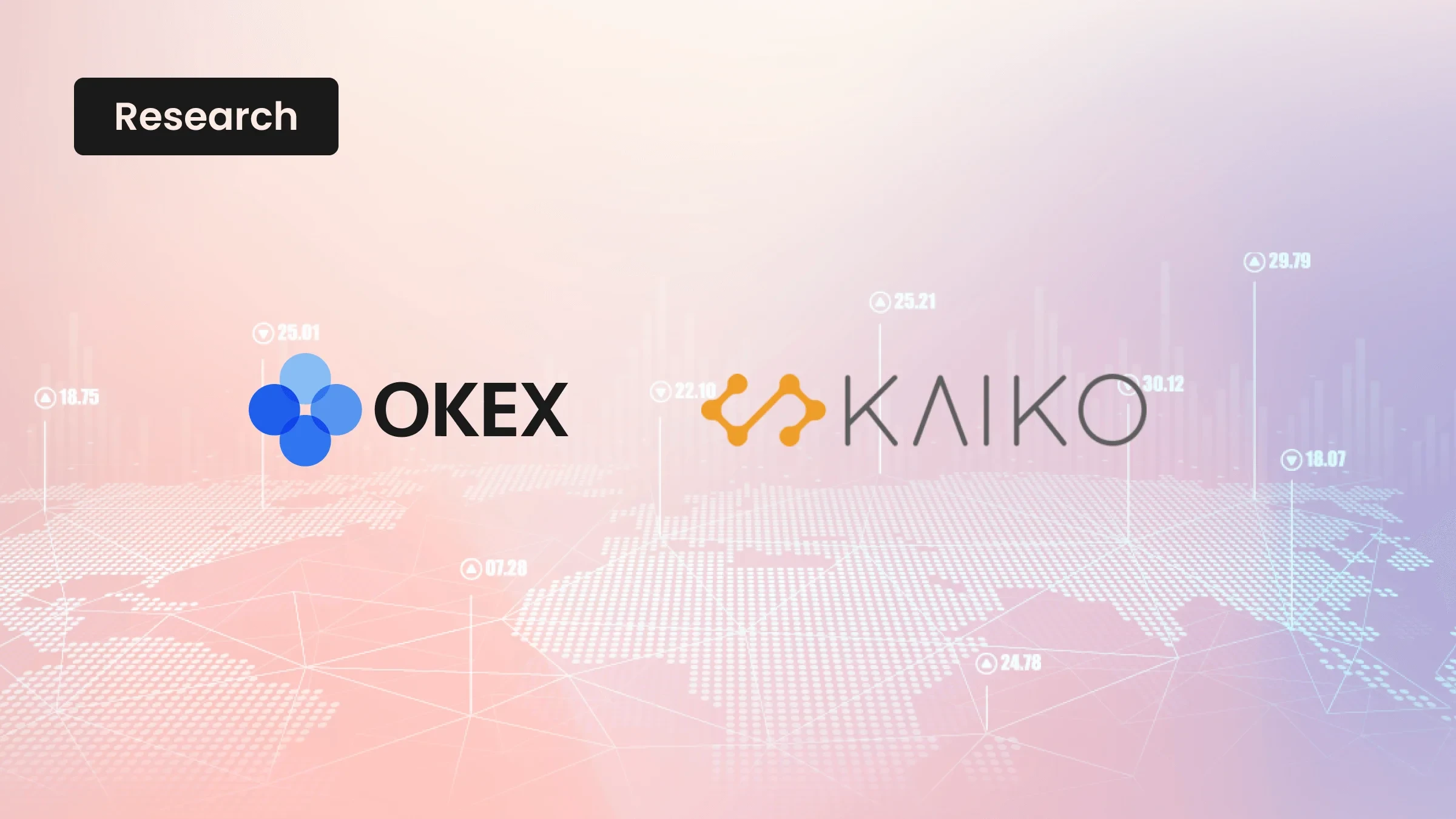 As 2020 nears its conclusion, the decentralized-finance sector is proving to be one of the year's hottest segments of the blockchain and cryptocurrency industry.
DeFi yield-farming —  a process of locking up crypto assets in return for token rewards — exploded over the summer as millions of dollars flowed into all kinds of protocols, but the market quickly cooled off when the ultra-high yields disappeared in September. After the bubble burst, many top DeFi token prices posted heavy losses the following month. 
However, partly due to the surge in the price of BTC and to the anticipation for the launch of Phase 0 of Ethereum 2.0 on Dec. 1, the optimism around DeFi has been recovering — and so have the prices of DeFi tokens. 
Meanwhile, centralized exchanges like OKX have also played an important role in improving the popularity of DeFi projects, since many exchanges have been quick to list new DeFi tokens. According to OKX's August Microstructure Report, DeFi tokens accounted for only 19% of OKX's total spot trading volume. This number jumped to 25% in September. 
With data provided by blockchain analytics firm Kaiko, OKX Insights analyzed multiple DeFi tokens traded on centralized exchanges in an effort to provide market participants with a different perspective on the changing appetites for such tokens over time. The 10 tokens examined were:
Balancer (BAL)
Compound (COMP)
Curve (CRV)
Kyber Network (KNC)
Chainlink (LINK)
SUN
SushiSwap (SUSHI)
Uniswap (UNI)
yearn.finance (YFI)
DFI.money (YFII)
The DeFi cycle, at a glance
Some of the most important events to have transpired in the DeFi sector this year include:
The total value locked in decentralized — which simply indicates the aggregate amount of capital stored in DeFi smart contracts — surged from $1 billion in early July to $9.75 billion at the start of September, which was the peak of the nascent market's explosion. On Sept. 2, Ethereum transaction fees were pushed to an all-time high of, on average, 0.032 ETH per transaction (worth around $15, at the time). The TVL in DeFi then saw its largest retracement, falling from the high of $9.75 billion to $7.79 billion in the span of only four days in early September. 
The migration away from DeFi protocols in September came at a time when both traditional and cryptocurrency markets were hit hard. This translated to a sell-off of DeFi tokens, which pushed their prices down even further. However, the total value locked has resumed rising since then, with various twists and turns. Likewise, the sum of all DeFi projects' market capitalization has generally been on the rise in November — though, this figure still hasn't recovered from its Sept. 2 all-time high of $19.55 billion. 
With the price of BTC plummeting nearly 10%, from $11,500 to $10,000, on Sept. 3, it was not surprising that the DeFi bubble would finally burst. Ultra-high yields became extinct following the plunge of token prices, and yield-farming returns gradually fell back to a range more in line with their high-risk levels. BTC regained $11,500 after 40 days, but DeFi tokens generally experienced a long decline and did not rebound until early November. 
Trading volumes reveal changing preferences of exchange users 
The DeFi boom over the summer and early fall made users of centralized exchanges eager to build or hedge their DeFi exposures. By the end of September, OKX had listed 50 DeFi tokens on the platform, offering coin-margined swaps for eight of these DeFi tokens and USDT-margined swaps for 27 of them — although some swaps did not launch in time to catch the peak in late August and early September. 
OKX Insights examined 10 high-volume DeFi token swaps using data from Kaiko. The volume of swaps shows that exchange users' appetite for trading newly created DeFi tokens and yield-farming tokens has been enthusiastic, to say the least. 
Prior to September, DeFi's long-time leader by market capitalization, LINK, dominated up to 80% of the trading volume of the 10 tokens selected. The arrival of a SUSHI perpetual swap on OKX started to eat away at a portion of LINK's dominance. By Sept. 6, SUSHI's perpetual swap trading volume had surged to $10 million, taking a 10% share away from LINK's dominance. Further growth in DeFi trading volume continued over the following week, with the swap trading volumes of YFII and YFI reaching $51 million and $28 million, respectively, by Sept. 12. As a result, LINK's trading volume dropped rapidly, with its dominance falling below 25%. 
The listing of a UNI perpetual swap on OKX was the next highlight of September, which drove a significant increase in trading volume on the exchange. UNI saw a massive $183 million in perpetual swap volume on the second day of trading, accounting for 70% of the intraday volume of the 10 selected tokens — a huge difference from the market enthusiasm for SUSHI. UNI's popularity was maintained until mid-October, when trading volume was flipped again by LINK and, subsequently, traders' enthusiasm for UNI rapidly declined. 
Additionally, we observed that overall DeFi swap volumes dropped precipitously in the second half of October due to the persistent decline in DeFi token prices, YFI and YFII gained a greater share of the overall volume, due to their tremendous volatility. YFI, for example, fell from a high of $40,000 to $8,000 in approximately 50 days. During this downturn, market participants moved away from trading DeFi tokens. 
The bottoming out of prices for these new DeFi tokens began on Nov. 5, when the price of BTC rose from $14,000 to nearly $16,000. The price of UNI recovered 14% on that date, after dipping to as low as $1.80. Since then, the prices of DeFi tokens have followed BTC's dramatic rise and many of them outperformed BTC in November. 
In terms of swap trading volume, LINK's percentage of the total DeFi volume once again declined — YFI, for example, rebounded from $15 million on Nov. 1 to $97 million on Nov. 18. Other DeFi tokens, meanwhile, also showed a significant increase in swap trading volume.
When examining the volumes illustrated above, one outlier we see is that Nov. 7, which was an extremely heavy trading day — with YFI, YFII and LINK volumes at their highest levels in two and a half months. This coincided with the day that Joe Biden became president-elect, as per widespread consensus, in the United States. This event triggered a trading boom on centralized exchanges that wasn't seen on decentralized exchanges such as Uniswap. YFI made a particularly volatile move that day, rising from $11,800 to a high of $17,500 before closing around $14,000. At that same time, however, BTC fell nearly 5% intraday, with a 9% price swing. 
Another interesting observation is that one week before Uniswap ended its first phase of liquidity mining on Nov. 17, SUSHI's volume grew rapidly. The average daily volume for SUSHI after Nov. 12 jumped from less than $10 million to more than $20 million, showing that market participants saw the ending of UNI rewards as a positive event for SUSHI. When it comes to decentralized exchanges, this sentiment is more clearly reflected in the changes of TVL in DeFi — i.e., liquidity providers transferred their funds from Uniswap to SushiSwap or other yield-farming projects.
Centralized exchanges benefited from Uniswap's airdrop
Uniswap's airdrop of 400 UNI (worth $1,200 at the time) created a wave of FOMO sentiment on Sept. 17, since everyone wanted to get their UNI rewards. Immediately afterward, a number of centralized exchanges immediately listed UNI. OKX even offered a full set of tools for trading UNI — including spot trading, margin trading, swap trading and coin-margined perpetual swaps. The trading volume of UNI reached a surprisingly high level across centralized exchanges. 
The retail frenzy on the second day of the launch tripled the price of UNI and drove its spot trading volume to 284 million UNI, or about $2 billion, across seven selected exchanges, per data from Kaiko. On that day, the spot volume of UNI on OKX was 1.2x that of BTC's spot trading volume. On Binance, this number was 2.11x. This is a very impressive volume for an altcoin, and it speaks to the demand for the decentralized exchange's governance token on the market.
Although the listing of UNI contributed to extremely high trading volumes for centralized exchanges, the frenzied volume lasted only a week. Since Sept. 26, UNI's spot trading volume fell sharply. A rebound in trading volume occurred after Nov. 5, but it is still a far cry from its first week of trading. 
Although UNI has been listed for the shortest period of time on centralized exchanges among the 10 examined coins, its price and volume trends show the typical cycle for a DeFi token — namely, a rapid rise to a gradual cool down, followed by a reasonable recovery. In just two months, UNI has gone through this cycle.
Centralized exchanges provide DeFi with hedging tools and cash-out venues
When comparing the change in trading volume between UNI's spot and perpetual swaps trading on OKX, we observed that its volume was heavily influenced by the market-shaking airdrop on Sept. 17 and the subsequent liquidity-mining process. 
UNI spot trading volume exceeded that of perpetual swaps in the first three days of trading — no small feat, given that swaps can reach higher volumes via high leverage. This implies that a lot of UNI rewards were moved from Uniswap to the centralized exchanges for profit-taking purposes. 
The high volume of perpetual swaps lasted longer and peaked much later. Swap volume hit an all-time high of 56 million UNI on Oct. 7 (valued at around $150 million, at the time) and maintained a daily volume above 20 million UNI until Oct. 10. Daily spot trading volume, on the other hand, fell below 20 million UNI a week after its listing, and it has not regained that level since. The surge in swap volume around Oct. 7 could be a reflection of liquidity miners hedging against the downside of their mining yields when the spot price was rebounding. 
Although overall trading volume for UNI has significantly declined since it was listed, the percentage of spot trading gradually rose in the second half of October. This is partly an indication that market participants recognized the value of Uniswap and tried to maintain their DeFi exposure by holding UNI tokens in anticipation of high returns in the future. Additionally, many hedging positions were being closed as the end of UNI's liquidity mining approached. 
As of Nov. 29, UNI's strong rise made it the only one among the selected 10 DeFi tokens to post a positive number since Sept. 1, based on its post-OKX-listing price of about $3.00. In the same time frame, many DeFi tokens have lost more than half of their value, while BTC has gained 56%.
DeFi may be here to stay
After an examination of DeFi trading data over the past three months, we saw that newly created DeFi and yield-farming tokens experienced the boom-and-bust cycle common among new asset classes. Market participants' perception of these tokens has gradually shifted from irrational to rational as they tried to identify tokens with long-term value. As a result, the top DeFi tokens bottomed out in November. On Nov. 24, however, DeFi's total market capitalization surged to reach a recent high of $19.2 billion — still below but very close to the level of early September. The total value locked in DeFi also reached an all-time high of $14.3 billion around that time. 
From the liquidity-mining boom in the summer to the rapid decline in the early fall and then the more mellow resurgence over the past month, we can see that decentralized finance's story is far from over. With a full bubble-bursting cycle under its belt, DeFi could see renewed growth and activity in the coming months.
---
OKX Insights presents market analyses, in-depth features, original research & curated news from crypto professionals.