In recent history, the cryptocurrency industry has grown into one of the largest emerging industries on the planet. Just like any emerging industry, new and exciting projects are regularly being launched to the point where projects go unnoticed by the majority of the crypto community.
A cryptocurrency airdrop is one of the many marketing strategies used by projects entering the competitive crypto industry to raise awareness about the coin, product, or service that is about to be launched. In this article, we will discuss what an airdrop is, how it works, the types of airdrops used by blockchain projects, the reasons why they are used and the pros and cons of crypto airdrops.
What is a crypto airdrop?
A crypto airdrop is a marketing strategy cryptocurrency projects use to raise awareness for their new digital asset or project. Crypto airdrops involve sending a small portion of coins or tokens to wallet addresses that meet certain eligibility requirements. An airdrop can also be used by crypto projects to ensure that there is a fair distribution of its coins and tokens among its community members.
What are the types of crypto airdrops
Crypto projects generally have various goals and often employ different strategies to achieve them. There are four main types of airdrops crypto projects deploy to venture into the crypto ecosystem. They are: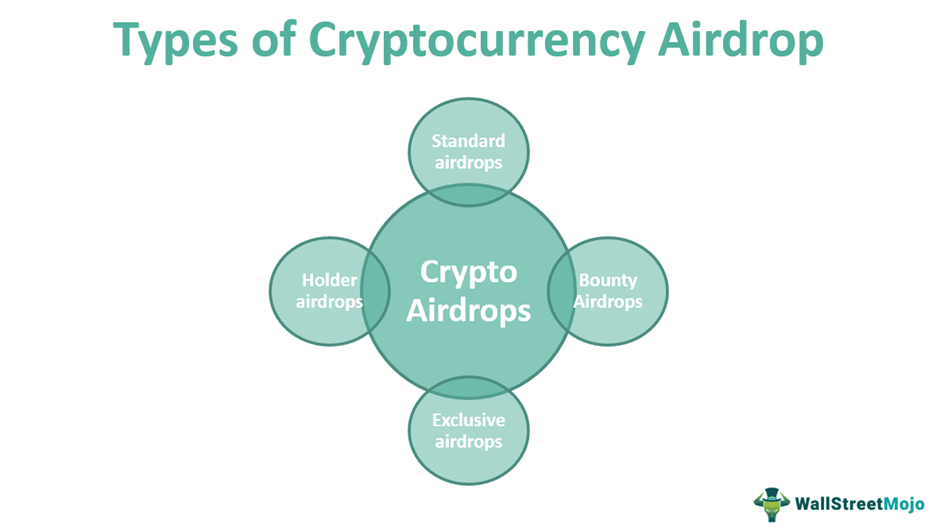 1. Standard airdrop
A standard cryptocurrency airdrop is open for everyone to participate in. Most standard airdrops do not require users to perform tasks other than signing up for an account with the project. The project sends a small amount of the new crypto to the qualified wallet addresses. To participate in a standard airdrop, users would need to get in quickly, as spaces are usually limited and get filled quickly.
2. Bounty airdrop
Bounty airdrops are often used as marketing tactics that require participants to take part in promotional activities in return for crypto assets of the project. Activities may range from signing up for a newsletter to sharing their posts on social media, including Twitter, Facebook, and Instagram.
3. Holder airdrop
In holder airdrops, participants are rewarded for simply holding a certain project's token/coin. Projects performing a hard fork on a chain (splitting the project into two separate platforms) or launching on another blockchain usually opt for holder airdrops. The amount of the crypto airdropped to participants is usually pre-determined by a snapshot of participants wallet address.
4. Exclusive airdrop
When a project selects a specific group of individuals to be rewarded with their token, it becomes an exclusive airdrop. An exclusive airdrop is a more centralized way of rewarding individuals who are considered to be close to a project.
For example, a project may decide to select individuals based on the amount of time they spend on the project, their engagement, or the money they have spent on non-token activities. An example is the Uniswap airdrop, where over 250,000 early users of the exchange received an airdrop of Uniswap tokens (UNI) in September 2020.
How does a crypto airdrop work?
When a crypto or blockchain project decides to launch via airdrop, launching a public campaign is the first call to action. The team uses forums and social media platforms such as Discord, Reddit and Twitter to promote crypto projects.
The team decides on the type of crypto airdrop to use and during the public campaign, compiles a list of potential token recipients. Crypto projects can also use the campaign to gather additional information about the potential users for its products or services.
The project then creates a smart contract or a self-executing program to automate the airdrop process. The team then sets the time for the smart contract to airdrop the tokens or coins from the company's treasury wallet to the selected participants. To gain the trust of the community it has built throughout the campaign, the team publishes the transaction block results of the airdrop.
In some countries like the United States, airdrops are considered income, which means that whenever you receive an amount of "free tokens," you'll actually need to pay tax on them – whether you wanted the airdrop in the first place or not. Recipients of airdrops also pay transaction fees for the crypto in their wallets.
How to participate in crypto airdrops?
From the types of crypto airdrops discussed earlier, you can seek to participate in standard and bounty airdrops, while your current activity within a certain project may allow you to qualify for holder and exclusive airdrops.
If you want to participate in airdrops, then you would need to find the project before it launches. There are websites that track airdrops such as DappRadar and Airdropalert. After finding these airdrops, always do your own research to ensure the authenticity of the project offering the airdrop.
After meeting the requirements to become eligible to receive the airdrop, all you need to do is input your crypto wallet address. In most cases, the project will notify you after the airdrop has been sent to your crypto wallet.
What is the point of a crypto airdrop?
Now that we understand how an airdrop works, why do crypto and blockchain projects decide to go down this route?
1. Low-cost marketing
The crypto industry is a competitive space where projects can easily go unnoticed. For new projects, an airdrop is a perfect means of creating buzz around their project at an affordable price. Blockchain projects often use bounty airdrops to boost the awareness of their tokens, products, or services on social media to reach a larger audience than they normally would have achieved.
2. Establish a community
As they participate in the airdrop, recipients are usually inclined to research more about the token and the underlying project. Hence, it is common for crypto projects to have built a strong community of loyal members even before their token or product goes live.
3. Fast and instant results
Since the tokens are airdropped directly to participants, they get first-hand experience with how it works. For the project, they could have achieved their goal of having their products used by the public.
Risks of crypto airdrops and how to avoid them
While the benefits of airdrop are apparent, there are some risks attached. The risks of airdrop aren't inherent flaws in the concept of airdrops. Instead, they usually come from malicious actors who take and exploit the airdrop.
Here are some of the risks associated with crypto airdrops and how to avoid them:
Fake airdrops and scams
There are fake crypto airdrops that tend to look like the real thing. The team behind these fake airdrops promotes them like real projects. For their airdrops, they may request users to input their personal information to gain access to their wallets to steal their private keys and digital assets.
These scams can look very realistic, making them difficult to spot. However, doing your own research about the project before participating in airdrops will help in reducing your chances of falling victim. We advise using a new secure wallet for airdrops and if you see any new crypto or NFT in your real wallet that you don't know their origin, it's best not to interact with them.
Rug pull
A rug pull happens when a cryptocurrency or blockchain developer creates hype around a project to attract investor money, only to abandon the project and disappear with investors' assets suddenly. From the onset, they never planned on running the project long-term.
One way to avoid rug pulls is to do your due diligence when offering an airdrop. Because the developers behind rug pulls don't plan to keep the project running, the on-chain security measures, token fee policies, and project goals are either not clear, transparent, or faulty.
Loyalty is not guaranteed
There's a hard reality that crypto projects face after an airdrop – loyalty isn't guaranteed. Immediately after an airdrop, recipients may immediately sell their rewards, forcing the price of the coin or token to lose value. This may end up hurting the project and its brand as a business.
Crypto airdrops, a risk worth taking to raise awareness?
Crypto projects utilize crypto airdrops as a marketing strategy to spread the word about their upcoming platforms or digital assets. It gives crypto and blockchain projects an opportunity to raise awareness and build a community ahead of the launch of their digital asset or product.
Airdrops serve as a suitable launchpad for new crypto projects in the highly competitive crypto market. However, like the general too-good-to-be-true principle, there are some common risks of participating in a crypto airdrop campaign.
---
FAQs
How do you get crypto airdrops?
Crypto projects have varying individual requirements to become eligible for their airdrops, although most of them are easy to find. To get the cryptocurrency airdrop, you need to find them and meet the requirements to qualify. The main requirement to receive the airdrop is often a supported crypto wallet.
Is crypto airdrop safe?
Crypto airdrops are safe, provided that the participant has done their due diligence to determine the legitimacy of the project they wish to partake in. Participants also need to take safety measures like never sharing their private key or connecting their live wallet address to avoid being scammed.
What is the benefit of airdrop in crypto?
The main benefit of a crypto airdrop is to increase awareness and adoption of a particular crypto or blockchain project before it launches. Projects that would have otherwise gone unnoticed use airdrops to create buzz and interest before it launches.
Are crypto airdrops free?
Crypto airdrops are free. Blockchain projects distribute their coins or assets for free to raise awareness for their upcoming projects. While participants do not pay for crypto airdrops, they may require certain tasks to be completed.