First-Ever Bitcoin ETF Approved, and Stablecoin Market Reaches New Milestone
The biggest stories from the cryptocurrency world that you may have missed.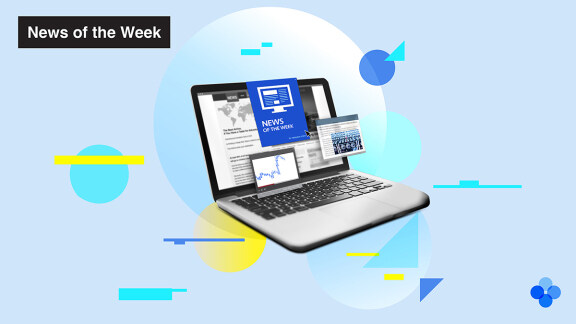 As is generally the case, it was another busy week in the blockchain and cryptocurrency industry. A long-awaited Bitcoin ETF is finally slated to hit a regulated stock exchange by the end of the year, as both the European Union and United States look to take stablecoins — which hit $20 billion, in total — more seriously.
Read the most pertinent details about these stories and more in this edition of OKX Insights' Crypto News of the Week!
First-ever crypto exchange-traded fund to be listed in Bermuda
After years of waiting, the world finally has its first Bitcoin ETF.
The much-anticipated exchange-traded fund comes in the form of the Hashdex Nasdaq Crypto Index ETF, which will be listed on the Bermuda Stock Exchange by Brazilian-based fund manager Hashdex.
Three million shares have been made available via private placement and are priced at $1,000 each.
Key takeaways
The first-ever listing of a cryptocurrency exchange-traded fund will likely bolster the chances of a Bitcoin ETF garnering regulatory approval in the United States — something that has yet to happen, with the Securities and Exchange Commission regularly citing market manipulation as the determining factor in its frequent application rejections.
The Hashdex Nasdaq Crypto Index ETF will also likely see a lot of interest from institutional investors looking to gain fully regulated exposure to BTC.
U.S. banks may hold reserves for stablecoins
The U.S. Office of the Comptroller of the Currency has once again bolstered the cryptocurrency industry by issuing new guidance that allows national banks and federal savings associations to hold reserve funds for stablecoins — i.e., cryptocurrencies pegged to fiat currencies.
Naturally, the bureau's guidance is not an explicit endorsement of stablecoins, and banks choosing to provide services to stablecoin issuers will still need to adhere to anti-money laundering practices, such as Know Your Customer requirements.
Key takeaways
The independent bureau of the United States Department of the Treasury's six-page interpretive letter will largely boost confidence in stablecoin issuers that choose to place their reserve assets in national bank accounts, as this will ensure that the issued stablecoins are, indeed, fully backed.
The new guidance also illustrates the OCC's continued willingness to play ball with the regulated cryptocurrency industry, after recently allowing federally chartered banks to hold cryptocurrencies.
European Commission proposes regulatory framework for cryptocurrencies
Following the recent news that the European Commission was slated to propose a regulatory framework for cryptocurrencies, the executive branch of the European Union did just that on Thursday via a 168-page provisional proposal.
Key takeaways
The proposal highlights that stablecoins, as well as cryptocurrencies, have the potential to become widely accepted and, therefore, require "more stringent requirements." This sentiment should bolster those believing that digital currencies are on the path to mainstream adoption.
Because the proposal is part of the commission's Digital Finance Package, it illustrates how the EU is interested in keeping with recent, if not the latest, trends in the blockchain and fintech spheres.
Ethereum scaling solution Optimism releases testnet
Following the newsworthy DeFi-induced congestion on the Ethereum network, an Ethereum Layer-2 scaling startup called Optimism has released its limited testnet. Optimism specifically uses a tool called "Optimistic Rollup" in an effort to provide a second-layer solution and, in doing so, reduce gas fees on the world's most popular smart-contract platform.
Decentralized application Synthetix, a synthetic-asset exchange, has already integrated with Optimism's testnet and will incentive users with SNX token rewards.
Key takeaways
The leading decentralized exchange, Uniswap, is expected to integrate with Optimism in the near future — something that should help bring down the incredibly high fees associated with using the DEX. Chainlink (LINK), the most popular Ethereum-based DeFi token, is also expected to integrate with Optimism.
A reduction of gas fees for using Ethereum-based DeFi projects would go a long way toward bolstering the nascent industry.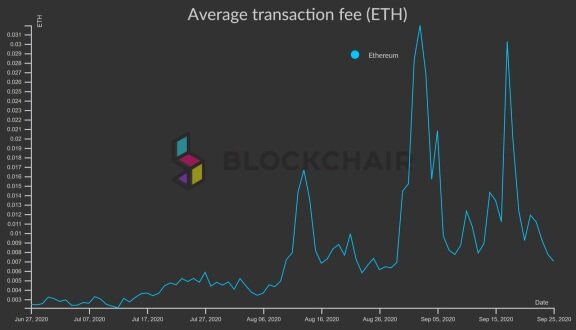 Stablecoin market hits new milestone, surpasses $20 billion
The total combined value of the stablecoin market has hit a new milestone by surpassing the $20 billion mark on Thursday. This comes only four months after the combined value of stablecoins reached $10 billion.
Key takeaways
The continued increase in stablecoin issuance is indicative of a demand from investors and traders to hedge their risk amid the ongoing COVID-19 pandemic and its global economic consequences.
Additionally, the rise in stablecoin issuance may be partly attributed to the aggressive rise of decentralized finance, in which stablecoins are frequently used to generate high yields.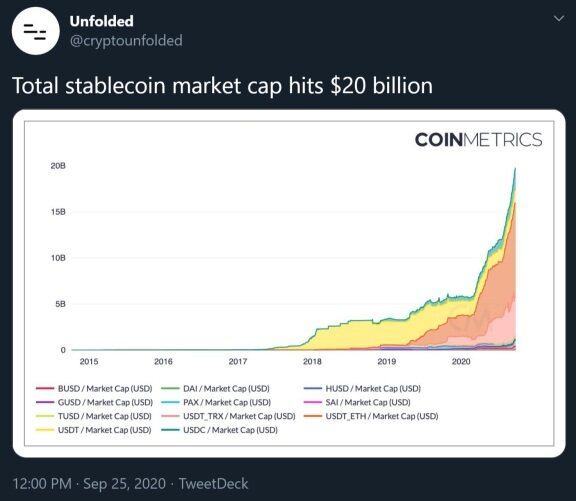 ---
Disclaimer: This material should not be taken as the basis for making investment decisions, nor be construed as a recommendation to engage in investment transactions. Trading digital assets involve significant risk and can result in the loss of your invested capital. You should ensure that you fully understand the risk involved and take into consideration your level of experience, investment objectives and seek independent financial advice if necessary.
---
OKX Insights presents market analyses, in-depth features and curated news from crypto professionals.