DeFi market surpasses $20 billion as Ethereum transaction fees skyrocket
OKX Insights' DeFi Digest is a weekly examination of the decentralized finance industry.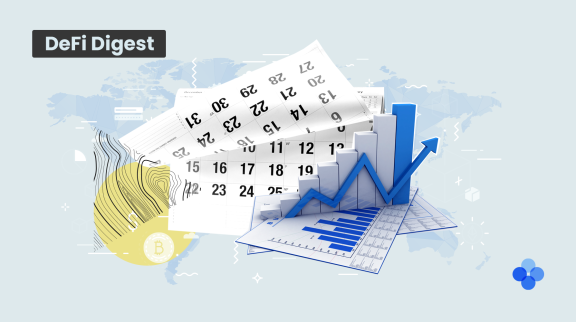 Coinciding with BTC's dramatic price increase, the decentralized finance market reached a new milestone this week after its total value locked surged past $20 billion, reaching almost $24 billion by press time. Additionally, the weekly average trading volume of decentralized exchanges surged by 88%, thanks to traders' growing interest in altcoins.
The total borrowing volume in the DeFi lending sphere rose by 10% as Compound maintained its market dominance in this sector with a 47% share.
ETH price surge leads to spike in transaction fees
ETH has seen increased interest from traders following strong demand for BTC, the anticipated launch of ETH futures on CME and the growing decentralized finance sector. As the price of the leading altcoin smashed past $1,200 per coin, the Ethereum blockchain suffered severe network congestion — and, as a result, high transaction fees. On Jan. 4, the total transaction fees neared $1 million and the average transaction fee reached an all-time high of $17.43 per transaction.
Leading decentralized exchange Uniswap and leading stablecoin USDT are ranked as the highest gas spenders on the Ethereum network — with 34,7000 ETH and 24,800 ETH spent over the past 30 days, respectively. Data in Uniswap suggests that ETH trading pairs are among the most popular and most actively traded among users. USDC/ETH, DAI/ETH and ETH/USDT recorded weekly volumes of $911,000,000, $811,000,000 and $783,000,000, respectively.
Aavegotchi delayed its launch on Ethereum
On Jan. 4, the Aavegotchi team decided to delay the platform's launch, citing high gas costs and the extreme volatility of the Ethereum network.
Powered by decentralized lending platform Aave, Aavegotchi integrates decentralized finance into its non-fungible tokens. Users can stake DeFi tokens as collateral to earn different Aavegotchi avatars. The staked DeFi tokens in the Aave protocol generate additional yield for users.
The Aavegotchi team later announced that it would launch directly on Matic Network, a blockchain scalability platform that enables a second-layer scaling solution for decentralized applications — essentially taking transactions off the main Ethereum blockchain to achieve faster transaction confirmations and lower transaction fees.
Layer 2 solutions are in the spotlight
With the recent spike in Ethereum transaction fees, some traders are seeking second-layer scaling platforms as alternatives. For instance, Loopring — a DEX that adopts zkRollups — saw a spike in volume to $11.18 million on Jan. 3. The price of its token, LRC, has also tripled since the beginning of 2021.
Meanwhile, second-layer scaling solution developer Optimism plans to release its preliminary mainnet on Jan. 15. Optimism will partner with Synthetix for the trial run.
New staking opportunities on OKX
OKX Earn offers an easy, user-friendly way to earn passive income with your crypto assets. As of this week, users can now stake Kusama's KSM token and earn daily rewards on OKX.