El Salvador's Bitcoin Law — benefits and criticisms of BTC's nation-state debut
Will El Salvador's radical new legal tender law enable greater financial freedom or result in the nation being ostracized from the international community?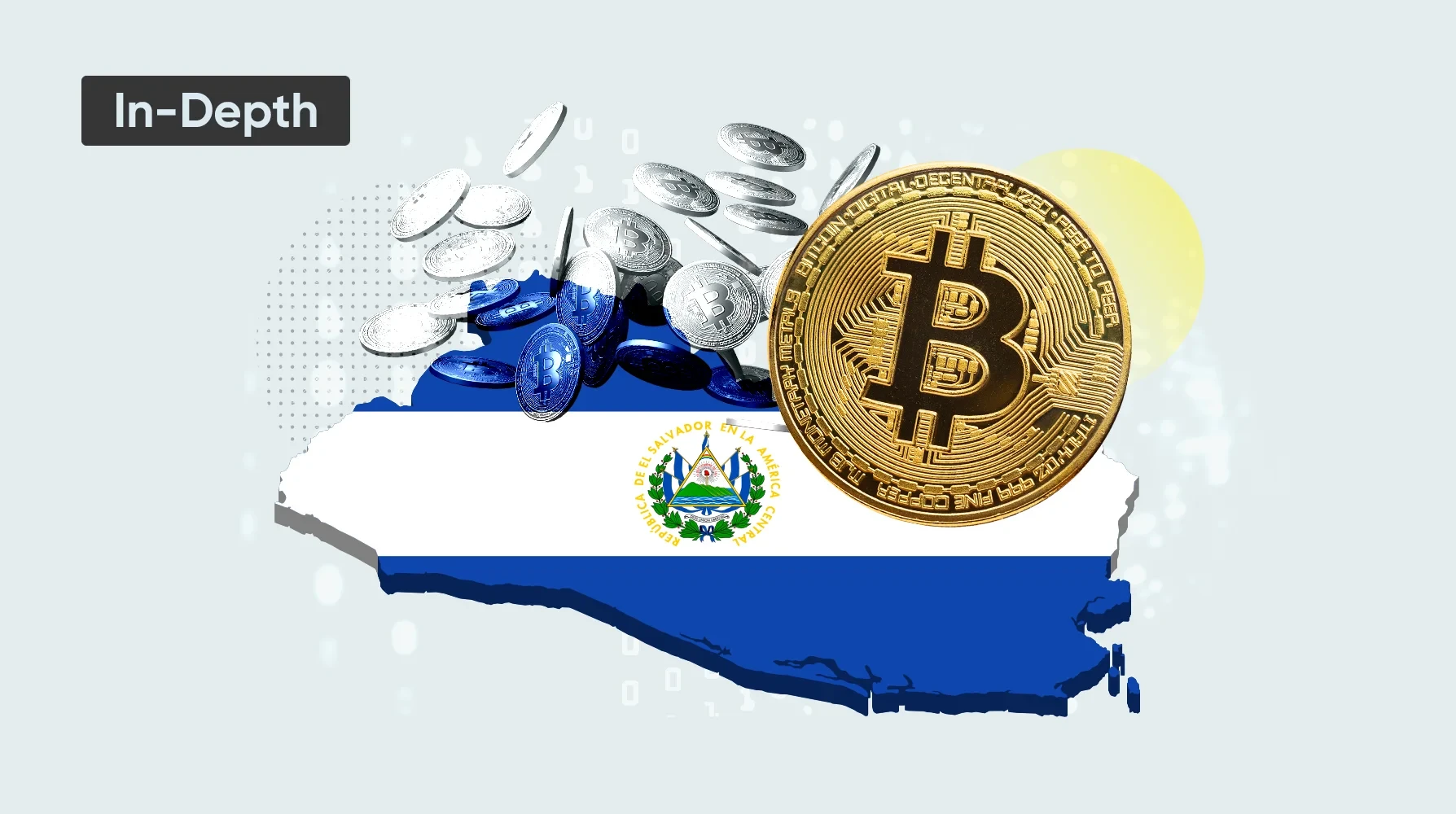 On June 8, the Republic of El Salvador made history by becoming the first nation to pass legislation to make BTC legal tender. The country's young and charismatic president, Nayib Bukele, announced the plan during the Bitcoin 2021 conference to an unsurprisingly optimistic crowd. Just days later, he introduced the Bitcoin Law to the nation's legislature.
Thanks to the president's social media savvy, the global public was granted unprecedented access to the lawmaking process via a Twitter Spaces chat hosted by Nic Carter, a partner at Boston-based venture fund Castle Island Ventures. After just a few short hours of debate, the bill passed with a supermajority late in the evening of June 8. Of a possible 84 votes, 62 were in favor of the change.
In just a handful of clauses, the Bitcoin Law will legally enshrine BTC use in El Salvador when it comes into force in early September. It enables Salvadorans to make payments of all kinds — including their taxes — in BTC. Additionally, it removes any obligation for fiscal residents to pay taxes on capital gains, which frequently serve as a barrier to wider adoption.
The Bitcoin Law's passing is clearly a landmark moment for the foremost cryptocurrency. It represents the first time the government of a sovereign nation has actively pursued Bitcoin adoption and serves as a major source of recognition for the network. From an optimistic viewpoint, friendly BTC legislation may benefit the nation in terms of foreign investment and remittance savings. It could also provide a means for El Salvador to reduce its dependence on the dollar — particularly given the current U.S. Federal Reserve's unprecedented approach to monetary policy.
However, the law's wording has some doubting whether the move is aligned with the values Bitcoiners typically espouse. In particular, Article 7 of the law mandates BTC acceptance for payments — something not typical of legal tender legislation. Meanwhile, the international community has expressed concerns over El Salvador's future ability to conform to global anti-money laundering standards.
In this OKX Insights in-depth examination, we put the Bitcoin Law under the spotlight and delve into the context surrounding El Salvador's bold move while assessing its motives and the policy's potential benefits. We then look at the views of those critical of the legislation from both within the digital currency industry and outside it.
Finally, we consider the likelihood of the Bitcoin Law serving as a catalyst for other nations in similar circumstances. Murmurs from lawmakers in Latin American and beyond suggest growing support for the idea. However, with the world's eyes firmly on this nation-state-level experiment in BTC adoption, failure to improve the average living standards for Salvadorans will provide yet more fuel for Bitcoin detractors.
Bitcoin Law background
El Salvador's Bitcoin story begins in the small coastal resort town of El Zonte, now popularly referred to as "Bitcoin Beach." As Mike Peterson, a member of the El Zonte BTC community and self-described "Bitcoin Beach Twitter Guy," explained to OKX Insights, the project was a reaction to issues faced by the largely unbanked population. Peterson described how the group's focus on providing education on proper BTC usage and the asset's benefits had helped push adoption in the area.
While not perfect — reports document an anonymous foreign benefactor incentivizing BTC use among the populace, only for interest to wane after the handouts dried up — the project was significant enough to attract wider attention. First, the Bitcoin-based payments service Strike by Jack Mallers's startup Zap began to explore how BTC adoption could benefit El Salvador. Then, seemingly out of nowhere, the nation's government became interested.
As Mallers later recounted to What Bitcoin Did podcast host Peter McCormack, the Salvadoran government approached him for his insights on a radical redesign of the nation's disadvantaged financial system. (According to World Bank data from 2017, around 70% of the population lacked access to basic banking services.)
Having arrived in El Salvador in February 2021, the next few months saw Mallers meet with the government to discuss the merits of an open, permissionless network serving as the backbone of a new system. During a presentation at the Bitcoin 2021 conference in Miami, an emotional Mallers made the announcement, with President Bukele joining via a video recording.
El Salvador's economic context
To the rest of the world, the Salvadoran legislation appears to have come out of nowhere. However, when considered against the nation's economic circumstances, El Salvador's bold new legal tender laws start to make more sense.
Firstly, El Salvador effectively abandoned its own currency, the colón, in 2001. Having already adopted the U.S. dollar to achieve greater economic stability and attract foreign investment, the introduction of BTC will have little impact in terms of Salvadoran institutions losing control over monetary policy. As Nic Carter told OKX Insights, El Salvador "loses nothing by entering into a BTC standard."
In telephone correspondence, Alex Gladstein, the chief strategy officer of the Human Rights Foundation, elaborated:
"The U.S. government, through the Fed, is controlling the policy of the dollar. So, it's more likely that a country that doesn't control its own currency would consider adding BTC as an alternative. I think that's pretty simple."
The issue seems to run deeper than simply swapping one externally controlled monetary policy for another, however. As mentioned, nations like El Salvador typically adopt the U.S. dollar because it often provides greater stability than locally issued currency.
Yet, in the wake of the 2008 financial crisis, the U.S. has followed an increasingly experimental monetary policy to pursue continuous growth. The Federal Reserve's balance sheet has increased around eightfold since 2008.
While such monetary expansion may indeed spur economic growth domestically, those foreign countries dependent on the U.S. dollar receive absolutely no benefit. Yet, they do suffer from the currency's declining purchasing power.
In a recent opinion piece, CoinDesk podcast editor Adam B. Levine discussed this issue, writing:
"For countries like El Salvador that look to the dollar as a more predictable currency than the one they issue locally — which is more likely to retain its value than the one they issue locally — Washington's ongoing experiment presents a problem."
During his Bitcoin 2021 presentation, Mallers included an excerpt from an early draft of the Bitcoin Law that appears to support the notion of de-dollarization, which read:
"In order to mitigate the negative impact from central banks, it becomes necessary to authorize the circulation of a digital currency with a supply that cannot be controlled by any central bank and is only altered in accord with objective and calculable criteria."
Although it might be easy to see the appeal of a hard-money alternative — particularly after witnessing the trillions of dollars created during the coronavirus crisis alone — Bukele has since publicly distanced himself from the notion of de-dollarization. During Carter's Twitter Spaces session on the night of the vote, Bukele explicitly stated that the move was not related to U.S. monetary policy.
However, speaking on the What Bitcoin Did podcast on June 18 — his first official interview since passing the Bitcoin Law — Bukele further elaborated his stance on dollar dependency. The president made clear that the aim of the new law was not about "becoming independent" from the U.S. dollar, but rather "becoming a little less dependent on the output of new dollars and the new inflation that's coming with those new dollars." He stated:
"The problem with using an international currency that is not yours to print is that you're only absorbing the cost. I mean now, your dollars are worthless, but you're not getting any of the new printed money, because they didn't print it for you."
Whether or not de-dollarization is a part of the Salvadoran government's longer-term strategy remains to be seen. However, it is worth noting that Bukele attended a pre-scheduled meeting with the International Monetary Fund just days after announcing the Bitcoin Law. As the president of a nation seeking IMF funding, expressing a desire to abandon the dollar may considerably weaken his negotiating position going forward and could explain the mixed signals.
Bitcoin's disregard for national borders also strengthens its appeal in a nation heavily dependent on remittance payments. A brutal civil war spanning three decades and a lack of economic opportunity in the country drove many to look for work elsewhere, particularly in the United States.
According to the World Bank, remittance payments from Salvadorans living abroad contribute more than a fifth of the nation's gross domestic product. Further complicating the remittance issue is more than two-thirds of Salvadorans without access to basic financial services.
Gladstein, the Human Rights Foundation CSO, explained the importance of remittance payments to El Salvador and how sending dollars via the Bitcoin network's payment rails could result in enormous reductions of transaction fees. With estimated savings ranging between 10% and 50% of the total sent, hethe Human Rights Foundation's CSO argues that widespread BTC adoption for such international payments would have a great impact on the lives of some of the nation's poorest citizens, telling OKX Insights:
"The second piece, obviously, is that they are 22% reliant on remittances from a perspective of GDP; so they stand to save a huge amount of money for the country by shifting to a system that has lower fees — and by using Bitcoin as a payment network, they can do that."
Indeed, remittance statistics published by the blockchain forensics firm Chainalysis, cited by Reuters, show BTC adoption for international payments growing in El Salvador. Still trailing behind the dollar in total volume, Salvadorans sent around $1.7 million back home via the Bitcoin network in May 2021. Twelve months previously, the figure stood at just $424,000.
El Salvador's political context
Although a major factor in adopting BTC as legal tender, El Salvador's economic context alone is not enough to explain the new legislation. Many nations find themselves in similarly desperate situations but lack the political climate to introduce such progressive legislation.
To appreciate how "magic internet money" moved from a grass-roots initiative in a town of just 3,000 inhabitants to the president's attention, it is also important to understand something of El Salvador's recent political history.
Like much of Central and South America, El Salvador had long been ruled by a corrupt elite. Beginning in the mid-1990s, power bounced between two political parties born of a lengthy and destructive civil war. Every five years, the voting public was given a choice between the rightist ARENA, which traces its origins back to the so-called "death squads" of the military-led junta ruling before the conflict, and the leftist FMLN, formed from the remnants of the guerrilla insurgents opposing the former regime.
In 2019, however, presidential hopeful Nayib Bukele campaigned on the back of growing dissatisfaction with the political status quo. His anti-corruption message struck a chord among voters, while his modern, social media-heavy campaign approach distinguished him from the incumbent parties. Bukele won by a landslide, and in a later parliamentary election, his newly formed party, "Nuevas Ideas," took commanding control of the nation's Legislative Assembly.
Carter explained to OKX Insights the importance of Bukele's popularity and its significance to the passing of the Bitcoin Law:
"They have the benefit of a single party in power with an enormously popular mandate. This means they can afford to undertake bold experiments without risking a loss of political support."
How could Bitcoin benefit El Salvador?
Many Bitcoin Law supporters believe the legislation will have a profound impact on the Salvadoran economy by helping alleviate the severe poverty spanning the nation. Along with remittance savings and an avenue by which to possibly de-dollarize, the Central American country may experience benefits in terms of heightened foreign investment and an overhaul of its hamstrung financial system.
Attracting foreign investment
Bukele has made a lot of the Bitcoin Law's potential to attract foreign investors to El Salvador. In a world with ever-changing regulations toward digital assets, a national government actively supporting Bitcoin with legal protections is a big deal to the industry.
Shortly after announcing the Bitcoin Law, Bukele took to Twitter to speculate on the transformative potential foreign capital could have for El Salvador. Commenting on the size of BTC's market cap, the president stated that just 1% injected into the country's economy could be hugely beneficial for national GDP.

Indeed, in the days following the law's breakneck passage through the legislature, several companies showed interest in setting up operations in the nation. Athena Bitcoin, the company that introduced the first BTC ATMs in El Zonte, suggested importing a further 1,000 machines. Strike also has plans to establish a new operational base in the country.
Similarly, Ray Youssef, the CEO of peer-to-peer crypto marketplace Paxful and strong proponent of BTC use in the developing world, promptly traveled to El Salvador. Impressed by what he saw at Bitcoin Beach, Youssef pledged support for El Salvador's initiative and called it "the door" to further nation-state BTC adoption in Africa, stating:
"The ground hustle at Bitcoin Beach is exactly how Bitcoin spreads in Africa and we at Paxful want to give them more momentum."
However, some from within the cryptocurrency industry, as well as some outside it, have criticized the influx of businesses rushing to El Salvador. The most impassioned Bitcoiners took issue with those representing non-BTC cryptocurrencies apparently pouncing on the opportunity to promote altcoins in the country. Block.one and EOS Alliance co-founder Brock Pierce took the brunt of the criticism, particularly after he tweeted that a group of 30 or so crypto entrepreneurs arriving in El Salvador were the "official delegation of Bitcoin ambassadors."
Elsewhere, in an article for The Conversation, John Hawkins, the former senior economist at the Reserve Bank of Australia, described Bukele's apparent expectation of foreign investment as "very confused." Continuing, he dismissed the relevance of BTC's market cap when speculating on future capital inflows:
"In very few cases do people buy bitcoins to invest in other things. Bitcoins are their investment. Neither major funds nor average punters holding bitcoins are likely to want to start investing in El Salvador. […] A surge in foreign investment into new infrastructure and businesses that increase productive capacity would contribute to GDP, but there's no reason to think giving Bitcoin legal tender status will make this more likely."
Contributing to concerns over the extent to which foreigners may invest in El Salvador is the offer of permanent residency that Bukele mentioned during the Twitter Spaces discussion. According to the president, those willing to "invest" 3 BTC or more will be legally entitled to settle in El Salvador. As Bukele himself stated, this investment could be simply buying property or a few vehicles.
Along with some concerned locals, Hawkins is among those taking issue with the residency offer. He contends that such a policy would not necessarily benefit the country's GDP — as foreign investments are not a direct component of the metric — and that wealthy foreign Bitcoiners seeking to avoid capital gains taxes elsewhere may exploit the policy at the expense of the local population:
"Foreigners using Bitcoins to buy assets such as land in El Salvador would bid up its price but not necessarily increase GDP."
However, Gladstein, from the Human Rights Foundation, disagrees. Speaking to OKX Insights, he reasoned that with or without significant foreign investment, the public stands to benefit:
"This isn't like a real estate policy or something that relates to something that only rich people can have. This is something that will empower anybody who has internet access, which is more than half the country. And it's just a matter of time and education. Once people understand how it works and they can store their own BTC without having to rely on the government, it's going to empower a lot of people."
Volcanic energy to power BTC?
In addition to favorable legislation, El Salvador does boast one particular asset that is not only crucial for the Bitcoin network but may also improve perceptions of the cryptocurrency far beyond the small Central American state. Along El Salvador's western coast are 20 potentially active volcanoes. Facing a question during the Twitter Spaces conversation about whether the government had considered supporting BTC mining, Bukele revealed the nation's untapped, surplus geothermal energy reserves. He then seemingly formulated a plan on the spot for how such renewable energy sources could be harnessed.
The following day, he instructed the nation's state-owned electric company to prepare to offer support to Bitcoin miners:
The prospect of dispelling fear, uncertainty and doubt over Bitcoin's environmental impact as well as the reality of a government pushing BTC adoption resonated strongly in the crypto industry. Among those quick to express interest in mining with clean, renewable volcanic power in El Salvador was Adam Back, the CEO and co-founder of blockchain-development company Blockstream, who tweeted:
"Wouldn't say no to a Blockstream mining El Salvadorian volcano lair! Helping the local economy mine Bitcoin right out of the volcanoes!"
Speaking to OKX Insights, Sergii Gerasymovch, the founder and CEO of environmentally conscious mining company EZ Blockchain, elaborated on the significance of El Salvador's support of the mining industry with clean, renewable energy:
"Volcano mining is not a new concept. Iceland has been one of the largest crypto mining countries on geothermal energy. El Salvador will follow the model. The beauty about El Salvador is that it is not so far from the United States — it is only a three-hour flight from Miami. There will be a decent number of investors interested to invest in power generation in El Salvador."
Gerasymovch went on to describe how the spread of mining facilities to new locations like El Salvador would be a net positive for Bitcoin, too. Not only do new sites decentralize the industry — particularly as the Chinese government cracks down once again on its domestic mining hubs — but the use of geothermal energy should quell environmental criticisms levied at the network.
On the What Bitcoin Did podcast, Bukele himself detailed the anticipated benefits of geothermal-powered mining in the country:
"We have already been receiving a lot of interest from a lot of people. […] It's going to provide a lot of income to the country, and to build the plant is going to cost $480 million, so that's going to be a legacy for the country because are building infrastructure paid by Bitcoin. […] I think this whole project is going to pay for other things as well. In the future, you'll see schools being built with a sign that says, 'This school is being built with the Bitcoin Law.'"
Modernizing El Salvador's infrastructure
El Salvador's new legislation may also have a positive impact on the nation's financial infrastructure. Speaking to McCormack on the What Bitcoin Did podcast, Mallers described the lack of financial inclusion engendered by the existing system. He recalled meetings with the heads of Salvadoran banks during which he learned that a basic transfer between two domestic banks was impossible. With only 30% of the population estimated to have access to such an antiquated system, the need for modernization was clear.
According to Strike founder Mallers, the situation provides an opportunity to plug domestic banks into the Bitcoin network, creating interbank payment rails that simply do not exist today. Careful to mention that Strike has no commercial agreement with the government, the CEO went on to describe how heads of financial institutions were receptive to the idea of modernizing El Salvador's financial system with Bitcoin.
In addition to plans of overhauling the nation's payment rails, other infrastructure improvements now appear likely. On June 7, Bukele announced plans to collaborate with Blockstream to roll out satellite internet access to every Salvadoran. Naturally, such a move is intended to complement the Bitcoin Law. However, it will also have a large impact on the lives of citizens all over the nation — particularly those in rural areas, which are unserved by existing internet infrastructure.
Criticisms of the Bitcoin Law
While many Bitcoin observers have heralded the Bitcoin Law as a significant victory for El Salvador, BTC and global freedom, not all voices support Bukele's wild-card play. Unsurprisingly, those with ties to the existing global financial system are particularly dismissive of the motion. However, other criticisms stem from within the cryptocurrency industry, and many Salvadoran citizens appear to object to parts of the legislation too.
Mandated BTC use
Perhaps the main criticism shared between Bitcoin's staunchest freedom advocates and those closer to the existing system is the wording of specific provisions connected with the legislation itself. Many have pointed out the implications potentially brought about by Article 7 — the most controversial of the Bitcoin Law's 16 additional provisions — which would purportedly mandate the acceptance of BTC for commerce in the country.
(OKX Insights has been unable to independently verify that any of the 16 articles were ultimately included in the law that passed on June 8 — as the document enumerating these provisions currently has no signatories and as the minutes of the June 8 legislative session does not reference them.)
Legislation in countries around the world generally does not force retailers to accept whichever currency the government deems legal tender. For example, a U.S. shopkeeper is perfectly within their rights to turn down a $100 bill for whatever reason. They could also accept or decline any other means of payment they choose. Typically, legal tender laws refer to the repayment of debts and, as such, do not necessarily have much impact on commercial transactions.
The wording of Article 7 suggests that this may not be the case in El Salvador. In the original Spanish text, the provision reads:
"Todo agente económico deberá aceptar bitcoin como forma de pago cuando así le sea ofrecido por quien adquiere un bien o servicio." (Every economic entity will have to accept BTC as a form of payment when so offered by a person who acquires a good or service.)
In email correspondence with OKX Insights, Julián Salinas, the executive director of the Foundation for the Development of Central America and former vice-minister of the Salvadoran economy, expressed concerns over Article 7:
"It is foreseeable a failure, and many people distrust this decision because they have received contradictory messages. For instance, in the beginning, the government mentioned that it would be optional, but the legal project approved indicated that it would be mandatory."
Supporting Salinas are the survey findings of the nation's Chamber of Commerce. Of those business owners represented in the 1,600 total respondents, 96.4% stated that they would prefer that BTC acceptance be optional rather than mandatory. Of non-entrepreneurial respondents, 93.2% said they did not want to receive their salary in BTC and 82.5% answered that they weren't interested in BTC remittance payments either.
Similarly, local economists cited by domestic news reports seemed puzzled by what appears to be mandated BTC use. For example, Claudio de Rosa, an economist and professor at Dr. José Matías Delgado University, asked why BTC needed legally enshrining at all, particularly given that it can already be used worldwide.
However, the draft legislation Bukele shared via Twitter contains additional clauses that could mitigate some of the law's potentially coercive elements. As stated in Article 12, the government will not force those lacking the means to receive BTC to accept payment via the cryptocurrency. Meanwhile, Article 8 sketches provisions for a government exchange, enabling instant convertibility to USD. In subsequent discussions about the legislation, Bukele stated that the government would assume any BTC price volatility risk on behalf of those citizens opting for automatic USD conversion.
Speaking to McCormack, Mallers pushed back at the allegations that the Bitcoin Law restricts freedom:
"To be clear, it is not a mandate to touch BTC, the asset — to hold BTC, the asset. They [the Salvadoran government] became very familiar with Strike's infrastructure and understood that you can be interoperable with this open monetary network that gives all these efficiencies while just touching dollars."
He went on to say:
"I think there's a lot of confusion that people are like, 'Salvadorans are being mandated to hold BTC,' which is not true."
Similarly, the Human Rights Foundation's Gladstein told OKX Insights that the criticisms were overblown:
"Article 7 does not make sense unless you understand what they are trying to do here. […] The point is that they want to create this system where anyone can pay you in BTC and you have to receive it, but that doesn't mean you have to keep the BTC.

They're going to make this software available for everybody, which allows you to choose whether or not you want to keep it in dollars or BTC. So, ironically, even though the critics are saying this is coercion, this will give more monetary choice to Salvadorans who currently only have the dollar as their only option — which is, again, a currency that is controlled thousands of miles away in Washington and often gets debased without their decision making or input. So, I think the critics are off here."
Meanwhile, Carter told us that the quickly drafted bill was far too sparse in detail, and any judgments over the law's eventual implementation are premature:
"The bill is short and much will depend on interpretation. If it genuinely imposes acceptance of BTC at all merchants by mandate, then it will impose frictions. But, ultimately, accepting BTC isn't that much of an overhead. I don't see it as a threat to economic freedom for regular Salvadorans. They can still use dollars as before."
Reliance on USDT?
Critics also highlight Strike's existing provisions to provide remittance services to underbanked populations as a cause for concern. Although Strike strives to provide the receiver the option to automatically convert BTC received into USD, in nations where the lack of financial infrastructure causes friction, the company sometimes converts payments into USDT, the controversial stablecoin, instead.
George Selgin, the director of the Center for Monetary and Financial Alternatives at the Cato Institute, and others have suggested that recipients of Salvadoran remittance payments will be lumbered with USDT when they really want actual dollars. Given that USDT's issuer, Tether Limited, has faced significant legal disputes over its claims of 1:1 dollar backing, such concerns appear to be justified.
However, Mallers seems aware that reliance on Tether is not a lasting solution in El Salvador. Speaking on What Bitcoin Did, he described how regulatory issues had initially prohibited Strike from launching in El Salvador with full support for instant USD conversion. The company reportedly used USDT only to present a proof of concept to the government.
He went on to discuss integrations with the nation's top five banks and so-called "cashpoint distributors" that enable those lacking access to financial services to receive physical payments. In summary, he stated:
"Tether is no longer a part of anything. To give everyone context, I went to El Salvador 90 days ago. […] Tether was part of the plan originally because it had to be — because I didn't have a choice."
Rushed legislation
Both academics and locals have taken issue with the lack of consultation between the government and its citizenry in formulating the new law. Since announcing the legislation, many responses to Bukele's tweets have questioned the speed with which the government passed the legislation.
Although Mallers describes a period of at least three months in which the government worked with Strike, the first time many locals heard of the monetary move was via Twitter just days before the nation's legislature voted on the change. Some of the population appear to feel left out of the democratic process, particularly given the potential gravity of the new law.
Salinas — the economic minister of the previous government, replaced by Bukele's — is among those who believe the government rushed the Bitcoin Law through the legislative process:
"This transcendental law was not discussed with the Salvadoran people in depth. When a government makes a critical decision on new legal tender, especially a cryptocurrency, you expect a public debate, some period to analyze its repercussions, some scientific or technical studies and [then to] present them to society. But this did not happen."
While discussing the speed with which the government passed the Bitcoin Law, Salinas opined that someone close to the current ruling party might have had much less altruistic and altogether more personal reasons for hastily passing the Bitcoin Law. Although by his admission, the following is purely speculation, he told us:
"First, some persons of the Salvadoran government had invested money in Bitcoin and have been affected by BTC's price trend because of Elon's Musk declarations and the recent decisions made by the Chinese government about the Bitcoin regulation, which had plunged the price recently. Second, the government needed to send a sudden and overwhelming message to the Bitcoin market to affect the price. Although the decision has not changed the trend disruptively, it has attenuated the price dropping."
International perceptions
Critics of the Bitcoin Law have also highlighted the potential friction between El Salvador's BTC adoption and its dealings with the international community. Chief among the concerns is the potential for laundered money to enter the global economy via BTC.
Salinas elaborated to OKX Insights:
"When applying this legal measure in a small country with serious security problems, the difficulties of regulations of BTC and their traceability can facilitate the gang members' operations. It also could add other issues like tax evasion and corruption.

I could mention the unique benefit of increasing Bitcoin's operations in El Salvador to attract new investors. But, unfortunately, some of it originated from money and active laundering."
This sentiment is echoed elsewhere too. In declining a request to support El Salvador in implementing the legislation, the World Bank cited money laundering concerns and the network's environmental impact. Similarly, global investment bank JPMorgan Chase questioned whether the new legislation would impact ongoing financial aid discussions with the IMF. Both the Bank of International Settlements and the European Central Bank outlined related concerns.
Bukele himself appears to reject the notion entirely, however. Seemingly reading from the Bitcoiner hymnal on Twitter Spaces, he stated that most of the planet's money laundering is still conducted using cash. He stated:
"The problem is not the dollar. It is the criminals."
Later, on the What Bitcoin Did podcast, the Salvadoran president reasoned that the move should be received in the same way as any other legal tender law:
"This is just exercising our sovereign right to adopt legal tenders. We adopted the U.S. dollar in the year 2001. […] In 2001, it was probably done for the benefit of the banks. And this decision is done for the benefit of the people. […] We have been explaining the benefits to the IMF, and we'll do more explaining if they want to. But, the best explaining will come in September, when the law comes into effect and everybody sees how it benefits the merchants, the small businesses — how it benefits everybody."
El Salvador: The first domino to fall?
Regardless of the criticisms, El Salvador's legislature has passed the Bitcoin Law, and plans are underway to prepare for its implementation in September. Ultimately, time will tell how BTC can help modernize the nation's infrastructure, the extent to which it can aid those receiving cross-border payments from families living abroad and to which it can attract foreign investment to El Salvador. Similarly, we will have to wait and see whether the issues raised by the international community, concerned citizens and those questioning the coercive wording of the Bitcoin Law play out.
That said, the Bitcoin Law does appear to have opened the door for other nations to consider how BTC could benefit their own economies. Following Bukele, a string of Latin American politicians added the iconic "laser eyes" — symbolic of Bitcoin support — to their social media profile pictures.
Lawmakers in Argentina, Mexico, Ecuador, Brazil and Panama have all expressed interest in exploring some form of BTC adoption. In fact, Paraguayan politician Carlitos Rejala quickly introduced a similar bill on June 24. However, the nation's two-tier legislative system is nowhere near as stacked in one party's favor as is the case in El Salvador. Subsequently, it remains anything but certain whether Paraguay will follow suit at this point. Elsewhere, murmurs of support from other developing countries are also growing.
During his interview on the What Bitcoin Did podcast, President Bukele seemed confident that similarly positioned nations would follow his example:
"I know it's going to help millions of Salvadorans, and probably it's going to help billions of humans — because the example we're going to set up here is going to resonate all over the world."
He also reasoned that the Bitcoin Law was an opportunity for El Salvador to help itself. When questioned about the risks, he replied:
"What could be the risks? Yeah, you could get some people angry or mad at us. But they haven't been so good to us, anyway. Let's see how things are here — 70% of people, they don't even have a bank account. So, some banks may be upset, yeah, but they're not taking care of 70% of our people!"
Despite supranational organizations like the IMF and World Bank casting doubt on El Salvador's legislation, the Central American Bank for Economic Development expressed support for the nation. Subsequently, it formed a technical group to assist in the law's implementation. Dante Mossi, the executive president of the 15-member strong institution, tweeted:
"Accompanying El Salvador in its deepest monetary reform since dollarization."
Carter told OKX Insights that he anticipates nations in similar economic situations to be watching how the Salvadoran experiment unfolds with great intrigue. For him, a successful implementation will likely result in other governments following Bukele's lead:
"I think other states will take a wait-and-see approach and let the Salvadoran experiment play out. If they achieve efficiencies in remittance, diversify their FX reserves at the central bank and onshore lots of capital and foreign entrepreneurs, I think other states in a similar position will follow suit."
Carter went on to describe the factors that would make a nation more likely to adopt similar legislation. He included economies that are already using USD, those with significant remittance volume, nations with previous monetary instability, those with strong governments with popular support, and countries with significant existing BTC penetration. With the Central American Bank for Economic Development supportive of El Salvador's move, local politicians clearly interested and combinations of the factors Carter mentions prominent across Latin America, the region looks primed to explore how Bitcoin could improve living standards.
Indeed, remittance payments contribute significantly to several Latin American economies. In 2019, remittances to Haiti, Honduras, Nicaragua and Guatemala formed 37.13%, 21.96%, 13.2% and 13.06% of their respective GDPs. Should El Salvador's experiment prove successful, the prospect of such remittance savings alone appears likely to create a domino effect across Central and South America.
Gladstein believes that such remittance savings will profoundly affect the lives of many in El Salvador. If his view proves correct, it is difficult to imagine how national governments could ignore Bukele's BTC experiment.
"It's going to have a massive human impact," Gladstein said. "Think about the remittances for a second. The average fees for these things can range, but even at the lower end, it's 5%–10% siphoned away by one thing or another."
Additionally, given the abundance of renewable energy across Central and South America, mining BTC may become increasingly alluring to governments. As well as the volcanic, geothermal resources found throughout the regions, nations like Paraguay have massive hydropower surpluses. EZ Blockchain's Gerasymovch elaborated:
"Central and South America have a lot of access to hydropower. Many counties will follow the model of El Salvador and open the doors for miners, especially after the exodus from China."
However, Salinas warns that a bad experience in El Salvador could seriously damage BTC's image at the national level. While the Bitcoin network will continue to produce blocks regardless of the opinions of world leaders, failure to benefit the nation or a harsh international backlash may set Bitcoin adoption back considerably. Salinas weighed the situation, saying:
"Overall, if this experience has a terrible precedent in El Salvador when it is promoted around the world as a significant experience using Bitcoin as a legal tender, a negative result in the future could affect the Bitcoin project."
Gladstein, on the other hand, is more optimistic about the potential domino effect of the Bitcoin Law:
"I think some countries are going to be interested in mining BTC with their renewable resources. I think some countries are going to be interested in adding some BTC to their balance sheet. From a central bank point of view, as a reserve, I think that some countries may follow El Salvador. I mean, it would make sense if it would be dollarized countries like Ecuador, perhaps. But we'll see. Look, El Salvador is not the last country in the world that will adopt BTC as legal tender — that's for sure."
Looking more locally, Peterson — the "Bitcoin Beach Twitter Guy" — strongly believes that the Bitcoin Law will have a major impact on El Salvador and its people:
"I think the biggest benefits will be a flow of good-paying jobs and a change of the narrative. When people talk about El Salvador, it will no longer be murder rates and gangs, but the Bitcoin industry and beautiful beaches. I think in 12 months, half the country will be using BTC in a significant way. I think in five years, they will be talking about how fast Bitcoin transformed the economy and increased real wages."
President Bukele appears deeply committed to making his gambit a success. In an address to the nation on the evening of June 24, he explained the government's custom wallet application. In addition to addressing concerns about the apparent obligatory nature of the Bitcoin Law, he revealed that — like the Bitcoin Beach's beginnings — the application would launch with $30 in BTC credited to every registrant. With such aggressive bootstrapping, the first months will see potentially millions of new users handle BTC for the first time, thoroughly stress-testing the plan.
As such, Bukele's bold step in supporting Bitcoin represents an opportunity for BTC detractors and supporters alike to test their theses at the international level. For BTC naysayers, failure will highlight the network's unsuitability for use as a currency. Meanwhile, for those championing the first open, borderless and permissionless monetary network, it is Bitcoin's time to prove its monetary superiority on the world stage.
What is certain, however, is the planet's eyes will be fixated on El Salvador as it embarks on its unprecedented journey — and Bitcoiners everywhere will surely be rooting for the tiny Central American nation.
---
OKX Insights presents market analyses, in-depth features and curated news from crypto professionals.