BSN continues global expansion as Nvidia GPUs find favor among crypto miners
A weekly overview of blockchain and cryptocurrency news from China and Hong Kong — China Market Watch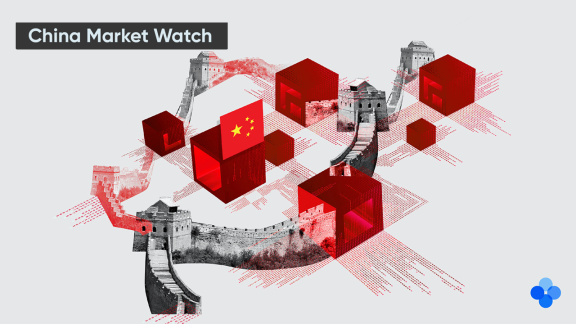 It has been an eventful week for the Blockchain-based Service Network, China's national blockchain, which extended its global presence by on-boarding Casper, NEAR and Findora. On the domestic front, BSN partnered with Ernst & Young to provide compliance tools for Ethereum developers.
The testing of China's digital currency, DCEP, also continued this week as Beijing citizens spent DCEP red packets during the Winter Shopping Festival.
In the mining sphere, Nvidia laptops have gained popularity among Chinese cryptocurrency miners.
Here's everything you may have missed regarding these stories, and more, in this week's edition of China Market Watch from OKX Insights.
BSN International on-boarded three public blockchains
BSN International continued the expansion of its global presence by integrating three public blockchains: Casper, NEAR and Findora.
The integration of the three public blockchains will go live on Feb. 28.
BSN developers will be able to access these blockchain networks through public city nodes and build decentralized applications.
Key takeaways
BSN has on-boarded five new blockchains in February. Last week, BSN China announced the integration of two permissioned blockchains: Cosmos-based WenChang Chain and FISCO BCOS-based Tai'an Chain.
Both the mainnet and testnet of NEAR will be available to BSN International users.
BSN China partners with EY for Ethereum compliance tools
Big-four auditor Ernst & Young partnered with BSN to provide its compliance tools, Blockchain Analyzer and OpsChain, for Ethereum developers in China.
As a member of FISCO, EY will provide its blockchain solutions to Ethereum and FISCO BCO users through BSN.
Key takeaways
The EY OpsChain will enhance traceability for procurement activities run by Ethereum developers. The EY Blockchain Analyzer will offer financial statement audits and blockchain analytics for BSN China users.
To enable regulatory-compliant access in China, the EY team will use BSN's upcoming launch of controlled-access services.
The availability of EY blockchain solutions are subject to regulatory approval.
Beijing citizens spend DCEP during shopping festival
The Beijing Local Financial Supervision and Administration announced a DCEP lottery and gave out 50,000 red packets for citizens to spend during the Winter Shopping Festival.
Each DCEP red packet was worth CNY 200. Users could spend DCEP online via JD.com or offline in 81 merchants in Wangfujing.
Key takeaways
Users did not need to connect their bank card to participate in the DCEP lottery.
The DCEP trial in Beijing was transparent, as it provided a detailed FAQ page for the first time. The FAQ page outlined the logistics of the DCEP lottery.
Nvidia laptops gain popularity among Chinese crypto miners
Chinese cryptocurrency miners are reportedly making bulk purchases of laptops featuring Nvidia's GeForce 30 series of graphics processing units to mine ETH.
A laptop with a GeForce RTX 3060 GPU is estimated to generate around 2.3 ETH per year. With the current ETH price of $1,811, the revenue could cover the cost of laptop and energy costs in China.
Key takeaway
The new RTX 3060 graphics card is being used by an F2 pool user to mine 0.00053 ETH in two hours. 
---
OKX Insights presents market analyses, in-depth features and curated news from crypto professionals.