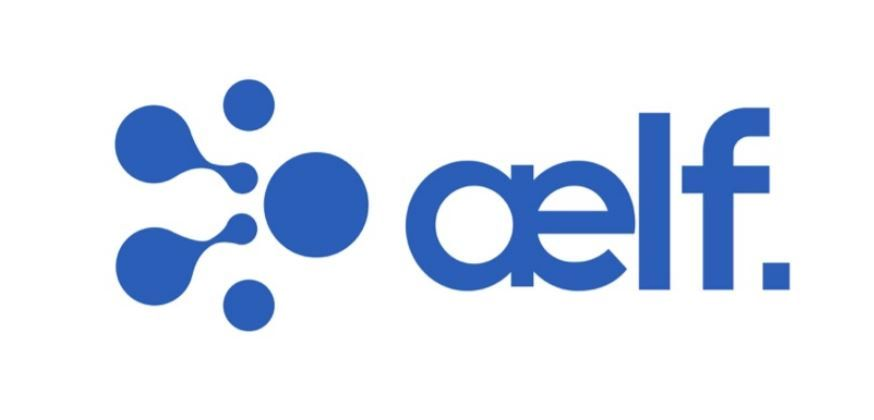 aelf is a fully decentralized layer 1 network that aims to leverage cloud computing technology to provide scalable blockchain solutions for businesses. aelf aims to provide a powerful and convenient blockchain network for commercial adoption using side chains, parallel processing and cross-chain communication. In this article, we will discover what is aelf and how aelf works.
The aelf main chain is powered by a delegated proof-of-stake consensus mechanism, making the aelf blockchain an efficient and scalable network. Using sidechains, aelf is able to scale horizontally and avoid bottleneck congestion by segregating resources.
The aelf operating system is a decentralized SaaS protocol that allows commercial businesses to launch their own blockchain network using aelf sidechains. What's interesting about aelf is that each sidechain can choose its own consensus model, giving businesses and commercial partners greater flexibility when deploying their chain.
ELF is the native token of the aelf ecosystem. It is used to pay transaction fees, sidechain indexing fees and node operation. ELF is also used as the governance token of the aelf blockchain and is needed to shape the future of the network by voting in matters of aelf governance.
What Is aelf? Highlights
aelf is layer 1 network that uses cloud computing technology to provide blockchain services to businesses
The aelf main chain employs a delegated proof-of-stake consensus model
The aelf network uses sidechains to scale and avoid network congestions and transaction bottlenecks rapidly
The aelf operating system makes it easier for businesses and commercial partners to easily deploy their own sidechain in the aelf ecosystem
How Does aelf Work?
To better understand what is aelf, let's take a look under the hood and figure out how aelf works? What's unique about aelf is the blockchain's multi-layer approach to finalizing transactions.

aelf Main Chain
The aelf main chain is the central blockchain of the aelf network and handles most transactions. The main chain acts as a ledger of transactions and supports typical blockchain functions, like decentralized finance, NFT creation and the development of onchain applications. The main chain is also responsible for verifying transactions that are executed on side chains and for synchronizing communication across the ecosystem.
aelf Sidechains
aelf sidechains are completely independent of each other and are responsible for executing certain smart contracts. Each sidechain can host and operate its own independent nodes and consensus mechanism, this means that all sidechains can determine their own processing speeds and transaction throughput. All transactions completed on sidechains are communicated back to the aelf main chain for verification.
aelf sidechains are also intended to host blockchain solutions for enterprise and commercial business. Because sidechains are designed for specific business practices such as token issuance, insurance databases and information registration, the mechanics of each chain like the consensus model and node delegation can be tailored to support specific industry needs.
What Is ELF Used?
ELF is the native utility token of the entire aelf network. ELF is required to process onchain transactions and pay gas fees. Network participants also use it to pay for goods and services and side chain index fees.
Because the aelf main chain is secured using a delegated proof of stake consensus mechanism, ELF tokens can also be used to operate a validator node responsible for securing the network and producing new blocks on the aelf blockchain. Node operators are rewarded with ELF tokens in exchange for providing this service.
Get more out of your ELF tokens with OKX!
OKX is more than just a place to buy and sell your favorite cryptocurrencies. Did you know that with OKX, you can stake your ELF coins in our complete staking platform OKX Earn? With OKX Earn, you can deposit your ELF tokens in a variety of fixed and flexible staking subscriptions to earn passive rewards on your holdings.
OKX even provides users with enhanced financing options and tools. You can use OKX Loan to lend out your ELF tokens to earn interest on your investment. If you need instant liquidity but don't want to sell your ELF position, you can even take out a loan against your ELF collateral!
aelf History
The aelf network was originally founded in 2017 by Ma Haobo. Haobo is a vastly experienced blockchain expert and early adopter of digital assets. Before beginning work of the aelf ecosystem, Haobo was the CEO of Hoopox and was employed as the chief technology officer of Gempay and Allcoin.
After receiving funding through initial rounds in late 2017, the aelf development team began development on the aelf blockchain in 2018, with the public testnet going live in June 2018. The aelf testnet underwent multiple iterations before the aelf mainnet was finally launched in Dec 2020.
The aelf mainnet continued to undergo numerous functionality tests and security audits throughout 2021, with the integral token swap going live in Sep 2021. Because the ELF token was originally distributed as an ERC-20 token on the Ethereum network, it wasn't compatible with the aelf network. The token swap allowed investors to swap their ERC-20 ELF tokens to ELF mainnet tokens at a 1:1 ratio and begin using the aelf ecosystem.
ELF Tokenomics
The ELF token has a maximum total supply of 1 billion tokens. Of this maximum supply, there are currently around 544 million tokens circulating. This represents approximately 54% of the total supply.
According to icodrops, the aelf token sale was conducted in Dec 2017 and raised over $24 million USD at an ELF price of 0.10c per token. Following the ICO, ELF tokens were distributed in the following allocations:
16% - Team allocation
10% - Advisors and partnerships
12% - PoS and PoW Rewards
25% - aelf foundation
25% - Sale
12% - Marketing and airdrops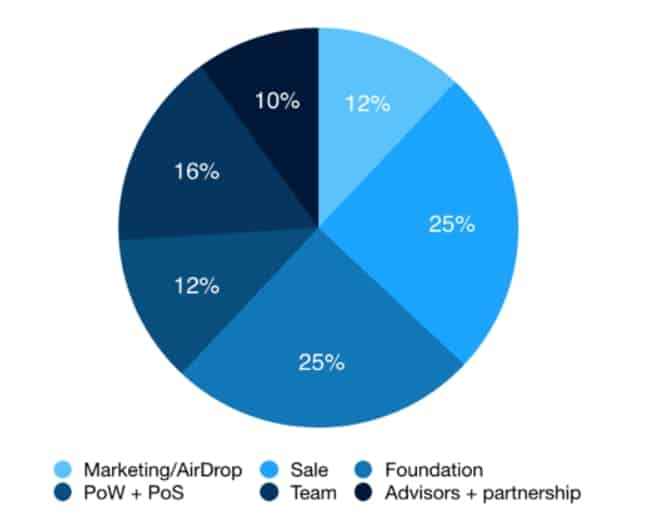 According to the aelf whitepaper, 12% of the total token supply was allocated for staking rewards and emissions. The emission rate of these rewards will undergo an emission halving every four, ensuring the continued distribution of staking rewards to validators that secure the network and process new blocks.
How Is ELF Created/Mined?
The ELF token has a maximum fixed supply of 1 billion tokens that have been fully minted. As a result, no new tokens can be created. Instead, ELF tokens are distributed to network participants through staking rewards at a continuously decreasing rate.
Despite having a fixed supply, the aelf tokenomics benefit from an innovative deflationary mechanic. So what is aelf's burn mechanism? As per the aelf whitepaper, 10% of transaction fees are burnt and permanently removed from circulation, while the remaining 90% of the transaction fees are redistributed into the ELF rewards pool. If the recipient's address is set to an aelf sidechain the remaining 90% will also be burnt. What's advantageous about aelf's burn mechanism is that it makes ELF a deflationary cryptocurrency, which may increase aelf price over time.
aelf Competition and How It Fares
aelf is not the only cryptocurrency project that aims to increase scalability and ease network congestion and bottleneck effects using sidechains. Using sidechains enables networks to scale in a common solution that helps blockchains achieve greater transaction finality and throughput. The Polygon network is a great example of this innovation, and is currently a larger and more well-known competitor.
However, Polygon has long been recognized as a top 15 cryptocurrency in market capitalization and network usage. Comparatively, aelf is still rather undiscovered while providing a similar architecture and operational framework.
What separates aelf from Polygon is the capability for users and commercial businesses to deploy their very own blockchain using the aelf OS easily. The aelf OS acts as a service that facilitates the creation of sidechains in the aelf ecosystem. This stems from the idea that businesses can operate their blockchain solution to avoid congestion on the aelf main chain. This is similar to a utility provided by the Cosmos SDK in the Cosmos ecosystem.
aelf Partnerships & Investors
When the aelf private sale was announced in late 2017, there was inevitably enormous interest from institutional investment firms. The aelf network aims not only to provide users and commercial enterprises with scalable blockchain solutions, but also to provide a framework for businesses to launch their chains. Naturally, these objectives resonated with investors and attracted top-tier cryptocurrency investors like:
360 Innovation Capital
8Decimal Capital
Blocktower Capital
HASHED
LD Capital
Signum Capital
aelf Strengths, Weaknesses, Opportunities, and Threats
Strengths
aelf is a unique ecosystem that offers a diverse range of utilities. From providing a scalable blockchain that avoids transaction bottlenecks using sidechains and parallel processing, to facilitating the rapid deployment of new business-owned and operated networks aelf is bringing innovation into the cryptocurrency industry. By targeting the pain points of existing businesses and providing blockchain based solutions, aelf has established a clear path for ongoing adoption.
Weaknesses
Since the aelf project was initially launched, it has been hindered by slow development. Between the completion of the ELF token ICO and the launch of the aelf mainnet, development took around 2-3 years before finally delivering the aelf blockchain. On top of that, it was another nine months before the ELF token swap was shipped and investors were finally able to use their ELF tokens on chain.
Opportunities
One of the fascinating things about aelf is that when deploying new sidechains, users can choose certain mechanics regarding the architectural design of the chain. This means that mechanisms like consensus models and transaction processing speeds are at the discretion of the sidechain developer. This is a unique selling point for the aelf ecosystem and brings excellent opportunities, both for developers, businesses and investors.
Threats
One of the greatest risks facing the aelf ecosystem is its current lack of network usage and adoption. According to the aelf explorer, the aelf blockchain only has around 12,000 unique accounts across both the aelf main chain and sidechains. In comparison, the Polygon network has over 160 million unique wallet addresses. To improve its usage metrics, the aelf ecosystem needs to host more applications and entice users and develops to migrate to the network.
The aelf Roadmap
After completing all the steps outlined in their original roadmap, what is aelf working on next? The aelf development team has since renewed their focus on optimizing the aelf network. The team's current objectives are developing sophisticated blockchain listeners and expanding NFT compatibility on the network.
aelf Highlights
The aelf Cross-Chain Bridge
As the world of blockchain and cryptocurrency continues to expand, it's becoming clear that there will be no single chain that handles all transactions in the Web3.0 world. As a result, cross-chain compatibility has become an essential utility and technology that needs to be considered when developing new blockchains.
Fortunately, the aelf development team has considered this, and recently completed the design of the aelf bridge. Once completed and fully deployed on the mainnet, the aelf bridge will facilitate two-way transfers of tokens across the aelf network and EVM blockchains. The bridge will also permit transfers between the aelf main chain and aelf sidechains.
The aelf Mainnet Token Swap Deadline
During the launch of the aelf project and the ELF token, ELF was originally an ERC-20 standard token deployed on the Ethereum network. The ELF token was also later added to the Smart Chain network to take advantage of the BSC's network effect and increase investor exposure.
Once the aelf mainnet went live, investors needed a way to swap their ELF tokens from the Ethereum and BSC networks to the aelf blockchain. Thus, the aelf mainnet token swap was created, which allowed investors to swap their ELF tokens from the old networks to the newly launched aelf mainnet at a 1:1 ratio. This token swap application was launched in Sep 2021, and was extended numerous times to allow ELF holders time to migrate their tokens to the new chain fully. Finally, a deadline has been given. The aelf team announced that the final day to swap ELF tokens will be September 9th 2022, exactly one year after the token swap went live. To swap any ELF tokens you might be holding, please visit the official swap site.
The aelf DAO
At the time of the aelf mainnet launch, the wider aelf community thought it imperative to create a self-governing organization that would promote orderly governance and positively represent the aelf community within the cryptocurrency industry. This led to the formation of the aelf DAO, a group of passionate ELF investors and network participants who are able to access unique privileges in the aelf ecosystem.
The basic criteria for joining the aelf DAO is rather straightforward. Simply be an active community member in the aelf telegram group and verify that you hold at least 50,000 ELF tokens.
Members of the aelf DAO are rewarded with exclusive access to helpful information and events under the aelf umbrella. Members can:
Get first hand information on development updates from the aelf core team
Join live AMA (ask me anything) sessions with the aelf development team
Collaborate and discuss potential aelf governance proposals with other aelf DAO members
Learn more about aelf's network and its underlying architecture and innovative technology
Be involved in strategic planning for the wider aelf ecosystem
Access offline, real world events to network and connect with other aelf investors
Where To Buy ELF?
If you want to invest in the aelf project and buy ELF tokens, look no further than OKX! At OKX it's easy to buy ELF, regardless of whether you're buying crypto for the first time or your a cryptocurrency veteran.
To buy ELF, first you'll need to fund your account with either BTC or USDT. You can easily purchase using your credit card on our 'Buy Crypto' page. Otherwise, you can deposit BTC or USDT from a private wallet that you own. After funding your account, simply open the OKX spot market by clicking 'Basic Trading' using the dropdown menu.
Then, search for 'ELF' using the search bar on the left of the page. Once the chart has loaded, submit a market or limit buy order by filling the form below. After your order is matched, your ELF tokens will be deposited into your OKX wallet in seconds.
How To Store ELF?
Did you know that you can securely store ELF tokens on OKX? Customer security is our number one priority, that's why every OKX wallet is secured with industry-best SSL encryption and cold wallet architecture to give you peace of mind when holding ELF tokens.
You can also store your ELF tokens in your private crypto wallet. If you choose to follow this route, be sure to visit the official aelf wallet page on their website.
For cryptocurrency experts, you can also choose to store your ELF holdings on a hardware wallet. However, hardware wallets can be tricky to set up correctly, and if your wallet is not configured with the appropriate network settings, it can be difficult to recover your holdings.
How To Stake ELF
Have you ever wanted to make your cryptocurrency work for you? Well now you can! OKX Earn is our complete staking platform that allows you to earn passive income on your ELF investment by depositing your tokens into various staking subscriptions. This is a great way to continue earning and growing your investment, regardless of changes in ELF price.
To stake your ELF tokens, first head to the OKX Earn page. From there, type 'ELF' into the search function on the left of the console. This should display a range of available staking subscriptions that you can choose from. After you've chosen a subscription, simply hit 'Subscribe' and deposit your tokens to begin earning staking rewards.
![What Is Aelf Okx](//images.ctfassets.net/4nqoo8goeymu/4dbuEAOPFbudYImJUhIDe8/a3e0a289c19e522a3b1de04409374d01/What-Is-Aelf-Okx.png)
FAQ
What Is Unique About aelf?
The aelf project is unique because it aims to provide blockchain solutions and services to businesses through scalable sidechains. What's special about these sidechains is that when deploying their own sidechain, businesses can choose whether they'd like to employ a proof-of-stake or proof-of-work consensus mechanism. This gives businesses greater flexibility when entering the blockchain industry.
Where Can I Learn More About Trading ELF?
To learn more about effective trading strategies, visit the OKX Academy. Our team has put together a comprehensive guide on all things crypto, from basic tutorials to advanced trading techniques. These informative guides can help to give you a competitive edge when trading ELF in the market.
How Much Money Do I Need To Begin Investing in Alef?
At OKX, we aim to make crypto investing accessible for everyone, regardless of their capital situation. That's why we offer some of the lowest minimum buy requirements across all exchanges. On OKX, you can buy as little as 10 ELF per order, less than $2 at current prices.
What Is the Total Supply of ELF Tokens?
The maximum total supply of ELF is 1 billion tokens. However the ELF tokenomic structure includes a sophisticated burn mechanism that permanently removes a percentage of transaction fees from the circulating supply. This makes ELF a deflationary cryptocurrency.
What Can I Do With ELF?
The ELF token can be used in a number of ways; primarily it is used to pay transaction fees and secure the aelf network. ELF tokens are also distributed to node operators as a reward for verifying transactions and producing new blocks.