"When you train badly, you play badly. If you work like a beast in training, you play the same way."
— Pep Guardiola, Manchester City Manager, 2018
I've been in the crypto game from the early days. I'm also a diehard football fan. What I've noticed in both worlds over the years is there's actually a lot that they share. People from crypto and football may see these two industries as entirely separate (not to mention being confused as to why we've chosen to partner with one of the top players in the game). I — alongside the wider OKX team — see it differently.
To excel in football, like crypto trading, requires skill, intelligence and a willingness to change tack when a strategy no longer yields results. These qualities might manifest themselves on matchday in front of millions. Yet, their formation occurs away from crowded stadiums and television cameras. Champions are molded on the training field.
That's why we're proud to see the OKX logo adorn our partner's training kit and ground. From July 11, each time Manchester City takes to the training field to hone their mental and physical game, OKX will be alongside them, appearing on the men's and women's kits — with a splash of City's trademark sky blue, of course!
Here are the three ways football and crypto trading are similar — and where I think players on both sides can learn from each other.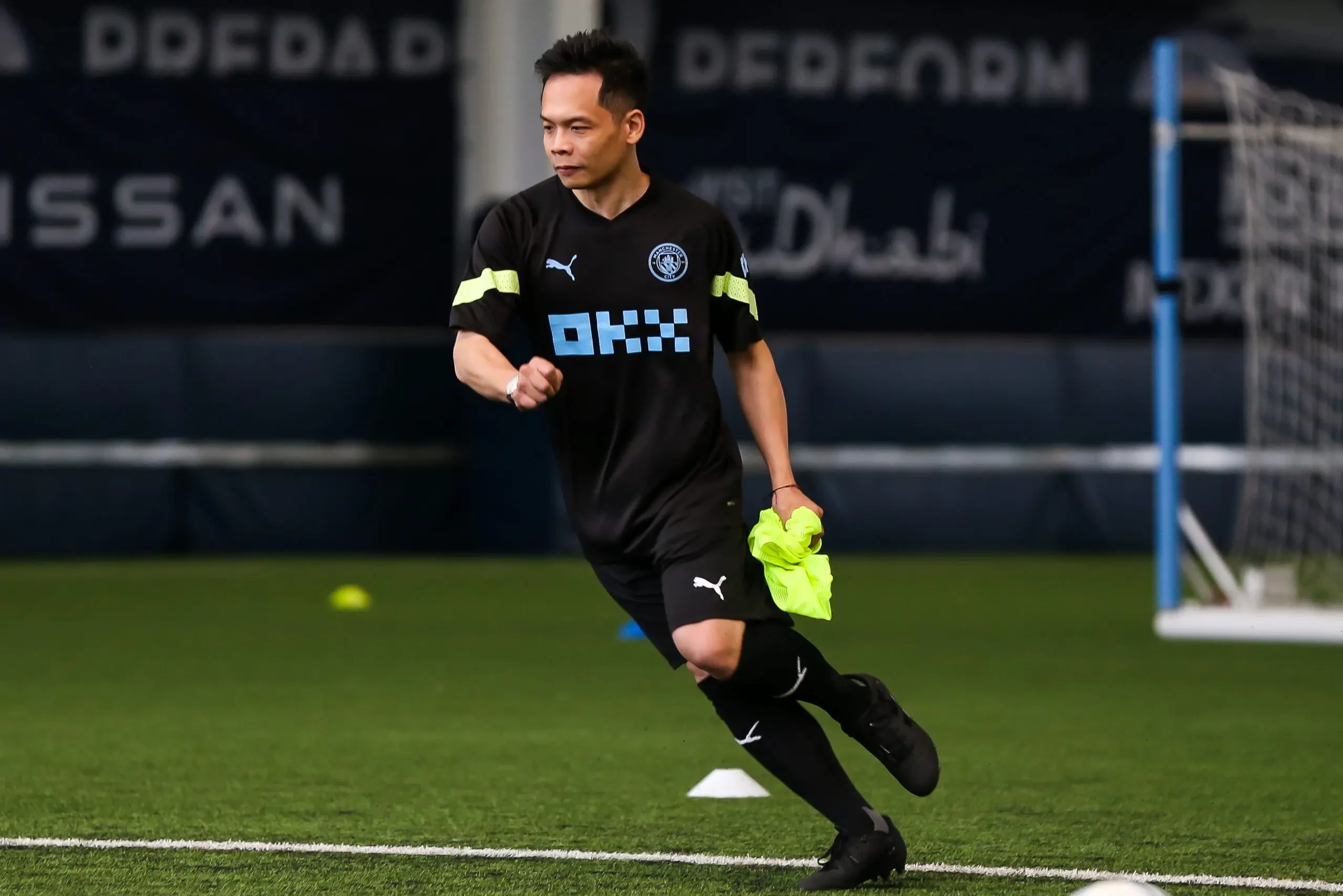 Putting in the hours
Training is the backbone of every decision, every successful play and every victory on the football pitch. It's where players develop the stamina needed to deliver results right up to the final whistle. It's where legends like De Bruyne convert raw talent into instinct, enabling them to deliver results even in the highest pressure situations. Above all, training is where managers like Pep get creative, thinking outside the box to best position their team for success.
Like Pep, we understand that winning habits and killer instincts develop through grueling work, analysis of the opposition's strengths and weaknesses, and, above all, experimentation. These values stem from countless hours at the training ground and are foundational to OKX.
The game is always changing
In a dynamic sport like football, the game is always changing. The same can be said about crypto. What was once perceived as an easy match can quickly evolve into a battle requiring the kind of fresh approaches and creativity that are core to the cryptocurrency industry. For crypto's visionaries, among which OKX considers itself, inventiveness is key.
Analysis is key
Trading itself also draws on skills familiar to all great managers and players. Technical analysis, for example, is the study of past price action to gain an edge on the market. There isn't a winning coach throughout history that hasn't revisited their opponent's previous performances with their team to discover weaknesses in order to capitalize on them.
If the opposition has prepared for a short passing game, sending an aerial threat like John Stones forward to receive long balls inside the box can transform a fierce matchup into an easy win. Likewise, the ability to shift bias from bullish to bearish as market conditions dictate is a core quality of all the best traders.
For a company like OKX, the real competition doesn't come from our peers. While it's important to stay on top, our biggest battle is against the entrenched financial system with its exclusionary practices and gatekeepers. While City takes on the elite of world football, OKX fights tirelessly for a more inclusive financial system and, ultimately, a better future. Game on!