How to trade cryptocurrency futures on OKX
A step-by-step tutorial for trading cryptocurrency futures on OKX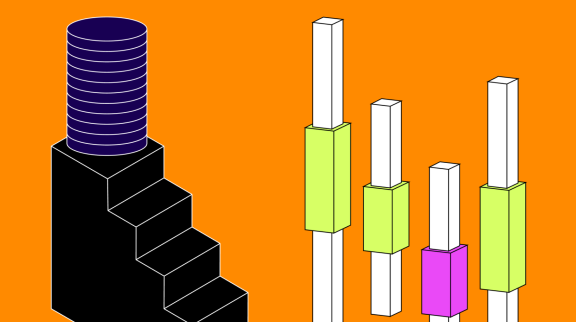 Futures are derivatives that allow two parties to enter into contracts to buy or sell an underlying asset at a predetermined future date and price. Both buyers and sellers can lock in the price of the underlying to hedge against unfavorable price changes. In the case of cryptocurrency futures, the underlying asset is usually BTC or another top cryptocurrency.
OKX supports the trading of futures contracts for 13 top digital assets, such as BTC and ETH. Each contract represents $100 worth of BTC or $10 worth of other digital assets (i.e., ETH, LTC, etc.).
While futures are relatively advanced products compared to spot trading and carry various risks, more experienced users can follow this step-by-step guide to start trading futures on OKX.
Step 1: Go to the futures section
From the OKX homepage, navigate to Trade and click Margin trading.
If you're using the OKX mobile application, you can access the Trade section via the Trade button at the bottom of the home screen. The remaining steps are very similar for both the OKX website and application. As such, the steps for the website included below are also applicable to the app.
Step 2: Activate futures trading
Beginners to futures trading need to understand and acknowledge the risks involved. If you've never traded futures before, complete the steps on the relevant pop-ups to activate derivatives trading on OKX.
Step 3: Transfer funds to your trading account
Your trading account needs funding before you can start trading. If you don't have funds in your trading account, click on Transfer from the Assets dropdown list in the top menu to move funds between accounts. You'll find Assets on the homepage's bottom toolbar on the OKX app.
If you don't have any crypto assets on your OKX account, you can either buy crypto or learn how to deposit crypto on OKX with our beginner's guide to crypto trading.
Step 4: Choose a futures contract to trade
From the "Margin trading" section, click the trading pair at the top and then the switch icon. Next, click Futures.
Now, choose a margin mode. Crypto-margined futures are settled in the underlying cryptocurrency, and USDT-margined are settled in the stablecoin USDT.
Next, select your desired futures contract. Each contract is named using the two assets traded, the settlement date and its time frame. The available options are Weekly, Bi-weekly, Quarterly and Bi-quarterly. Futures contracts on OKX are settled on Fridays at 8:00 am UTC.
For this demonstration, we'll trade the USDT-margined BTCUSD weekly contract settling on April 1, 2022.
Step 5: Choose a margin mode and leverage multiplier for futures trading
Now, select a margin mode (either "Isolated" or "Cross") and choose your desired leverage multiplier — we recommend starting very low (e.g., 1x to 3x). If you select Isolated margin mode, only funds designated as the margin will be used to collateralize a position. In Cross margin mode, all account funds of the relevant currency will be used as the position's margin.
As part of our Unified Account system, OKX offers two account modes to customize risk parameters further. Single-currency margin ensures that only the currency traded will be used as a position's margin. Meanwhile, Multi-currency margin mode enables all assets held in your account to be used as the margin. 
Step 6: Enter order details and execute
After selecting a margin type and leverage multiplier, choose your "Order Type," and input the "Price" and "Amount" for the trade. If you would like to execute your order as soon as possible, you can click on BBO (i.e., the best bid offer).
After entering order details, click on Buy (Long) to enter a long contract (i.e., to buy the asset on the settlement date) or click on Sell (Short) to initiate a short position (i.e., to sell the asset later).
For example, we set up a limit order at 44,382.9 USDT to enter a long position for the "BTCUSD0401" contract.
Step 7: (Optional) Add "Take Profit" or "Stop Loss"
Before you click Buy (Long) or Sell (Short), you can select either Take profit or Stop loss. You'll find more information about these helpful risk management tools here. 
Step 8: Review your order
After your trade is executed, your order will be submitted, and you can review your position's status by scrolling to the active trades section at the bottom of the trading homepage. This section shows you helpful information such as the "Avg. Price," "Liquidation Price," "Unrealized P&L" and so on.
Step 9: (Optional) Close your position
If you would like to offset some or all of your open position, you can do so by entering the price and amount you want to exit and clicking Close.
Alternatively, you can quickly exit positions at the current market price using the MRK Close All button on the "Positions" tab. This option is best reserved for times of extreme price movements when swiftly exiting a position is crucial to prevent losses (or to secure profits). This is because market sells pay the higher Taker fee, whereas limit orders pay the lower Maker fee.
Fees for trading crypto futures on OKX
For trading futures on OKX, the settlement fees are 0.03% for all tokens. Maker and Taker fees also apply, depending on the method of closing a position (i.e., Maker or Taker) used. The percentage of Maker and Taker fees vary for different tiers of users. For more details, you can view the fee table.
---
Not a part of the OKX community? Sign up to get started trading futures today.