How to buy and sell cryptocurrency on OKX
A step-by-step guide to purchasing and selling crypto on OKX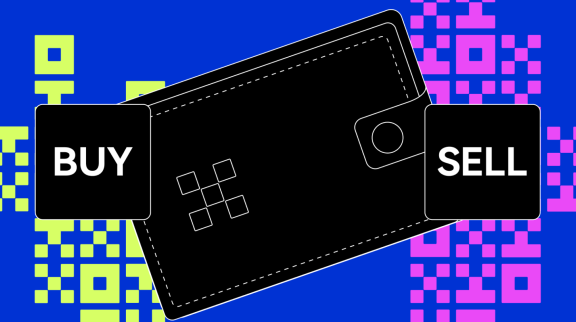 Are you new to the world of Bitcoin and blockchain-based digital currencies? Are you ready to make your first purchase or sale on OKX? Then look no further — buying and selling cryptocurrencies on the OKX platform is as straightforward as following a few simple steps, which we detail in this easy-to-follow guide to help you get started.
In this step-by-step guide, we will walk you through the process of buying or selling cryptocurrencies on OKX via the following options:
So, without further ado, let's get started!
Step 1: Log in to your OKX account
Before you can start buying or selling cryptocurrency on OKX, you must first log in to your OKX account. To do so, click Login in the upper right-hand corner of the OKX homepage.
If you do not yet have an account, click Sign up and complete the registration process.
Step 2: Select Buy/Sell
Once you have logged in to your OKX account, click Buy Crypto in the upper left-hand corner of the screen to get started.
Step 3: Select your purchasing method
The next step is to choose how you would like to buy or sell cryptocurrency. There are two primary options on OKX:
Express
P2P trade
Here is a guide for each.
Express
The simplest way to buy crypto on OKX is to utilize the Express option.
Simply select the cryptocurrency you wish to buy and the fiat currency you wish to spend. Then, input the correct amount of your preferred fiat or cryptocurrency before selecting your preferred payment method.
Once the payment is confirmed, the purchased cryptocurrencies will be automatically transferred to your OKX account.
P2P trade
Click on P2P trade in the submenu to go to the P2P trading section.
Next, click on the currency dropdown menu and select your desired currency.
You can click on Buy or Sell to review the available offers, or select Order Book to review all available buy and sell orders.
Finally, simply confirm your transaction details.
For more details, view our complete tutorial on setting up and using OKX P2P trading.
---
Not a part of the OKX community yet? Sign up to explore all the tools and products we have to offer.
Buy and sell cryptocurrencies securely and quickly via the OKX Buy Crypto section.