OKX Topped Derivatives Market in March, Says Cryptocompare Exchange Review
March was a record-breaking month for the crypto market and exchanges. OKX (www.okex.com), the world's largest cryptocurrency spot and derivatives exchange, topped the derivatives market in March, according to the Exchange Review March 2020 report by CryptoCompare, the global leader in digital asset data. With month-on-month volume increased to $161 Bn, OKX has demonstrated steady growth in the past months.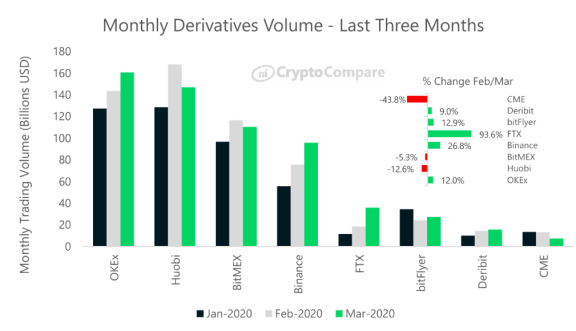 "The crypto market has been undergoing an unprecedented time, particularly the recent bitcoin slump and the global impact brought by the coronavirus. Given the drastic changes in consumers' internet browsing behaviors, we observe their investment strategies and portfolio are showing new patterns," said Jay Hao, CEO of OKX. "Our team has started to investigate and study the new set of data, so as to get prepared for the future. I think exchanges need to re-evaluate the market, and it will be a new stage of the game when the current storm is over."
Crypto exchanges hit an all-time-high in daily transaction volume of $53 Bn on 12 March 2020, the day when the bitcoin price crashed. According to a tweet of Hao, the trading platform processed approx. 300k orders/sec during the volatile period and the trading service was delivered stably. What's more, OKX also claimed to maintain a record of zero clawback throughout the market crash.
END
---
About OKX
The world's largest and most diverse cryptocurrency marketplace, OKX is where global crypto traders, miners, and institutional investors come to manage crypto assets, enhance investment opportunities, and hedge risks. We provide spot and derivatives trading, including futures, perpetual swap, and options, of major cryptocurrencies, offering investors great flexibility in formulating their strategies to maximize gains and mitigate risks.
Media contact:
Vivien Choi
Email: [email protected]
Telegram: @vivienchoi