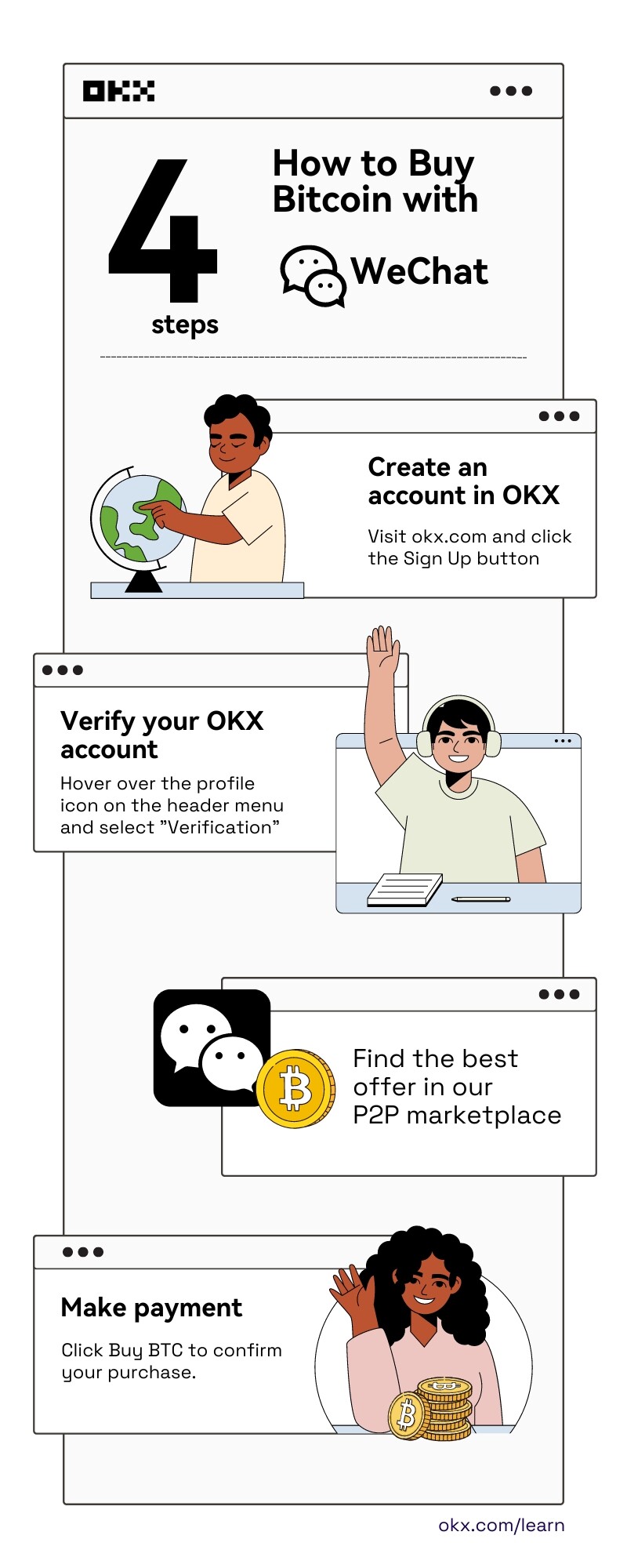 Bitcoin is a decentralized digital currency that enables peer-to-peer transactions without a central authority. It is the first and most valuable cryptocurrency by market capitalization.
One way to purchase Bitcoin is through a peer-to-peer (P2P) trading platform such as OKX P2P Trading, using a payment method like WeChat Pay. P2P trading allows for direct transactions between buyers and sellers, eliminating the need for a central intermediary and providing a potentially more secure and efficient buying experience.
WeChat Pay is a mobile payment platform owned by Tencent, one of the largest technology companies in China. It allows users to make payments and transfer money using their mobile devices, and it is widely used in China and other parts of Asia. By using WeChat Pay as a payment method on OKX P2P Trading, users can easily and securely buy Bitcoin with Chinese Yuan (CNY) and other popular fiat currencies.
When using the OKX P2P Trading platform to buy Bitcoin, users can choose from different sellers with varying prices and terms. This allows for flexibility in terms of price and payment methods. For example, some sellers may accept WeChat Pay, while others may not. Therefore, it is crucial for the users to thoroughly review the reputation and feedback of the seller to ensure a safe and secure transaction.
OKX P2P Trading allows users to easily purchase Bitcoin and other popular cryptocurrencies like Ethereum (ETH),Tether (USDT), and DAI (DAI) using WeChat Pay. Additionally, The OKX Crypto Converter Calculator lets users view current exchange rates for converting between fiat currency and Bitcoin before finalizing their trade.
Begin your journey of buying cryptocurrencies using WeChat Pay on OKX today.
How to buy Bitcoin with WeChat Pay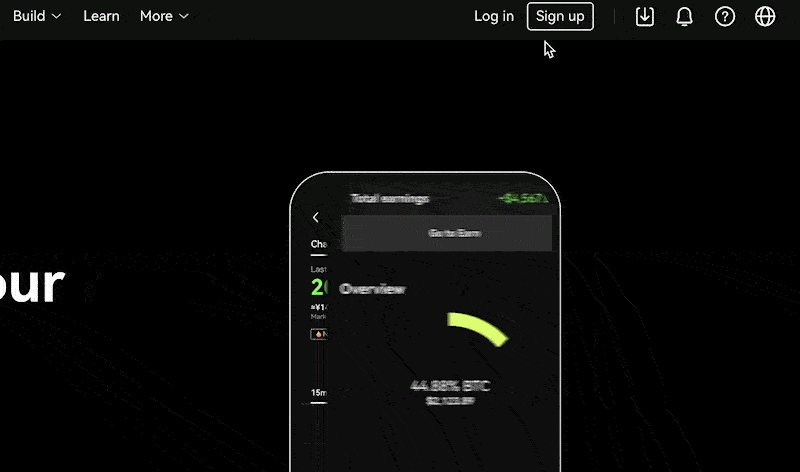 Follow these four simple steps to start buying Bitcoin with WeChat Pay:
Create an OKX account
Visit the OKX website and click the Sign Up button.
Enter either your email address or phone number to get started.
Enter the 6-digit code sent to your selected option.
Note: Your verification code will expire in 30 minutes.
Create a valid password to complete account registration.
Verify your OKX account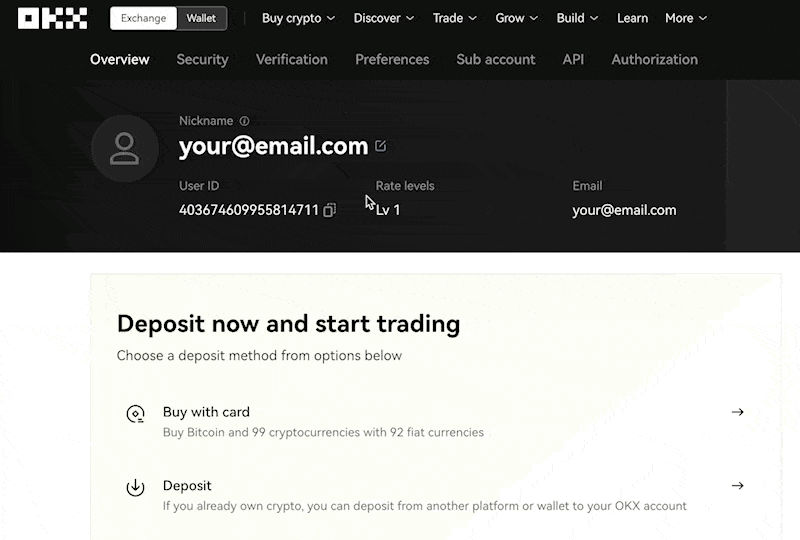 Hover over the profile icon on the header menu and select "Verification."
Enter the relevant fields, including your nationality, legal first, middle, and last name, ID type, and ID document number, to complete the Level 1 identity verification.
Take a photo of the front and back of your ID document and a selfie to complete the Level 2 identity verification.
Important: All users must verify their identity before buying Bitcoin and other popular digital assets. There are two levels of verification, and users must pass the Level 2 identity verification to buy and sell crypto on the OKX platform.
Find the best offer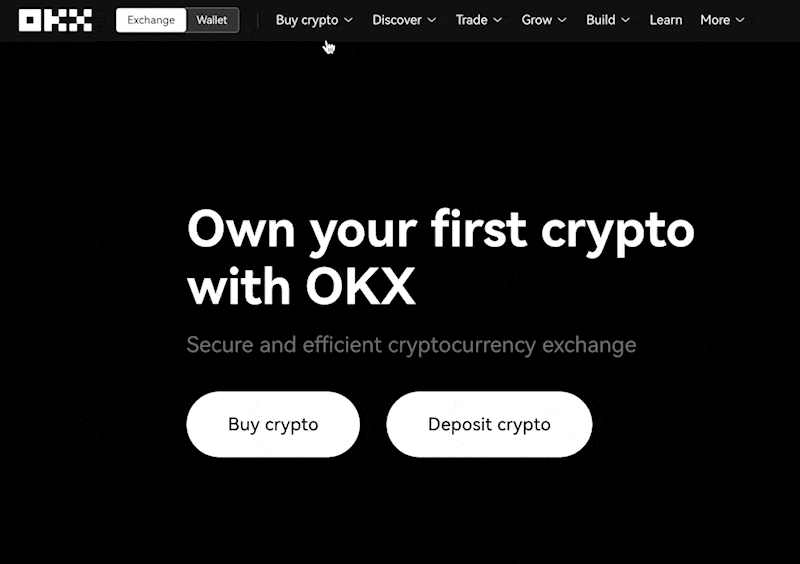 Navigate to the P2P trading marketplace and ensure the Buy function is selected.
Select WeChat Pay, BTC, and the preferred fiat type to generate all listed offers.
Note: You may filter the results further by adding your preferred fiat amount.
Select the offer you prefer to initiate the trade.
Make payment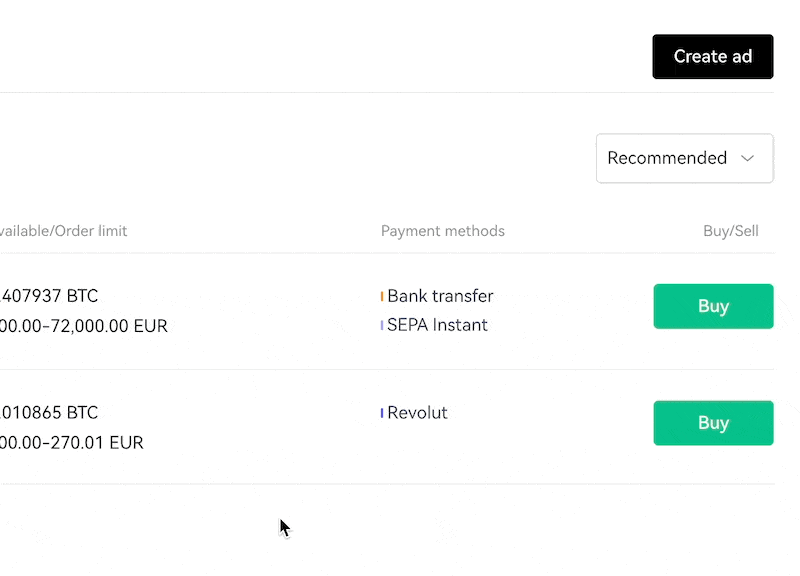 In the pop-up window, enter the amount of Bitcoin you wish to purchase with your preferred fiat and ensure that "WeChat Pay" is selected under the "payment method" field.
Click Buy BTC to confirm your purchase.
Note: Your purchased BTC tokens will be deposited into your Funding Account once the seller confirms that payment has been received.
FAQs
What Is Bitcoin, and Should I Invest in It?
Bitcoin is a decentralized digital currency that can be sent electronically from one user to another. Transactions are recorded on a public ledger called the blockchain. Bitcoin operates independently of a central bank or government. It is a highly speculative investment, and its value can be volatile. Any physical asset or government does not back it, and there is no guarantee of its value in the future. Before investing, it's essential to thoroughly research the potential risks and benefits and consult with a financial advisor. Consider your risk tolerance and investment goals before deciding if Bitcoin is suitable.
How Can I Verify the Reputation of a Seller on OKX P2P Trading Before Buying Bitcoin With WeChat Pay?
You can verify the reputation of a seller on OKX P2P Trading by checking their feedback and reviews from previous buyers. You can also look at the number of successful transactions they have completed and their overall rating on the platform. It is essential to only transact with sellers with an excellent reputation to ensure a safe and secure buying experience.
How Can I Ensure My WeChat Pay Account Is Secure When Buying Bitcoin on OKX P2P Trading?
You can ensure the security of your WeChat Pay account by enabling two-factor authentication and regularly checking your transaction history. It is also important to avoid sharing your account information with anyone and to use a secure internet connection while making transactions.
How Long Does It Take To Receive the Bitcoin After Making a Payment Through WeChat Pay on OKX P2P Trading?
The time it takes to receive the Bitcoin after making a payment through WeChat Pay on OKX P2P Trading can vary depending on the specific seller and the transaction details. However, on average, the seller should take a few minutes to an hour to release the Bitcoin to your digital wallet after payment is confirmed.
Is It Possible To Buy Large Amounts of Bitcoin With WeChat Pay on OKX P2P Trading?
Yes, it is possible to buy large amounts of Bitcoin with WeChat Pay on OKX P2P Trading. However, it is essential to check with the specific seller and the platform for any limitations or restrictions on transaction sizes. Additionally, it is recommended to transact in significant amounts only with reputable sellers and to properly verify the seller's identity before making an important transaction.