OKX's Moon Grid trading bot — automatically buy low and sell high
Crypto trading bots enable traders to take advantage of price volatility with increasingly sophisticated strategies without requiring active position management. OKX's Moon Grid bot automatically buys cryptocurrencies into uptrends and sells into downtrends. Buying low and selling high is fundamental to trading profitably, and the Moon Grid bot makes it easy. 
Moon Grid is just one of OKX's trading bots. Check out this dedicated guide if you'd like to learn more about the other automated crypto trading systems we offer.  
This guide below will demonstrate using the Moon Grid trading bot to profit from crypto's dramatic price volatility. Let's go!
What is the Moon Grid trading bot, and what are its advantages?
OKX's Moon Grid trading bot is an automated crypto trading system that buys low and sells high within a specific price range. It is suitable for medium- to long-term crypto investment and is similar to our Spot Grid trading bot. Its key differences are that it trades within a much wider price range and does not feature stop loss or take profit levels. Additionally, it offers a simplified user experience. Setup time is minimal, and all its parameters are based on artificial intelligence using historical market backtesting.
Cryptocurrency markets are notoriously volatile. By buying into uptrends and selling into downtrends, the Moon Grid bot profits from an asset's often erratic price movements. It performs most profitably when volatility is to the upside, but it will still lose money when the price drops.
How to use OKX's Moon Grid trading bot
First, hover over Trade and click Trading bot.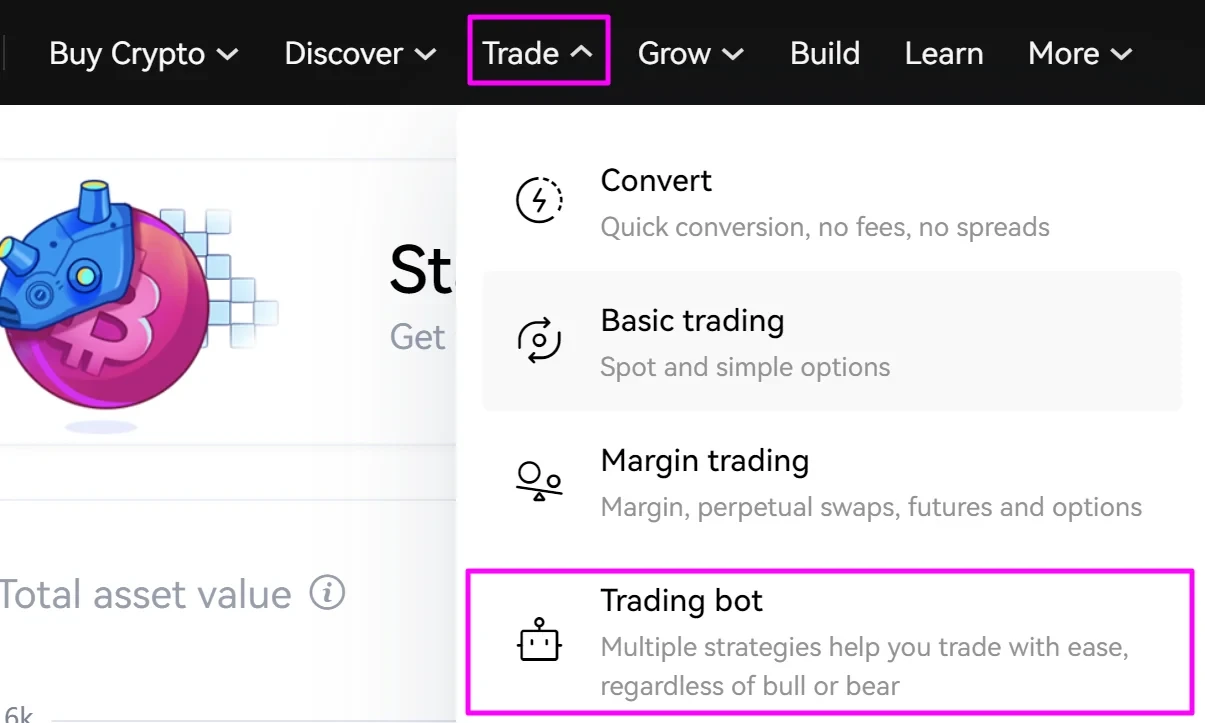 Select a spot trading pair from the menu at the left.
Now, click Moon grid from the trading bot list.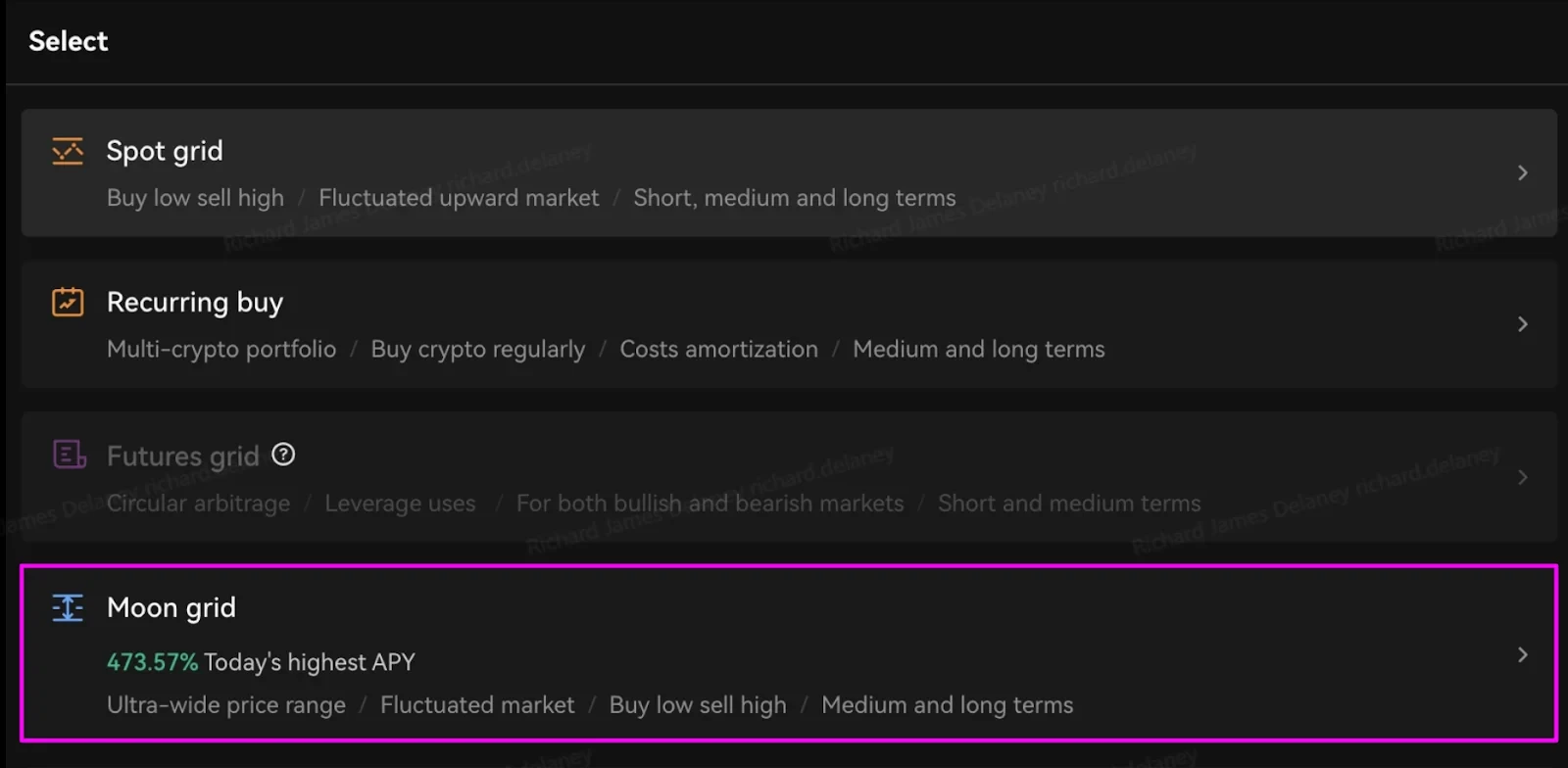 All the strategy's parameters are set up by default and are based on a back-tested AI strategy. In the field highlighted below, just enter the amount you want the bot to trade with and click Create.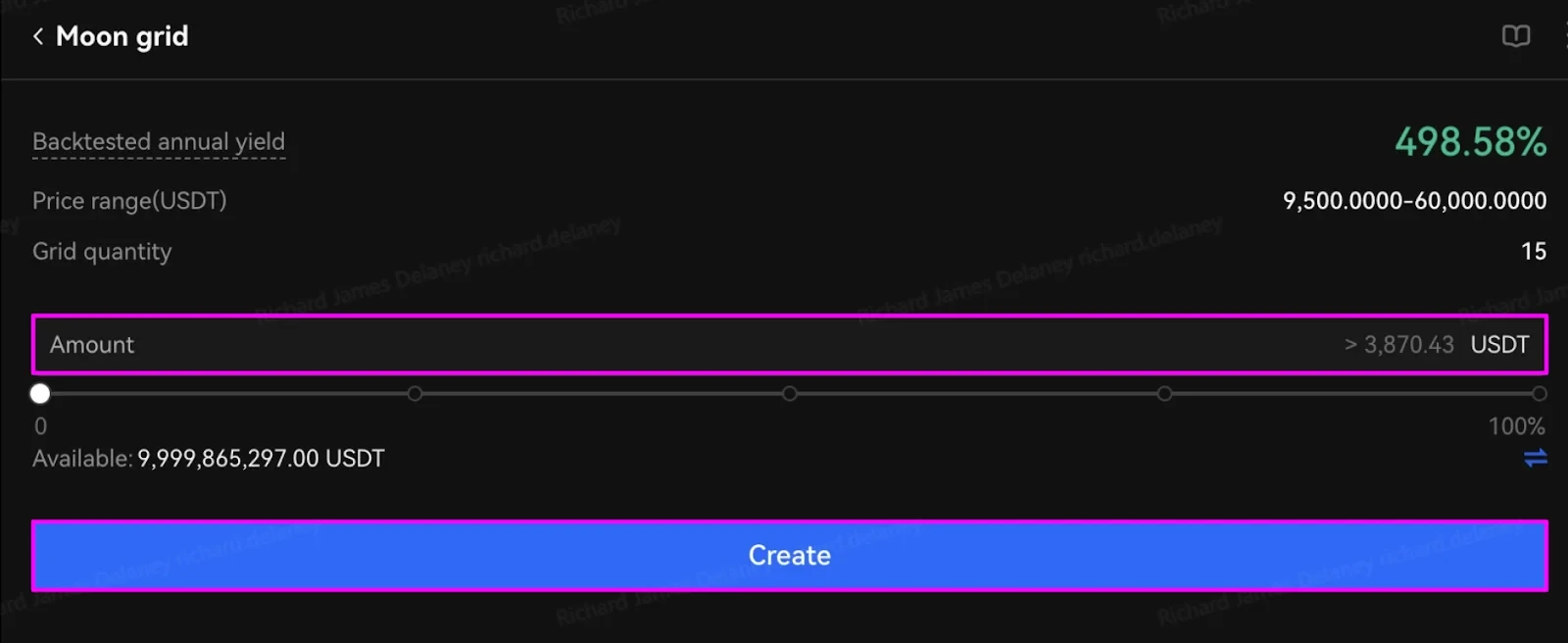 Check the details on the "Order confirmation" window and click Confirm.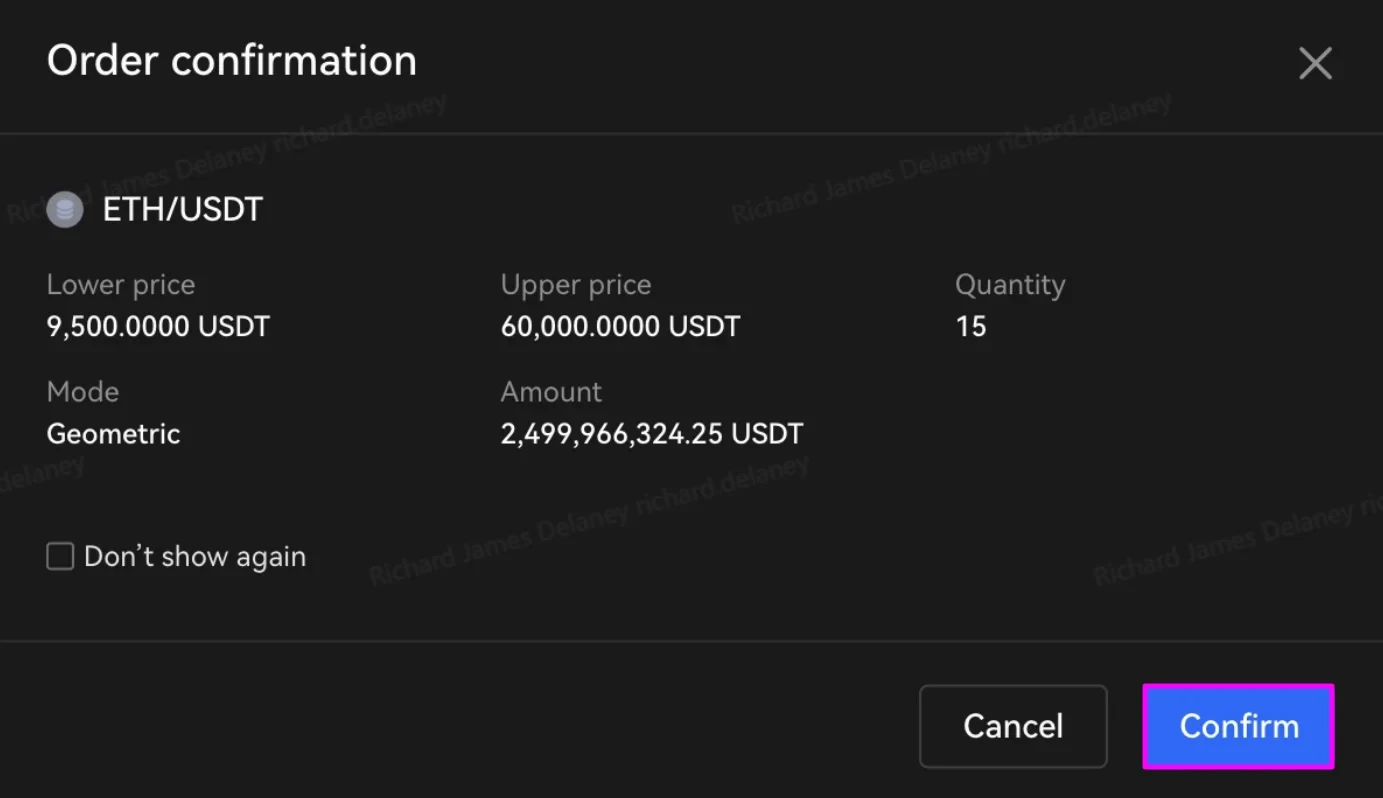 When you've deployed the Moon Grid bot, you can monitor its progress or stop it in the trade history section at the bottom of the "Trading bot" home screen.
Scroll down, click Bots and then click Moon grid.
You'll then see any Moon Grid positions you have open and various details about them, including their current profits and losses.

Clicking Details next to an open position will display more information about it, including the number of trades the bot has previously made and current holdings from the strategy.
You can also withdraw profits here with the Withdraw income button.
Clicking Stop on the "Details" window above or from the Moon bot tab in the trade history section will stop the bot.
Profit from crypto volatility with OKX's Moon Grid trading bot
OKX's crypto trading bots are the easiest way to deploy various automated trading strategies across the markets we support. The Moon Grid trading bot profits from crypto's famous price volatility by buying or selling crypto assets on a user's behalf, without the need to actively manage a position.
Our trading bots are the industry's most varied and sophisticated, offering a range of strategies suitable for all experience levels. Try them today on OKX. Game on!