Bitcoin Fundamentals Signal Pre-Halving Confidence: Crypto Market Daily
On May 6, 2020, the price of Bitcoin (BTC) — which has, at the time of writing (10:50 UTC), recovered to around $9,200 per OKX's Bitcoin Spot price — is on a choppy upward trend with a narrowing range. It is expected to choose a direction soon.
The performance of large-cap cryptocurrencies is generally weaker than Bitcoin's. The current market share of BTC has gradually increased to 66.1 percent, per data sourced from CoinMarketCap.
Looking at OKX trading data, we found that the BTC Long/Short ratio has been decreasing in recent days. However, the BTC Quarterly Futures premium has been in positive territory — currently sitting approximately 30 USD per bitcoin above the spot price.
Bitcoin's Mining Difficulty and Hash Rate Remain Healthy
Yesterday, the mining difficulty of the Bitcoin network rose by 0.85 percent. Though still short of its all-time high, it has nearly fully recovered from a harsh drop in mid-March.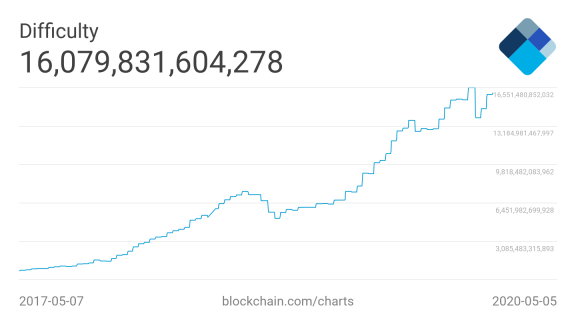 Likewise, Bitcoin's hash rate has recovered from the same mid-March turbulence and is currently sitting close to its all-time high.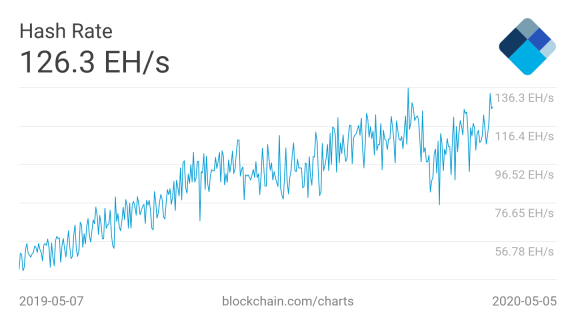 Bitcoin Futures Open Interest on the Rise
Bitcoin futures open interest (OI) has recovered to nearly $3 billion, per data sourced from Skew. This represents an increase of approximately $1 billion from one month ago.
The increase in open interest coupled with Bitcoin's network health provides evidence that confidence is coming back to the market. Notably, this confidence precedes the first and foremost cryptocurrency's third block-reward halving fast approaching.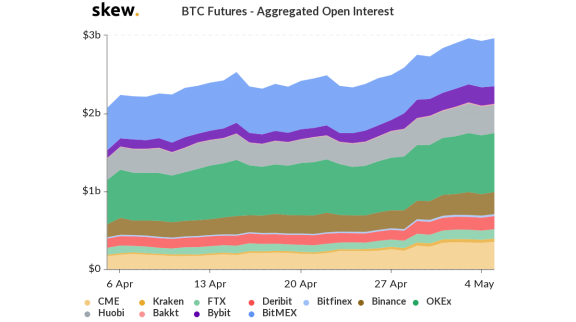 Technical Analysis
Taking a look at OKX BTC Quarterly Futures (BTCUSD20200626), the Bitcoin price has now reached the final stage of a triangle pattern. After several attempts to breakout, we may eventually see the price move above the trendline and continue to go upwards — signaling that buyers are still in control.
An intra-day support level sits on $8,750 and a short-to-mid-term support level is near $8,550. The intraday resistance area to focus on is that around $9,300. As of press time, the price of Bitcoin is challenging this resistance.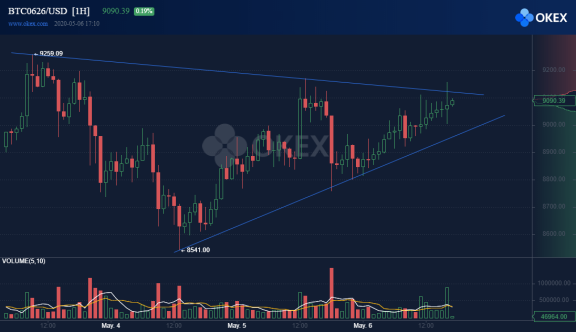 Meanwhile, a look at the OKX ETH Quarterly Futures (ETHUSD20200626) chart shows that Ethereum is currently weaker than Bitcoin. The price of ether as a percent of Bitcoin's price has declined from 2.5 percent on April 29 to 2.3 percent, today.
The price of Ethereum pulled back sharply after hitting a strong resistance at $228 on April 30.
If ETH price could break through $210, another leg to $220 area looks promising.
The 60-hour moving average (white line) on the six-hour chart can be used as short-term support at $198.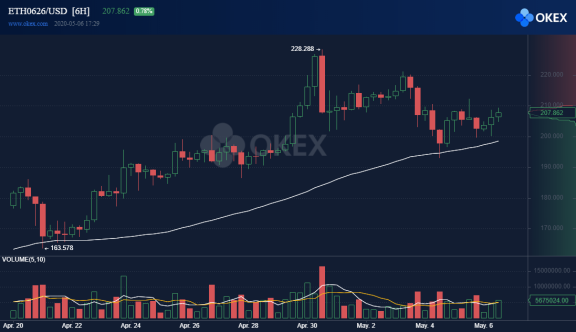 ---
Disclaimer: This material should not be taken as the basis for making investment decisions, nor be construed as a recommendation to engage in investment transactions. Trading digital assets involve significant risk and can result in the loss of your invested capital. You should ensure that you fully understand the risk involved and take into consideration your level of experience, investment objectives and seek independent financial advice if necessary.
---
Follow OKX on
Twitter: https://twitter.com/OKXInsights
Telegram: https://t.me/OKX_Insights