Toncoin (TON) is the native cryptocurrency used across The Open Network. It is a Layer 1 blockchain aimed at streamlining cryptocurrency payments directly on the Telegram platform.
TON is a high-performing blockchain. Its goal is to accommodate any transaction complexity on both its master blockchain and its workchains.
We will dive into TON as we go over the Toncoin price prediction. Our main priority will be to see how far this cryptocurrency can increase in terms of value for 2023.
What Is Toncoin (TON)?
Toncoin (TON) is the native coin behind The Open Network.
The Open Network is a Layer 1 blockchain, and operates through the utilization of the Proof of Stake (PoS) consensus model.
Toncoin was developed to handle the needs of millions of users and allow them to easily make everyday transactions. The cryptocurrency can be stored in a Toncoin wallet.
It is primarily utilized by investors, It focuses on being convenient for any typical consumer as well, with simple integration through an easy application. TON also allows any user to quickly buy, sell, or store cryptocurrencies.
Toncoin-Related Updates in 2022
It is important to remember that the historical performance of Toncoin or any other cryptocurrency is not always a solid indication through which someone can predict how its price movements will be moving forward.
With that in mind, through an analysis of Toncoin's overall price history, and when going over the TON price prediction, investors and traders can get a broader understanding of it.
From how often the coin has overperformed or underperformed, and this will allow them to make a more accurate Toncoin price prediction moving forward.
Throughout December 2022, the auditing platform CertioK and TON became partners. CertiK will be auditing smart contracts as well as services based on TON from that point onward.
TON Price Movements
The all-time high of the TON cryptocurrency occurred on November 12, 2021, at a value of $5.29.
When we go over the yearly performance of TON as a cryptocurrency, the coin began the year strong, with a value of $3.71 and a trading volume of $1,875,441.
However, its lowest point was on June 19, 2022, when it decreased to a value of $0.841, with a trading volume of $1,380,733. Here we can see a decrease in value of $2.869 or 77.33%.
In terms of the 7-day performance as of December 30, 2022, TON saw its high point on December 24 at $2.47, while its low point was on December 29 at $1.95. This marked another decrease or difference in the value of $0.52 or by 21.05%.
Going over the 24-hour performance, TON saw its low point at $2.01, while its high point was at $2.21. Here we can see a difference of $0.2 or by 9.95%.
With all of this taken into consideration, we can see that at the beginning of 2022, TON had a bearish outlook; however, it ultimately transferred to a bullish outlook. Its recent increase in value is an indication that the coin still has potential for growth. TON experienced a solid level of performance, and this might translate well within its value moving forward.
Ton Technical Analysis [2023, 2025, 2030]
It is important to note that within the blockchain space, any cryptocurrency that isn't built in the form of stablecoins, such as TON, can experience a high level of volatility.
What this means is that its future value cannot be predicted with 100% accuracy.
However, looking at the numerous points of value for TON, conducted by experts, programs, algorithms, and notable, influential people within the blockchain space, investors can get a much higher level of understanding as to how far the token can grow or dip in value. Before storing Toncoin in your Toncoin wallet, it is essential to understand its value points.
Toncoin can reach a value of $4 by 2023 and $5 by 2024 and could spike to as high as $10 by 2025, taken as an average from numerous sources. However, let's go over each individual part of the analysis.
Moving Average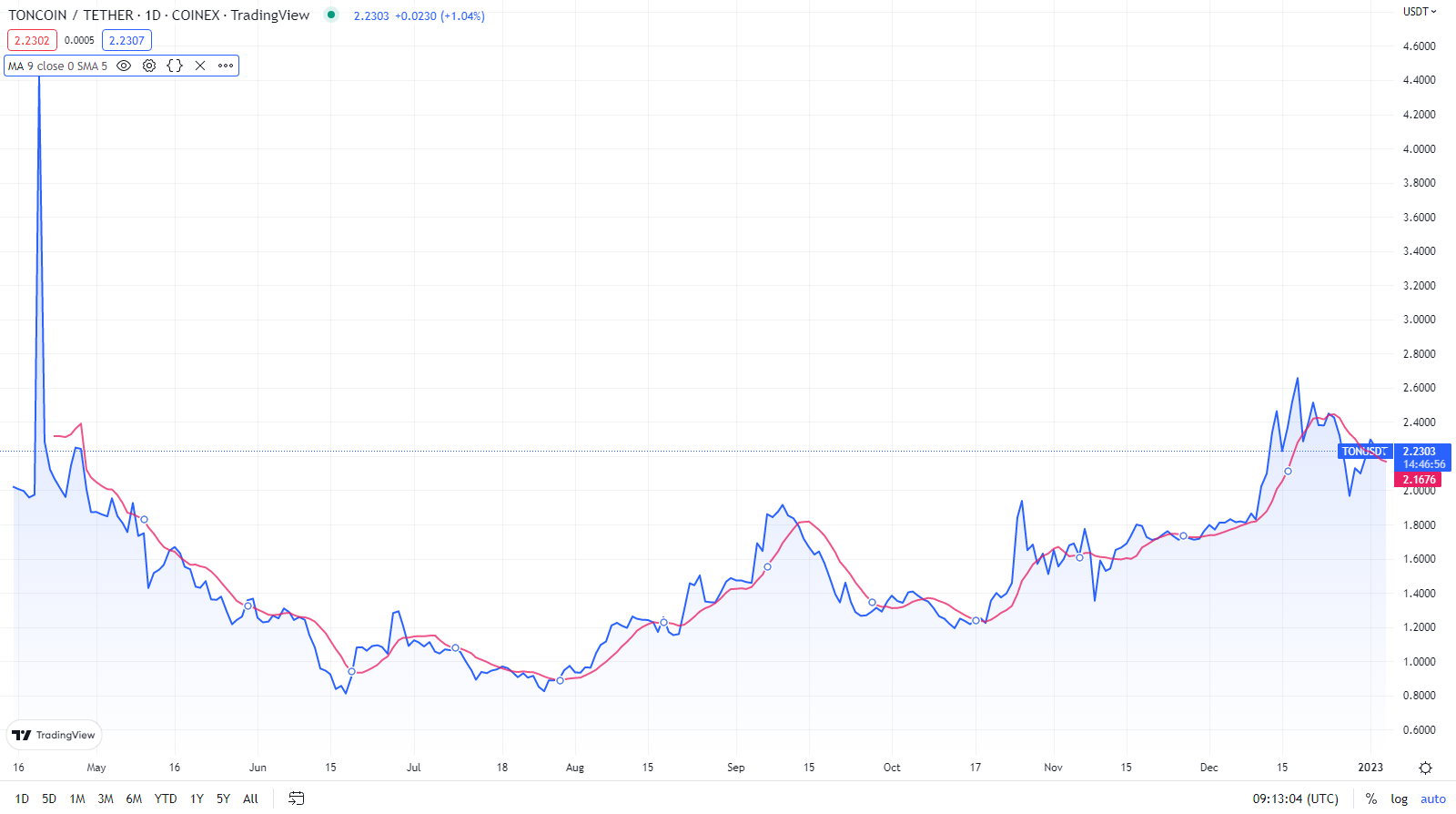 The blockchain space is filled with cryptocurrencies that have experienced a high level of volatility throughout their history, and TON is no exception to this rule.
None of the following Toncoin price predictions can be 100% correct. However, each prediction can give investors a higher perspective as to what they can potentially expect from the future value of the cryptocurrency.
Moving average (MA) is a factor that is considered by many investors. Based on data from Tradingview, we can see that the high point was at $2.36, while the low was at $1.51.
Relative Strength Index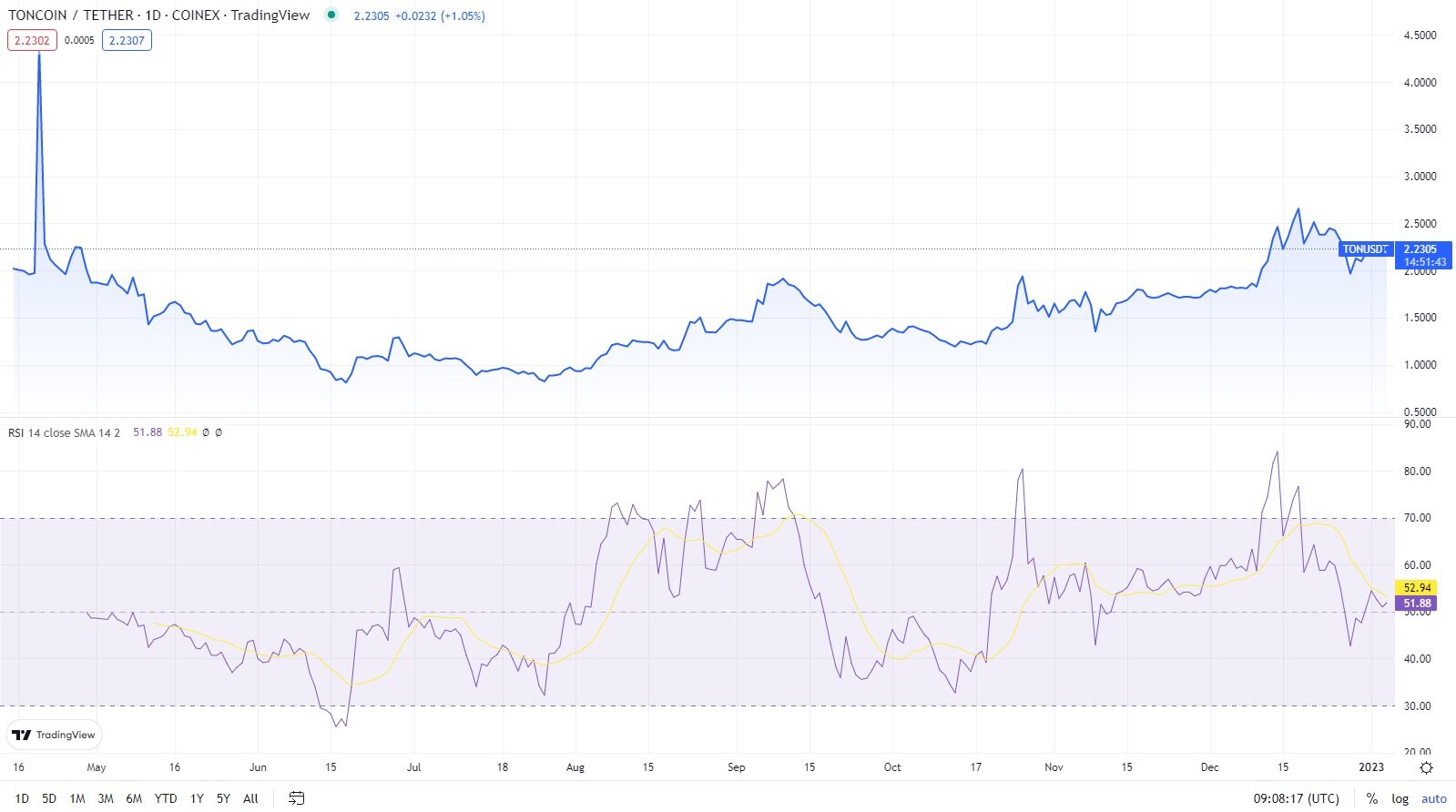 In terms of the relative strength index, there are a few points that every investor needs to be aware of.
Specifically, RSI values over 70 are typically a sign that an asset is overbought and can experience a correction in its value.
Additionally, an RSI of 30 or under indicates that an asset has been oversold, or is being oversold, which results in it being undervalued, which can potentially allow it to experience a spike in value. Toncoin (TON) has an RSI of 14.
Toncoin Price Prediction for 2023
Before we dive into the predictions surrounding TON, remember that predicting the future of any cryptocurrency can be difficult.
As a means of getting a better perspective as to what experts, systems, and algorithms think and the general consensus surrounding the future of TON, we will go over numerous analysts.
DigitalCoinPrice
When we go over the price prediction that DigitalCoinPrice has conducted for the Toncoin (TON) cryptocurrency, we can see that it has multiple points.
The minimum price is expected to be $4.49, while the average price is $5.27, with the maximum price being $5.36. Here we can see that DigitalCoinPrice is bullish on the coin.
Gov Capital
Based on data from Gov Capital, the regular price at the end of 2023 is expected to be $1.60, while the least possible price is expected to be $1.36. Meanwhile, the best possible price is $1.84. We can see that Gov Capital is bearish on the coin.
CryptoPredictions
CryptoPredictions made a TON price prediction, where it can reach a value of $1.55 in February 2023 and finish the month at $1.67. However, the maximum forecasted TON price is $2.21, with the minimum price at $1.50.
CoinCodex
CoinCodex predicts that the value of Toincoin can increase by 5.47% and allow it to reach $2.21 by January 2023. However, their maximum price point is $2.29.
PricePrediction
When it comes to the TonCoin price prediction for 2023, PricePrediction has made a prediction that its minimum price will be at $3.32, its average price at $3.42, and its maximum price at $3.92.
TradingBeasts
TradingBeasts have made a prediction that the price of Toncoin can reach $2.64 by the beginning of 2023. Their maximum expected value is $3.3, while the minimum price is $2.24. By the end of the month, the coin can reach $2.64.
Toncoin Price History
Toncoin originally went live at a value of $0.41 in August 2021 and saw a steady level of growth throughout the first few months in the market.
Its all-time high was reached on November 12, 2021, at a value of $5.29. This followed an event that involved the staking of the coin, run by the OKX cryptocurrency exchange. One million TON coins were available in the prize pool for those staking the token.
4.2 million coins were a part of the event. However, TON fell with the 2022 bear market. As of January 4, 2023, Toncoin (TON) has a value of $2.24.
Is Toncoin a Good Investment?
It can be difficult to evaluate the true investment opportunities found in TON through the Toncoin price prediction. However, there are multiple factors about the project that can impact its value moving forward.
The health of the Layer 1 blockchain can play a major role in its overall growth, alongside future partnerships, and developments.
The overall partnership with CertiK gave much-needed attention and security reassurance about the coin and overall network.
However, the project needs to do more to grab investor attention. It has a high level of potential for growth in its ecosystem and overall utility for payments.
The Proof of Stake (PoS) consensus mechanism future-proofs the network as an eco-friendly option for environment-conscious investors.
However, there is not a 100% guarantee that the coin can increase in value.
Ultimately, it is up to the investors and traders to do their research prior to making any investment.
Any cryptocurrency has been historically exposed to a high level of volatility within a bear market and, in the future, can move in either direction.
The Future of Toncoin
This concludes the Toncoin price prediction. There are numerous updates and developments occurring throughout the broader Toncoin ecosystem.
In September 2022, Steve Yun, who is a founding member of the Ton Foundation, and a spokesperson at Huobi, held an AMA session on Twitter Spaces.
In August 2022, there was an interview with one of the key developers behind the TON DNS Smart contract, known as Anatoly Makosov.
TON DNS turned out well, and it is well-designed and implemented. The Telegram team also released a username auction based on the TON blockchain. It is based on the same TON DNS contract.
In terms of staking the coin, Toncoin has a Total Value Locked (TVL) of over $540,000 on STON.fi as of January 4, 2023.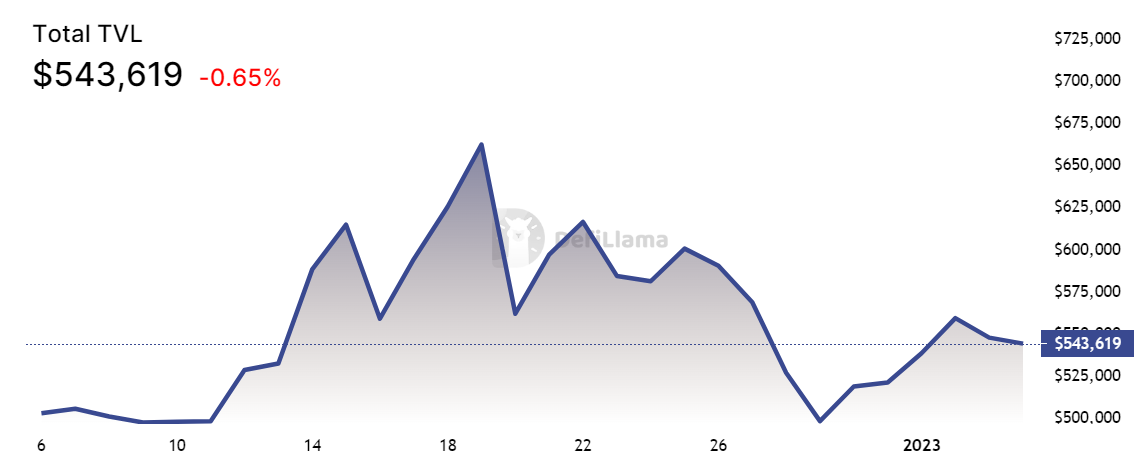 Based on all of this, if we look at the Toncoin price prediction, optimistically, it can climb to $3 at some point throughout 2023.
For the time being, however, TON still needs to break past the $2.5 price barrier and push towards $2.7 within the span of the following months.
---
Frequently Asked Questions (FAQs)
Who Owns Toncoin?
Nikolai Durov and Pavel Durov were the original founders of the Telegram messenger, and they released the first version of the Telegram Open Network Whitepaper.
However, Telegram was forced to cease active development of TON, and an open-source community continued to maintain the network and build further functionality to it; where in 2022, the project turned to The Open Network.
How Many Ton Will There Ever Be in Circulation?
The maximum total supply of Toncoin (TON) is five billion tokens.
Is Toncoin on the Ethereum Blockchain?
Toncoin is a Layer 1 blockchain, not a Layer 2 blockchain built on top of another one. However, its code is based on Ethereum smart contracts and features sharding support.
What Is Toncoin Used for?
Toncoin is designed to create an ecosystem and can be used to build decentralized applications (dApps) and fill the role of being a transaction processing fee coin whilst also enabling a cross-chain transaction fee and a staking service through which the network is secured.