December disappoints as BTC fails to set new highs ahead of new year
A look at the crypto market's developments and performance in December 2021 — Market Watch Monthly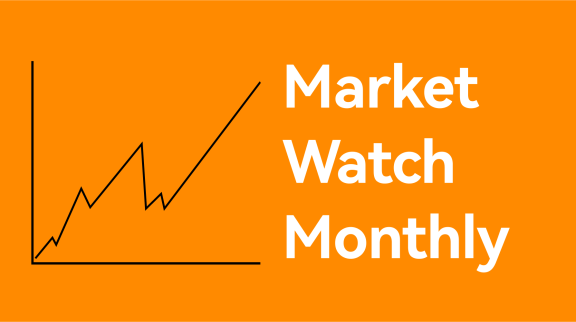 Key takeaways
There was a brief relief for the markets leading up to Christmas.
OKX trading data showed a minor decline in volumes but spot maintained its share.
BTC bulls are looking to find a price bottom in January.
Bitcoin recap
After a strong first half in November, Bitcoin started showing weakness that extended into December. Given BTC's historically strong returns in these two months, market participants expected a strong rally to mark the year's end. However, that never materialized, as the market leader broke through several support levels on its way down from 69,000 USDT to 41,241 USDT, per the OKX BTC/USDT price.
This price action meant that Bitcoin closed December with a loss of 16.14% after bouncing from 41,000 USDT levels to nearly 48,000 USDT. However, December was more volatile for BTC compared to November, with a high-to-low price range of over 30%.
From a technical analysis perspective, January has extended Bitcoin's losses so far, and BTC recently tested the support level it set in September 2021 at around 39,500 USDT. If the bounce from here takes BTC past 48,000 USDT (the December closing), we can expect more upside. Until that happens, the downtrend is likely to persist.
Federal Reserve plans remain key for global markets
As highlighted in last month's report, the major risk faced by all markets, including Bitcoin, remains the U.S. Federal Reserve's hawkish policy changes. The December Federal Open Market Committee meeting saw members recognizing the growing inflation threat and committed to doubling the pace of asset purchase tapering in the coming months.
This tapering schedule and potential interest rate hikes to follow will dictate market confidence moving forward. For now, with these policy changes, we saw mixed reactions across the board.
By the end of December, BTC was down 16.14%, the Nasdaq Composite Index was down 0.69%, the S&P 500 was up 4.36%, oil rose by 12.56% and gold by 3.11%. The U.S. dollar, however, fell by 0.23%.
December's OKX trading data shows slight volume decline
With prices sliding sharply in both November and December, OKX trading data showed a small decline in volumes — in line with market sentiment.
Within the volumes, however, spot maintained its share while swaps saw an increase at the expense of futures.
As for the total breakdown, spot trading accounted for 26% of all volume in December (the same as November) followed by swaps accounting for 54% (up 3% from last month) and futures down 3% in the same period.
Alts mostly down, but LUNA pushes on
Altcoins had started declining in November as market sentiment turned bearish. These losses continued in December, with alts losing more than BTC in general.
For instance, while BTC was down 16.14%, ETH lost 17.86%. Similarly, other historically strong performers, such as SOL, also saw losses after months of staying in the green.
LUNA, however, was once again the standout performer with a massive monthly gain of 54.84% in December as it traded above 100 USDT at one point.
DeFi TVL hit, but DEX volumes stay above $100B
Decentralized finance protocols saw total value locked figures remain relatively muted in December, and the month ended with the TVL at almost $86 billion — down roughly $10 billion from November, per DeFi Pulse data.
The drop in TVL reflects the changing market sentiment, to some extent, as traders seek to take profits during a falling market instead of keeping their assets staked.
As per data from Dune Analytics, however, decentralized exchanges remained popular and saw another $100 billion in volume in December.
Top DeFi assets continued to put up a mixed performance in December. Only SUSHI saw major gains, followed by CRV — at 33.21% and 16.39%, respectively. Others, including MKR and COMP were down more than 20%.
Looking ahead
November's 69,000 USDT has marked a BTC top for now, with no real signs of a reversal taking us above those levels anytime soon. The Dec. 4 flash crash set a new recent low that was then breached in early January as BTC tested the 39,500 USDT support.
Moving forward, bulls will be looking to reclaim 48,000 USDT while bears will be wanting another retest of the sub-40,000 USDT range, hoping to see a breakdown.
The FOMC meeting set for the last week of January is likely to reveal more cues as to the market's possible direction in the months that follow.
---
Not an OKX trader? Sign up and claim your new joiner bonus!
Subscribe to our weekly newsletter for the latest market and industry updates delivered to your inbox every Tuesday.