One of the most significant trends in IT over the past decade has been the proliferation of cloud computing. One such decentralized service that has played a role in this alteration is Storj. In today's crypto market, Storj price predictions are essential for those looking to invest in the token.
As of today, the token is holding steady at $0.25, and most investors foresee optimistic developments in the token's future. This article covers STORJ's technical analysis and Storj price prediction for 2023 based on its price history and performance indexes.
What Is Storj (STORJ)?
Storj is a decentralized cloud storage platform that utilizes blockchain technology to secure and manage data storage and transfer. It is designed to be a more secure and private alternative to traditional cloud computing solutions. The platform uses a network of distributed nodes to store and retrieve data rather than a central server.
Users can rent out unused hard drive space to the Storj network in exchange for STORJ tokens, the platform's native cryptocurrency. Users can also store and access their data on the Storj platform via various interfaces, including a web interface, a command-line interface, and API libraries.
Storj aims to offer a more secure and decentralized alternative to traditional cloud storage solutions by using end-to-end encryption, distributed architecture, and a decentralized network of nodes to store and manage data. It is designed to be more resilient to attacks and outages, as data is spread across multiple nodes rather than stored in a single location.
Storj-Related Updates in 2022
Storj began the year with a product update. The platform announced the redesigning of its project dashboard. Users were expected to pay less in fees following the release of this update. It settled at a nominal per-segment fee of $0.0000088.
This update was to be followed by the release of other features that would simplify the user interface and eliminate third parties processing requirements during transfers.
In March, Storj started selling the services of Rclone, Plex, and Storj DCS. Storj highlighted these services to give users easier access to decentralized multimedia services in a world where Netflix was predominant.
The platform also focused on training its users to get the best of their services. This included training on services like the sidecar Pattern and finding Goroutine Leaks when running tests. For node operators in Russia affected by the ongoing conflict, the platform aired their views on the possibility of discontinuing Storj services in the region.
Storj then revisited its earlier proposed (2021) open development strategy. The aim was to make it possible for people in Storj's community and the larger open-source community to participate in shaping the future of the network. April marked the adoption of Storj's services by public organizations like the Internet Archive.
This adoption allowed Storj to access 22TB of LibriVox's Audio Collection. Netcloud's integration with the platform was another 2022 marker. This integration was widely anticipated as it is expected to provide next-generation data storage services to cloud computing services and users.
The platform then released its IPFS Pinning Service to provide secure Decentralized NFT and dApp storage. 2022 saw Storj make other strategic partnerships with Arq Backup while supporting the launching of Ethereum's zkSync 2.0 and EIP 4844.
STORJ Technical Analysis
The technical analysis for STORJ appears to be on the bleak side. In the past three months, the value of one STORJ has decreased by 43.82%, from $0.44 to $0.19. STORJ's price has been trading down over the past week, losing 5.95% of its value.
With its Relative Strength Index (RSI) pending at a neutral 31.5003 from its monthly 41.956 position, the blockchain asset is underbought. STORJ has maintained the same sluggish bearish pose, with the analysis being neutral about what to expect next. In tandem, the token reveals a Moving Average (MA) of 0.6053 with a Simple Moving Average (SMA) of 0.9524. It is also currently below its 200-day SMA.
Storj (STORJ) Price Prediction for 2023
WalletInvestor
STORJ price predictions by Wallet Investor show a potential for growth in 2023. However, their predictions entail a constant rise and fall in the token's value. Its January predictions reveal that the token will maintain a $0.000001 bare minimum. This will be at an expected $0.328 average and a maximum price value of $0.720.
This increases to a minimum of $0.0116 at a $0.0232 average, placing its maximum value at $0.0348 before plummeting.
CoinCodex
CoinCodex's STORJ price predictions also reveal that the currency's value will increase by 4.65% by January 2023, when it will have reached $0.26. It predicts that this may rise to $0.87 and could hit a maximum $1.50 price value.
DigitalCoinPrice
DigitalCoinPrice STORJ price predictions reveal that by January 2023, the minimum price of STORJ should be $0.54. Even though the average STORJ exchange rate will remain at about $0.55, the maximum value of one STORJ can be worth $0.58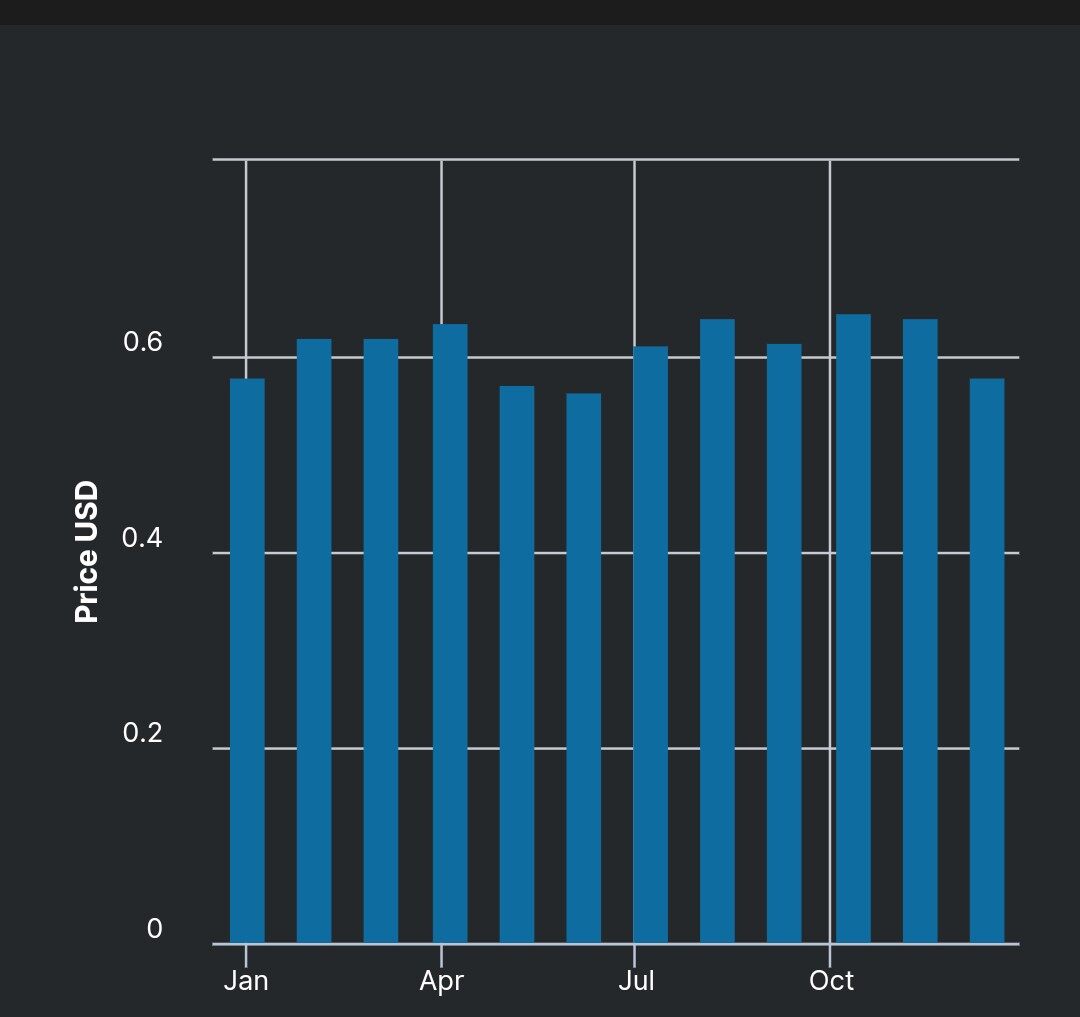 Bitnation
According to Bitnation's STORJ price prediction, in 2023, the highest price Storj will reach is $0.70, with a yearly average of $0.63. This is based on the fact that STORJ will steadily increase in value. They predict that in the worst-case scenario, 2023 may see STORJ drop to $0.55.
AMBCrypto
In their 2023 STORJ price prediction, AMBCrypto also indicated a rise. They stated that the price of STORJ will be between $0.26–$0.3 by January 5, 2023, with an average price of about $0.28. This is expected to rise to about $3.47–$3.99 at a $3.73 average.
Storj Price History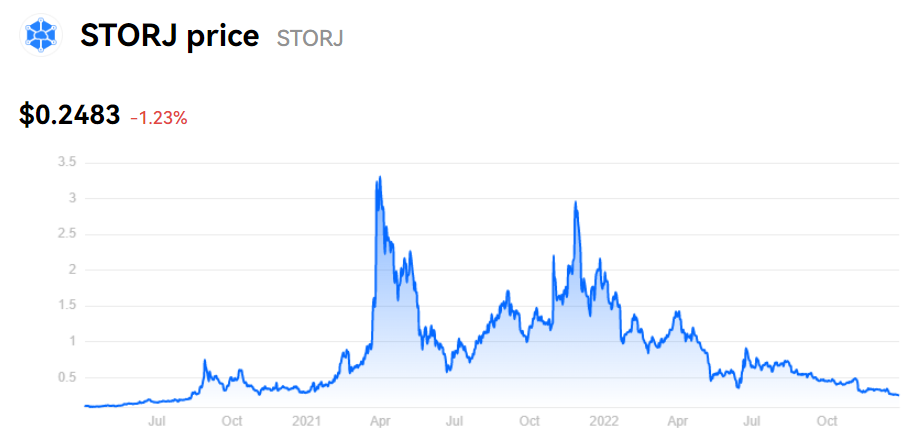 When STORJ debuted in July 2017 at $0.50, the asset reached a high of $0.88. It fell below $0.50 before surging beyond $2 in the second week of August. By September 2017, STORJ was trading between $0.30 and $0.70, by November, it had risen to $2.44, a gain of almost 390% from its ICO price.
In January 2018, the rising trend reached $3.36. However, STORJ fell below $0.60 the next month, and its value dropped 95% from its January high of $1.36 to $0.14. In Febuary 2019, STORJ's price rose to $0.40 after two months of stability. After five months, the price dropped again and was at $0.09 by year's end.
By mid-Feb, 2020, STORJ reached $0.27, plummeting 47% in March to $0.04. STORJ then rose steadily, reaching $0.80 in August before dropping 60% to $0.65 in October. By year's end, STORJ dropped again and stabilized at $0.29.
2021 was STORJ's best year. After continuously climbing throughout the first quarter, STORJ achieved its all-time high of $3.88 on March 28. By April, prices dipped to $1.23, but rebounded to $2.
The value of a Storj token has continued to fall throughout 2022. Prices for STORJ plummeted from $1.85 on January 2, 2022, to $1.16 on January 30. It then opened at $1.15 on February 14 and closed at $0.94 on February 28.
Is Storj a Good Investment?
The current bearish trend has impacted even the largest cryptocurrency markets. And considering the current trends, making an accurate projection takes time. Like most other cryptocurrencies, the STORJ's value has plummeted this year and much hinges on the market's general direction.
On the other hand, predictions outline a positive trend by 2023, and STORJ might be worth a lot by then.
Storj: The Final Verdict
The price of STORJ has fluctuated widely over time, from a low of $0.04 to a high of $3.88. STORJ's volatility portrays its ups and downs, especially its ability to bounce back up. The price of STORJ, as seen by its price history, has been influenced by several variables, including its limited supply, demand from storage customers, and general crypto market developments.
FAQs:
Is Storj a Coin or Token?
STORJ is an ERC–20 ethereum token. It is the native token of Storj, which runs its services on the Ethereum blockchain network. STORJ is fully compatible with all ERC-20 enabled crypto wallets.
Is Storj on the Ethereum Blockchain?
Storj is built on and operates on the Ethereum blockchain. This means that STORJ runs on the Ethereum network and is compatible with all ethereum wallets. Therefore, ethereum users can buy, sell, and transact STORJ without facing any issues.
Is Storj a Good Investment?
Based on the price predictions and technical analysis, STORJ should make a decent investment by the middle of 2023. However, investors should watch out for market volatility and do due diligence before investing.
Who Owns Storj?
Storj was founded by Shawn Wilkinson and co-founded by John Quinn and was launched as Storj Labs in 2014 to develop the platform. Storj was then developed into a decentralized storage layer.