Bitcoin and crypto trading volumes and spreads on OKX in February 2021 — OKX Market Spread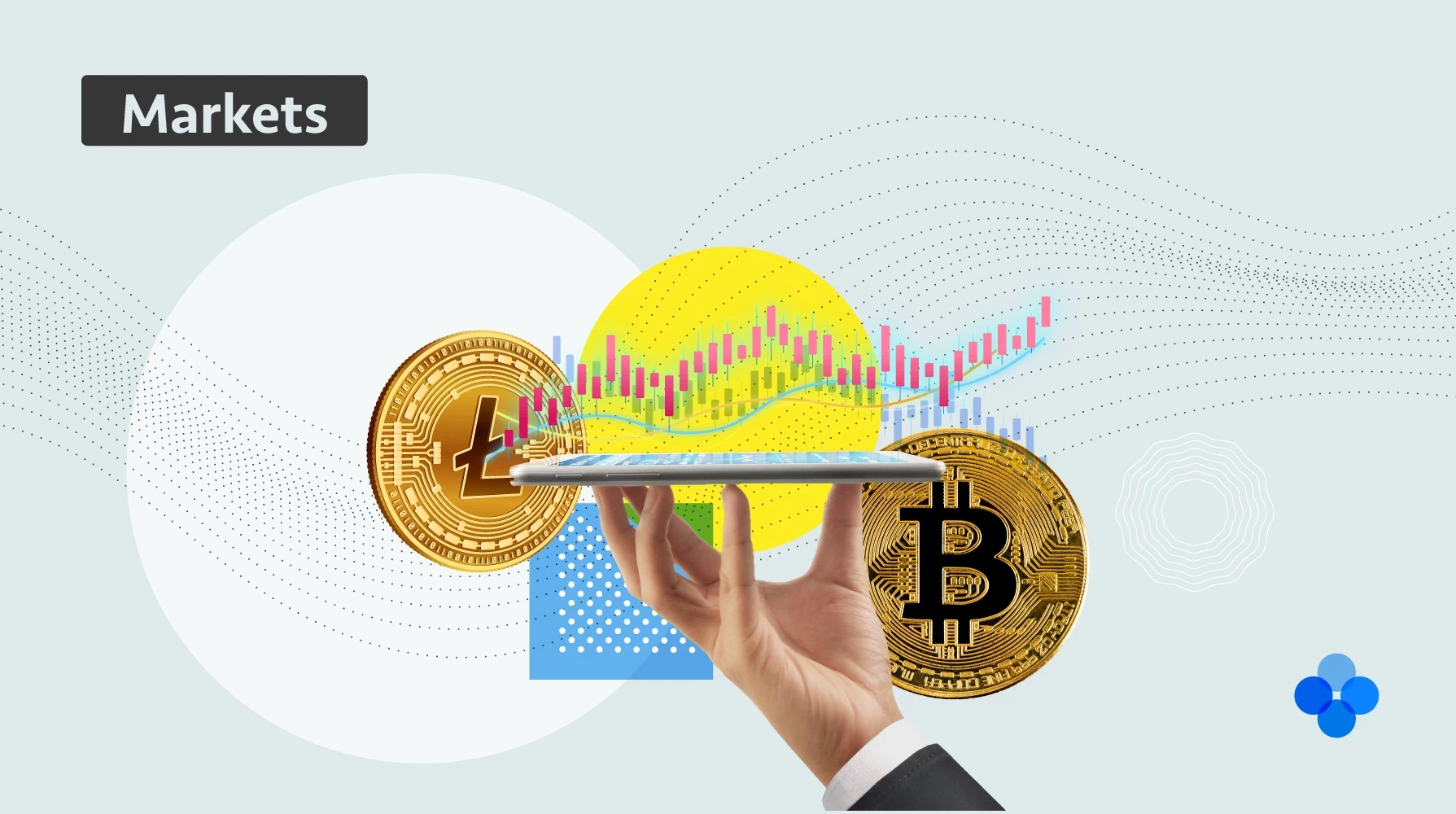 In February, as Bitcoin advanced rapidly toward $50,000 and beyond, its correlation with major stock indexes, especially tech stocks, became more pronounced. This trend added yet another dynamic that affected BTC prices — and coupled with the high leverage in play, it made for extremely volatile price action.
The leading cryptocurrency was driven by bullish news in the first three weeks of the month and made a new all-time high of 58,318 USDT on Feb. 21, as per the OKX spot price. Its price then tumbled 26% over the final week of February, and the initial bullish sentiment followed by the large pullback resulted in the second-largest monthly trading volume in OKX's history.
Bid/ask spreads on OKX displayed slightly lower levels (in terms of mean and variance) when compared with January, and the average execution speed also improved due to our consistent system upgrades.
Given the rapidly changing market landscape, the previously hot DeFi sector saw a price plunge at the end of the month, though trading volumes remained relatively stable. Meanwhile, for the first time, an NFT-related token, GHST, made it into the top 10 rankings by trading volume.
Spot volumes surged with demand for altcoins
The total trading volume for February reached $636.8 billion on OKX, $80 billion less than the record-breaking month of January 2021. Looking at the breakdown, however, spot trading volume increased by 15% compared to January, with 11 new spot pairs listed in February.
On the other hand, derivatives volumes declined, with swaps down 13% and futures down 18%. In terms of percentages, futures accounted for 51% of the total trading volume, down from 55% last month though still dominant. Meanwhile, the total volume share of spot trading rose sharply from 16% to 20%, indicating that market participants are buying more altcoins in this bull run.
In spot trading, Dogecoin (DOGE) caught up with Ether (ETH) and ranked second in February, in terms of average daily volume. OKB also moved up to fourth place due to broader usage in the OKX ecosystem, including OKX Earn. In seventh place and 10th place, are Uniswap (UNI) and Chainlink (LINK), both from the DeFi sector.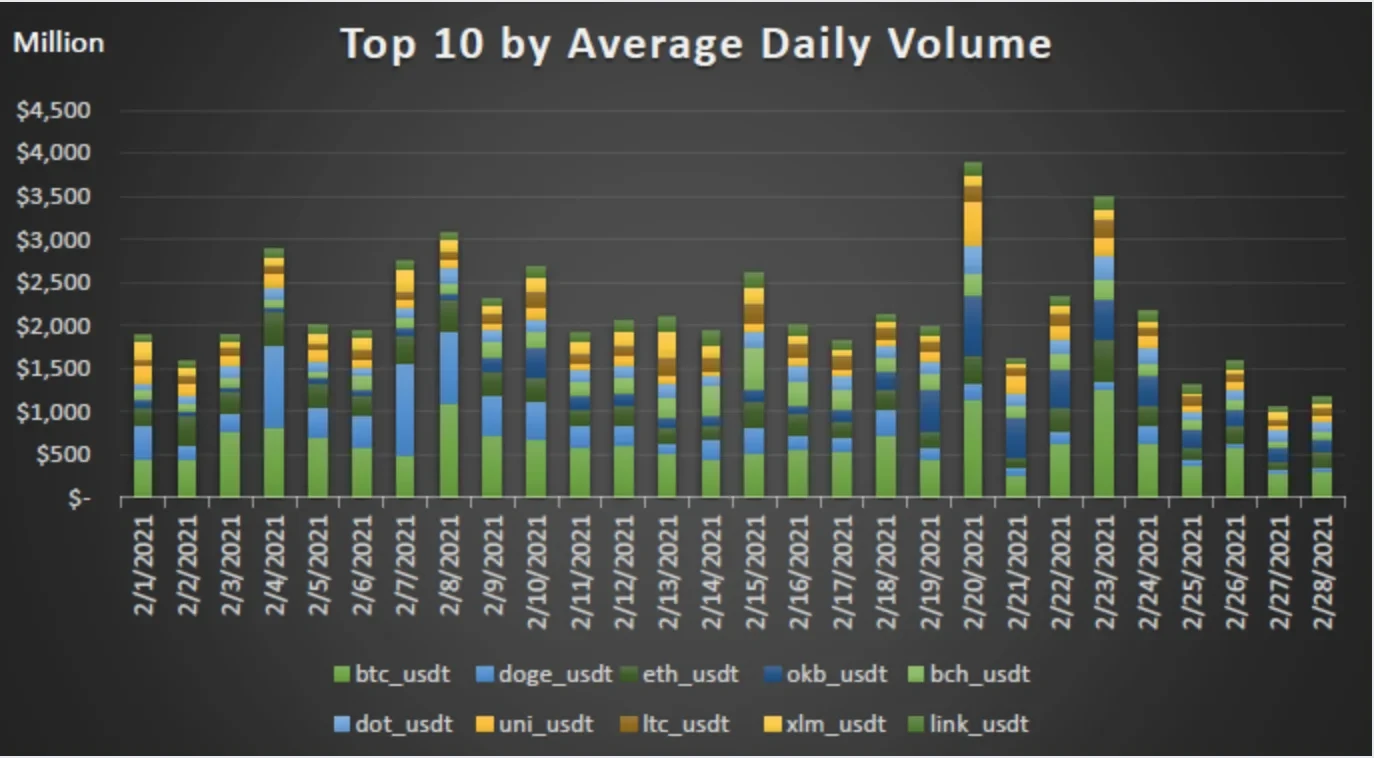 Looking at the most-traded instruments, the coin-margined BTC quarterly future 210326 remained the winner in February, with an ADV of $2.12 billion. The same instrument received an all-time high two-day trading volume of $11.5 billion from Feb. 22 to Feb. 23.
The second most-traded instrument was the USDT-margined BTC swap, which reached $1.43 billion in ADV, followed by the coin-margined BTC swap, which had an ADV of $1.29 billion.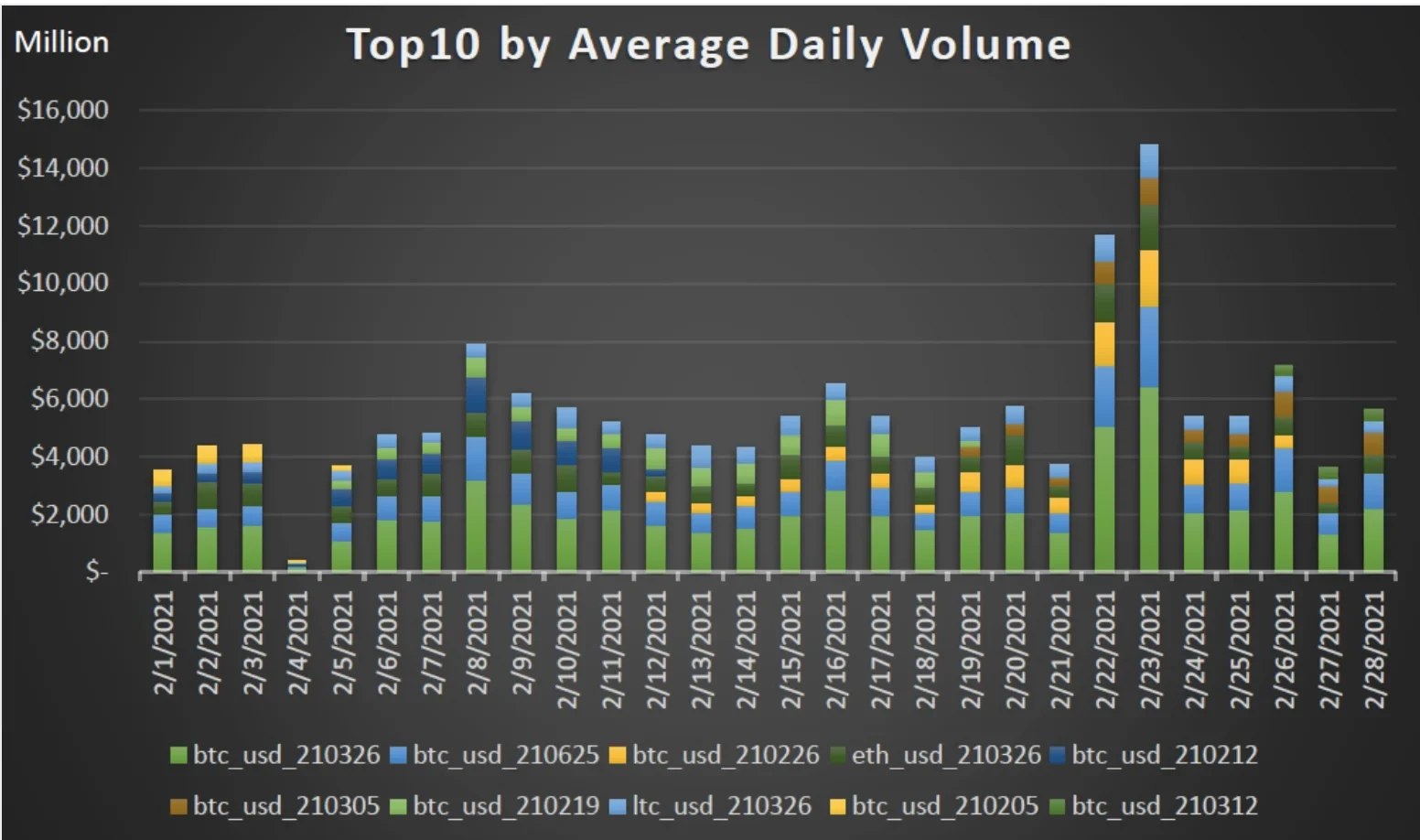 Looking at the USDT-margined perpetual swaps, DOGE was clearly favored by traders, mostly due to its volatility. With an ADV of $166 million, the meme coin ranked fourth, while the top spots were occupied by BTC, ETH and Litecoin (LTC). Apart from LINK, which ranks ninth with an ADV of $72 million, no other DeFi tokens appear in this ranking.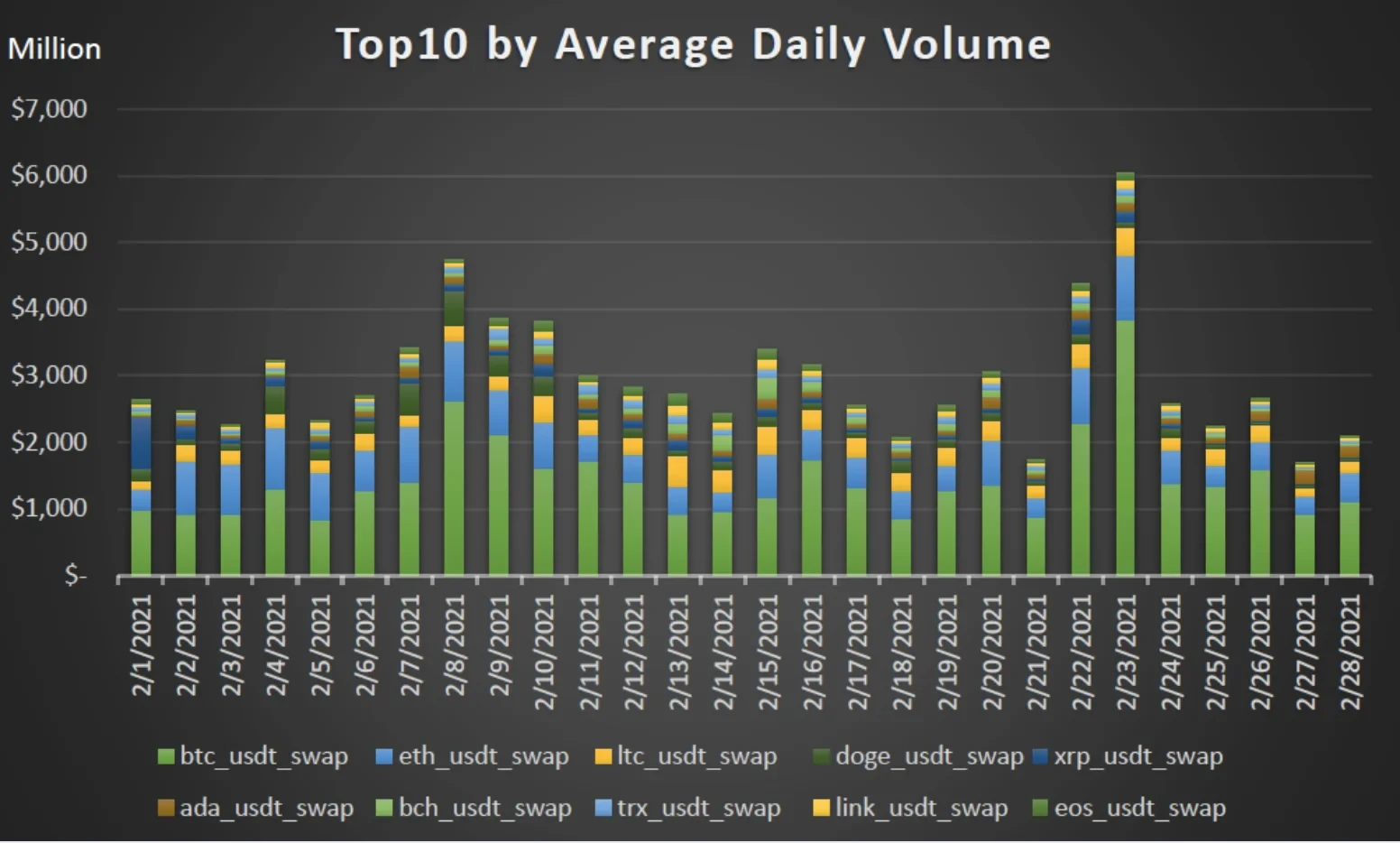 DeFi volumes were stable while an NFT-related token entered the top 10
The DeFi segment suffered a price pullback in late February, but trading volume was relatively stable, accounting for 24% of the spot and 9% of the swap volume. UNI achieved the number one ranking with an ADV of $128 million, followed by LINK and AAVE, both recording ADVs of nearly $100 million. Notably, GHST, the governance token for the NFT-based game Aavegotchi, entered the top 10 with an ADV of $32 million, reflecting the popularity of NFTs in the market.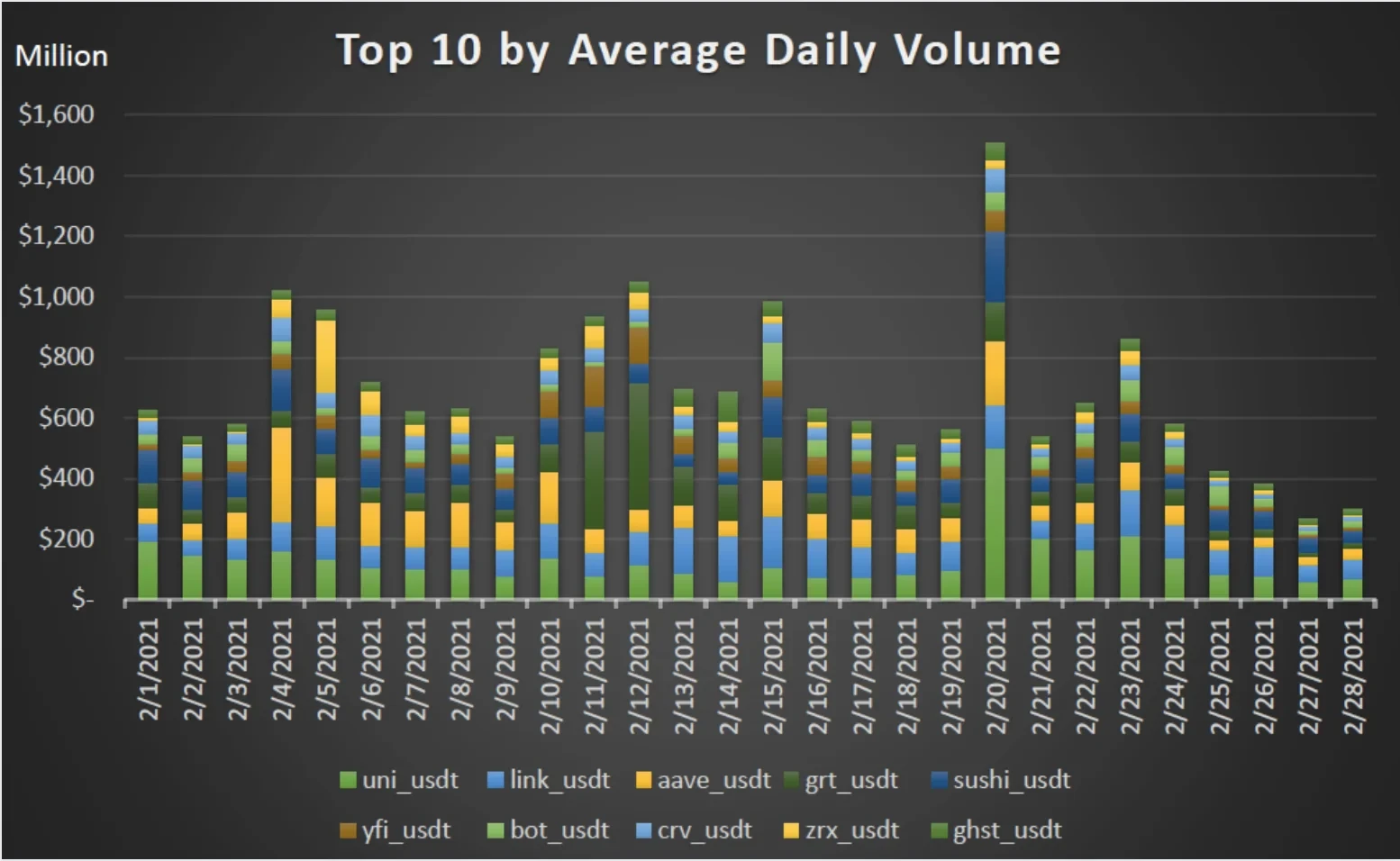 Big improvements in bid/ask spread and average execution speed
In terms of spreads, the coin-margined BTC quarterly future 210326 — the most traded instrument — saw its average bid and ask spreads improve by 24% and 17%, respectively, when trading $500,000 worth of BTC.
The USDT-margined BTC swap became even more stable in February, maintaining a very small spread during days of significant price fluctuations. Both average bid and ask spread are within the 0.001% range when trading $500,000 worth of BTC.
When measuring the average execution speed for the top 10 spot instruments, we saw all dots moving from the right to the left, reflecting improved execution speeds this month due to consistent system upgrades. The same trend is also visible for almost all derivatives instruments during February.
Monthly correlations and volatility
DOGE's volatility was especially high in February due to the Wall Street Bets saga and tweets by Elon Musk. Its correlation with BTC dropped to 0.27, indicating independent price movement over the month. OKB also detached from BTC in the middle of the month, causing its correlation with the leading digital currency to drop to 0.35.
---
OKX Insights presents market analyses, in-depth features and curated news from crypto professionals.