OKX (www.okex.com), the world's largest cryptocurrency spot and derivatives exchange, announces its cooperation with skew, one of the most trusted sources of crypto market derivatives data. Through this partnership, OKX becomes the first crypto exchange to launch a dashboard on Skew, where users can now view trading data from OKX, including trading volume of BTC futures, perpetual swaps, etc. skew is a high credibility leading crypto data monitoring agency that focuses on derivatives trading data. With the increasing popularity of the crypto market, skew has become one of the most important sources of derivatives data for traders because of its timely, objective, and detailed information, especially favored by institutional traders. Skew has been cited by world-class financial media such as Bloomberg on many occasions.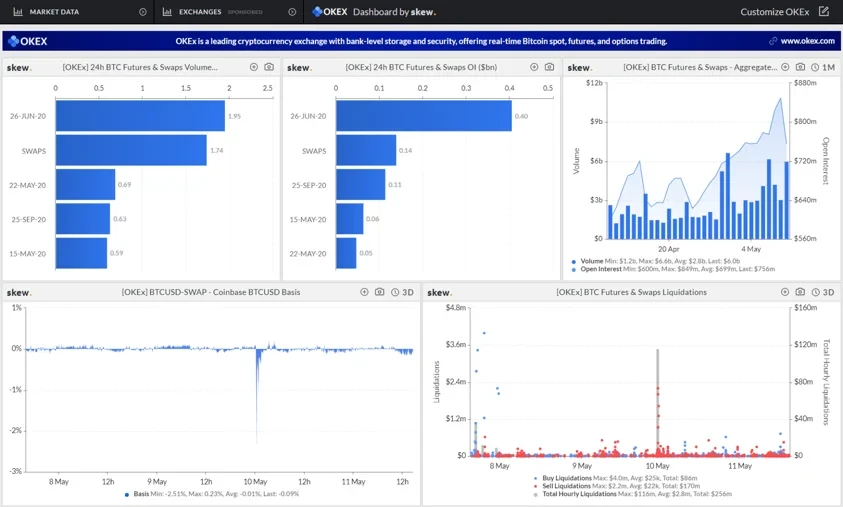 "OKX and Skew share the same ideal: that is to reduce the negative effects on traders caused by information asymmetry and to promote the transparency of the whole industry. Skew has made an outstanding contribution to this and we are glad to cooperate with them to launch an OKX dashboard," said Jay Hao, CEO of OKX. "The transparency of exchanges has increasingly become a concern for traders. We hope to provide traders with a true and reliable channel for mastering OKX trading data, while enhancing the overall transparency of the industry."
Quentin Issele, VP of Financial Markets of OKX added, "We welcome this partnership with Skew as OKX is always keen to bring to the trading community smarter market analytics and make the market more resilient. We are confident that this initiative will lead to a wider understanding of the dynamics of digital asset derivatives and a deeper appreciation of their potentialities."
"We are excited to be collaborating with OKEX to launch our analytics hosting services. OKX is a key actor of the cryptocurrency markets, we are delighted to help them promoting greater exchange transparency for the industry," said Emmanuel Goh, Co-founder & CEO of skew.
END
---
About OKX
The world's largest and most diverse cryptocurrency marketplace, OKX is where global crypto traders, miners, and institutional investors come to manage crypto assets, enhance investment opportunities, and hedge risks. We provide spot and derivatives trading, including futures, perpetual swap, and options, of major cryptocurrencies, offering investors great flexibility in formulating their strategies to maximize gains and mitigate risks.
Media contact:
Vivien Choi
Email: [email protected]
Telegram: @vivienchoi