Monero is easily one of the most recognizable cryptocurrencies in the nascent industry. It focuses on enabling private transactions through a scalable blockchain blockchain network. While the broader crypto space has struggled to break the bears' control, the Monero protocol has posted reasonable gains. This has drawn several investors' interest, with many wondering what the Monero price prediction will be in the coming year.
In this article, we will consider XMR's potential value in 2023 based on its technical and fundamental performances.
What Is Monero (XMR)?
Monero (XMR) is a decentralized, open-source cryptocurrency launched in April 2014 as a fork from Bytecoin. It focuses on privacy, scalability, and decentralization and uses cryptographic techniques to obscure users' identities and transaction details.
Monero uses a proof-of-work (PoW) consensus algorithm to validate transactions and create new blocks on its blockchain. This means that users who contribute computing power to the Monero network (miners) are rewarded with XMR for their efforts.
One key feature of this anonymous Bitcoin version is its use of ring signatures and stealth addresses to protect users' privacy. A ring signature allows a group of users to jointly sign a message, making it impossible for outsiders to determine which group member issued the signature.
A stealth address is a one-time address used for a single transaction, making it difficult for outsiders to determine the recipient's or sender's identity. Monero has established a reputation as a privacy-focused project and has been adopted by merchants and organizations as a payment method.
Monero-Related Updates in 2022
Monero started the year unconventionally. In January 2022, the platform released its Oxygen Orion update. This was to fix crashes prevalent in Apple Silicon, other bug fixes, and user interface (UI) improvements. In April 2022, the platform announced the performance of a major network upgrade scheduled for August of the same year.
Fluorine Fermi, the new update, came with a software overhaul and was tested one month before its release. The update was to include features such as upgraded bulletproof algorithms, view tags, and major multi-signatory upgrades. From July to September, the project released continual updates with the goal of delivering better services to its users.
In terms of the project's services, 2022 was marked by a recorded growth in financial transactions. From April 2021-April 2022, Monero transactions grew from 23,000 to 40,000 daily.
Monero Blockchain also grew to 19.24GB with 262,567 blocks and 9,087,482 transactions. The blockchain also maximizes mining fees with its updates and saw an average of 0.000166247XMR per user transaction. As expected, these network update releases had major impacts on XMR and affected the coin's value, as witnessed in its price history.
XMR Technical Analysis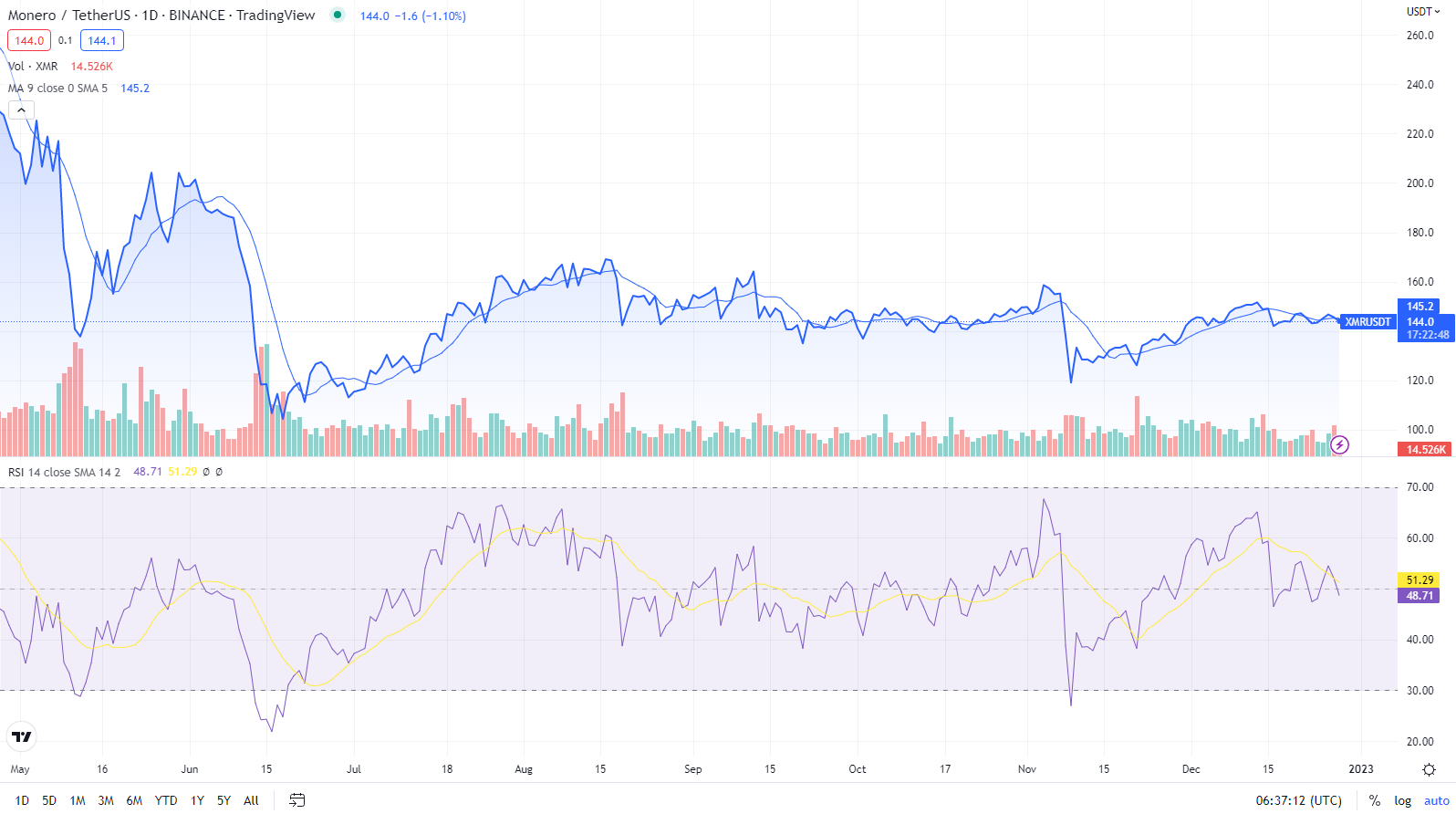 At press time, technical market analysis shows Monero price predictions heading toward a bullish outcome. Current analysis shows that the crypto asset is still underbought with a Relative Strength Index (RSI) of 55.29 from last week's 48.11 and its 100-day 48.83 figure.
The Moving Average (MA) shows a strong bullish trend at $146.4 within the last five days. Its Simple Moving Average (SMA) for XMR stands at $145.40. This is just a few gaps away from the $146.31 position it held during its 100-day period. This is a significantly positive trend compared to its 200-day Moving Average of 161.68.
Monero (XMR) Price Prediction for 2023
PricePrediction
According to PricePrediction's analysis, Monero's price predictions for 2023 based on the current trends show positive outturns. It is predicted that Monero will reach an average of $232.37 by 2023. This is with a minimum target value of $226.22 by the end of the year and a ceiling value of $256.00.
Wallet Investor
Wallet Investor also predicts that Monero will begin the year with an average price of $155.88 in January 2023. This translates into a $185.06 average by the year's end, with a minimum of $103.30 and a maximum price of $270.85.
DigitalCoinPrice
DigitalCoinPrice is enthusiastic about a bullish trend in the future. In their 2023 Monero price predictions, DigitalCoinPrice stated a whooping $314.92 minimum price value for Monero. This was followed by an anticipated $359.26 average and a maximum price value of $378.65.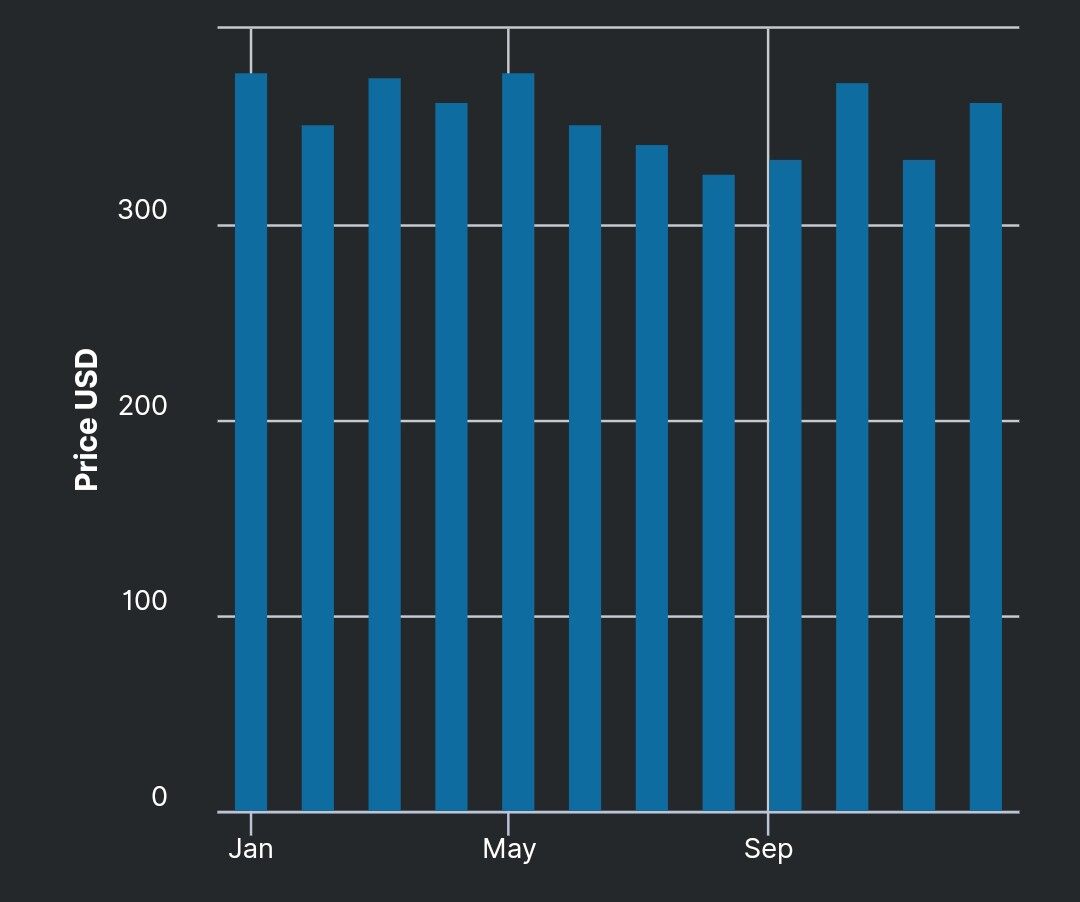 CoinCodex
Monero price predictions from CoinCodex reveal that Monero may start the year with a $153.49 price value. The predictions also reveal that this may rise to $204.53 and progress to $351.44 before the year's end.
Traders Union
Traders Union concludes with a precedented rise in Monero by 2023. According to the prediction, Monero should have a minimum to a maximum range of $103.30–$270.85. It is expected that this will rise to $120.62–$177.38 before the end of the year.
Monero Price history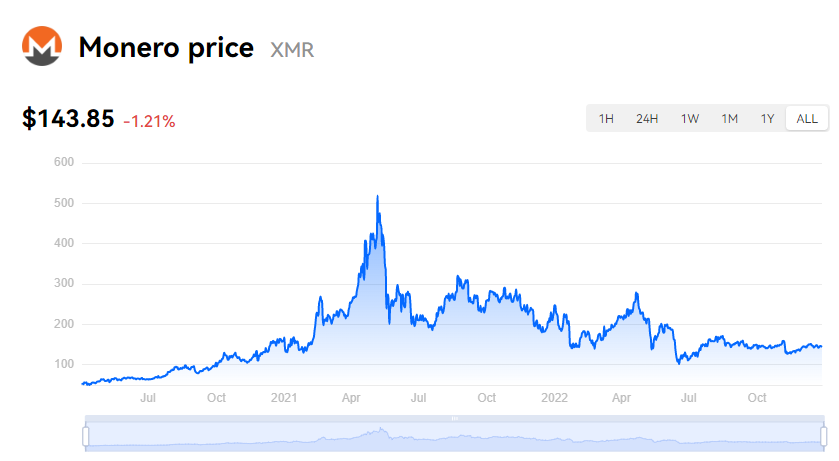 Monero began trading at an initial price of $1.65. In its first two years, XMR had extreme volatility, with prices rising as high as $5.39. In September 2016, the price of XMR rose from about $2.50 to over $13.
In August 2017, Monero's market capitalization surpassed $1 billion for the first time. This was the culmination of four separate surges in 2017 that were each followed by periods of consolidation. This caused the price of XMR to rise to almost $85 at the beginning of November 2017.
Following this, XMR increased to about 450% over the subsequent months and reached an all-time high (ATH) of around $480 in January 2018 with an average of $75.32.
Despite the initial rise, the price quickly reversed and returned to its previous levels. Due to intense selling pressure, the value of XMR fell by about 60% in a month. By the end of 2018, XMR was valued at less than $50.
Although the price of Monero dropped in March 2020, with one day seeing a drop of more than 40%, by year's end, the price of XMR was $156. This was a 240% increase from the beginning of the year. In 2021, this pattern persisted to witness a peak of $270.
The cryptocurrency market showed brief signals of improvement as 2022's first quarter came to a close. However, flash collapses in May and June caused the price of XMR to drop below $100 by the end of the month. Since then, however, the token's value has increased to $165.36 as of August 11, 2022. Within the last 90 days, Monero has witnessed a 4.53% growth, with a 1% growth today.
Is Monero a Good Investment?
Monero price predictions all reveal bullish trends in the future. This means that Monero is likely a good investment. Furthermore, May 2021 saw a historic high for Monero, with trends showing a possibility of this happening again.
However, due care must be taken. Depending on market conditions, the value of cryptocurrencies might rapidly rise or fall. Therefore, due diligence is required before making any investment moves.
Final Verdict
For investors looking to stock up on Monero, the technical analysis and 2023 predictions provide positive news — the prediction of a bullish trend and the expectation that investors may again witness XMR at new record highs. However, as with all cryptocurrencies, investors should proceed with caution.
FAQs:
Is Monero Crypto a Good Investment?
Monero has shown resilience over the years, as is evident in its price history. With this trend expected to continue, an investment in Monero might not be a bad idea. Furthermore, its privacy-centric nature makes it a natural lure for users who want to keep their transactions from the public eye.
Is Monero Better Than Bitcoin?
Monero and Bitcoin are both cryptocurrencies that serve varying purposes. Therefore, one cannot be better than the other. However, in comparison to Bitcoin, Monero is the most anonymous cryptocurrency on the market since it is truly private, while Bitcoin is open-source and decentralized. So, if you compare them based on that metric, Monero is better than Bitcoin.
Why Is Monero Not Popular?
Due to its anonymous nature, Monero is more popular on the dark web. When it comes to trading, most people also stick to the currencies they are already used to. Cybercriminals tend to focus on Bitcoin because they have mastered more hack techniques. This relegates Monero to only those who desire real privacy and anonymity.