Yearn Finance recently proposed a working model for protecting liquidity providers against impermanent loss, while Bancor offers insurance — DeFi Digest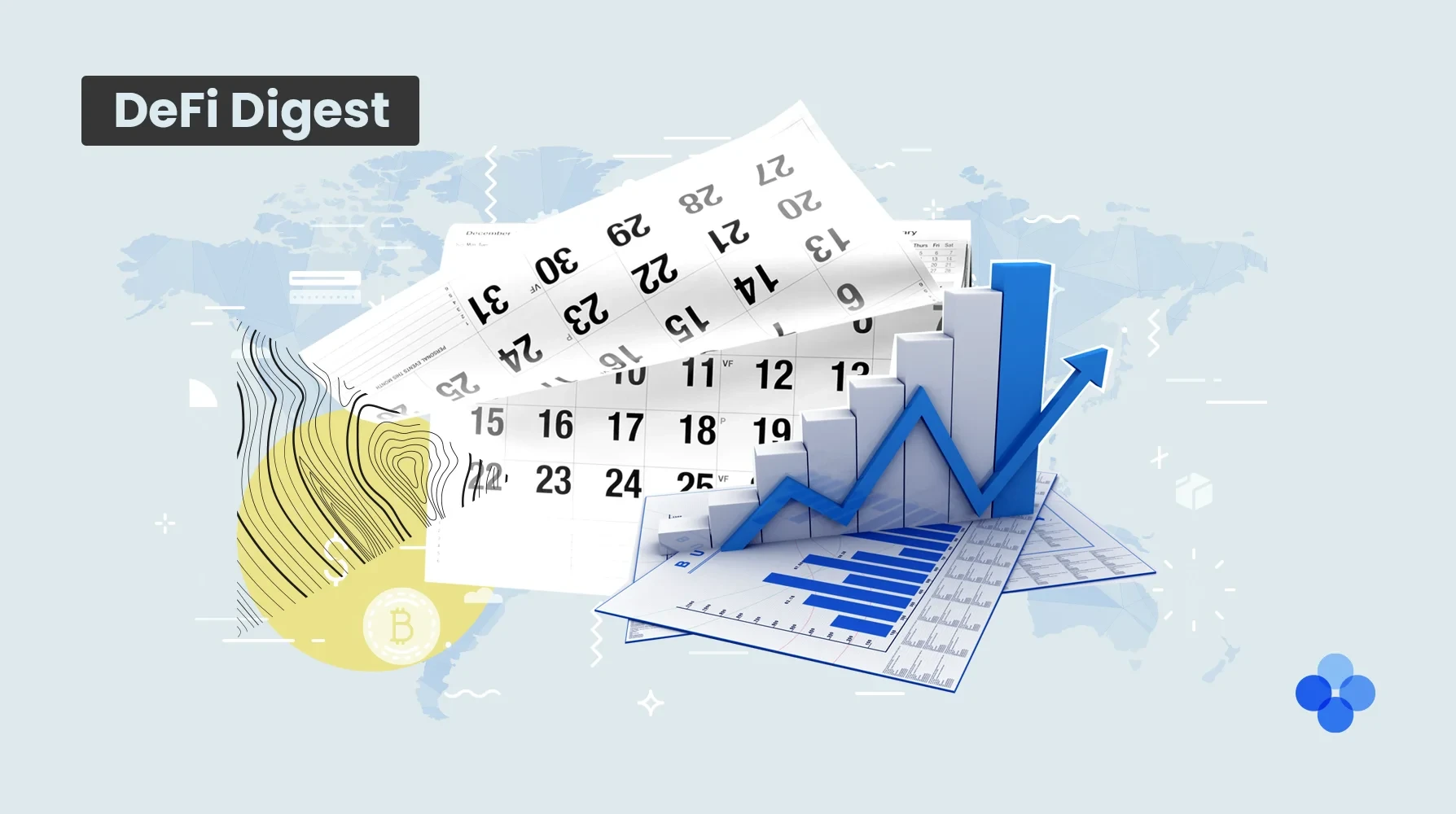 The decentralized finance space continued to grow this week after the price of BTC set a new all-time high over the weekend. The total value locked in DeFi protocols rose by 5% and stands, as of the time of this writing, at $43.52 billion. The total borrowing volumes of DeFi protocols — led by Compound — rose slightly to $10.6 billion.
The weekly average trading volume of decentralized exchanges rose by 19% to $2.57 billion, as of the time of writing. Uniswap remained the leader with a 39% market share. SushiSwap is the largest liquidity pool this week — with its total value locked reaching $2.11 billion.
Category
Key statistics
Amount
Weekly % change
Overall
Total value locked (USD)
$43.52 billion
5%
Market dominance (%)
Maker (16%)
Lending
Total borrowing volume
$10.6 billion
1%
Market dominance (%)
Compound (49%)
DEXs
Weekly avg. trading vol.
$2.57 billion
19%
Market dominance (%)
Uniswap (39%)
Yield farming
Largest liquidity pool
SushiSwap ($2.11 billion)
The total value locked in the DeFi market surged by 5% and
weekly DEX trading volumes
rose by 19%. Source: DeFi Pulse and DeBank
Impermanent loss explained
Impermanent loss refers to the decline in value when cryptocurrencies are held in an automated market maker liquidity pool rather than simply holding them in a wallet. This occurs when the price of one of the tokens in an AMM's trading pair changes in any direction. The more the price diverges, the greater the impermanent loss. 
The rising price of one token against its paired token represents an arbitrage opportunity. In this case, the liquidity pool will perform rebalancing by selling the rising token and buying the tokens that fall in price. When users withdraw their liquidity, they hold less of the rising token than what they originally deposited. The loss in value at the time of withdrawal becomes a realized loss.
An impermanent loss will disappear when the price of a token returns to the level it was at when deposited. However, this rarely happens, as the token price in the liquidity pool changes frequently.
Yearn Finance proposes impermanent-loss protection
Impermanent-loss protection has been widely discussed among DeFi participants this week following Yearn Finance founder Andre Cronje's announcement of a working-model idea for impermanent-loss protection. While the team has yet to build a user interface, Cronje proposed three elements:
Pay-as-you-go, with no upfront payments
Choose any asset in a pair to protect
Withdraw your liquidity at any time to cover losses
Cronje did not reveal further details on the model.
Hayden Adams, the inventor of Uniswap, joined the discussion on impermanent loss by saying that, while it is feasible to transfer the price risks of liquidity providers to others for a portion of the trading fees, there are better ways to mitigate the risks of impermanent losses. 
OKX Insights reached out to Adams and the Yearn Finance team for further elaboration but has not yet received a response.
However, Nate Hindman, the head of growth at liquidity protocol Bancor, told OKX Insights that AMMs with impermanent-loss protection are highly sought by yield farmers. He explained:
"It is encouraging to see Andre and numerous other teams develop ideas to address impermanent loss. It shows that there is extremely high demand among users for IL-protected AMMs." 
Meanwhile, Lennix Lai, the director of financial markets at OKX, believes that "the risk of IL is still there" under Cronje's proposed model. "Basically, you transfer the price risk of providing liquidity to someone else who wants to buy the insurance," he noted.
How Bancor approaches impermanent-loss insurance
Apart from a working impermanent-loss protection model proposal by Cronje, Bancor offers impermanent loss insurance in its current Bancor v2.1. Under the concept of impermanent loss insurance, a liquidity provider may get back the same value from deposited tokens and receive trading fees as revenue.
By design, Bancor's impermanent-loss insurance accrues over time. When a user makes a new deposit, the coverage offered by their insurance policy increases at a rate of 1% each day that the stake remains live. It matures to full coverage after 100 days. After this period, any impermanent loss that occurred in the first 100 days, or any time thereafter, is covered by the protocol at the time of withdrawal. There is, however, a 30-day cliff — meaning that, if users withdraw their tokens during the first 30 days of deposit, they will suffer the same impermanent loss as in an unprotected AMM.
Hindman explained to OKX Insights further:
"Bancor's v2.1 version offers two key features for AMM liquidity providers: single-sided exposure and IL protection. The solution is designed for users who love their favorite tokens, and want to generate yield on them via AMM staking while maintaining their long position.

"The insurance is a form of impermanent loss compensation at Bancor. Like regular AMMs, users can withdraw their liquidity at any time. If you withdraw your liquidity on the 50th day of deposit, you will receive 50% value of IL compensation. If you withdraw your liquidity during the first 30 days, you will suffer impermanent loss, as in other AMMs like Uniswap or SushiSwap."
Hindman also stated that trading fees and mining rewards are pure profits for liquidity providers with the absence of impermanent loss:
"The compensation for impermanent loss allows for greater profits from swap fees and mining rewards. When liquidity providers are fully compensated in Bancor's insurance, the fees and mining rewards are pure profits for them."
The introduction of impermanent-loss insurance and single-sided exposure led to a huge surge in Bancor's liquidity and trading activity. The protocol ranked ninth in total value locked and is the fifth-highest revenue-generating protocol on Ethereum. 
However, Bancor's impermanent-loss insurance model is not without limitations. For instance, the model currently only works for two-asset pools, and it does not support rebase tokens.
---
OKX Insights presents market analyses, in-depth features and curated news from crypto professionals.