Ethereum-based decentralized exchanges are thriving as a result of the current bull run in the price of ETH.
This week, the total value locked in DeFi protocols surpassed $80 billion, as of the time of this writing. Maker led the DeFi market with an 18% share of the sector's total value locked, as the total borrowing volume of DeFi protocols reached $26.29 billion. The lending market is currently being led by Compound, which has a 34% market share.
Decentralized exchanges continued to thrive this week, as average weekly trading volumes rose 9% to $6.11 billion. Uniswap extended its lead with a 34% market share. At the same time, SushiSwap remained the largest liquidity pool — though its TVL dropped from $2.54 billion to $2.09 billion.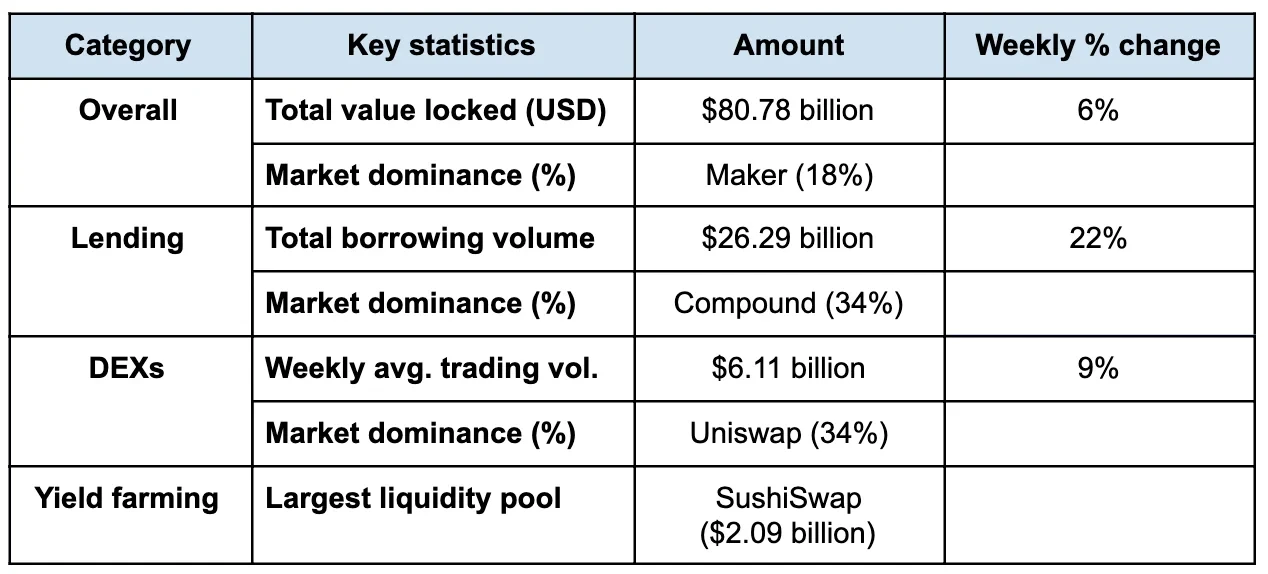 ETH bull run benefiting wider DeFi ecosystem
This week, the ETH price reached new heights as it passed the psychological milestone of $4,000. Three reasons are contributing to its parabolic run:
The DeFi community, in general, believes that the implementation of EIP-1559 will smooth out gas price spikes and reduce confirmation delays — revitalizing interest in Ethereum-based decentralized finance. Coinciding with the surging total value locked in DeFi protocols, unique active wallets in the DeFi ecosystem grew by more than 60% since mid-April.
The growing amount of ETH locked in smart contracts, contrary to centralized cryptocurrency exchanges, serves as another indication that interest in the DeFi sphere is growing. On-chain analytics provider Glassnode indicated that smart contracts held 22.8% of the circulating ETH supply, as opposed to the 12% held by centralized exchanges. As shown in the chart below, ETH holders have been transferring their holdings from cryptocurrency exchanges to DeFi protocols since February.
Decentralized exchanges reach new heights
The recent ETH bull run has promoted the healthy growth of decentralized exchanges. The daily trading volume of DEXs surged by 40% over the past two weeks. In addition to the upcoming implementation of EIP-1559, innovation and recent protocol upgrades for certain DEXs have attracted more locked capital.
As the leading decentralized exchange, Uniswap recently launched its V3 protocol upgrade on the Ethereum mainnet. The upgrade aims to improve capital efficiency for traders by paving the way for low-slippage trade execution. The enhanced functionalities found in V3, coupled with a reduction in gas price spikes via the upcoming EIP-1559, have consolidated Uniswap's recent DEX dominance. Uniswap accounted for over 60% of the total trading volume among Ethereum-based DEXs this week and gathered more than 360,000 traders.
Meanwhile, decentralized exchange aggregator 1inch Network soared as its native token, 1INCH, reached an all-time high of $7.76 on May 9. Built on Ethereum, the protocol also surpassed 200,000 in total users and led DEX aggregators in weekly trading volume. Chief among the network growth is the recent integration of Uniswap V3 and the launch of 1inch's own wallet.
Despite the recent growth, 1inch Network's liquidity is still lagging when compared to the major decentralized exchanges, however.
Layer 2 DEXs are emerging
Decentralized exchanges built on Layer 2 scalability platforms also benefited from the recent growth in ETH's price. Polygon, a Layer 2 scalability solution platform aiming to become Ethereum's internet of blockchains, gained popularity as its native token, MATIC, recently passed $1.00 for the first time.
Polygon's growth benefited DEXs such as QuickSwap and ParaSwap. While QuickSwap's user base increased over 200% in early May, ParaSwap generated a daily transaction volume of $37.4 million in one day.
---
OKX Insights presents market analyses, in-depth features, original research & curated news from crypto professionals.