News that famous macro investor Paul Tudor Jones' fund would be investing in Bitcoin (BTC) as a hedge against inflation first went mainstream on May 7. The news was followed up on May 11 — the day of the first and foremost cryptocurrency's third block reward halving — when Jones went on CNBC to detail that he had invested between one and two percent of his assets in Bitcoin, admitting the number was "conservative."
In a letter to investors, Jones compared today's Bitcoin to gold in the 1970s, stating that his BVI Global Fund could invest upwards of "a low single-digit percentage exposure percentage" of its assets in BTC futures. He also discussed in detail Bitcoin as a nascent store of value. Furthermore, Jones argued that a simple and objective look at today's digital world and inflationary monetary policies makes investment in the most tried-and-tested cryptocurrency an obvious bet worth taking.
Even though Jones specified that the investment comes in the form of trading Bitcoin futures (and not spot buying actual bitcoins, for example), the news bolstered the greater cryptocurrency industry. It was seen by many as continued validation that much-sought-after institutional players are officially entering the space.
But are Jones and those who follow late to the party? To better understand what to expect from institutional investment in crypto going forward, we examine just how much interest from institutional investors currently exists in the Bitcoin and digital asset space, and how we got to where we are today.
Shorting the top in 2017: Bitcoin futures launch
The story of institutional investment into Bitcoin largely begins with New York-based Digital Currency Group's Grayscale Investments, LLC. — which was launched in 2013 and acted as a true front-runner in the race to provide solutions for institutional investors looking to gain exposure to the then very new digital asset class. However, it doesn't get particularly noteworthy until Bitcoin futures contracts enter the scene.
In December 2017, as the hype surrounding Bitcoin reached a fever pitch and the leading cryptocurrency was nearly at its all-time high around $20,000, Cboe Global Markets Inc (CBOE.O) and CME Group Inc (CME.O) dropped the news that they would both be launching Bitcoin futures contracts.
The offerings became available on Dec.10 and Dec.17, respectively. CME's contracts opened at $20,650 — essentially the exact top of the 2017 Bitcoin bubble. By Monday, Dec. 18, it had settled down 2.05 percent. The months that followed saw a dramatic plunge in the price of BTC and started a period many in the crypto industry called "Crypto Winter."
2018: Building institutional Bitcoin on-ramps
Though 2018 was a harsh year for many in the retail cryptocurrency market, institutions began to make earnest and undeterred entries into the digital currency space.
The aforementioned Grayscale Investments, LLC kicked off the first wave of institutional interest in 2018 with its Grayscale Digital Large Cap Fund LLC in February — only two months after the price of Bitcoin peaked around $20,000.
As the name of the Grayscale Digital Large Cap Fund LLC implies, it initially included Bitcoin, Ethereum (ETH), Ripple (XRP), Bitcoin Cash (BCH) and Litecoin (LTC) — coins which all met "Grayscale's fund construction criteria in a market capitalization-weighted portfolio." However, all of the altcoins would end up underperforming against BTC.
At that time, Grayscale had $1.31 billion under management — a number, as we will come to find out, that would grow significantly over the next two years.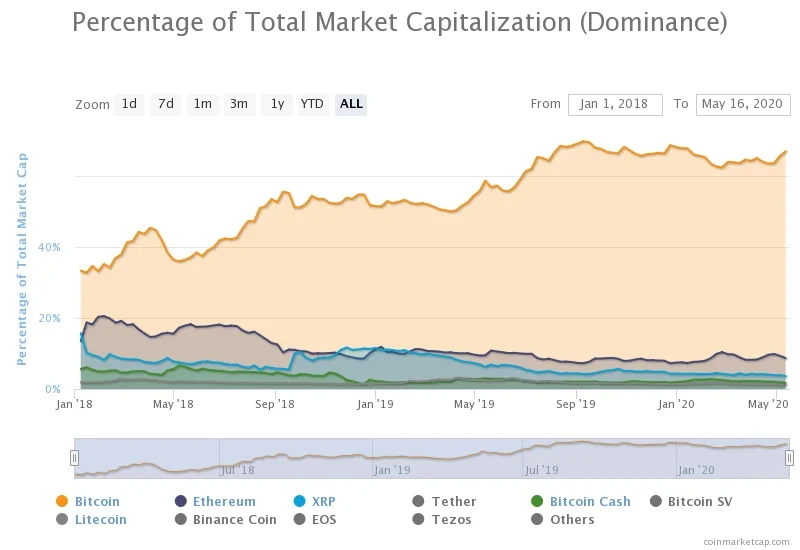 Grayscale was not the only name in the institutional crypto space in 2018.
In August of that year, United States-based hedge fund Morgan Creek Digital partnered with U.S. crypto investment firm Bitwise Asset Management, which emerged in 2017, to launch the Digital Asset Index Fund. The product was geared towards institutional investors that wanted exposure to a wide variety of cryptocurrencies and digital assets. The fund's minimum investment was $50,000 and tracked the newly-formed Morgan Creek Bitwise Digital Asset Index (MCBDAI).
That same month, Morgan Creek Digital investment officer Mark Yusko told CNBC that there was a growing demand from endowments, pension funds and family offices for investments in the cryptocurrency space — something we would see confirmed soon after.
2019: Institutions enter the crypto space in force
In September 2019, Yusko again went on CNBC to express his ultra-bullish sentiment on Bitcoin. While on the news outlet's "Fast Money" program, the hedge fund veteran urged interested parties to simply "buy it" and not worry about price fluctuations. As it turns out, institutional investors were already doing just that.
2019 saw, by all accounts, the largest inflow of institutional money into the Bitcoin and cryptocurrency space.
Grayscale — which predominantly serves traditional hedge funds, pensions and endowments — announced earlier this year that it had raised $607 million in 2019. When looking at cumulative investment spread among all of its offerings, that figure jumps to $1.17 billion. The publicly-traded Grayscale Bitcoin Trust, meanwhile, saw $190 million invested into it in Q4 2019 alone. Nearly one-quarter of these investments came from new clients.
Grayscale managing director Michael Sonnenshein interpreted these numbers as an indication that institutional investors are already here in force, telling Forbes "they're here and showing up in a meaningful size."
Sonnenshein's sentiment rings true alongside the recently-released annual report from Elwood Asset Management and PricewaterhouseCoopers (PwC), which states that crypto hedge funds' assets under management increased two-fold in 2019 — now totaling $2 billion.
Bakkt Bitcoin derivatives bring widespread hype
When it comes to institutional investment in Bitcoin, Bakkt — created by New York Stock Exchange (NYSE) operator Intercontinental Exchange's (ICE) — was perhaps the most-discussed and hyped product in the cryptocurrency world after it was first revealed in August 2018. Bakkt's launch was delayed twice and the firm spent approximately 13 months in discussion with regulators. Ultimately, Bakkt's physically-settled Bitcoin futures contracts launched in late September 2019 — providing a highly trusted on-ramp for U.S. institutional investors looking to take federally-regulated positions in the BTC market.
Although Bakkt's BTC futures — and, three months later, BTC options — launched to much fanfare in the greater Bitcoin and cryptocurrency community, early trading volumes disappointed. In the latter half of January 2020 — when the price of BTC was rallying to a three-month high — not even one bitcoin options contract traded hands over the span of a week, as reported by CoinDesk.
Despite overall volumes that some may find disappointing, Bakkt remains a fixture in the institutionalized Bitcoin space. High-profile partnerships with Starbucks, for example, illustrate ICE's continued push to facilitate retail adoption. Meanwhile, closing a $300 million Series B fundraising round in March 2020, alongside an upcoming mobile application, show that the company is pushing for mainstream adoption.
WisdomTree ETP increases investors' access to actual bitcoins
Rounding out 2019 was the launch of another Bitcoin exchange-traded product (ETP) on Switzerland's principal stock exchange, SIX, from New York-based fund management firm, WisdomTree. Notably, the physically-backed WisdomTree ETP (BTCW) is not settled in cash. Rather, it is settled in bitcoins and provides institutional-grade storage.
2020: COVID-19 and the shift into crypto
While 2019 was a huge year for institutional investment in the Bitcoin and overall crypto space, this year — by all accounts — is set to be the most massive yet.
We already know that Grayscale had a good year in 2019 but, in Q1 2020, its supply of bitcoins only grew. The firm revealed that it now holds approximately 1.7 percent of Bitcoin's entire supply — having grown 0.1 percent this year. Likewise, in the first quarter of this year, overall investment into Grayscale's products was double that of Q3 2019 and Q4 2019 combined.
Grayscale is not the only crypto hedge fund raking it in in 2020. San Diego's Blockforce Capital is also taking advantage of global economic volatility, telling CoinDesk earlier in May that returns are up 18 percent.
The aforementioned PwC report released recently also illustrated that the number of crypto hedge funds managing more than $20 million increased to 35 percent — up from its previous 19 percent.
The increase in institutional interest has, of course, been driven in part by economic uncertainty and unprecedented monetary policies globally, spurred on by the COVID-19 pandemic.
However, the coronavirus is not the only reason we are seeing such a massive influx of institutional cash into the crypto space. The on-ramps that were built over the last two years also are now being put to good use. Henri Arslanian, PwC Global Crypto Leader, explained in a conversation with OKX Insights on May 16:
"Two years ago, an institutional player that wanted crypto exposure had to embark on a journey and most likely deal with unregulated players. Today, there are numerous easy options, from crypto funds to regulated instruments, that make it way easier."
Additionally, Arslanian believes there is little reason to expect institutional investors to lose interest in crypto anytime soon. He told OKX Insights:

"I expect to see the institutional interest in crypto assets increase over the coming months. This is not only due to macro developments, from CBDCs to Libra, but also important considerations like regulatory clarity and the adoption of best practices."
Fidelity offers Bitcoin custody
Meanwhile, investment giant Fidelity acted on a need for institutional investors to secure their digital assets with firms they trusted. Fidelity Investments' cryptocurrency arm announced in January of this year that it would act as a Bitcoin custodian for London-based cryptocurrency investment firm Nickel Digital.
Fidelity Digital Assets' Europe head, Chris Tyrer, noted to Reuters at the time that he expects the institutional trend to continue as "we are seeing a pick up in institutional investor interest."
The Boston-based multinational financial services corporation currently has nearly $8 trillion in assets under management.
Stack Funds opens custody and exposure to non-U.S. players
Following up Fidelity's custodial play was Singapore-based asset manager Stack Funds, which began promoting a fully-insured Bitcoin tracker fund and custodial solution to accredited investors in Asia and, more generally, outside of the United States.
CoinMetrics provides the pricing for the tracker fund and the custodial solution is provided by BitGo and Silvergate.
Perhaps most noteworthy about the Stack Funds offering is that it will only offer long positions — meaning traders cannot speculate on the downside — with physical bitcoins and maintain a relatively low management fee.
Amun AG focuses on shorting BTC
Amun AG was also quick to start off 2020 with Bitcoin-related offerings for institutional traders.
In January, Amun launched the 21Shares Short Bitcoin ETP (SBTC) on SIX. As the name implies, the exchange-traded product tracks Bitcoin's opposite performance — unlike Stack Funds' aforementioned product — and provides exposure to investors looking to play the top digital currency's price in both directions.
Notably, the ETP-structured SBTC tracker is the first short/inverse product of its kind to be based on a digital asset and is the first inverse Bitcoin ETP on a regulated Swiss trading venue.
21Shares Short Bitcoin ETP one-minute chart. Source: TradingView
Renaissance Technologies shows interest in BTC
In April 2020, it became known that hedge fund giant Renaissance Technologies had taken a potential interest in the Bitcoin futures market. A regulatory filing last month indicated that the firm had given permission to its high-profile Medallion Funds to "enter into bitcoin futures transactions" on the CME. The news coincided with a reported uptick in new trading accounts for CME Bitcoin futures.
Renaissance Technologies is one of the largest hedge funds in the world, currently with just under $166 billion in assets under management.
When Bitcoin ETF?
While it is clear that more and more products are being made available to institutional investors looking to gain exposure to crypto (and the Bitcoin market in particular) there still remains one particular product that has, thus far, struggled to see the light of day — the much-discussed Bitcoin exchange-traded fund (ETF).
Bitcoin ETF applications now have a long history of rejection from the United States Securities and Exchange Commission (SEC), with the most recent being the rejection of Wilshire Phoenix's bid in February 2020. As was the case with past rejections, the latest applicant failed to sufficiently prove that the BTC market is resistant to manipulation.
The agency's now-famous crypto advocate, SEC Commissioner Hester Peirce, once again expressed her dissent towards the decision, stating:

"This line of disapprovals leads me to conclude that this Commission is unwilling to approve the listing of any product that would provide access to the market for bitcoin and that no filing will meet the ever-shifting standards that this Commission insists on applying to bitcoin-related products—and only to bitcoin-related products."
Most notably, Bitwise Asset Management also failed to gain approval from the SEC for its Bitcoin ETF last year. The rejection followed the firm's high-profile attempt to quell the Commission's "concerns around market manipulation, custody, liquidity, pricing, and arbitrage" in the Bitcoin market in a detailed presentation.
While a SEC-approved Bitcoin ETF currently seems like an unlikely prospect, it is not entirely out of the possibility in the coming years. The SEC may gain more confidence in the product as the industry is increasingly institutionalized. PwC's Arslanian explained to OKX Insights:
"We are continuing to see experienced finance professionals enter the crypto space as the industry evolves and matures. This is giving more comfort not only to institutional investors but to regulators as well."
So while no one should hold their breath waiting for a Bitcoin ETF to hit U.S. trading floors, it appears that — given the steady increase in on-ramps, BTC futures offerings and institutional money flowing into the space anyway — it may not matter.
---
OKX Insights presents market analyses, in-depth features and curated news from crypto professionals.