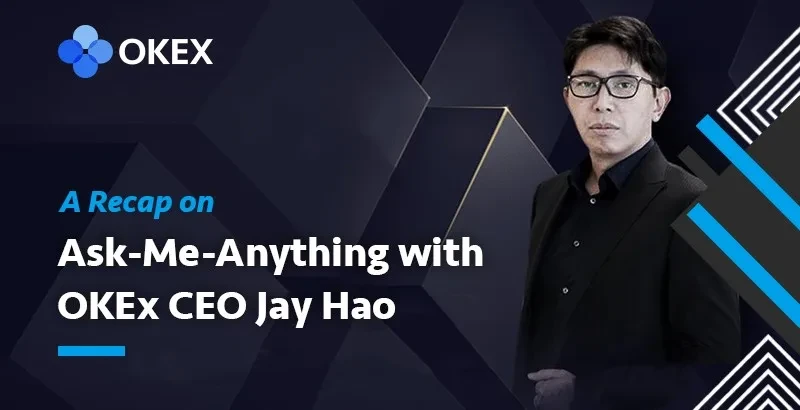 Incase you unfortunately missed it — we hosted an ask-me-anything (AMA) live chat session with Jay Hao, CEO of OKX, in our English Telegram group (t.me/okexofficial_en) on Aug 29. We are very impressed by the proactive participation of over 3,000 followers. Throughout the whole AMA event, we collected hundreds of questions from our users from all over the world.
As the Telegram debut for Jay, the AMA session focused on our futures and perpetual swap, but we are also thrilled to receive and answer some questions about OKB, listing, our innovations, and future development. For those who missed it or who wanted to revisit the exciting Q&As, we have prepared for you this recap of the answers to all the 25 questions Jay selected from our communities.
About Jay, Our CEO
Jay is a tech veteran and seasoned industry leader. Prior to OKX, he focused on blockchain-driven applications for live video streaming and mobile gaming. Before tapping into the blockchain industry, he already had 21 years of solid experiences in the semiconductor industry, developing a wide range of UVLED, ASIC, FPGA, multimedia codec, as well as complex system-on-chip (SOC) design for multimedia processors and wireless communication systems. He is also a recognized leader with successful experiences in product management.
As CEO of OKX and a firm believer in blockchain, Jay foresees that the technology will eliminate transaction barriers, elevate efficiency, and eventually make a substantial impact on the global economy. He takes security, innovation, and reliability as the three pillars of OKX. and he is committed to bringing the platform as well as the industry to another breakthrough.
---
Questions & Answers — All Original
In order to preserve the genuineness of the dialogue, we did not polish the 25 selected questions and Jay's answers. The questions are categorized into four parts: derivatives, OKB, listing, as well as innovations and development.
1. Derivatives — Futures, Perpetual Swap & More
Will there be any discount on future/swap position fee (Interest) if one holding $OKB? (Twitter user: @TweetRamyz)
We do have a discount program for OKB holders. All OKB holders receive fee discounts when trading on OKX. The different discount rates for different tiers, the higher the tier, the larger the discount.
There is no position fee for our futures market.
For perpetual swap, there is a ""funding fee"", which is a key component for the swaps that helps stabilize the basis with spot index. The funding frequency of perpetual swap is 3 times/day. And the funding fee is not taken by OKX, but by your counterparty of the contract instead. As such, I am sorry but we can't offer any discount on funding fee.
How does Okex funding works? And what is the uniqueness of the future and perpetual to others? (Twitter user:@Ganbatt30810469)
By funding, I believe you are referring to the perpetual swap funding? We have a very detailed introduction to our perpetual swap trading on our website that you can refer to: https://support.okex.com/hc/en-us/sections/360003039191-Perpetual-Swap-Trading
And what makes OKX unique, good question. OKX has the most complete ecosystem and product suite in the market. Traders can trade fiat-to-token, spot, futures, perpetual swap, and even use the OKX PiggyBank to seek different levels of returns.
On top of that, we have a wider range of listed digital assets and with a more sophisticated risk management system that helps users handle all trades securely.
in the near future, what plan does Okex intend to do with staking okb, lending or something similar? In future contract, what do you think about new feature of borrowing usdt instead of coin or token? (Twitter user:@BchTr2)
This is a very good question.
For staking- We are actually reviewing the possibility of launching OKB on OKX PiggyBank (with daily interest), as $OKB is not PoS.
For Lending — answered above.
For futures contract — Yes we're considering USDT market. Our system is very flexible. So once confirmed, we can launch it anytime immediately.
What should I do as user for successful swap? (Twitter user: @Parpalyga)
If I know how, I wouldn't be working here now. hahaha!
Joke aside, let me put it this way. As an exchange, we try our best to guarantee professional trading infrastructure and environment for traders to achieve their trading goals.
However, we don't guarantee any gain/loss or ups/downs when using our trading products and I can't give any tips for trading. What I can say is, do your homework before you trade. Invest in what you know."
Any plans to Change the minimum price increment for futures/swap BTC and ETH to the same as the spot? At the moment the price increment is $0.01 which means only the first 20$ of the book is visible. Bitmex you can see the full book! (Reddit user: u/joyser)
Your suggestion is heard. We will upgrade our order book to the full order book depth soon. More details will follow.
Hi, any plans to offer other derivatives e.g options? (Reddit user: u/okex_newbie)
Yes, we are rolling out the options market very soon.
Except for the regular option. To help our users maximize the use of fund, OKX option will launch portfolio margin, which requires a significantly lower margin on hedged positions. Pro traders should definitely give a try.
What if the margin ratio of my account is lower than the required margin ratio? Do you have a support for this kind of situation? (Telegram user: @davidc510)
The maintenance margin ratio is the minimum margin ratio required to maintain an open position. If it falls short, your position will be (partially) forced-closed. You can find more details about the mechanism here:
https://support.okex.com/hc/en-us/articles/360028014232-Tiered-Maintenance-Margin-Ratio-System-Partial-Liquidation
https://support.okex.com/hc/en-us/articles/360028531292-Adjustment-of-Perpetual-Swap-Tiered-Maintenance-Margin-Ratio-Schedule
Currently, perpetual swap & futures still does not support the trader to set advanced orders such as stop limit, trainling stop … like MT4 or bitmex exchange platform. So in the next time will Okex add the same tool to the trader? What strategy does Okex have to attract traders and compete with other margin trading platforms like bitmex …? (Telegram user: @NguyenKhang1610)
We have already launched advanced limit order and stop-limit order on our spot, futures, and perpetual swap markets this year, along with other algo order options. You may refer to these links:
Stop-limit order: https://support.okex.com/hc/en-us/articles/360027766731-Token-Trading-What-is-Stop-Limit-
Advanced limit order: https://support.okex.com/hc/en-us/articles/360027767671
What affects Perpetual Swaps loan fee , will Okex have a plan to reduce Perpetual Swaps and Future fee, such as using OKB to pay fees? (Telegram user: @VoDanhReal)
Our website details the funding rate calculation for perpetual swap. You may check here: https://support.okex.com/hc/en-us/articles/360020412631-XI-Funding-Rate-Calculations
Funding is designed to stabilize and narrow the basis between swap price and spot index price. Unfortunately I am afraid you can't settle the funding fee with OKB.
Given the rollover convenience and new risk management measures, does it mean the Perpetual Swap is a better instrument than the existing futures? (Telegram user: @hunterrcoin)
They are two different derivative instruments to fulfill different trading needs. Futures has a contract period and delivery date with a larger basis, while perpetual swap has no contract expiry, smaller basis, and includes funding fees. You may choose the one that suits your needs.
Having 100x leverage is so big and a little bit risky for traders. Can anyone trade using perpetual swap? (Telegram user: @tuckergomar)
The 100x leverage is only an option, not a must for every perpetual swap trader. I strongly advise all users to understand their risk tolerance and the market trend before using such large leverage.
And to minimize the associated market risks, the 100x leverage is only available to small positions.
Perpetual swap & futures program make the velocity of money and assets increase. How do you protect user assets, what architecture or systems do you use? Everyone knows if we see another exchange, they have SAFU (Secure Assets Fund for Users) guarantee. (Twitter user: @breadwinner1602)
We take fund security very seriously.
We have years of experience in security tech, and have developed hot and cold wallets and multi-sig tech on our own to protect the funds. So far, I am proud to say we have a clean record of no security breach. We are confident to maintain a clean slate in the future.
Regarding safety fund, we didn't set up a particular fund and market it to the media. But what I can assure you is that we have a more than sufficient reserve to handle any unexpected situations.
A ton of derivatives exchanges have seen problems during volatile movements, especially when their index price is based on only 2 or 3 exchanges. How will @OKX protect traders & ensure they have a fair environment to trade in? (Twitter user: TheGemClub)
Please rest assured that our index price composition is top-notch in the market.
For each digital asset index, we have 3 to 5 constituents, depending on the asset. Together with mark price, maintenance margin ratio system, and partial liquidation mechanism, our markets have got through some of the most volatile moments in recent time safely.
For more details if how our risk management system works, you may refer to this article: https://medium.com/okex-blog/perfecting-okex-futures-market-cc23f179e4eb
---
2. OKB
In the near future, Okex will have outstanding breakthroughs to become the perfect trading platform to overcome Binance or not. What will Okex specifically do to make the OKB currency pass in value compared to BNB? (Twitter user: @dinhnam1996)
I believe every exchange has its own position in the market.
At OKX, we offer the widest range of trading products to traders. This is one of the ways we are ahead of Binance. But of course, they have their strengths in the market, and we love strong competitors. OKX Jumpstart's latest project has been doing really well, hope you guys have benefited from it.
I am glad that everyone cares about the price of OKB. Although we never did, as an exchange, and will never control the price of OKB.
All we do is #buidl. We have been consistently spending enormous efforts in building the OKB ecosystem and empowering the token, making it one of the most valuable digital assets in the market. I see great potential in OKB, and I think everyone should see the same.
what strategies would you use if $OKB had a very drastic price drop, for ex: down up to -12% ? (Twitter user: @danar808)
Even if this really happens, we won't do anything to manipulate the price.
The value of OKB is determined by its utility, so we will keep empowering OKB and developing the OKB ecosystem to make OBK more valuable in the market.
---
3. Listing
When will you list EOS dapps like EOSBet? (Twitter user: @Discoverweeklyx)
We appreciate everyone's interest in listing on OKX. Regarding listing, we see ourselves an unbiased exchange that offers equal opportunities for good projects to get listed. We have our own listing rules, which you can find on our website and other official channels. We will continue to review and update our rules on a regular basis and explore the latest opportunities in the market. EOS dapps will definitely be one of our interested projects.
When the rules of IEO can be changed? (Twitter user: @Cherria11)
4. Innovations & New Products
Recently some top trading exchanges are planning to launch lending service, are you prepared for this? (Twitter user: @hiamPluto)
We are launching our own lending product very soon. Please stay tuned.
Do you plan to build your own decentralized trading platform? (Twitter user: @hiamPluto)
Of course. That is an inevitable trend.
As already announced, since our own public chain OKChain is now at the final stage of testing, we will establish our decentralized exchange platform OKDEX upon OKChain and will launch it when our team agrees that the trading experience is great enough.
WHAT IS YR STAKING FUTURE PLAN . SO MANY EXCHANGES DOING THS (Twitter user: @ARVINDS67194835)
We have recently launched EOS PoS staking on OK Pool. And more PoS coins wil be supported in the future.
When will OKex Be Sunny Stoploss For Ios? Okex Is There Any Future For Investors? (Twitter user: @XunPht10)
To my understanding of this first half question: Stop-loss order type will be added to OKX iOS App soon.
Could you please @ me on Twitter to allow me to further explain on the second half of your question? I'll answer it afterwards. Thanks!
OKX's Development
Is Okex on its way to becoming the world's top 3 digital bank in the future? (Telegram user: @HissizAdam)
Interesting question.
In my opinion, you can't compare the digital world with the traditional world. They are rather different in many ways.
And we don't want a "bank". A "bank" is too small and limited for what we are aiming to be.
When will Okex Indonesia support Indonesian Fiat and Bank for deposit or withdrawal? (Telegram user: @MrBrown22)
OKX focuses on crypto-to-crypto trading only, but we do support C2C fiat-to-crypto trading for several fiat currencies. You may refer to our C2C market for the options of currencies here: /otc
What is your take on 90% fake volume on @OKX alegation? (Twitter user: AshishS17228231)
I am very happy that you brought this question to us.
At OKX, we don't perform any self-trading, wash trading, or any other kind of market manipulation on our platform.
Regarding those rumors out there, you can simply look at the spread and depth of our order book. Our tick sizes are very minimum, i.e. 0.1 for our spot and perpetual swap markets, and 0.01 for futures markets, and you can still find a thick depth available.
I think the proof is very obvious that we have the top-class liquidity in the market. Don't believe in rumors.
As other competitors like Bybit, ¿How your plataform would Avoid possible System Overloads, in the Order Placement when Volatility peaks?? (Twitter user: martinvergaX)
After years of improvement, our system performance has been highly optimized and there is rarely a case of latency. We do not have any overloading problem for quite a while.
More AMA to Come
We would like to thank everyone in our communities for making the AMA happen and communicating your ideas with us. Given that impressive results, we will host more AMA sessions in the future. If you have any suggestions for improving our AMA, please don't hesitate to let us know on all of our social media channels.