Dear valued OKX users:
OKX NFT Marketplace has officially launched the Alpha Discounts Day, a series of events featuring huge discounts for blue chips, at 12:00 pm UTC+00:00 on October 2nd, 2022(UTC). We invite you to join the event and buy hankered-after NFTs at unrivaled discounts.
Alpha Discounts Day is a series of events that offer opportunities to buy premium NFTs at discounts. Community Special is a series of discounted NFT sales events initiated by OKX NFT Marketplace, cooperating with popular NFT communities. Each event is exclusive to the NFT community. Users trading in OKX NFT and holding NFT or Tokens can participate in the subscription, and the final winner will be limited to one discounted NFT.
| | | | | | | |
| --- | --- | --- | --- | --- | --- | --- |
| | | | | | | |
| | | 12:00 pm UTC+8 on October 19th, 2022 | 16:00 pm UTC+8 on October 21st, 2022 | 20:00 pm UTC+8 on October 21st, 2022 | | |
| | | 8:00 am UTC+8 on November 1st, 2022 | 10:00 am UTC+8 on November 4th, 2022 | 12:00 pm UTC+8 on November 4th, 2022 | | |
You can follow the simple steps below to find our event:
Use a Web browser: (Navigation bar) Web3 Wallet > NFT Marketplace > "Featured" or "Issuance" > Alpha Discounts Day
Use OKX App: Web3 Wallet > NFT Marketplace > "Featured" or "Distribution" > Alpha Discounts Day
Event Guide
First,
Click the 'Connect wallet' tab and connect the wallet you want to use in the event. Then click the event posters on the Featured or Launchpad page.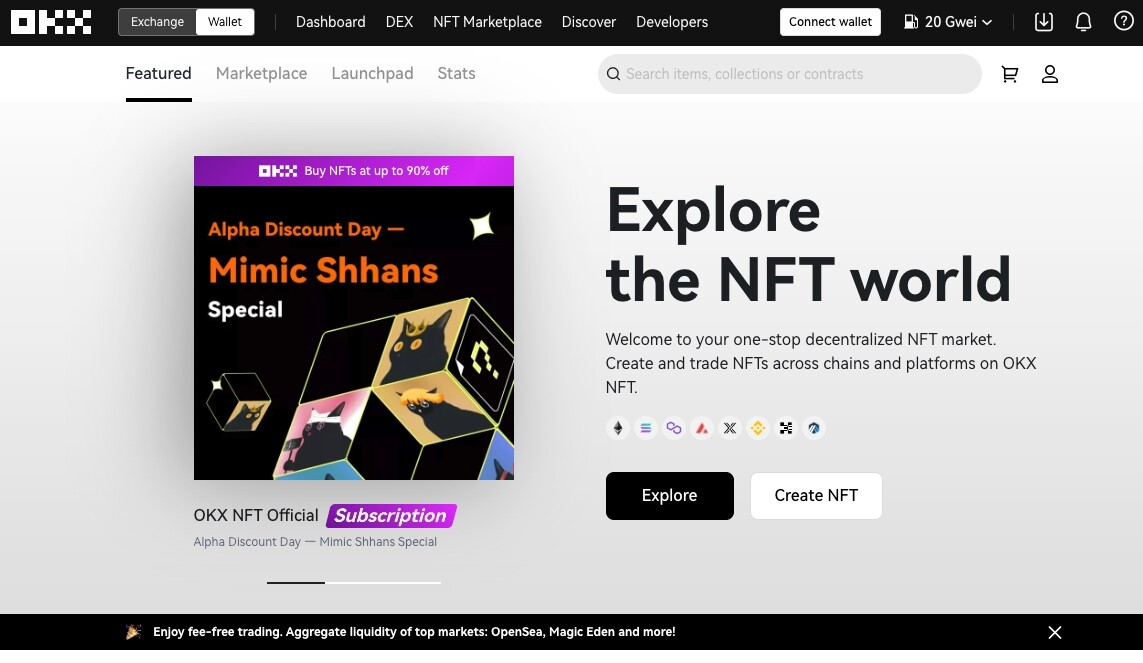 Second,
You can view the conditions below [Meet conditions to subscribe], and check whether your connected wallet meets the conditions.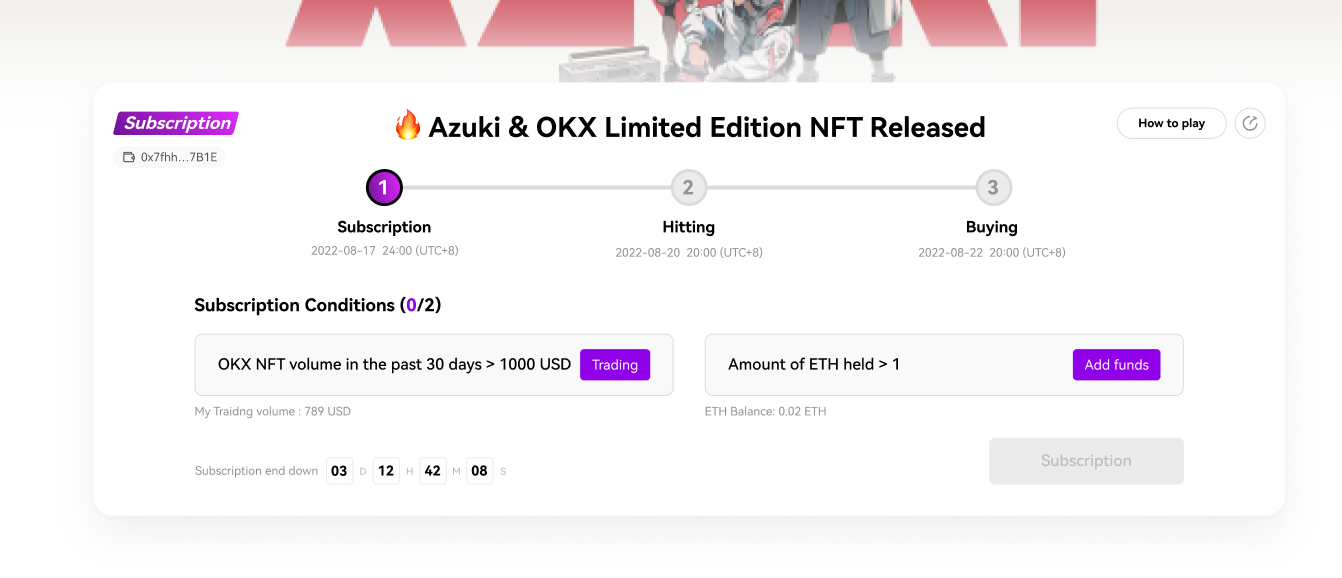 Please make sure that your wallet meets the conditions throughout the subscription phase, or your entry will be canceled.
Third,
If you meet the conditions, click on "subscribe" to subscribe. You will get a subscription number, which is automatically generated based on the last 6 digits of your subscription wallet address.
Fourth,
Upon entering the [Win raffle] phase, we will get the first block confirmed on the blockchain network, which will be the one the NFT collection belongs to. The last 6 digits of the hash of its block header will be the lucky number. It's transparent throughout, and you will be able to check out on a block explorer.
The winning tickets are automatically generated in this way, as follows. Every lucky number generates a group of conditional numbers, and then the final winners. Each raffle participant has a conditional number, calculated as follows: Conditional number = the absolute value of (Your subscription number - Lucky number). Each event has a fixed number of final winners. To be the winner, your conditional number must be smaller than or equal to the fixed number of final winners.
You are almost there! Once we enter the purchase phase, you can connect your subscribing wallet and proceed.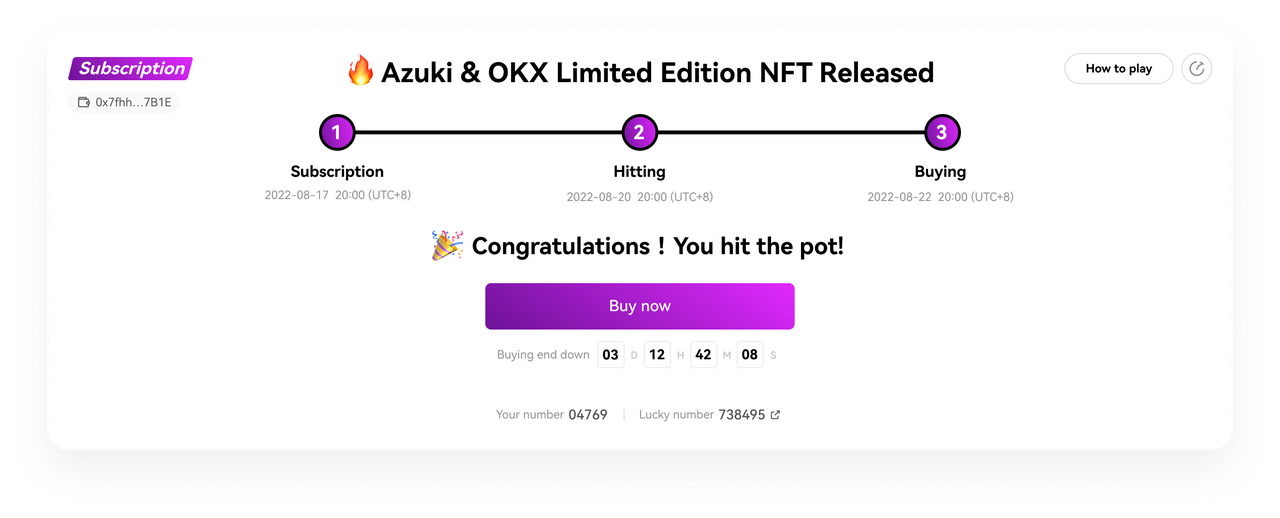 Fifth,
If you win the raffle, you will be able to reap your rewards! Remember to do so before the purchase phase ends. Click 'Buy' and you can claim or buy your NFTs at a superb discount!
OKX NFT is committed to improving our products and services. For more information about Web3, blockchain, or OKX, you are welcome to visit our
Help Center
.
OKX Team
Oct 20, 2022