Top 5 highlights from DeFi in 2020 — The year in review
OKX Insights' DeFi Digest reviews the top highlights from the decentralized finance space in 2020.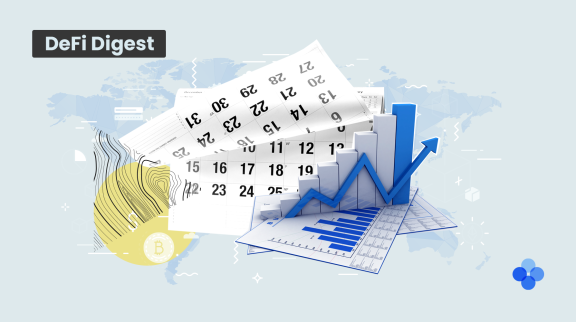 DeFi has grown from a mere buzzword to a legitimate sector this year, with significant progress in terms of both development and adoption. As 2020 comes to its end, OKX Insights looks at the top five highlights from the decentralized finance space.
From millions to billions, DeFi goes big
The DeFi market witnessed tremendous growth during 2020, with TVL — the total value locked — rising from $671 million on Jan. 1 to $13.95 billion as of Dec. 23. The massive TVL growth in the space was primarily driven by the hype around liquidity mining and yield farming, and it was complemented by the anticipated launch of Ethereum 2.0 and the rise of decentralized price oracles.
The DeFi lending market also saw massive growth in borrowing volumes, rising from $0.92 billion to $3.57 billion. While Maker dominated the lending market in the first half of 2020, Compound replaced Maker as the lending leader in the second half, following the launch of its governance token, COMP. Compound continues to dominate the lending market with roughly 55% market share, followed by Maker (~30%) and Aave (~10%).
The rise of liquidity mining and DeFi yield farmers
The terms "liquidity mining" and "yield farmers" have been the top buzzwords among the DeFi community in 2020. Liquidity mining refers to yield farming by providing liquidity to a money market in exchange for rewards and commissions.
Liquidity mining was first introduced by Compound, which allowed users to supply liquidity to the protocol to earn extra units of its governance token COMP. After its launch, the price of COMP has more than tripled, and the total value locked in the protocol rose from $90 million to over $600 million during its first week. Other DeFi protocols — such as Balancer, SushiSwap and Uniswap — followed suit to launch liquidity-mining services for their own governance tokens.
The advent of liquidity mining also led to the rise of decentralized exchanges. The trading volume of DEXs commenced its explosive growth in June, driven by the liquidity mining hype generated by COMP. The trading volume of DEXs reached a yearly high of $27.8 billion following the launch of Uniswap's governance token, UNI.
However, the hype around liquidity mining has cooled down since October, as there have been no other major DeFi protocols releasing new governance tokens for liquidity mining. The cooldown is also seen in the declining trading volume of DEXs in Q4 2020.
The rivalry between Uniswap and SushiSwap
Liquidity mining brought automated market makers into the spotlight. An AMM-based exchange uses a set of deterministic algorithms that set parameters for pooling liquidity from traders and making automatic markets. Instead of using a traditional order book for buy and sell orders, the funds for both buyers and sellers in AMM-based exchanges are stored in on-chain liquidity pools.
The rise of automated market makers also led to the rivalry between Uniswap and its clone, SushiSwap. Uniswap had been dominating the DEX sphere in terms of trading volume until late August, at which point SushiSwap launched. Based on the protocol design of Uniswap, SushiSwap aimed to provide additional incentives for yield farmers, allowing them to earn a portion of the protocol's fee in SUSHI tokens, even if they withdraw their liquidity from the protocol.
After its launch, the price of SUSHI surged to over $9, and the protocol's total value locked surpassed Uniswap during its first two weeks. However, SushiSwap drew criticism from the community when its founder, "Chef Nomi," sold some of the developer fund shares.
The community was concerned about the founder's exit, and the price of SUSHI dropped from $9.5 to $1.13 in just five days. However, on Sept. 11, Chef Nomi returned $14 million worth of ETH to SushiSwap's treasury and decided to step down from the leadership role.
Uniswap then regained the attention of yield farmers following the launch of its own governance token, UNI, in mid-September. The TVL of Uniswap once again rose from $748 million to almost $2 billion right after UNI's launch, and also led to a significant drop in SushiSwap's liquidity.
In reaction, SushiSwap then implemented several governance improvements, including a hard-cap of its total token supply, and placed a six-month lock-in period for two-thirds of its mining rewards. In addition, SushiSwap implemented Uniswap's target model, which distributes 0.05% of the total trading volume to stakeholders of xSUSHI.
Once Uniswap ended its liquidity-mining reward program on Nov. 16, its TVL took a sharp plunge from $3 billion to $1.3 billion. Meanwhile, SushiSwap provided the exact same liquidity pool as Uniswap, but with boosted rewards, which led to a short-term surge in SushiSwap's TVL, from $293 million to $1 billion.
As the leading AMM-based decentralized exchanges, both Uniswap and SushiSwap have different strategic development goals. Following mergers with Pickle Finance, Cream Finance, Cover Protocol and Akropolis, yearn.finance, a robo-advisor of sorts for yield-farming protocols, recently announced its fifth merger, with SushiSwap. Now, SushiSwap will leverage its expertise to help yearn.finance launch its upcoming project, Derisswap, which would combine swaps, options and loans into one platform. Meanwhile, Uniswap launched a governance tool, Sybil, for discovering delegates, and it remains the leading gas burner on the Ethereum network.
Flash-loan attacks
While the DeFi market has grown tremendously this year, security vulnerabilities, especially flash-loan attacks, remain a concern for the community. A flash-loan service allows users to borrow without putting up any collateral. While the product has gained popularity among arbitrageurs, hackers make use of flash-loan exploits to drain funds in liquidity pools and manipulate the DeFi market.
Flash-loan attacks went viral in the second half of 2020, and the hack of Eminence Finance and Harvest Finance were the most notable. Eminence Finance, an unfinished protocol by yearn.finance founder Andre Cronje, suffered from flash-loan attacks that saw hackers drain $15 million. One of the biggest flash-loan attacks happened on Nov. 1, when hackers exploited the vulnerabilities in Harvest Finance's vault and laundered the funds via Uniswap and Y pool in Curve finance. This attack resulted in a loss of $34 million.
The DeFi community has proposed a few solutions to mitigate flash-loan attacks. The first solution is to implement a commit-and-reveal mechanism for deposits, making flash-loan attacks infeasible by disabling deposits and withdrawals in the same transaction. In addition, the use of external price oracles such as Chainlink help to mitigate market manipulation. However, these methods are not entirely foolproof, and there is need for further development in this regard.
Blockchain oracles and price transparency
Blockchains and smart contracts cannot typically access data from outside of their respective networks. This problem prevents the use of external sources of data that can be critical to certain services. Blockchain oracles, which are third-party services that allow smart contracts to receive external information, solve this problem. Blockchain oracles have played an instrumental role in DeFi development, as they enhance data reliability and accuracy across various DeFi protocols.
Chainlink, Compound and Band are the three leading projects in this space, and Chainlink launched price reference data for DeFi in January 2020. This reference data was quickly adopted by DeFi protocols in lending, stablecoins, asset management and derivatives trading.
Despite the popularity among DeFi protocol users, blockchain oracles also raised concerns surrounding security vulnerabilities and the use of centralized data sources. An example of this was when Compound liquidated nearly $9 million on Nov. 26. The huge liquidation was caused by extreme price fluctuation of the stablecoin DAI on Coinbase Pro. Since Compound only used Coinbase Pro as its price source, it led to criticism and concerns around reliability.
While the DeFi space is not without its flaws, its growth this year has proven the need for such an ecosystem of trustless financial products. Moving forward, we can expect this space to grow further as developers iron out the prevailing issues and create more robust and user-friendly interfaces for decentralized financial services.
---
OKX Insights presents market analyses, in-depth features, original research & curated news from crypto professionals.