Auto rebalance crypto portfolios with OKX's smart portfolio trading bot
Trading bots are an ever-popular way to manage crypto trades and investments. OKX supports various trading bot strategies for all levels of user. Among them is our automatic portfolio rebalancing tool, smart portfolio mode.
Smart portfolio mode is perfect for cryptocurrency investors who want to maintain balanced exposure to a range of crypto assets but might not have time to manage their positions actively. The trading bot automatically executes trades to rebalance your portfolio according to the parameters chosen when setting it up — you can just set it and forget it.
This guide is dedicated to smart portfolio mode, but that's just one of several innovative automated trading solutions OKX offers. The trading bot also has spot and futures grid modes, and a recurring buy function to automate a dollar-cost averaging strategy.
More advanced bot strategies include arbitrage orders that enable you to profit from price differences between instruments with low risk, and TWAP and Iceberg orders. These latter two modes enable traders to take on or offload more significant positions while minimizing the impact price slippage has on their trades.
Check out this dedicated guide if you want to learn more about the trading bots OKX offers. Alternatively, continue reading to learn how to use the OKX trading bot's smart portfolio mode. Let's go!
What is the smart portfolio trading bot, and what are its advantages?
The smart portfolio trading bot is an automatic, dynamic portfolio rebalancing strategy. Users first assign percentages to each crypto asset comprising their smart portfolio. Then, they enter the total amount of USDT they will allocate to the trading bot strategy. When active, the bot uses the USDT to buy the assets in the chosen proportions.
For example, if a 1,000 USDT portfolio has a 50% ETH allocation and a 50% BTC allocation, 500 USDT will be used to buy ETH and 500 USDT will be used to buy BTC.
Users then choose whether to automatically rebalance their portfolio at predetermined time intervals — for example, every four hours — or when one of the allocations becomes a more significant percentage of the total smart portfolio than intended. In the above example, if the rebalance trigger is 3% more than the initial allocation and BTC price rises such that BTC now represents 53% of the total smart portfolio, the bot automatically sells BTC and uses the proceeds to buy ETH. In doing so, it brings the allocations back to 50% each.
You can use the smart portfolio trading bot with any asset on OKX that trades against USDT — which is almost all of them. You can also construct your smart portfolio with up to 10 different cryptocurrencies. The strategy works best in particularly volatile markets and with assets whose prices are highly correlated.
When one asset in the smart portfolio trends upward versus the others, the trading bot automatically starts to sell assets gradually, effectively taking profits. It reinvests these profits into underperforming cryptocurrencies with high growth potential, increasing the likelihood of extra returns when compared to just holding static positions in the same cryptos.
Auto rebalance crypto portfolios on the OKX website
To get started with the smart portfolio trading bot, sign in to your OKX account. Then, hover over "Trade" and click Basic trading.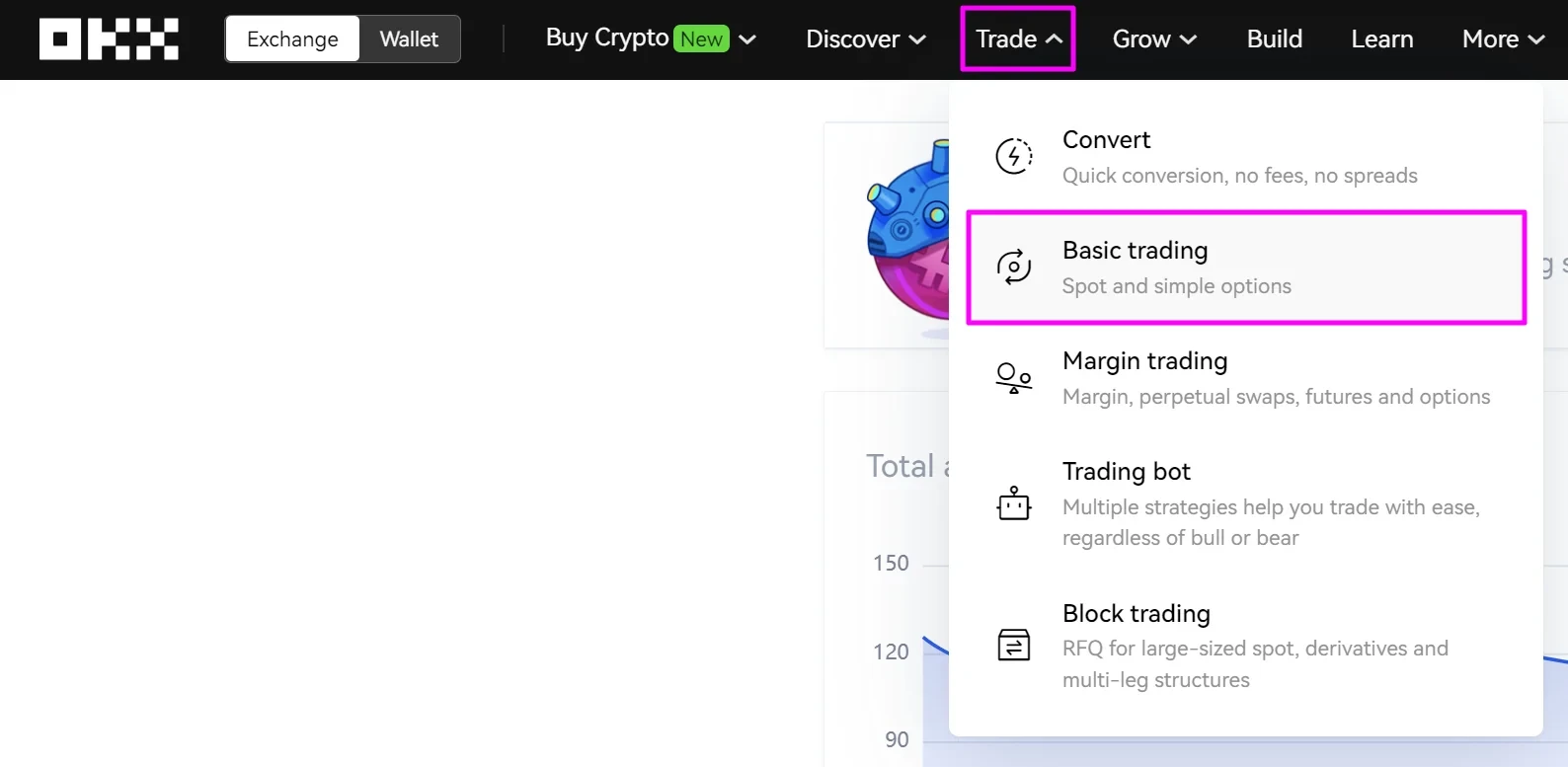 Click Trading bot to open the trading bot menu.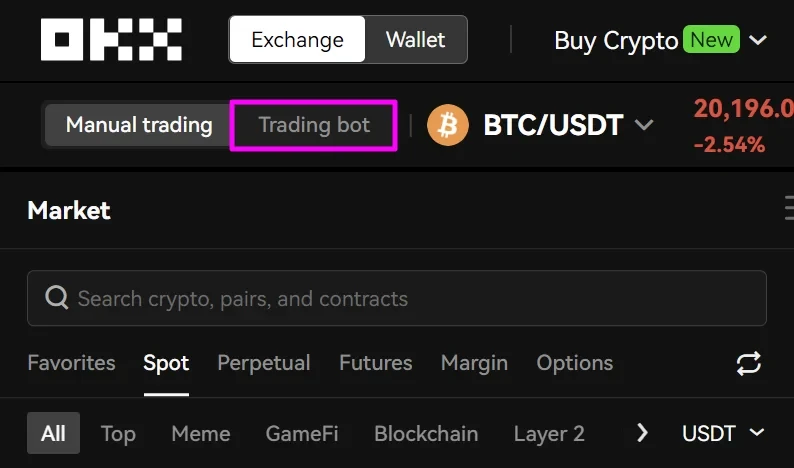 Select Smart portfolio from the trading bot menu.

In the "Smart portfolio" section, choose which cryptocurrencies you want to use with the trading bot. We're doing a simple allocation to BTC and ETH to demonstrate the functionality. However, you can choose up to 10 cryptos from the hundreds that trade against USDT on OKX.
Next, type the percentage of your portfolio you want each crypto to occupy. We're choosing 25% BTC and 75% ETH. Alternatively, use the arrow buttons to set the percentages.

To add more cryptos to your smart portfolio, use the New crypto button. Click the trash can icon next to the relevant crypto asset to remove cryptocurrencies.
Now, choose a rebalance mode. The trading bot supports two rebalance modes: Proportional and Scheduled.
Proportional mode checks your smart portfolio every five minutes and rebalances its allocations whenever price volatility causes them to fall outside the chosen percentage. Suppose you had a 50% allocation to BTC and a 50% allocation to ETH and set the rebalance trigger at 5%. If BTC price increases such that BTC now represents 55% or more of your smart portfolio, the trading bot automatically sells BTC and uses the proceeds to buy ETH. After the automatic rebalance, your smart portfolio will again be 50% BTC and 50% ETH. 
Scheduled rebalances occur at preselected time intervals. If you select hourly rebalances, the bot will rebalance your portfolio by selling assets that are above the desired allocation every hour and use the proceeds to buy the other asset. Rebalances in scheduled mode will only occur if the portfolio has become unbalanced by 3% or more at the selected interval. Taking the above example, with an hourly scheduled rebalance chosen, the bot will rebalance the portfolio on the hour if BTC has grown to 54% of your portfolio but not if it represents only 52%.
To set up the trading bot in proportional mode, click the highlighted menu and then Proportional. Next, enter the percentage imbalance at which you want your portfolio to rebalance. You can also use the preset buttons to select a percentage.

To set up the bot in scheduled mode, click Scheduled from the menu. Next, choose the time interval at which you want your smart portfolio to rebalance. Click the menu to the left of the highlighted field and select every minute or hour. Then, enter the required hours or minutes between rebalances.

With your rebalancing parameters set, enter the total amount of USDT you want to use to create your smart portfolio in the "Investment amount" field. Then, check all the details and click Create.

Doublecheck all the details on the "Order confirmation" pop-up. Then, click Confirm to finish setting up your smart portfolio.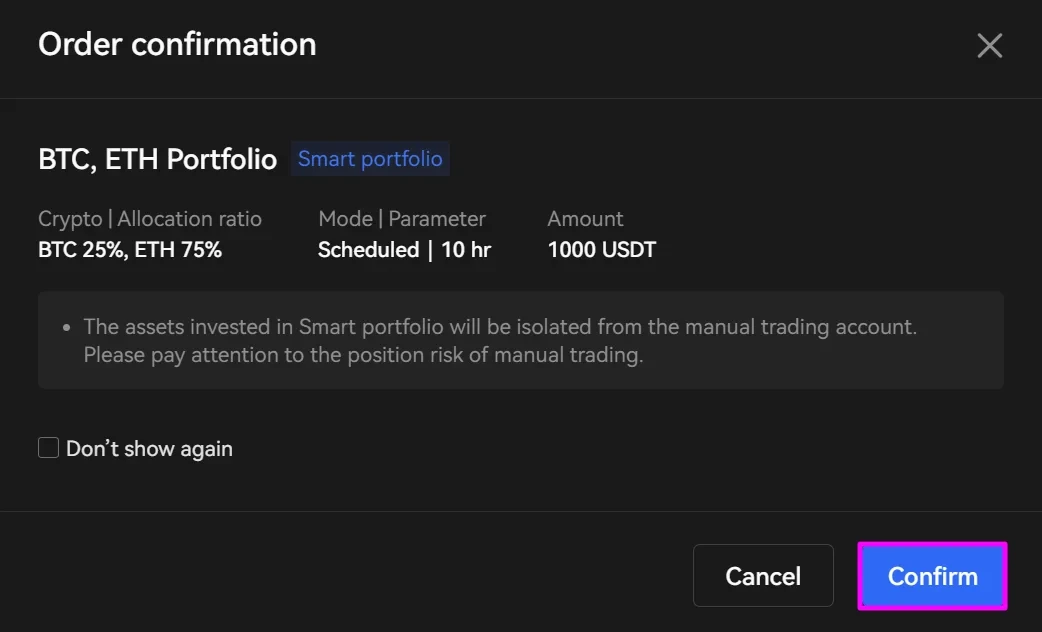 When you've set up your smart portfolio, you'll see it in the section at the bottom of the "Trade" screen. Click Bots and then Smart portfolio to see your position listed.
You can stop the trading bot by clicking Stop next to the open position. You will then be asked if you want to sell the crypto assets for USDT automatically or keep them. Select your required response and click Confirm.

One of the smart portfolio trading bot's stand-out features is its comprehensive profit and loss reporting capabilities. Clicking Details next to an open position will open a detailed report on your strategy's performance. You'll see its current profit and loss in USDT and as a ratio. You'll also see the portfolio's APY and any previous rebalances made.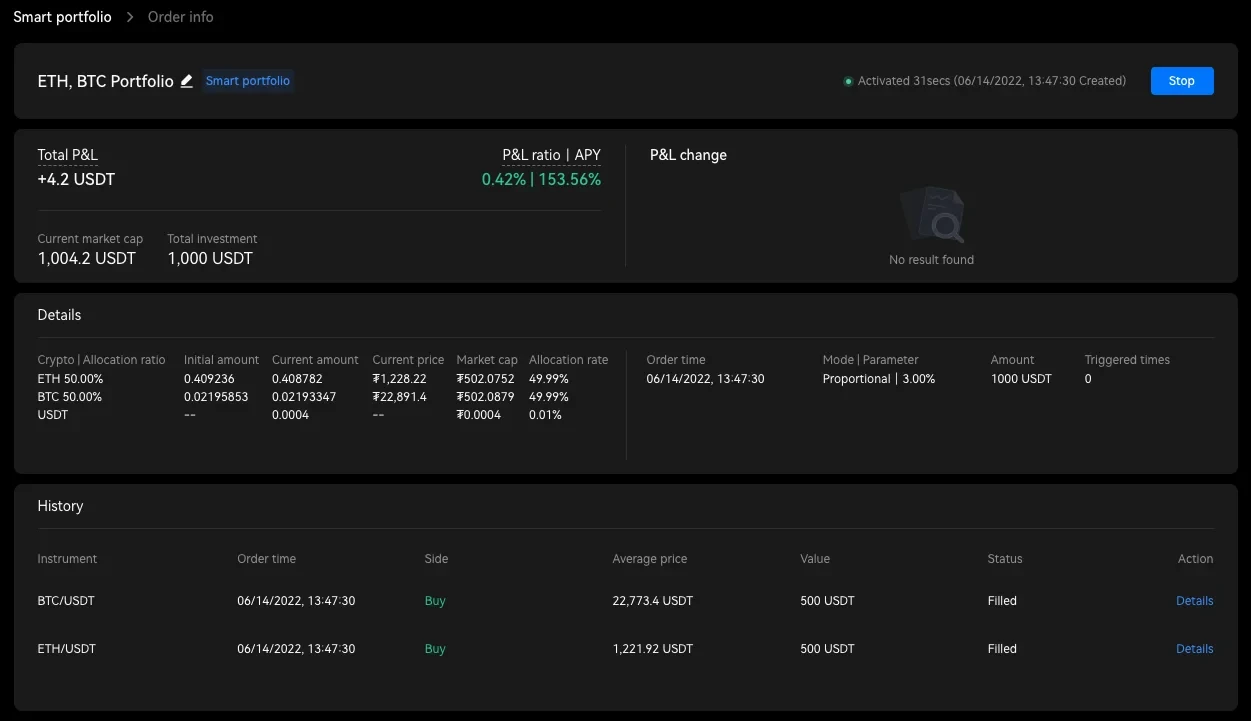 Rebalance your positions with the smart portfolio trading bot
OKX's powerful crypto trading bots automate strategies for both novice traders and investors, and more experienced market participants. The smart portfolio mode is ideal for crypto investors who want to maintain exposure to several cryptocurrencies while capitalizing on expected price volatility.
By gradually decreasing positions as they become a more significant part of a portfolio, the bot can generate additional profits than simply holding the cryptocurrencies. It dynamically adjusts a portfolio, moving out of assets that have already pumped into those that have growth potential but are relatively low compared to other portfolio assets.
Try smart portfolio mode today to grow your crypto investments without actively managing them. Game on!