Retail leveraged up on last week's BTC rally, while institutions appear to have missed out
Market Watch Weekly is a review of crypto markets and developments each week.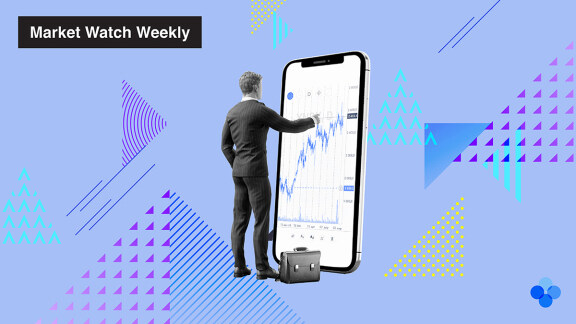 Last week was historic for Bitcoin, as its price successfully surpassed the $20,000 mark on all exchanges, setting a new all-time high. On Sunday, Bitcoin posted its highest price so far, at $24,302, which gave the leading digital currency a 24% weekly return, as per the OKX BTC Index price.
Market enters the most active trading period of the year
Along with Bitcoin hitting all-time highs, the volume is rising rapidly. The aggregated weekly volume of BTC futures hit $270 billion across derivatives exchanges, showing the extremely active state of the markets.
At the same time, open interest reached an all-time high of $8.9 billion on Saturday, with OKX leading all exchanges with $1.6 billion in OI. The current OI of $8.8 billion is also up a major 22% compared to last week.
With the parallel surge in Bitcoin prices and trading fever, the BTC perpetual swaps market price exceeded the index price, and funding rates hit another peak after the last week of November. Excessive funding rates indicate rising leverage in the market.
Moreover, because the quarterly futures and options settlement date is coming up this Friday, we expect that Bitcoin could see more volatility in the coming days. A large number of expiring options may lead to the price moving toward "Max Pain," which is the strike price with the most open contract puts and calls, and would cause financial loss for the largest number of option holders upon expiry. Right now, the Max Pain price is sitting around $23,750, as per CoinOptionsTrack data.
Institutional investors missed out on the big move
CME released the latest (as of Dec. 15) Bitcoin futures position data on Dec. 19. This reporting period ended just before Bitcoin completed its historic breakout of the $20,000 mark, thus presenting the positions of various accounts in response to the accelerated upward market breakout.
Open interest consistently declined over the last three reporting periods, down from 11,750 to 11,370. This continues to show that institutional investors were taking profits, and that they largely missed out on the latest rally.
Asset managers' long positions fell from 544 to 492, while short positions increased from 11 to 26, indicating their misjudgment of the market's upward breakout. Leveraged funds' long positions declined from 4,365 to 3,946, while short positions declined simultaneously from 9,354 to 8,702. The position reductions in both directions indicate that they also failed to anticipate the surge in prices.
Non-reportable accounts also saw an increase in short positions during the reporting period but still maintained an extremely high long-short ratio. Long positions fell from 3,403 to 3,134, while short positions rose further from 506 to 606.
PoW coins outperformed the market
Looking at the major altcoins returns last week, proof-of-work coins generally outperformed other cryptocurrencies, benefiting from the sharp rise in Bitcoin. Among them, Litecoin posted a weekly return of 44.23%, along with a 33.79% return from Bitcoin Cash (BCH).
While Ether (ETH) gained 9.99% this week, its price against BTC kept declining. Notably, the derivatives powerhouse, CME Group, is set to launch Ether futures on Feb. 8 next year. As Bitcoin continues to remain in the spotlight, an alt season may take time in the making.
Total value locked in DeFi surpassed $20 billion
In the DeFi sector, the total value locked reached the $20 billion mark for the first time last Saturday, indicating that the boom in DeFi will continue through 2021.
In terms of returns, Synthetix (SNX) surged 31.37% last week due to Coinbase's listing. And native tokens of decentralized exchanges outperformed other sectors, with SushiSwap (SUSHI) and Uniswap (UNI) jumping 19.47% and 17.44%, respectively. On the other hand, yearn.finance (YFI) didn't perform well compared to the broader market, reaping only 1.85% through the week.
Another highlight in DeFi last week was The Graph (GRT). The project is a decentralized data indexing protocol that queries and storages data in the blockchain network. GRT's price soared to $0.78, up 25 times from its public sale price a month ago.
Looking ahead this week
Democratic and Republican leaders reached an agreement on a new coronavirus relief deal worth around $900 billion today. This could be one of reasons for the so-called "Santa Claus Rally" for risk assets.
The economic situation is likely to improve gradually as the vaccine begins to be officially distributed. But hit hard by the pandemic, the U.S. GDP will shrink sharply by 5% in 2020. This year, the economy is set to deteriorate even more than it did during the financial crisis of 2009.
According to a FactSet survey, the market now expects the S&P 500 Index to reach the 4,000 mark by the end of next year. Major investment banks have also released their predictions, with JPMorgan Chase giving the most optimistic target of 4,400. Goldman Sachs gave a target level of 4,300. However, from the statistics of the past 15 years, it seems that market analysts are usually on the optimistic side.
Finally, the total assets of the Federal Reserve Balance Sheet have exceeded $30 trillion. The general surge in risk asset prices this year has relied heavily on the Federal Reserve's asset purchases and extremely low-interest rates. The way it takes a safe exit in 2021 will be the focus of subsequent market attention, and any change in monetary policy could put pressure on the market.
---
OKX Insights presents market analyses, in-depth features, original research & curated news from crypto professionals.