'Priced In': an Analysis of Bitcoin Price Movements Leading up to the Third Halving
As the Bitcoin (BTC) network processed its 630,000th block around 19:23 UTC on May 11, miners saw their block rewards cut in half — from 12.5 bitcoins to 6.25 — in a widely celebrated event, popularly known as "the halving."
This self-regulatory phenomenon, baked into Bitcoin's code, is a significant, fundamental part of the cryptocurrency's design. Regular block reward halvings reduce the emission rate of new Bitcoins over time and, in theory, encourage price appreciation — provided demand for BTC remains the same or increases.
Bitcoin's third-ever halving last week was widely anticipated and was seen as a major driver of Bitcoin price growth and a likely precursor to new, even higher highs leading to the halving day.
However, the hype around the halving ended up not being able to push BTC above $10,000 and the price started dropping roughly three days prior to the event — BTC at $10,500 in February remained the highest price year-to-date.
This price action, which Bitcoin detractors attribute to speculation, merits considering whether the market had already factored the halving hype into BTC's price at a much earlier stage.
OKX Insights analysts review Bitcoin price movement leading up to the third halving in light of previous halving events, market dynamics and general industry sentiment to assess if and when the halving had been "priced in."
What does "priced in" mean?
The term "priced in" comes from the view that market prices of any asset reflect all available information at any given time. According to the Efficient Market Hypothesis (EMH), the Bitcoin halving, which is a scheduled event and has been public knowledge since the coin's inception, is supposed to be priced in from day one.
However, given that crypto is a relatively nascent asset class, there is, apart from regulatory clarity, a lack of consensus on a shared valuation model for digital assets like Bitcoin. These gaps result in significant price fluctuations and momentum shifts in response to informational shocks and fundamental developments.
Reviewing expectations around Bitcoin's third halving
The hype around Bitcoin's third halving has been around for around a year now and market participants were calculating returns based on previous halving events.
As the chart below shows, the first halving saw Bitcoin price increase from $2.66 to $12.22 (+359 percent) in the 12 months prior to the event, while the second halving saw it go from $268.92 to $647.78 (+141 percent) in the same period.
Given this past performance, the market formed a consensus ahead of the third halving, expecting the price to rise in a similar manner in the 12 months leading up to the event.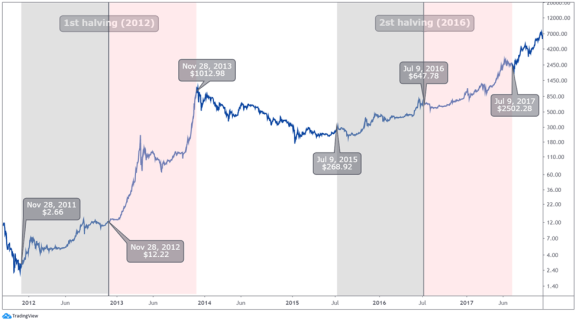 A year ago, when Bitcoin was priced around $7,200, market participants, such as fund manager Brian Kelly, were getting excited.
"We're not going to sell it. You generally have a rally a year into [a bitcoin halvening], and a year out of it," Brian Kelly told CNBC on May 21, 2019.
Moreover, Litecoin (LTC), which had its halving event last year, on Aug. 5, 2019, gave the market another encouraging example as its price rallied more than 560 percent between December 2018 and June 2019, only to correct marginally and post a return of 377 percent on halving day.
Finally, industry leaders and stakeholders also maintained bullish predictions ahead of the third halving. For instance, by the end of 2019, strategists from BlockVC predicted "Bitcoin will challenge $13,000-$14,000 before halving in May", while renowned venture capitalist Mike Novogratz also said in February 2020 that Bitcoin could retest its all-time high of $20,000 before the halving.
Hence, Bitcoin topping its mid-2019 high of $13,000 before the third halving was the prevailing market expectation.
Patterns in previous halvings
Litecoin's example from earlier can be reconsidered to highlight how the price had dropped from its June 22 high of $147 to roughly $107 by Aug. 5, 2019, when the halving was scheduled to happen.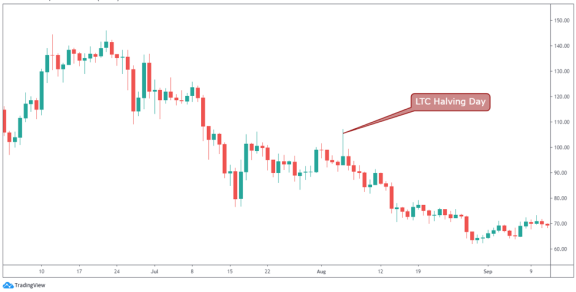 The same pattern can be observed looking back at the two previous Bitcoin halvings. In both events, we can see a dramatic retracement within the hundred days before the halving, following which the price recovers to lower highs, not exceeding the previous peak.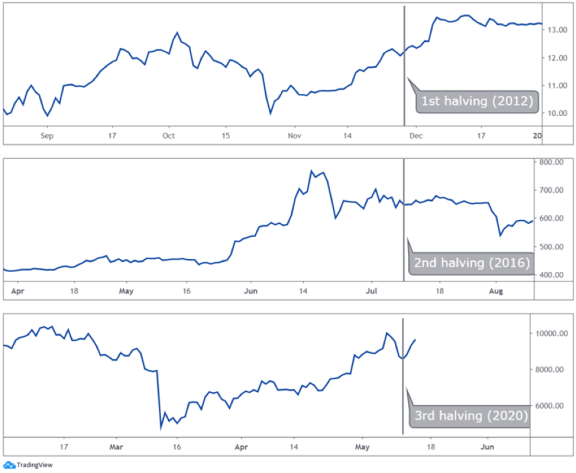 As the chart above shows, Bitcoin appreciated by 53 percent from $8.1 to $12.41 in the hundred days before its first halving day on Nov. 28, 2012. But the pre-halving price had already peaked at $12.89 on October 3, 56 days before the event.
For the second halving, on July 9, 2016, Bitcoin was trading around $660, representing a gain of roughly 60 percent in the last hundred days. But the price had already peaked around $780 in mid-June, 21 days before the event.
Going by this historical pattern, even if the coronavirus outbreak was not in the picture, Bitcoin was unlikely to complete the halving on May 11 at a price higher than the Feb. 13 peak of $10,500.
Derivatives market indicators leading up to the third halving
Since the halving schedule is public information, theoretically available to all market participants, the Bitcoin derivatives market can provide a good indication of future expectations.
Firstly, the BTC Margin Lending Ratio — an indicator that helps traders judge market sentiment — went above 30 by mid-February in an unprecedented move.
The Margin Lending Ratio compares users borrowing USDT versus those borrowing BTC. As USDT borrowing increases, the ratio goes up. Those borrowing USDT are often aiming to purchase Bitcoin.

This momentum had also significantly pushed up the USDT borrowing rate, which stood at 0.294 percent per day (107 percent per year) on Feb. 11. As exchanges started running out of USDT loans, traders from countries without access to fiat onramps faced funding caps, making it harder for the price to continue appreciating.

Secondly, after a strong rally in January 2020, funding rates in perpetual swaps had also been pushed high. The accumulated perpetual swap funding rate for BTC, Ether (ETH) and Bitcoin Cash (BCH) from Jan. 1 to Feb. 10 was 3.824, 3.667 and 4.539 percent respectively.
These high rates meant that the opportunity cost of holding leveraged long positions was very high, and the potential yield was not worth the risk as of mid-February.
Thirdly, as per data by Skew, Aggregated Open Interest (OI) had risen above $5 billion in mid-February, its highest level in history, when Bitcoin was trading around $10,500.
Open Interest refers to the value of outstanding futures contracts that have not yet been settled. Aggregated Open Interest metric sums up this value across all major futures exchanges.
A massive OI indicates risk accumulation, especially in a highly leveraged environment such as the one seen in February. This accumulation of positions resulted in price volatility, making it difficult for Bitcoin to sustain price growth.
Other derivatives data also peaked around this time. OKX's Quarterly Futures' premium over spot price had been over $500 on Feb. 13 — high premiums lead to a buildup of trades by arbitrageurs looking to leverage the basis.

The Long/Short Ratio on OKX also reached a staggering 2.7 in mid-February. Typically when this ratio is above 2, the market experiences a momentum change since too many retail traders have picked the same direction.
The Long/Short Ratio compares the total number of users opening long positions with those opening short positions.

Looking at various derivatives-based indicators, it becomes clear that Bitcoin's mid-February peak was the top, or the "priced in," level prior to the third halving.
Bitcoin halving and price: experts weigh in
BTC market is efficient but risks and opportunities are varyingly priced in
Popular Bitcoin analyst PlanB had tweeted on Jan. 1 to say that the halving was correctly priced in and the markets are efficient.
In his comments to OKX Insights on May 13, the analyst reiterated this view and highlighted the need to focus on the particular opportunities and risks faced by the Bitcoin network:
"btc market is big enough to be reasonably efficient in pricing in everything that is known. I think the better discussion is what opportunities (like s2f) and risks (like miner capitulation and software bugs) are markets pricing in. And some of these risks will disappear after the halving (software bug at halving now disappeared and death spiral will soon)."
PlanB is known for applying the stock-to-flow (S2F) model to Bitcoin for a long-term bullish post-halving price projection and believes the leading digital asset will continue to appreciate in value as its scarcity increases.
Halving always priced in, but issuance decrease remains relevant
Bruce Fenton, CEO of Chainstone Labs stated in comments to OKX Insights on May 13 that the halving has been priced in all along, as it was common knowledge. Fenton told OKX Insights:
"Everyone who has traded since the earliest trades knew this info so in that sense it's priced in always. So is the next halving. [However] the effect of the daily issuance decreasing by 900 coins can still continue to affect supply and demand and price for some time."
Fenton referred to the post-halving drop in the number of new Bitcoins issued every day — from 1,800 (144 blocks x 12.5 BTC) to 900 (144 blocks x 6.25 BTC) — as a factor to consider for the price moving forward.
Halving wasn't priced in, but mid-march crash dented possible rally
On Feb. 8, popular crypto trader Michaël van de Poppe, known on Twitter as Crypto Michaël, tweeted his view that the halving had, in fact, not been priced in. In his most recent comments to OKX Insights on May 14, he admitted "it was hard to state whether the halving was priced in by February."
However, he believes Bitcoin could have rallied higher to possibly touch $13,600 pre-halving, were it not for the mid-March crash:
"Right now, given the new mining costs for Bitcoin, we could argue that the halving and the valuation of Bitcoin is on a sustainable price level, which is anything between $7,500 and $10,000."
Halving priced in all along
Jason A. Williams, co-founder and partner at Morgan Creek Digital, shared an unpopular opinion in December 2019, tweeting that the "Bitcoin halving in May 2020 won't do anything to the price. It will be a non-event."
When OKX Insights asked Williams to revisit his previous comments this week, he also subscribed to the view that the halving had been priced in all along and that the Bitcoin market is efficient. However, he noted that he did not expect the post-halving surge we saw this week:
"I had anticipated a possible move down due to miner capitulation going into and after the halving but it appears, at this point, that efficient miners have secured the available power and hashing is up."
Priced in or not?
Again, following the EMH, all known information is always priced into large, efficient markets and most industry participants believe Bitcoin represents a reasonably efficient market.
However, an analysis of historic price movements indicate that the leading digital currency has strong short- and mid-term reactions to upcoming developments and informational shocks. This pattern spurs discussions around these developments being priced in at certain time frames.
Considering previous trends, indicators from BTC futures markets and price action leading up to the third halving, it appears that the mid-February price surge represented the level at which the event had been priced in.
Moving forward, Bitcoin price is expected to react positively to the decreased emission rate of new bitcoins — the main result of the halving. While all market participants may have a consensus on this correlation, the levels at which various segments (traders, investors, institutions, etc.) price it in are likely to vary.
---
OKX Insights presents market analyses, in-depth features and curated news from crypto professionals.