OKX account modes — a guide to margin requirements across account modes
OKX's powerful account modes let users trade crypto their way. We offer four distinct modes: simple, single currency margin, multi-currency margin and portfolio margin. The different modes enable you to choose which funds will be made available when trading, giving you maximum control of your finances, trading strategies and risk management.
We make each account mode available to our users as part of their main account, enabling greater flexibility and a more tailored trading experience. However, given their different risk profiles, our more advanced account modes require a minimum account balance, and users must take a short quiz to gauge their suitability before activation.
This guide will introduce each of our powerful account modes and show you how to use them. Let's go!
Simple account mode
Simple account mode is our most straightforward account mode and is active by default on newly registered accounts. In simple mode, you can buy or sell the hundreds of different cryptocurrencies listed on OKX in the spot market.
You can also trade options in simple account mode. However, we limit options trading to buying to open positions, as potential losses are limited to the premium alone. Selling options is a higher-risk trading strategy with the possibility for much more significant losses. Users can close positions by selling an options contract but cannot open a position by creating a contract to sell the underlying asset. Perpetual swaps, futures and leverage trading are also restricted when trading in simple mode.
The simple account mode offers most retail users everything needed to trade cryptocurrency in some of the world's most liquid crypto markets. However, those wanting to trade with leverage or use more exotic instruments like perpetual swaps, futures and selling options contracts will need to activate one of our more advanced account modes.
When simple account mode is active, users' balances must exceed the order size for the currency traded. For example, if buying 1 BTC for 20,000 USDT in the spot market, the account balance must be at least 20,000 USDT. The assets required to fill all open orders are placed "on hold," meaning they are not available for other trades. In the previous example, the 20,000 USDT required to fill the 1 BTC buy order will be placed on hold when the order is submitted. Canceling the order before it fills will return the 20,000 USDT to your available funds. If the order fills, the 1 BTC received will become available for future orders.
Single currency margin mode
Single currency margin mode offers more functionality than simple mode but is still suited to non-professional and retail traders.
Under a single currency margin account, users can trade all products — including spot, leveraged spot, perpetual swaps, futures and options (both buying and selling) — and they can choose to use cross-margin or isolated-margin mode to open positions.
In single currency cross-margin mode, all instruments using the same settlement currency can share the same margin. This means the gains and losses can be offset against each other during risk calculation. Users benefit from lower overall margin requirements for instruments with the same underlying asset, which can prevent unnecessary liquidations.
In isolated-margin mode, users can segregate their margin requirements by individual positions, meaning funds for one isolated margin position will not be used elsewhere to satisfy other margin requirements.
When opening positions in a single currency margin account, users must ensure that they hold sufficient balance in the corresponding currency. After opening a position, users can manually transfer in and out of the margin, but only the amount above the Initial Margin Requirement, or IMR, can be transferred. Insufficient collateral in the corresponding currency may trigger a reduction of positions, liquidation, or the possible loss of all assets in that currency. Using the isolated-margin mode, users can segregate the risk of different positions.
Multi-currency margin mode
Under multi-currency margin mode, users can trade all products, and their assets in different currencies will be used as margin collateral based on their equivalent USD value. By enabling positions across all assets to share the same margin, the multi-currency mode results in greater capital efficiency than simple mode while preventing unnecessary liquidations.
This means that, even when a user has an insufficient balance or equity in a single currency, they can still trade if they have sufficient total collateral in USD terms. This account type also supports cross-margin and isolated-margin positions, and when using multi-currency margin, both profit-and-loss offset and risk offset are supported.
Due to the significant differences in market liquidity for each currency, the platform calculates the actual USD value of each currency with a discount based on the level of liquidity. In this mode, when the total assets in USD terms are insufficient relative to the maintenance margin requirement for all positions, a position reduction or liquidation will be triggered.
Users can use multi-currency margin mode if they have a minimum equity balance of $50,000. Since the multi-currency margin mode supports advanced trading instruments and leverage, and the margin is sourced from any available currencies, we also require users to complete a short questionnaire to confirm that they understand the mode's heightened risk profile.
Portfolio margin mode
In portfolio margin mode, all instruments are available, and the margin is sourced from the entire portfolio. Open positions in any supported instrument can contribute toward the total margin requirement. Like multi-currency margin mode, users' total account equity will be converted into the equivalent USD value to calculate the available margin.
The portfolio margin mode groups crypto derivatives according to their risk level. All instruments are grouped by their underlying assets, and the maximum possible loss is calculated. This can significantly lower position margin requirements compared to our other account modes.
Although similar to multi-currency margin mode, portfolio margin enables users to offset risks across their entire portfolio and include options contracts in risk calculation. Risk-offsetting benefits traders deploying hedging strategies because their overall margin requirements should be much lower.
Portfolio margin is OKX's most advanced account mode, aimed at professional traders, market makers and institutional users. As such, we require users to have an equivalent balance of $100,000 or more to activate the mode. Additionally, users must take a short questionnaire to gauge their understanding of the risks involved with portfolio margin mode.
Selecting an account mode on the OKX app
Simple account mode is active by default when you first create your OKX account. Changing account modes is straightforward, but it's important to note that you must have no pending orders on your account or negative balances before activating a different mode. If you attempt to change account modes with open orders, the system will prompt you to close them.
First, log in to the OKX app. Then, tap Trade from the home screen.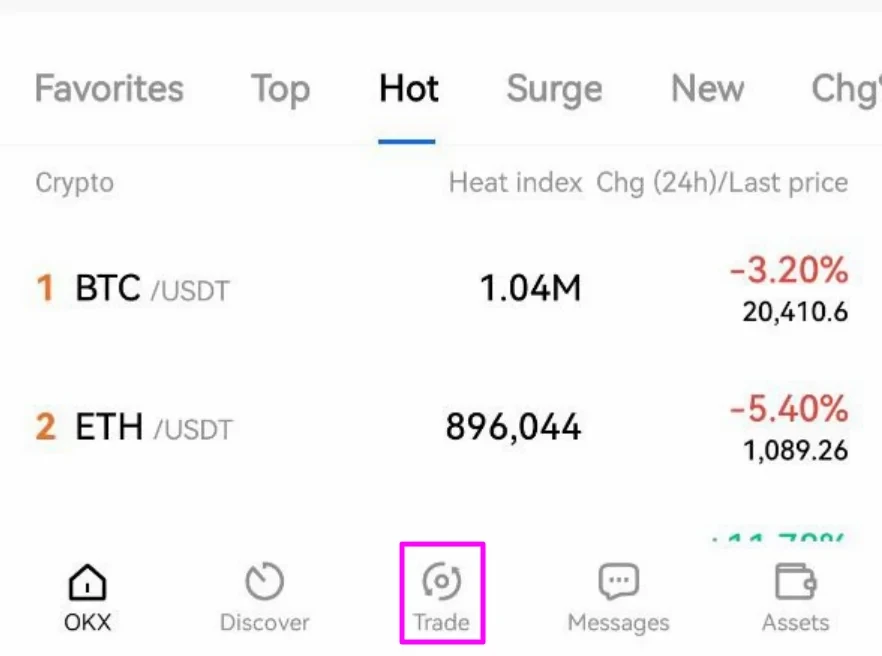 You'll see a hamburger menu (i.e., three horizontal lines) at the top of the Trade section. Tap them to open the settings menu.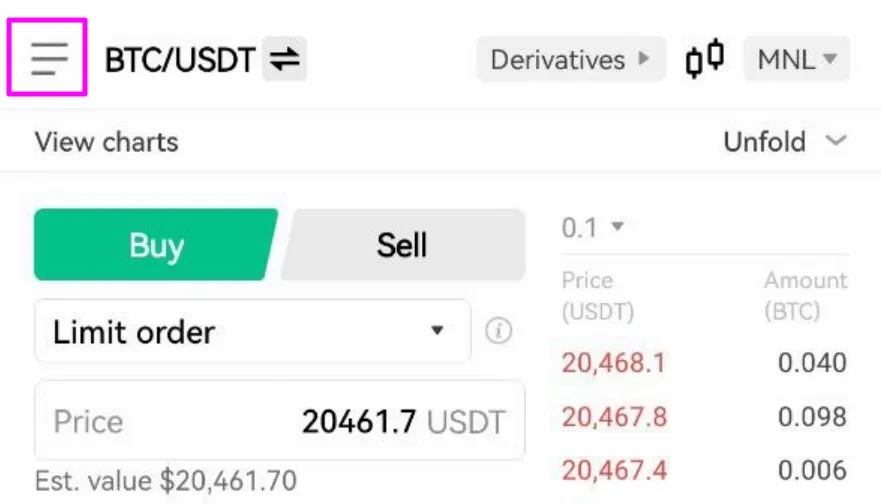 Tap Settings below "Account."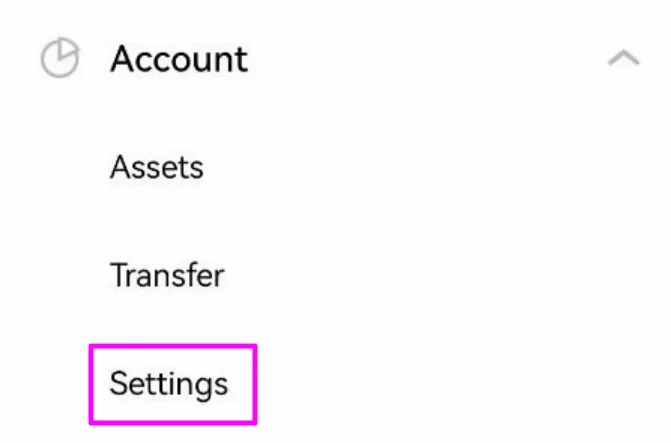 You'll see the account mode currently selected. Tap the active account mode to change it.
Swipe or use the different account mode buttons to view details about each mode. Choose the required mode and tap Select.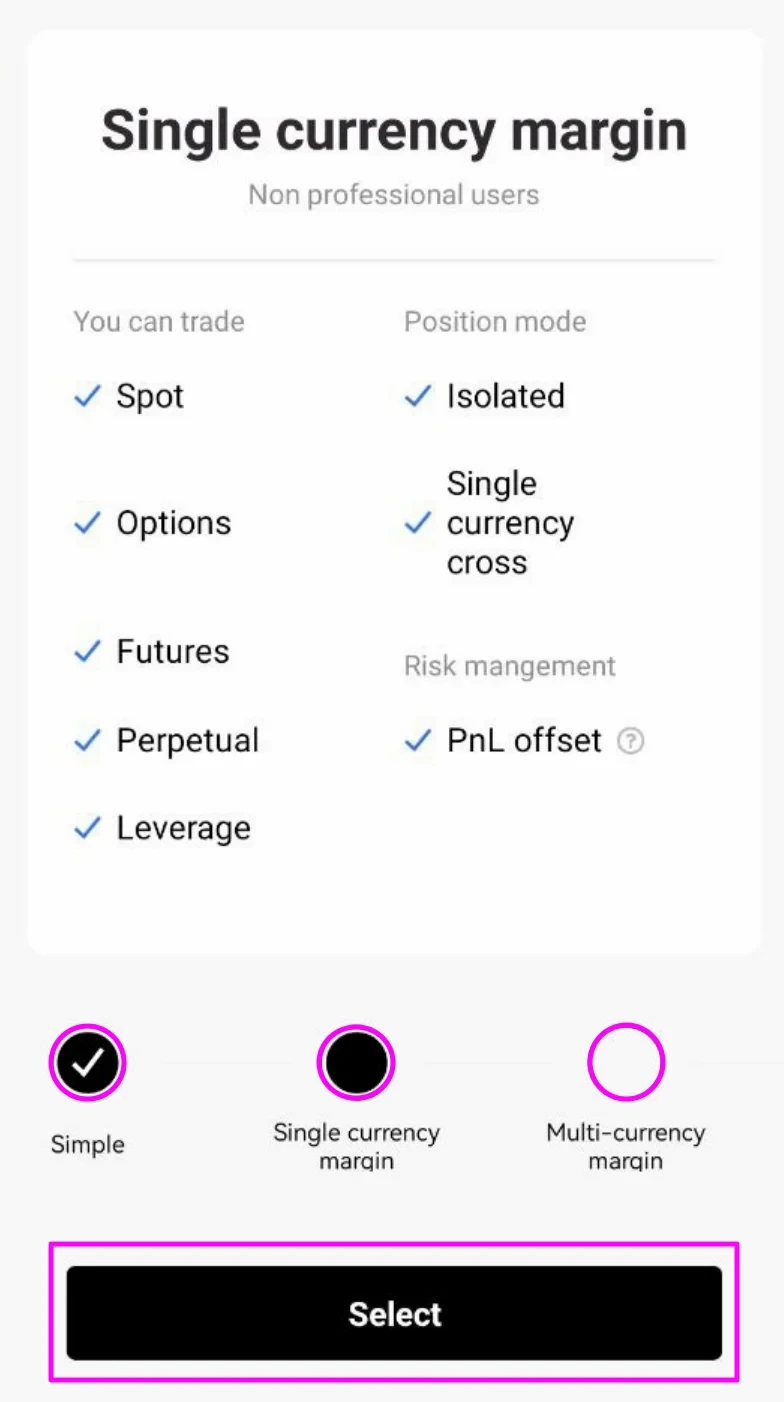 For multi-currency margin mode, your account balance must exceed $50,000. Meanwhile, to access portfolio margin mode, your account balance must exceed the equivalent of $100,000. You'll see the pop-up below if your balance doesn't meet this threshold.
Tap Confirm to return to the account mode selection screen. You can either deposit more crypto assets to bring your portfolio's balance up or select one of the other account modes.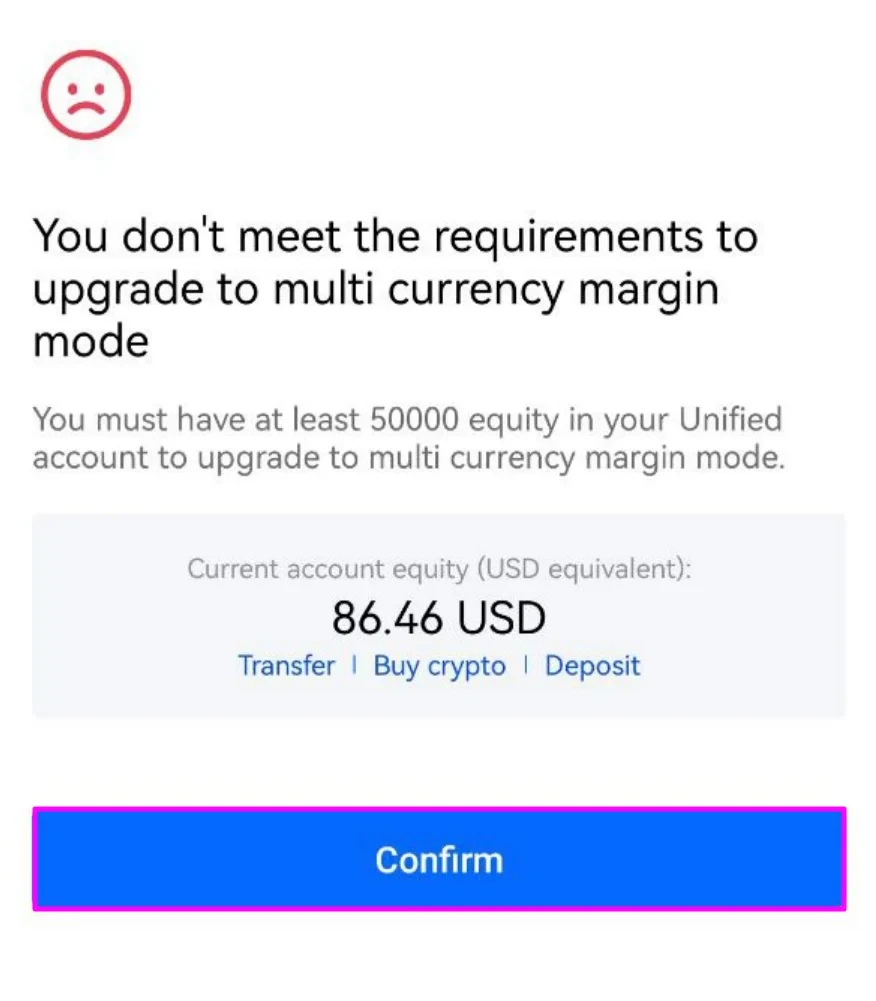 Our more advanced accounts also require users to complete a short questionnaire to gauge their understanding of each account mode's risk profile. After selecting either single currency margin, multi-currency margin or portfolio margin mode, you will be presented with five questions.
Answer each question and check the box to confirm you have read and agree to the user agreements for relevant products. Then, tap Confirm.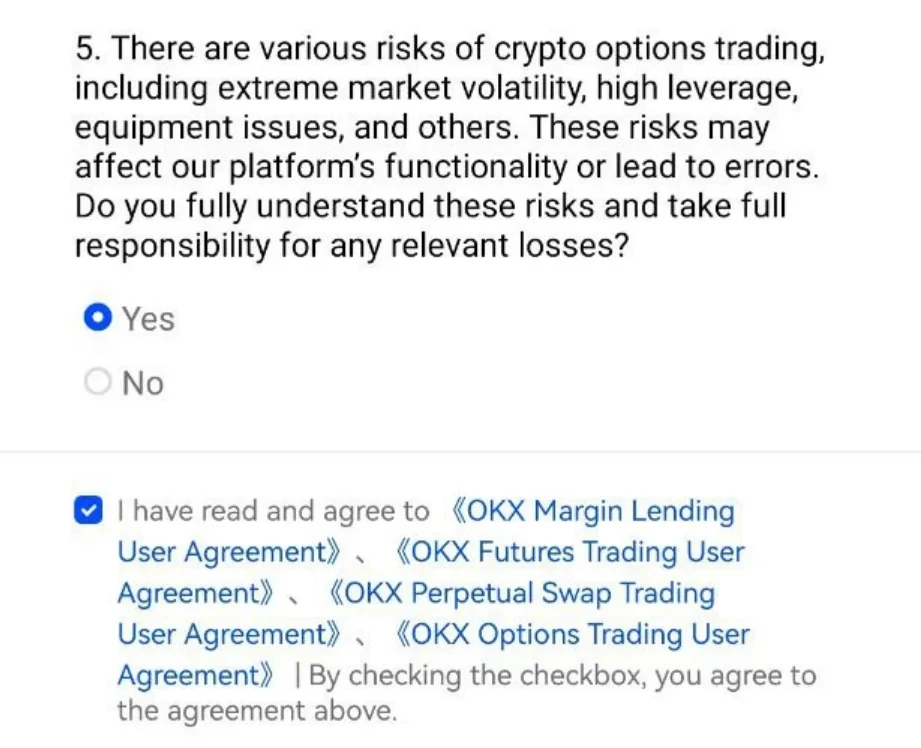 You can now return to the Trade section and use all the features of the account mode selected.
Selecting an account mode on the OKX website
Choosing a different account mode is just as easy on the OKX website. First, sign in, hover over Trade, and click Basic trading.

On the trading dashboard, click the cog icon above the order book to the right to open your settings.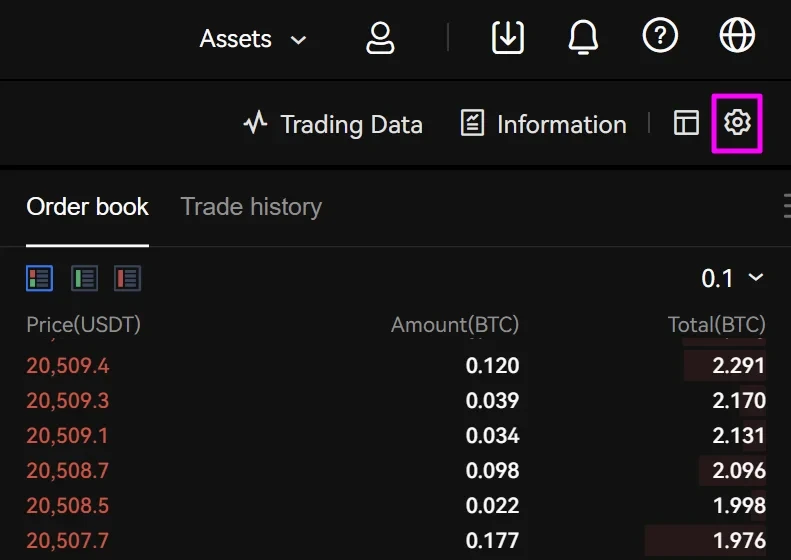 You'll see the currently selected account mode at the top of the settings menu. Click the account mode to change it.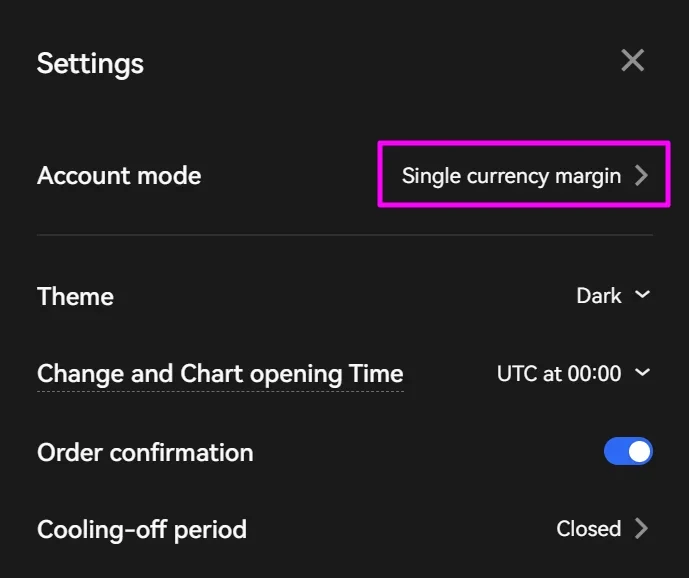 Choose your account mode by clicking the relevant Select button.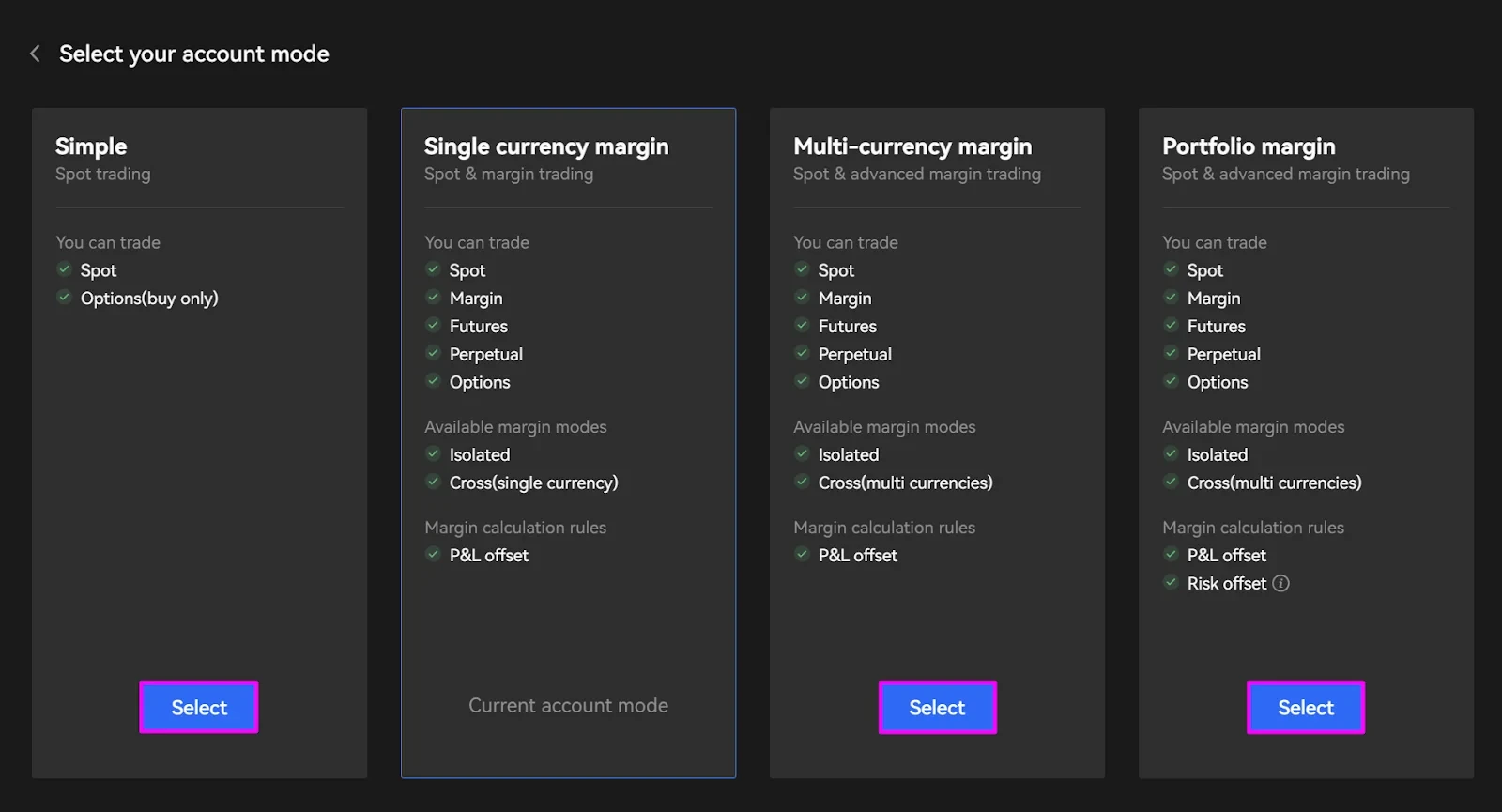 If your account balance satisfies the requirements for your chosen mode, you'll see a pop-up with some questions confirming your suitability for advanced account modes.
Answer the questions, check the box and click Confirm.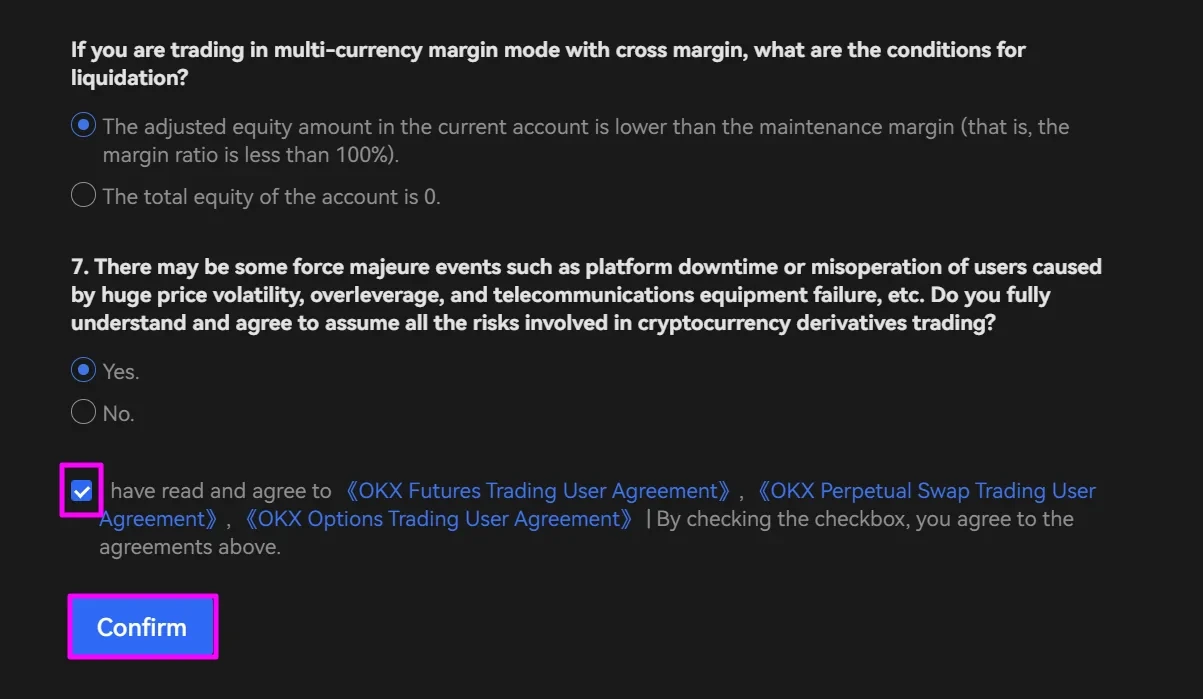 Again, you'll see the following pop-up if your balance is below the $50,000 threshold for multi-currency or $100,000 for portfolio margin modes. Click Return to go back and select a different mode, or use the highlighted links to quickly add funds to your account by depositing or buying more crypto.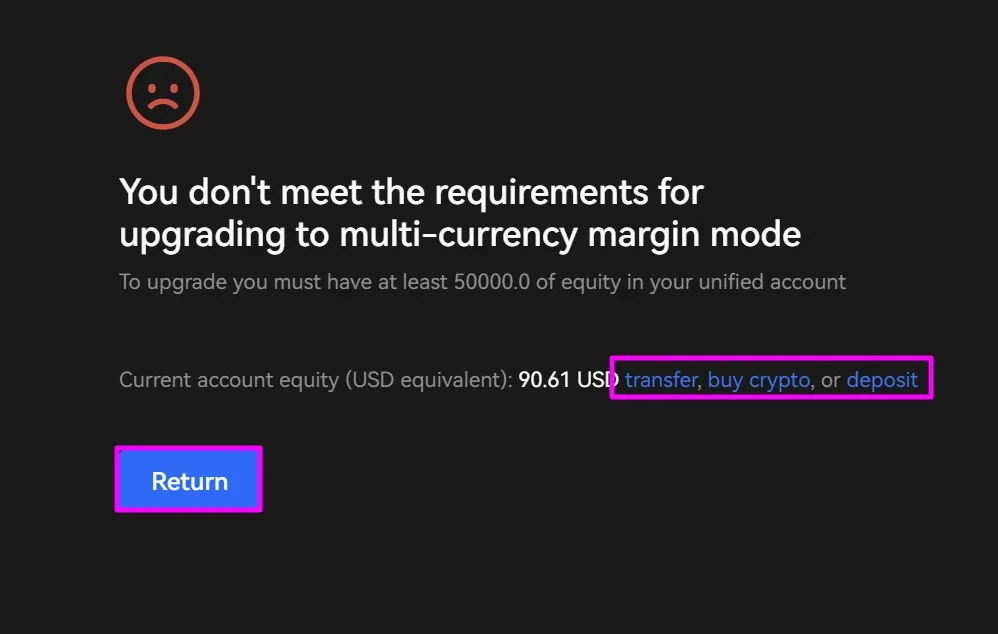 Unlock your portfolio's potential with OKX's powerful account modes
OKX's various account modes enable you to trade in a style that suits you. If you're just starting trading, simple account mode has everything you need to take advantage of the crypto market's volatility while avoiding riskier instruments. When you're ready to step it up a notch, single currency margin mode enables you to trade more exotic instruments while providing an environment in which margin requirements remain relatively simple to manage.
Meanwhile, more advanced users can further dial in their risk-management strategies with either multi-currency margin mode or portfolio margin. By enabling users to share margin requirements across currencies, these modes can make implementing sophisticated trading strategies more capital efficient, allowing for greater flexibility when entering new positions.
At OKX, we encourage users to trade responsibly and provide all the tools needed to implement potentially lucrative trading strategies while moderating risk wherever possible. It all starts with our powerful account modes. Game on!