OKX, Skew Unveil Phase 2 of Partnership With 10 New Trading Data Charts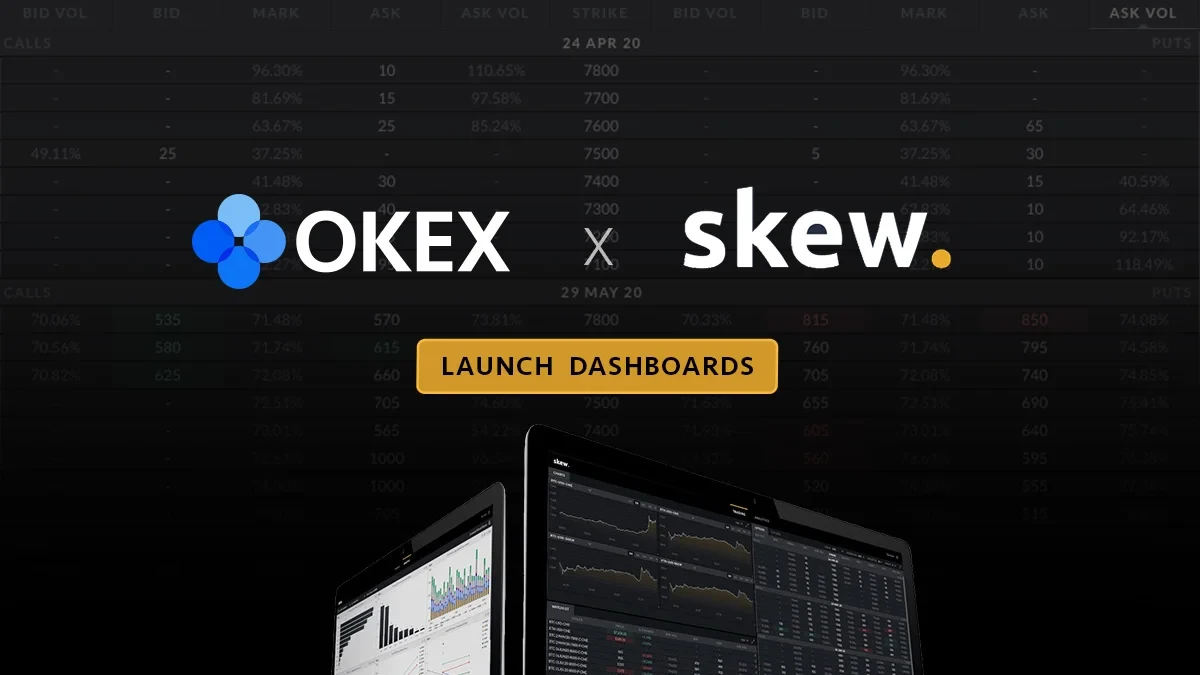 Valletta, Malta, July 1, 2020 — OKX (www.okex.com), a world-leading cryptocurrency spot and derivatives exchange, and skew, one of the most trusted sources of crypto market derivatives data, have unveiled plans for the second phase of their partnership. In May, OKX became the first exchange to share extensive data from its futures and options markets in the form of its own dashboard on skew. In version two of this collaboration, skew users can expect to see ten new, advanced charts with even more in-depth metrics available to them for their analysis.
Among the new features that this further cooperation between OKX and skew includes are charts such as BTC Futures Aggregated Open Interest, BTC Perpetual Swap Price vs Spot, BTC Options Volumes & Open Interest (pictured below), as well as BTC Options OI by Strike and BTC Options OI by Expiry (also pictured below).
OKX has become known for having the most comprehensive offering of crypto derivatives available for traders. This diversity is especially appealing to institutional and professional traders who can keep their pricing strategies more flexible, mirroring trading in traditional markets.
However, one of OKX's main goals is to make its products accessible to a wider audience of retail — as well as beginner — traders. The world's largest cryptocurrency derivatives exchange invests continual resources in cryptocurrency and trading education through its Academy. As the partnership with skew enters its second phase, OKX has also prepared a complimentary guide to highlight and explain some of the new charts now available on skew.
OKX's Director of Financial Markets, Lennix Lai, commented on the partnership and the guide:
"We hope to provide even greater transparency for users through this second phase with Skew. That also means helping traders understand how to interpret sometimes complex charts and how to use the information to execute better trades. The guide will show users how to read and interpret some of the new OKX charts on Skew since they can be daunting at first and are typically left for advanced users."
In addition to the guide, OKX's Lai and Quentin Issele, VP of Financial Markets, and skew's co-founder and CEO, Emmanuel Goh, will be holding a fireside chat on July 1 at 3:30 am (UTC) titled OKX X Skew: State of the Crypto Derivative. This will be a highly informative discussion between the top executives of the crypto derivatives exchange and the data aggregator, with a deep trading focus.
The session will be 45 minutes in duration and cover the OKX dashboard on skew, its new advanced charts and features, overall market trends, a pro-view on options markets and the basis/fair value of futures trends and their application to potential trading strategies.
For more information, please read our exclusive guide to OKX derivatives on skew.
END
About OKX
A world-leading cryptocurrency spot and derivatives exchange, OKX offers the most diverse marketplace where global crypto traders, miners and institutional investors come to manage crypto assets, enhance investment opportunities and hedge risks. We provide spot and derivatives trading — including futures, perpetual swap and options — of major cryptocurrencies, offering investors flexibility in formulating their strategies to maximize gains and mitigate risks.
Media contact
Vivien Choi
Email: [email protected]
Telegram: @vivienchoi