OKX Jumpstart #14 – WaykiChain (WGRT): A Decentralized Governance System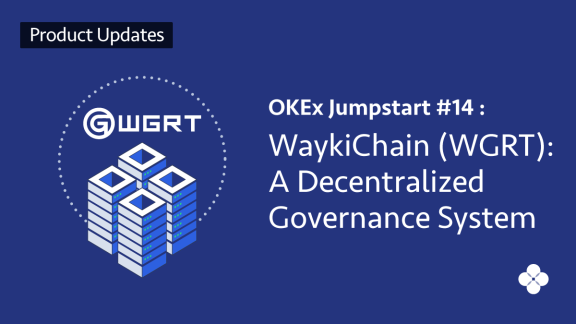 What is WaykiChain?
WaykiChain is a public blockchain that focuses on blockchain technology and application development. It intends to trigger a collective growth of different industries by presenting an enterprise solution. Determined to build a world-class decentralized platform and ecosystem, WaykiChain launched the first smart-contract-based game prediction DApp in May 2018, hoping to ultimately achieve an ecosystem that everyone can participate in the building and share the results.
The WaykiChain system employs on-chain governance to maintain its ecosystem as well as its stablecoin. The network consists of two integral assets: WUSD, a stablecoin used for transactions, and WGRT, a governance coin used to manage the entire system. The stablecoin system has its own public chain, which relies on the WGRT governance mechanism for its operation.
WaykiChain Governance Right Treasure (WGRT) is the governance coin of the entire WaykiChain system. It acts as the foundation for network maintenance and future development and updates of the chain. WGRT coin users can take part in the governing of the stablecoin platform and voting, they also have rights to submit proposals for necessary changes in the system, including changing the system's framework, penalty rates, and interest rates, etc. Once they get over 60% of voter's approval, the new proposal will be implemented to realize a truly decentralized governance mechanism. Not only does this incentivizes people to hold WGRT, it also helps to maintain the stability of the entire system at all times.
WGRT also adopts a regular scheme to repurchase and burn WGRT from the market in order to make it a deflationary currency, so that it slowly depletes over time. A Risk Reserve Pool is established in case the token experiences a dramatic change.
Where is WaykiChain heading?
A community-driven public chain ecosystem. WaykiChain aims to build a decentralized application platform that can provide users with a complete on-chain smart contract system to realize their business ideas on WaykiChain, develop their own DApp, and build their own brands. WaykiChain takes decentralized prediction, assets trading, and forex trading as the starting point to expand markets and is expected to gradually perfect its other blockchain applications to make blockchain convenient for every user to access.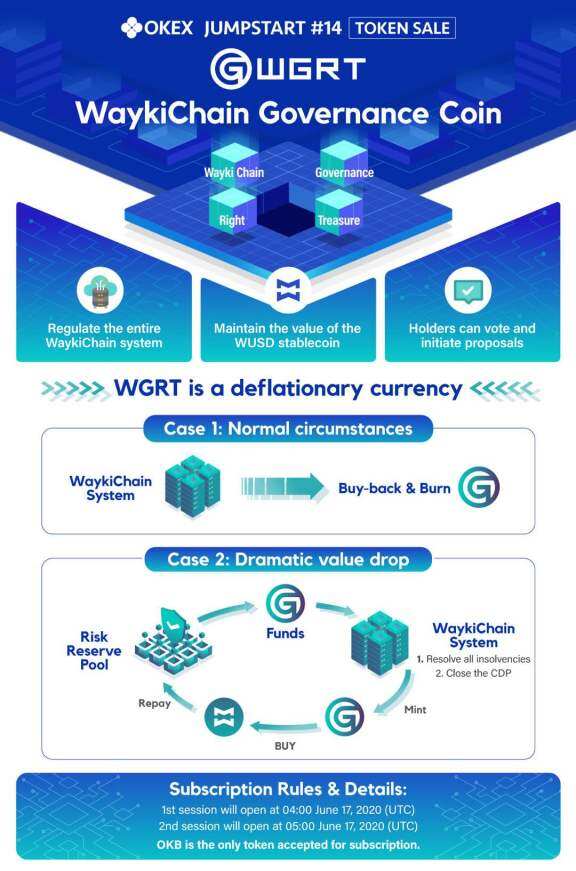 WaykiChain will be listed on OKX Jumpstart soon
WGRT (WaykiChain Governance Coin) will be the project of our 14th token sale on OKX Jumpstart and will be launched on June 17, 2020 (UTC). The OKBelievers Exclusive Allotment Session will open at 04:00 (UTC), and the OKTraders Privilege Allotment Session will open at 05:00 (UTC).
Listing
WGRT/USDT Spot Market: 07:00 June 17, 2020 (UTC)
WGRT/USDK Spot Market: 09:00 June 17, 2020 (UTC)
Check the latest OKX listings here.
---
Disclaimer: This material should not be taken as the basis for making investment decisions, nor be construed as a recommendation to engage in investment transactions. Trading digital assets involves significant risk and can result in the loss of your invested capital. You should ensure that you fully understand the risk involved and take into consideration your level of experience, investment objectives and seek independent financial advice if necessary.
---
Follow OKX on:
Twitter: https://twitter.com/OKX
Facebook: https://www.facebook.com/okexofficial/
LinkedIn: https://www.linkedin.com/company/okex/
Telegram: https://t.me/OKXOfficial_English
Reddit: https://www.reddit.com/r/OKX/
Instagram: https://www.instagram.com/okex_exchange