OKX CEO on OKC and the 'new era of crypto trading' — AMA recap
Highlights from OKX CEO Jay Hao's Ask Me Anything session on the world's first trading chain, OKC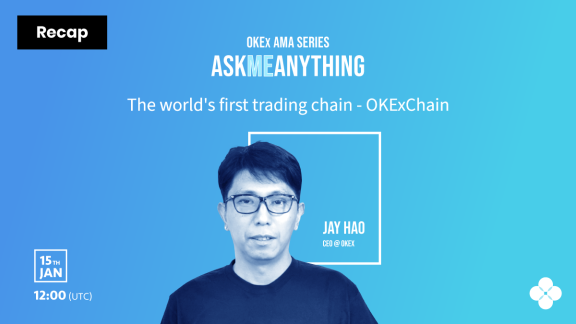 On Jan. 15, OKX CEO Jay Hao joined a live Ask Me Anything session on the official OKX Telegram channel and answered questions from some of its 34,000+ members. The purpose of the event was to introduce OKC to the community and share deeper insights into the recently launched blockchain protocol.
What is OKC
OKC is an open-source, public blockchain designed for building decentralized trading applications. The technology was designed to provide a safe and efficient decentralized-finance architecture that can be used to create a decentralized exchange, or DEX, which features community-based operations, transparent trading rules and the ability for users to control their own assets. To read more about it, check out this in-depth report on OKC.
Below are some highlights from Jay's AMA all about OKC, how it works, and what makes it unique.
What innovations and advantages does OKC offer compared to other chains?
Jay: To begin with, OKC opted for a track that no one has explored before — specifically, the trading chain. OKC is the result of our independent research and development work based on Cosmos. We have created our own scripts, and the project has been open sourced for developers.
Moreover, OKC is specifically designed for high-performance scenarios and the high-volume transactions typical of trading activities and financial services — on which an entire trading ecosystem will be supported. You can say the positioning is a creative innovation itself.
It's worth mentioning that our high TPS and lower gas fees can better meet traders' needs for high-frequency trading. It's smoother than Ethereum, more compatible and cost-efficient.
Compared with chains developed by other exchanges, OKC is the dedicated result of our independent research and development work that commenced three years ago. With the code for the underlying chain optimized, we can not only guarantee the security and anonymity of decentralized transactions but also meet the needs of high-frequency transactions in different trading scenarios.
As a high-performance public chain optimized for trading scenarios, what new technical functions does OKC realize, or plan to realize?
Jay: Currently, OKC is the only public chain that supports smart contracts and system contracts. Compared with system chains, we can adjust the underlying parameters — for instance, fee rates for trading applications are more flexible, which is beneficial to both developers and service providers.
As a result, the performance of DApps (mainly DEXs) on OKC will be basically much higher than those on Ethereum. Compared with application chains, due to the fact that we provide a highly suitable infrastructure for DEXs, the smart contracts on OKC enjoy good composability, the workload of developers will be much less, and the transaction fee for everyday users will also be reduced accordingly.
Not to mention OKC enjoys amazing compatibility by supporting the dual virtual machines of EVM and CosmWasm. With all smart contracts on Ethereum supported, we will also support smart contracts on Cosmos in the future.
Regarding cross-chain, OKC supports OKX Cross-chain Gateway and Cosmos IBC — both of which enable a large number of core assets to flow onto OKC, which will greatly enrich our OKC ecosystem.
How does OKC solve the problem of high network fees — like those of the Ethereum network?
Jay: First of all, OKC adopts the consensus mechanism of Tendermint+DPoS, which enjoys lower network costs than PoW.
Secondly, compared with Ethereum, we can flexibly adjust the underlying parameters — such as fee rates — specially for trading applications, which is highly beneficial to developers.
Will OKC be accessible to wallet platforms such as Trust Wallet, MetaMask, etc)?
Jay: Without a doubt, OKC will provide access to more and more third-party wallets. At present, MetaMask has gradually become familiar to DApp users, and if OKC users show demand for MetaMask, we will consider adjusting OKC's account system to be compatible with MetaMask.
Where do you see OKC 10 years from now?
Jay: Ten years can be pretty far away, but let's be bold. I believe that, by that time, most tradable assets will be tokenized, and even things untradable now will be tokenized and traded. In an era when you can trade anything, decentralized exchanges will certainly become mainstream. At that time, OKC, as the world's first trading chain, will support various types of derivatives trading and will have a huge number of users and high trading volumes.
What edge does OKC have over other blockchains that would attract developers?
Jay: The answer to this is definitely a low technical threshold, low development costs, and an advanced suite of developer tools.
We also support dual virtual machines, compatible with Ethereum and Cosmos smart contracts — not to mention the fact that we host a friendly developer community with extensive teaching materials, a comprehensive support plan and a great vibe.
Looking forward, we anticipate continued growth of the decentralized trading community on OKC. The launch of OKC is a huge milestone that marks the beginning of a new era in crypto trading.
---
Follow OKX
Twitter: https://twitter.com/OKX
Facebook: https://www.facebook.com/okexofficial/
LinkedIn: https://www.linkedin.com/company/okex/
Medium: https://medium.com/@OKX
Telegram group (English): https://t.me/OKXOfficial_English