OKX C2C Loan: The Easiest Way to Lend and Borrow Cryptos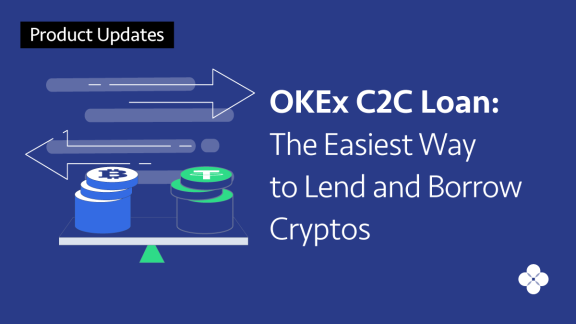 Hello fellow crypto traders, have you ever faced an instant need of cash, but you still want to hodl on to your dear crypto and wish that there's another way to get money? Or, are you looking for an easy way to earn passive income?
Introducing C2C Loan, our latest product that provides a perfect solution to match both needs (currently available on OKX App only).
A Customer-to-customer Loan System
C2C Loan is an open marketplace where borrowers and investors can either take or give loans with ideal interest rates, loan period, alongside a sufficient degree of transparency and safety.
Right now, we accept Bitcoin (BTC) as collateral and Tether (USDT) as the loan currency (more assets will be supported in the future). That means, borrowers can hodl their BTC and take on USDT to support their trading strategies and financial needs, while investors can utilize their USDT to earn passive income at good interest rates.    
Simple & Transparent Loan Process
As a peer-to-peer marketplace, OKX C2C loan service is purely governed by investors and borrowers. And, the crypto loan process is straightforward and transparent. Let's explore more below.
Borrowers can start by creating a loan request on the C2C loan marketplace, which requires them to specify the loan amount, ranging from 200 – 1,000,000 USDT, and set the loan duration (7, 15, 30 or 60 days). What's more, to increase the chance of getting the loan from investors, borrowers can customize the initial loan-to-value ratio (10% – 65%) and daily interest rate (0.01% – 0.1%).
Once done, the request will then be published on the loan market with a trusted pool of verified OKX users.
Investors can select which loan request to invest in. And most importantly, they can decide how much do they want to lend. It is somewhat like the concept of crowdfunding, meaning there could be multiple investors contributing their USDT to the same loan investment request, which will only start once the requested loan target is met.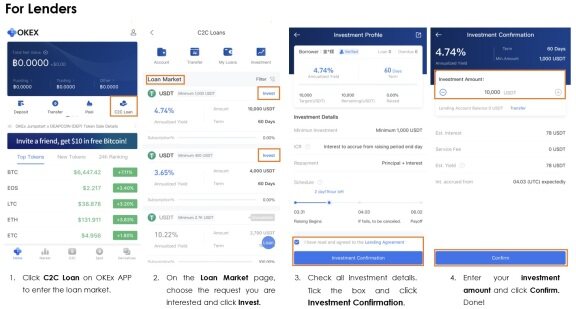 For repayment, when the loan period expires, borrowers have to repay the principal and interest to the investors. If they fail to do so within a set period, the system will close the position to repay the principal, interest, and overdue penalty interest at one time.
Sophisticated Risk Management System for Hassle-free Loans
To better protect the interests of both borrowers and investors, we adopted a forced-liquidation mechanism. To minimize the risk of the drop in collateral value (i.e. BTC price here), our C2C Loan platform has already set up an alert level and liquidation level for different loan-to-value ratio.
When the collateral value falls below the alert level, the borrower will receive a reminder to increase the collateral amount.
If the collateral value drops below the liquidation level, and the borrower still fails to increase the collateral amount, the system will close the position to repay the principal, interest, and overdue penalty interest to the investor. As such, we guarantee investors will be able to collect their principal regardless of the collateral value drops.
Enjoy Fee-free Loans for a Limited Time
During the promotion period, users can enjoy zero fees for any of your investment or borrowing needs. After the promotion period, the platform will charge a small amount of service fee to the borrowers and investors for the platform's risk reserve.
All in all, our C2C Loan allows you to leverage your idle assets to earn passive income, while borrowers can utilize their receive crypto assets for trading, arbitrage or other financial purposes.
If you are ready to tap on this crypto loan market to maximize your crypto gains, give it a try today!
For any questions regarding the use of C2C Loan, visit C2C Loan FAQ, C2C Loan Tutorial or contact our customer support.
---
Disclaimer: This material should not be taken as the basis for making investment decisions, nor be construed as a recommendation to engage in investment transactions. Trading digital assets involves significant risk and can result in the loss of your invested capital. You should ensure that you fully understand the risk involved and take into consideration your level of experience, investment objectives and seek independent financial advice if necessary.
---
Follow OKX on:
Twitter: https://twitter.com/OKX
Facebook: https://www.facebook.com/okexofficial/
LinkedIn: https://www.linkedin.com/company/okex/
Telegram: https://t.me/okexofficial_en
Reddit: https://www.reddit.com/r/OKX/
Instagram: https://www.instagram.com/okex_exchange