OKX Broadens Market Offer With DOTUSDT and FILUSDT Perpetual Swap Now Available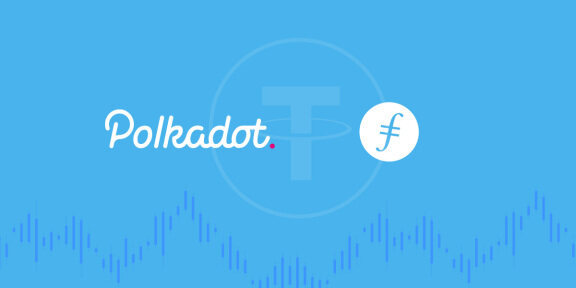 Malta, July 22, 2020 — OKX (www.okex.com), a world-leading cryptocurrency spot and derivatives exchange, is pleased to announce the further diversification of its derivatives offering by adding two more perpetual swap products, DOTUSDT and FILUSDT. Perpetual swap trading on both these popular markets officially went live on the OKX website and API at 7:00 am UTC on July 22. 
Both of these exciting projects vary from traditional cryptocurrency tokens in that they are currently trading as contracts, with the IOU currency as the underlying asset. This gives forward-thinking traders who want to gain access to ground-breaking projects the chance to get in early and speculate on their future value through OKX's swap mechanism.
As the first project from the world-renowned, Swiss-based Web3 Foundation, Polkadot (DOT) is a much-admired project in the industry for its ability to enable different blockchains to connect and transfer all types of data, not just tokens. This makes the Polkadot protocol an innovative project with a multichain application environment, laying the foundation for the next web.
Filecoin is a hotly anticipated decentralized storage network that was announced back in 2017. After its mainnet launch was revealed on July 14, trading of Filecoin's native coin, FIL, exploded, with the daily transaction volume reaching over $42 million in China alone — much higher than its initial coin offering price. Although this flurry seems to be tapering off today, the coin is still registering a 1,793% increase on its ICO value, and traders missing Bitcoin's characteristic volatility are capitalizing on the increased action in altcoins.
FILUSDT trading on the OKX perpetual swap market has already seen impressive action, with OKX Director of Financial Markets Lennix Lai saying:
"We had a good start on the Filecoin perpetual swap market with more than 5,500 FIL, with a notional value of around $990,000 traded in less than two hours since its inception, trading in less than $0.1 spread on average."
OKX CEO Jay Hao commented:
"We are pleased to constantly innovate in the cryptocurrency space and find new ways to provide traders with the opportunity to use diverse trading strategies to capitalize on volatility. We will continue to expand our product offering with high-quality projects such as these to engage and attract more traders."
The perpetual swap market at OKX remains popular, and the open interest of both futures and perpetual swap continues to rise. Traders can expect to experience excellent trading depth.
Moreover, at OKX, traders can clearly see the long/short status of the top traders and their margin usage. This helps them to gauge market sentiment and make more informed decisions at the time of trading.
The two new listings of DOTUSDT and FILUSDT follow the recent addition of the DOGEUSDT perpetual swap and continue to highlight OKX's position of providing the most diverse suite of derivatives products in the space. For any questions about the trading rules of perpetual contracts, traders can check OKX's user guide. 
END
About OKX
A world-leading cryptocurrency spot and derivatives exchange, OKX offers the most diverse marketplace where global crypto traders, miners and institutional investors come to manage crypto assets, enhance investment opportunities and hedge risks. We provide spot and derivatives trading — including futures, perpetual swap and options — of major cryptocurrencies, offering investors flexibility in formulating their strategies to maximize gains and mitigate risks.
Media contact
Vivien Choi
Email: [email protected]
Telegram: @vivienchoi
Follow OKX
Twitter: https://twitter.com/OKX
Facebook: https://www.facebook.com/okexofficial/
LinkedIn: https://www.linkedin.com/company/okex/
Medium: https://medium.com/@OKX
Telegram group (English): https://t.me/OKXOfficial_English
Telegram group (Russian): https://t.me/okexofficial_ru
---
Disclaimer: This material should not be taken as the basis for making investment decisions, nor be construed as a recommendation to engage in investment transactions. Trading digital assets involve significant risk and can result in the loss of your invested capital. You should ensure that you fully understand the risk involved and take into consideration your level of experience, investment objectives and seek independent financial advice if necessary.
---