NYAG's Tether probe reaches settlement and Coinbase files registration to go public
And as JPMorgan Chase endorses BTC investment for diversification, Square and MicroStrategy continue to double down.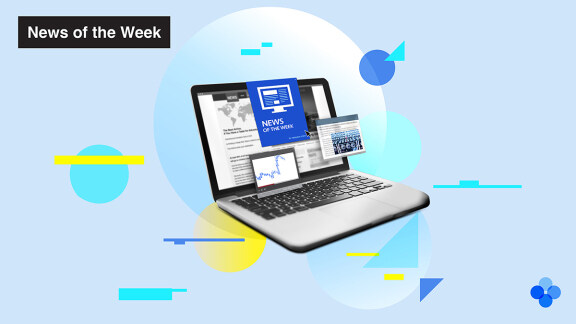 It's been an eventful week in the blockchain and cryptocurrency industry. The legal dispute between the New York Attorney General's office and Bitfinex, the company behind Tether (USDT), reached a settlement, while Coinbase moved closer to going public via a direct listing.
In the institutional investment sphere, JPMorgan Chase endorsed Bitcoin for portfolio diversification and to hedge against volatility. Meanwhile, MicroStrategy and Square doubled down their Bitcoin investments with new purchases.
Here's everything you need to know about these stories, and more, in this week's edition of OKX Insights' News of the Week.
NYAG's probe of Bitfinex and Tether reached a legal settlement
The 22-month legal dispute between the New York Attorney General's office and Bitfinex and Tether has finally reached a settlement.
According to the NYAG's statement, Bitfinex and Tether are required to pay $18.5 million to NYAG in penalties. In addition, both entities are required to submit quarterly reports regarding the status of Tether's reserves for the next two years.
Key takeaways
As a result of the settlement, Bitfinex and Tether cannot serve customers in the state of New York.
The investigation of the Office of the Attorney General found that Tether wasn't fully backed at all times. This led to the requirement of periodic reporting by Tether to enhance transparency around its reserves.
Coinbase moves closer to going public via a direct listing
This week, Coinbase Global Inc. announced its intention to become a publicly traded company via a direct listing.
The crypto exchange recently filed a Form S-1 registration with the U.S. SEC. The registration will become effective after the regulatory body reviews it.
Key takeaways
Coinbase's intention to go public was first revealed on Dec. 17 last year, when it submitted a draft Form S-1 registration with the SEC.
Coinbase's sensitive information, such as revenue and ownership structure, was first revealed to the public in its registration document.
The pursuance of a direct listing means that an underwriter is not required.
JPMorgan Chase endorsed 1% portfolio allocation for Bitcoin
In a recent client note, strategists at JPMorgan Chase suggested investors could allocate up to 1% of their portfolio to cryptocurrencies for diversification.
Key takeaways
Institutions such as Cornerstone Macro LLC observed that due to its low correlation, Bitcoin can serve as a hedge against the volatility of traditional assets, such as stocks and bonds.
While JPMorgan Chase encouraged Bitcoin investment for portfolio diversification, the stategiests consider it an investment vehicle as opposed to a currency.
MicroStrategy bought more BTC worth $1.026 billion
MicroStrategy, pursuing its aggressive Bitcoin investment strategy, announced the purchase of an additional batch of 19,452 BTC worth $1.026 billion. The average price per coin in this purchase is $52,765, which is higher than the current market price of around $46,000.
Key takeaway
The company now holds 90,531 BTC after the acquisition. As of the time of writing, the value of its BTC holdings represents 59% of MicroStrategy's market cap.
Square doubled down on its Bitcoin investment
Managed by Twitter CEO Jack Dorsey, Square made an aggregate purchase price worth $170 million to acquire 3,318 more BTC.
Key takeaways
As revealed in the company's statement this week, the combined BTC from this purchase and a previous purchase of $50 million accounted for 5% of Square's total cash and equivalents, as of Dec. 31, 2020.
The recent purchase reaffirmed Square's belief in Bitcoin as a tool for economic empowerment.
---
OKX Insights presents market analyses, in-depth features and curated news from crypto professionals.