NFT wealth effect is likely to drive innovation and mainstream adoption of blockchain protocols
As NFTs gain traction, OKX Insights revisits the space to highlight key developments.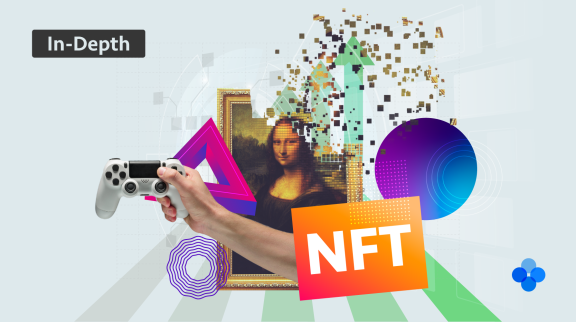 The NFT market is undeniably hot right now, with the majority of record-breaking sales occurring within the last two weeks as various celebrities start entering the space. Mark Cuban even published a lengthy blog discussing the value proposition of intangible assets, while Fred Wilson, the co-founder of Union Square Ventures, believes that NFTs have shown early real utility. One of the biggest use cases for NFTs right now is the distribution of intellectual property, such as digital content like images, graphics, videos, music and artwork.
While there is currently a lot of hype around NFTs, the market had already started booming between September and October last year as the rise of decentralized finance opened new gateways for capital flows. At the time, OKX Insights discussed the potential of NFTs and highlighted some of the top NFT projects alongside listing a variety of major NFT tokens.
Since then, NFTs have gained considerable momentum. In this article, we highlight the state of this space and comment on its impact on the future of blockchain technology.
NFTs are now mainstream
Recently, NFT collectibles appear to have experienced a rediscovery of value. The #1/1 from Beeple's first Nifty Gateway drop has been resold for $6.6 million, and another one of his works, "EVERYDAYS: THE FIRST 5000 DAYS," is currently up for bid at Christie's, where the price has been bid up to $4 million with three days to go. This auction is undoubtedly a major landmark for the entry of digital art into the traditional auction world.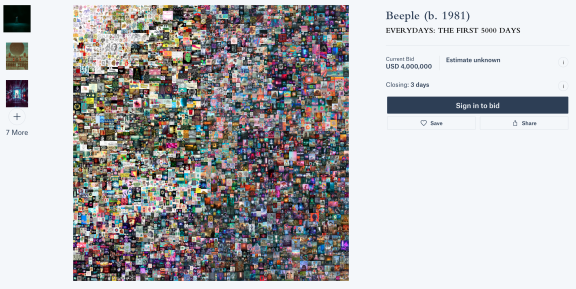 In addition to changing how artwork is auctioned and sold, the potential for partnerships with the world's most prestigious sports leagues has led to a rapid increase in the popularity of NFTs. Previously, we had mentioned how NBA Top Shot, with its wide audience, has the potential to make NFTs mainstream. The platform, built on the Flow protocol, has since seen sales rise more than 600% in the past 30 days and set a single-day record of $48 million on Feb. 22, as per data from CryptoSlam. One of the most popular sports media, ESPN, has also highlighted NBA Top Shot several times on its stream, and we are now seeing NBA players getting involved.
In the soccer world, Sorare, an Ethereum-based fantasy game, has signed licensing agreements with 126 clubs. Its sales volume has also jumped 200% after reaping the second-highest number of buyers on the crypto collectible rankings for the last 30 days. In the past week, the game has traded nearly $8 million with over 22,000 sales.
Over-hyped prices are concerning
From an observer's point of view, the price of NFT collectibles has been speculated to the sky, and the market does appear over-hyped on many accounts. CryptoPunks, for instance, currently occupies the top six spots for the amount of money paid for a single collectible as per CryptoSlam's data, while the seventh place is taken by a Hashmask. Moreover, the first four collections all sold for more than $1 million, which is considerably higher than the highest sale price of NBA Top Shot — $208,000 for a Lebron moment.
In early 2017, Larva Labs created 10,000 "24*24" pixel "punks" as a tribute to the Cypherpunk movement that Timothy May pioneered in the early 1990s. However, these Punks are now predominantly owned by whales, and the skyrocketing prices have made it impossible for retail investors to participate. The seven-day average price of a Punk has surged from $3,200 to nearly $54,600 over three months, as per Messari's data.
The current prices of these Punks have also raised concerns about manipulation. To pump the price up in a relatively illiquid market, all a collector has to do is use several different Ethereum addresses to create the illusion of high sale prices, and then sell items to unsuspecting speculators for huge profits. That being said, there is definitely a market of collectors out there willing to pay high prices for these collectibles.
Comparing this current hype-cycle to that of CryptoKitties in 2017, one can assume that these collectibles will be repriced after the speculation phase cools down.
Innovative mechanisms make NFT market interesting
Admittedly, NFT games have developed a lot of innovative mechanisms. Created by over 70 artists worldwide, Hashmasks is a collection of 16,384 unique digital portraits with different elements.
Each Hashmask is minted without a name, and the buyer of the Hashmask has the right to name it. NCT is the native token of Hashmasks, and 1,830 NCT tokens are consumed for each renaming. If a collector holds a Hashmask for one year, they receive 3,650 NCT, which equals about two naming rights.
This scarcity and gamification in turn give value to the deflationary-designed tokens, but it is early to say whether these mechanisms — interesting as they are — are effective in presenting the value of these collectibles.
NFTs seek scaling solutions
The current boom in the NFT market has caused related token prices to spike. The tokens listed in the chart below have reaped an average of over 200% in the last 30 days. With investors generally gaining profits, their recurring investment into NFTs further pushes up the price of collectibles as well as congesting the Ethereum network.
With Ethereum gas fees rising, small transactions have become economically unfeasible, and developers are seeking alternative scaling solutions.
As a result, Layer 2 solutions like Polygon are now gaining traction with more than 70 NFTs and gaming projects already released. Most notably, Aavegotchi, another game of collectibles, recently launched its first NFT drop on Polygon and saw all the portals on offer purchased by active participants in a matter of minutes.
Similarly, Flow is a blockchain protocol that focuses on gaming. The NBA Top Shot game is built on Flow, and the protocol's payment onramps provide a secure, low-friction platform for fiat currency exchange. OKX is one of the first exchanges to offer FLOW trading last week.
NFTs are likely to drive future innovation
Overall, NFTs have grown into a sizable market segment, and we are likely to see further integration of NFTs and DeFi in a year of major scaling upgrades. As demand for these collectibles and games grows, we can also expect innovations like the recent NFT index fund that has emerged to enhance retail accessibility. Similarly, Metapurse's B20 token has allowed fractionalized ownership over 20 digital artworks by Beeple, allowing retail investors to gain exposure without having access to considerable capital.
Ultimately, even though the growth of NFTs is driven by speculation, the demand is likely to improve the use of underlying technologies and the interoperability of blockchain protocols, alongside giving the crypto space mainstream exposure.
---
OKX Insights presents market analyses, in-depth features, original research & curated news from crypto professionals.