OKX turns four — celebrating crypto, DeFi and how far we've come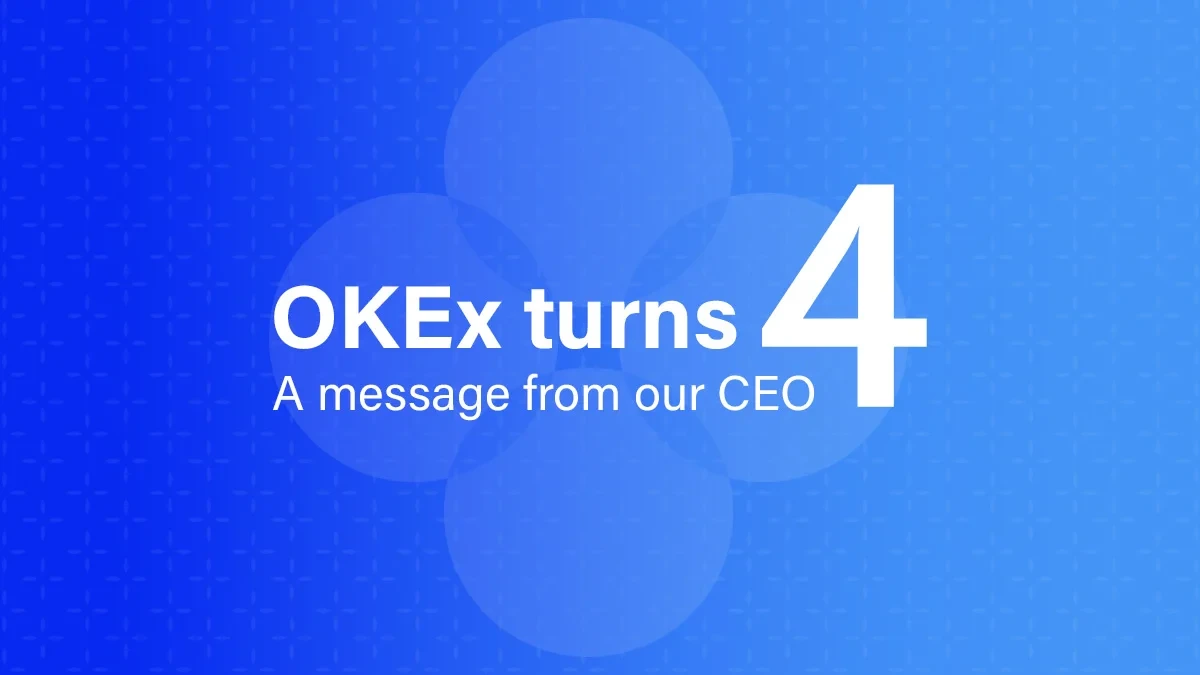 At OKX, we believe technology can change lives and that cryptocurrency and the technology behind and around it will reshape our money and, even more so, our ways of interacting. We believe that crypto is increasing the number of people able to live in dignity and freedom, and empowering people will always be the primary focus of OKX.
Four years in crypto is a long time. It's almost a cliche now to say that a year in crypto feels like a decade in traditional markets. In four years, we've built a platform that we're proud to say not only has kept up with every new way of interacting with the crypto economy — we ourselves have built and continuously improved the emerging infrastructure to make it all happen.
From trading an incredibly wide variety of cryptocurrencies on spot and derivatives markets to early access to new tokens, to crypto mining, to borrowing, lending, staking and other ways of earning in DeFi, to NFTs, to the emerging space of play-to-earn blockchain games, the OKX ecosystem is an active part of the rapidly growing world of crypto.
Today, as we celebrate OKX's four-year anniversary, we're also celebrating something even bigger with the wider crypto community — on Oct. 31, 2008, the pseudonymous creator of Bitcoin, Satoshi Nakamoto, published the Bitcoin white paper, outlining a new "peer-to-peer electronic cash system." For many, this moment marks the beginning of the formation of the crypto space as we know it.
As the crypto space has developed, a key concept that has grown along with it is DeFi, or decentralized finance. DeFi isn't a particular product or token or promise — it's more like a name for all the collective ways people interact with financial products — like trading, borrowing, earning yield — in a decentralized manner. And when we say decentralized, we mean without a third party taking custody of your money. You keep control of your funds and you do with them what you will, without a broker, exchange or anyone else doing it for you.
At OKX, we believe that this growing collection of DeFi protocols and platforms (the decentralized apps, or DApps, you can use to trade, borrow, lend, farm, stake, etc. by directly plugging in your self-custodial wallet) is and always will be the cutting edge of crypto.
This is because it shares the original ethos of Bitcoin — cutting out the middleman, letting people transact directly in a peer-to-peer manner and not handing over control of your finances to governments and banks. [Insert story of government currency devaluation and inflation here].
Yes, OKX was born not of DeFi, but as a centralized exchange. We offer the services of a centralized platform because doing so means we can provide world-class trading products, leading liquidity on hundreds of markets, a robust trading engine that stays functional even as competitors shut down during volatile markets, comprehensive 24/7 customer service and ever-improving user experience across all our products.
But we've long been committed to supporting the development of the DeFi ecosystem, from listing numerous assets related to DeFi protocols to making it easier for people to participate in DeFi with our Earn product.
This year, however, we went even further, introducing a DeFi mode on OKX. Now via okex.com and our mobile app, anyone can connect their self-custodial, decentralized wallet directly to various popular DeFi protocols, buy, sell and mint their own NFTs, or earn crypto by playing decentralized games. We even make onboarding into the world of DeFi easier by providing DeFi Hub, a decentralized, self-custodial wallet developed by OKX.
For many — let's be real, most — people, over the past four years, Bitcoin and crypto have been not much more than a series of passing headlines or negative stereotypes, becoming more or less visible, depending on the year. Four years ago today, we were just entering a massive market run-up in which Bitcoin would reach an all-time high of around $20,000, garnering massive global media attention, before slipping back into obscurity as the price corrected back down for a couple of years.
But from inside the industry, the speed at which new ways of interacting with crypto (and with each other) have developed over these four years is astonishing. And though arguably still in its infancy, the industry has grown enormously, developing way beyond just finance. Just look at NFTs, which made a massive comeback at the end of 2019 (over two years after the first NFTs were minted), creating entirely new communities and helping to spur on the development of the metaverse as a new way to virtually interact with others — an increasingly important need since the COVID pandemic began.
We're extremely happy to have been part of building this industry over the past four years alongside so many talented, ambitious visionaries.
Thank you, the OKX family, for participating in our vision of creating an inclusive digital financial system. We promise to continue listening to you and innovating for you. You are why we exist, and we look forward to the crypto future we will create together.
With gratitude,
Jay
---
Not an OKX trader? Sign up and claim your new joiner bonus!
Subscribe to our weekly newsletter for the latest market and industry updates delivered to your inbox every Tuesday.