OKX integrates Polygon — how to save on transaction fees using the Ethereum scaling solution
A guide to withdrawing Ethereum-based assets directly to Polygon from OKX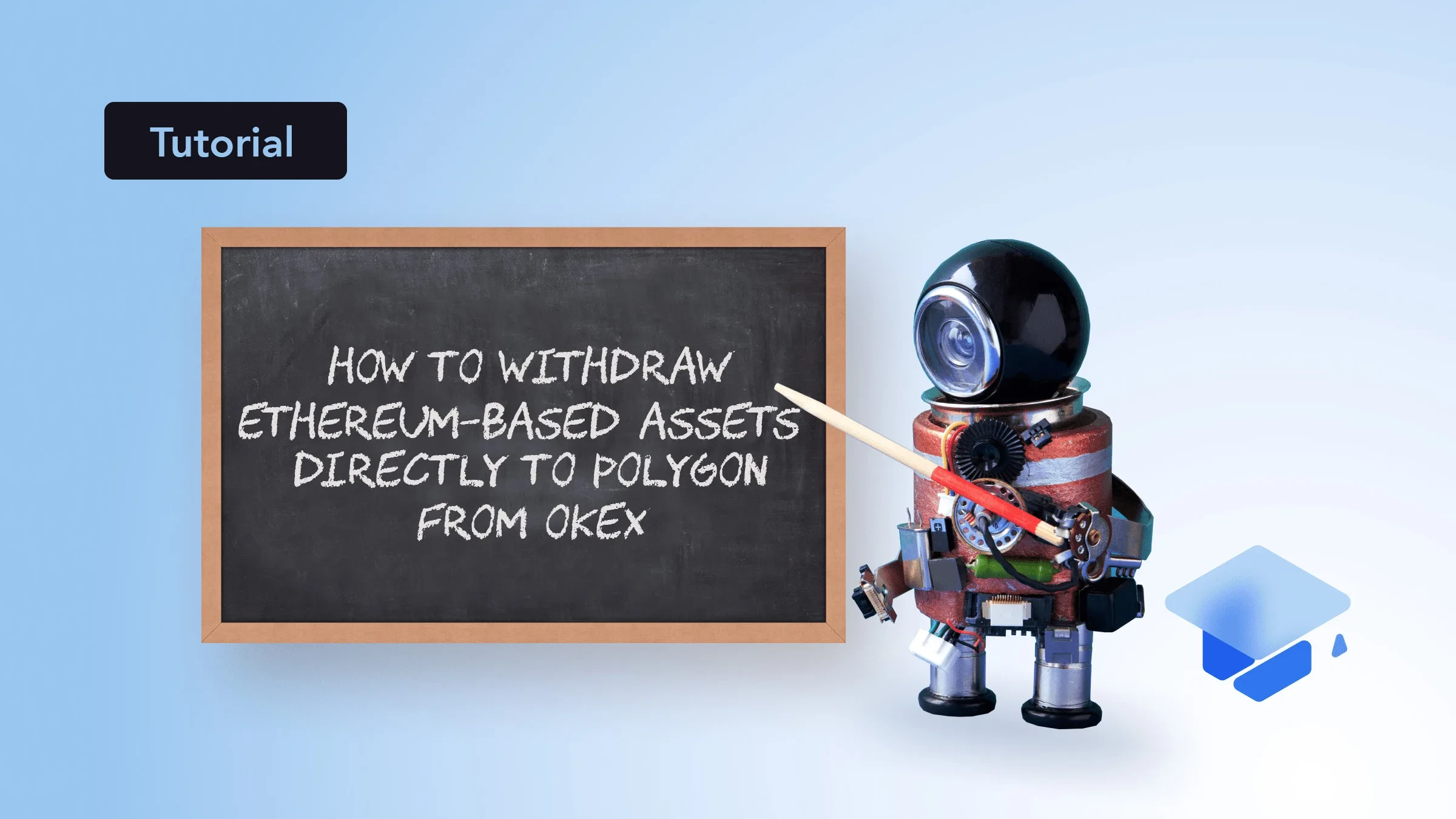 OKX has become one of the first major cryptocurrency exchanges to support the Polygon Ethereum scaling solution. The integration reduces transaction costs and waiting times, allowing users to move assets to the leading decentralized finance ecosystem more efficiently.
Polygon is a full-stack Ethereum scaling solution that has quickly become one of the industry's most talked-about innovations. By providing Ethereum functionality away from the base blockchain, users may transact faster and enjoy lower network fees when interacting with those supported DeFi protocols launching on Polygon.
Polygon — formerly known as Matic — has grown significantly during 2021. The total value of the digital assets already moved to Polygon surpassed $2 billion for the first time in late April 2021. Less than a month later, that figure had exceeded $11 billion. Driving this growth are major DeFi protocols launching on Polygon in recent weeks, including decentralized exchanges Curve and 1inch, and DeFi lending app Aave.
This quick tutorial shows you exactly how to move Ethereum-based assets to Polygon's rapidly expanding DeFi ecosystem. Withdrawing cryptocurrencies from OKX via our Polygon bridge will save you time and money. The best part? It really couldn't be easier!
Why are solutions like Polygon needed?
Scaling solutions like Polygon seek to address the rising Ethereum transaction fees that represent a major pain point for the network's users. At times of heightened usage, the network currently forces users to outbid each other for finite block space — resulting in prohibitively expensive fees.
To remain decentralized, blockchains — such as Ethereum — must keep hardware requirements for node operators as low as possible. Through network consensus, Ethereum developers could remove these restrictions entirely. However, the blockchain would quickly become too large for a node to store without the use of sophisticated and expensive hardware.
An explosion of interest in both decentralized finance and nonfungible tokens has, on several occasions during 2021, led to transaction fees growing many multiples higher than in previous years. Such costs render the network useless for all but the highest net worth Ethereum users.
Self-described as "Ethereum's internet of blockchains," Polygon provides developers with the tools to deploy their own networks away from Ethereum's base layer. Users are drawn to these independent blockchains via lower fees and faster transaction times. Consequently, congestion on the Ethereum base blockchain should fall as users migrate to those Polygon applications offering an improved user experience.
OKX understands that, for crypto mass adoption to occur, the average user experience needs to improve. That's why we're supportive of efforts like Polygon. By helping Ethereum scale ahead of the long-awaited ETH 2.0 upgrade, Polygon extends access to the Ethereum ecosystem. As a result, more users can participate in the financial revolution ushered in by cryptocurrency and smart-contract technology, which OKX is proud to support.
Optimizing UX with Polygon integration
Before OKX's latest integration, users would have to pay two contract fees to move their funds from the exchange to Polygon.
After buying supported ERC-20 assets at OKX, they would need to withdraw to Ethereum's base blockchain and then send the assets to the Polygon network. This is hardly ideal, particularly given that one of Polygon's main aims is to reduce transaction costs.
Now that OKX supports Polygon withdrawals, users only need to interact with one smart contract to send funds to the scaling solution. The integration cuts out the need to withdraw to the base chain first.
Withdrawing to Polygon from OKX has clear advantages:
Transaction fees and waiting times are reduced.
Further congestion of the Ethereum base layer is avoided, benefiting other network users.
OKX's Polygon integration currently supports the following ERC-20 tokens: BAL, BAT, CEL, COMP, CRV, DAI, ETH, GHST, GUSD, LINK, MKR, PAX, SNX, SUSHI, TUSD, UNI, USDC, USDT, USDK, wBTC, YFI, YFII and ZRX.
How to withdraw to Polygon from OKX
It really couldn't be easier to withdraw ETH and other ERC-20 assets to Polygon at OKX. Just follow these three simple steps to get started:
Step 1: Head to the withdrawal dashboard
When logged in to your OKX account, navigate to the "Assets" section and click Withdraw.
Step 2: Choose your currency and withdrawal network
Click the dropdown menu beneath "Select Currency." Choose ETH or one of the other supported ERC-20 tokens.
Select "On-Chain" under "Withdrawal method" and "ETH-Polygon" for the withdrawal network. Then, click Continue.
Step 3: Enter your withdrawal details
If you've ever withdrawn from OKX before, the rest of the process should be familiar. If not, enter your Polygon wallet address when prompted and the amount you want to withdraw.
Double-check your details and click Continue to initiate your withdrawal.
---
Follow OKX
Twitter: https://twitter.com/OKX
Facebook: https://www.facebook.com/okexofficial/
LinkedIn: https://www.linkedin.com/company/okex/
Telegram: https://t.me/OKXOfficial_English
Reddit: https://www.reddit.com/r/OKX/
Instagram: https://www.instagram.com/okex_exchange
Steemit: https://steemit.com/@okex-official
Website: https://www.okex.com