How to stack STX to earn BTC on OKX
Learn how you can stack STX tokens on OKX Earn to receive BTC rewards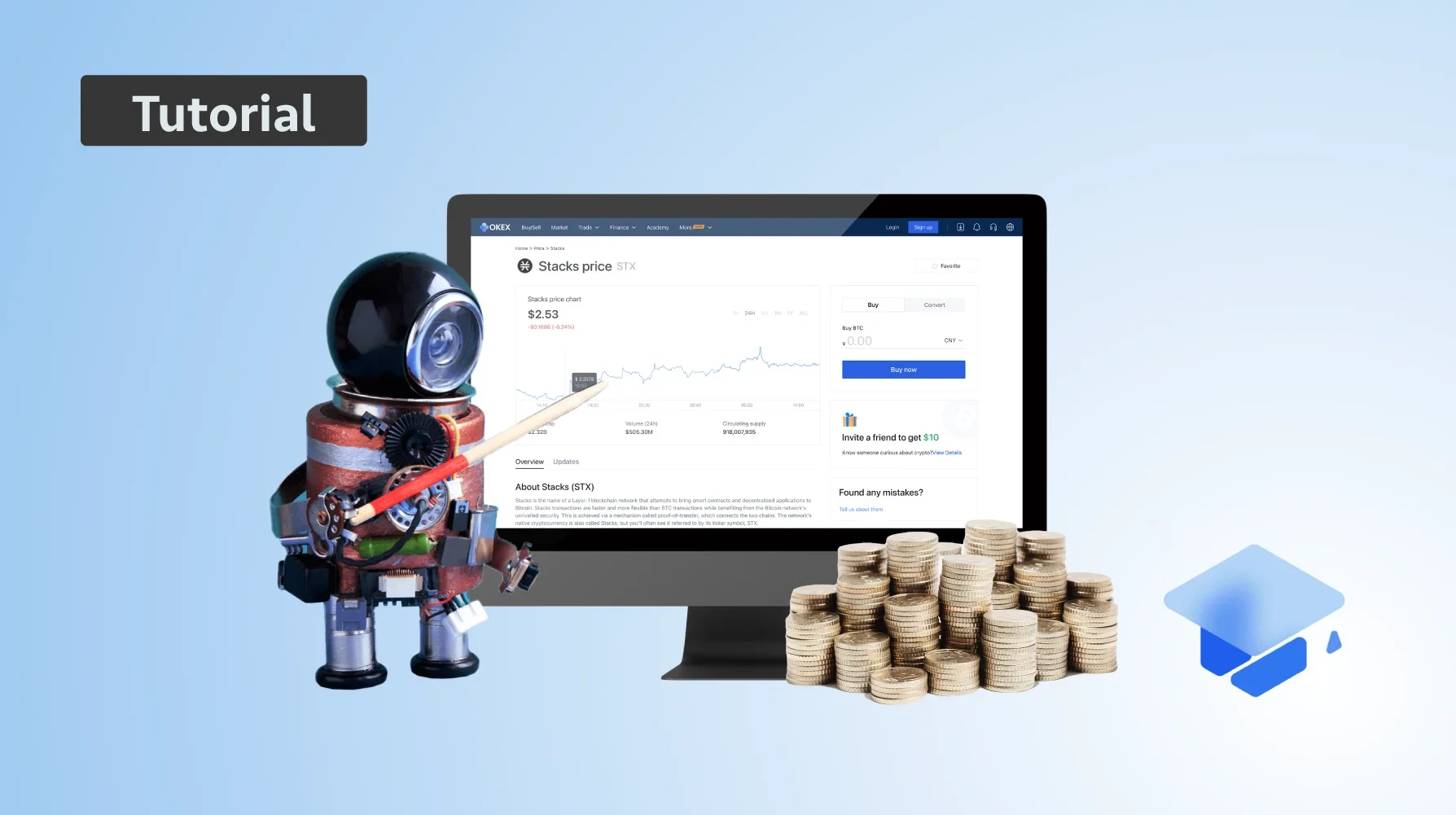 Stacks — originally Blockstack — is the name of a Layer 1 blockchain network that enables the development of smart contracts and decentralized applications on Bitcoin. The network's native cryptocurrency is STX, and it is used for processing transactions and executing smart contracts on the Stacks blockchain.
To facilitate participation in the Stacks ecosystem, OKX offers its users the ability to "stack" their STX and earn BTC rewards. Stacking refers to the process of staking STX in order to secure the network, and it is available to OKX users via the OKX Earn platform.
Below is a step-by-step tutorial for users who want to stack their STX to earn BTC on OKX.
Step 1: Go to OKX Earn
Navigate to "Finance" from the top menu on the OKX homepage and click on Earn.
Step 2: Subscribe to stack STX
On the OKX Earn page, select Stacks from the dropdown list "All products." Read the estimated APY and term of stacking STX and click on Subscribe to proceed.
Step 3: Commit your STX to earn passive income
In the next section, enter the amount of STX you would like to commit. The minimum amount required for staking is 50 STX. You can also click on Max to subscribe with your entire STX balance.
Next, you need to select between 1 or 12 stacking cycles, and your STX will be locked for the corresponding duration. The interface will inform you that 1 cycle lasts approximately 14 days, and you will also be able to see your estimated unlock date and rewards.
Note that after the unlock date, you cannot deposit your STX again until the beginning of the next cycle.
If ready, you can click on Continue to proceed, or review the FAQs on this page for further information.
Review the transaction details once again on the next screen and click Subscribe to proceed.
Step 4: Review the transaction
Review the completed transaction under "My earnings" of the OKX Earn section. You can click Detail to review the order status.
STX stacking on OKX: FAQs
Below are the most frequently asked questions about how to stack STX on OKX:
When can I deposit STX to earn BTC on OKX?
STX stacking has been available on OKX Earn since April 12, and users have until April 23 to commit their STX. After this date, the first cycle will begin on April 25, and it will last approximately until May 10.
How long can I stack STX for?
You can choose to stack STX for 1 or 12 cycles. The duration of one cycle is approximately 14 days and 12 cycles last approximately six months.
This cycle length is determined by block confirmations, and each cycle spans 2,000 Bitcoin blocks. Given that the Bitcoin blockchain has an average block confirmation time of ~10 minutes, it takes approximately two weeks for 2,000 Bitcoin blocks to be added to the blockchain.
You can check exactly how many blocks are left before the next stacking cycle here.
When do I get my BTC rewards?

OKX aggregates all BTC rewards from stacking STX and pays them out to users proportionally around 3:00 am UTC daily. The BTC rewards are credited to users' funding accounts and are immediately available for trading and withdrawing.
If the first block of a new cycle starts before 3:00 am UTC, customers who stack their STX will receive the first rewards of that cycle on the same day. Otherwise, they will start receiving rewards on the following day.
As determined by the Stacks protocol, the reward distribution is front-loaded toward the beginning of each cycle. This means that there may be a few days toward the end of each cycle when users won't see any new BTC rewards in their accounts.
For more information on how the reward distribution works on Stacks, refer to the team's analysis of the protocol's first BTC rewards cycle.
When can I withdraw my STX?
Once you have deposited your STX via OKX Earn, they will remain locked for either 1 or 12 stacking cycles, depending on your initial choice. Your STX will be returned to your funding account once the stacking period ends and will then be available for withdrawal.
Note, that the redemption of STX tokens takes place after the deposit window for the next cycle is closed. This means that the stacking rewards received at the end of the first cycle cannot be deposited in the very next cycle.
---
Not an OKX trader? Sign up to get started.
Follow OKX
Twitter: https://twitter.com/OKX
Facebook: https://www.facebook.com/okexofficial/
LinkedIn: https://www.linkedin.com/company/okex/
Telegram: https://t.me/OKXOfficial_English
Reddit: https://www.reddit.com/r/OKX/
Instagram: https://www.instagram.com/okex_exchange