How Crypto OTC Trading Works: Insights From Top Liquidity Providers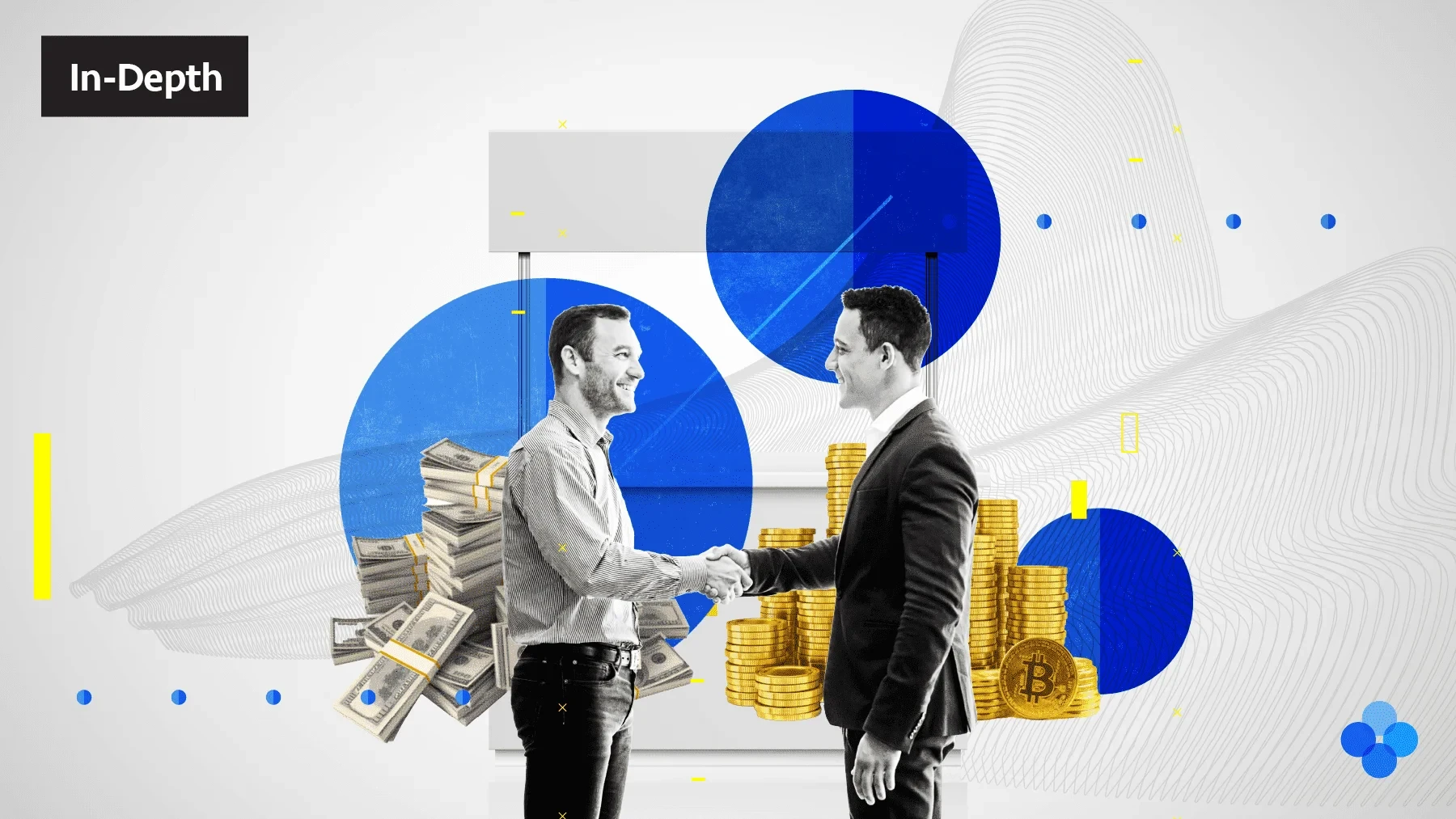 For most cryptocurrency market participants — and retail traders, in particular — over-the-counter markets are generally an opaque and even mysterious phenomenon. Used in both traditional financial and crypto markets, OTC trading is known to involve high-volume trades between two parties directly, without an exchange.
For crypto OTC trading in particular, the inner workings of these trades leave many with questions about liquidity, price slippage, how trades actually work, how dealers hedge risk and the potential effects of OTC trades on the price of Bitcoin (BTC).
In an effort to illuminate this under-the-radar side of crypto, OKX Insights interviewed some of the most well-known OTC trading desks in the industry to find out how they really work.
What is over-the-counter crypto trading?
Over-the-counter trading is a trade made directly between two parties and takes place without the mediation of an exchange. It is organized among groups of dealers in a marketplace without a central location. For OTC crypto trades, the two parties trade both crypto-to-crypto or crypto-to-fiat. Generally, one of the parties is a firm, known as an OTC desk.
The most popular OTC market among all asset classes is foreign exchange, or forex, where currencies are traded via a network of banks instead of exchanges.
How liquidity is sourced
According to the liquidity providers we spoke to, over-the-counter cryptocurrency trading is similar to its forex counterpart. Pricing is relatively simple and transparent. Additionally, liquidity is readily available — but that liquidity is also fragmented across multiple venues.
Every OTC crypto desk has its own aggregated order book that combines inter-dealer liquidity, multiple exchanges' order books and orders from other customers. These desks are set up to connect multiple liquidity providers in order to trade large amounts of assets without subsequently moving the markets.
In addition to generally avoiding slippage — the difference between the expected and actual executed price of a trade — OTC desks can also provide a "lock-in price" for a certain period of time. Co-founder of crypto finance firm Amber Group Tony He told OKX Insights that the lock-in period for price quotes is usually one minute — only enough time to, in industry terms, "fill or kill."
As an added bonus, OTC desks can potentially save clients money by providing a better price than the blended average available in exchanges' order books.
Which cryptocurrencies are traded OTC?
In terms of cryptocurrency trading pairs available for over-the-counter trading, Cameron Dickie, — the head of Europe, Middle East and Africa Sales at crypto liquidity provider B2C2 — told OKX Insights that its OTC desks focus on the most liquid trading pairs. These include:
Additionally, B2C2 supports many fiat currencies, including USD, GBP, EUR, JPY, SGD, CAD, CHF and AUD.
Trust is necessary when executing orders
The dark side of over-the-counter trading is a higher risk of a counterparty defaulting — meaning that trust is a key factor.
Amber Group's He explained to OKX Insights that over-the-counter orders can be executed in a number of ways. Usually, counterparties communicate with each other in order to find offset orders. Some OTC dealers provide liquidity that has been aggregated from several exchanges. Smaller orders tend to go through exchanges. In fact, about 20% of the total OTC trading volume is actually traded via exchanges, according to the Amber Group co-founder.
Lit pools and dark pools
The over-the-counter crypto market has two different kinds of pools: lit pools and dark pools. Lit pools are more common, and they show various bids and offers in different assets to the dealer network. These pools form the bulk of the liquidity available to OTC desks.
Alternatively, there are dark pools — i.e., private exchanges that allow institutional investors to buy or sell large numbers of financial products with no visible order book. Ed Hindi, a partner at hedge fund and crypto liquidity provider TYR Capital, told OKX Insights that dark pools in crypto remain underdeveloped and relatively small.
Likewise, Richard Astle, a sales trader at crypto prime broker Covario, told OKX Insights that institutions aren't particularly keen on dark pools. He explained:
"I've heard of exchanges offering dark pools but, in my view, there is already enough conflict with some exchanges operating their own trading desks before talking dark pools. On the technology side of dark pool trading, atomic swaps have a potential market as well as reducing settlement risk. For now, institutions prefer to know their counterparty."
How OTC dealers hedge
Over-the-counter dealers can segregate their trading between customers and the inter-dealer market. This allows them to buy and sell with other dealers to hedge the risks that may arise from taking customers' orders.
Tony He from Amber Group added during his conversation with OKX Insights that not every order needs to be hedged. The practice is largely correlated to market conditions, such as volatility. At the same time, the firm will always consider other lines of business within the company and hedge against the company's overall exposure. Hedging can be done through both crypto futures and options, and it is largely a practice of risk management and inventory management.
Some OTC desks may take on more risk as they price assets according to where they think the market is going. For example, if a desk is confident about a short-term price increase, it may give customers a lower price than usual while continuing to buy, betting that the market will go higher.
What is the OTC trading process?
Trading crypto over the counter is more straightforward than some might think.
According to OKX Insights' sources, customers generally come to OTC desks via chat applications and put in a request for a quote.
The OTC desk then checks the available liquidity from the aggregated exchange order book and its network before giving a buy or sell price for the requested amount of the asset. If the customer confirms the trade, the desk will execute the order.
However, it should be mentioned that, before trading, customers need to complete a KYC process and deposit the funds or coins.
How big is the crypto OTC market?
Over-the-counter crypto flows are hard to gauge.
In a 2018 report, capital markets research firm TABB Group claimed that the OTC cryptocurrency market is at least two to three times larger than the crypto exchange market. At that time, the Bitcoin exchange market alone was processing around $4 billion in trades per day. Following TABB's estimates, that would mean $8 billion–$12 billion was being traded off-exchange per day. A more recent estimate from March of this year put the volume of Bitcoin traded via OTC at around $20 billion per day. (According to CoinGecko, the current daily spot volume for BTC is over $26 billion.)
Covario's Astle weighed in on the topic of OTC trading volumes, telling OKX Insights:
"2-3x the spot market is a fair estimate as risk can be hedged on exchange and therefore reflected in exchange volumes."
TYR Capital's Hindi, however, thinks the over-the-counter crypto market is much smaller than advertised — estimating $50 billion to $70 billion in monthly volume. Hindi also added that USD-pegged stablecoin USDT plays an important role and makes up a much larger portion of the total OTC volume than most people believe.
Amber Group's He added that, in terms of Bitcoin purchasing, USDT could make up as much as half of the total OTC trading volume. The leading stablecoin is commonly used in arbitrage, as many exchanges do not have an efficient fiat onramp.
Does OTC trading have any impact on the spot market price?
Hindi believes that the growth of the crypto derivatives market has taken over the major role that the over-the-counter market previously had in terms of affecting the spot price of Bitcoin. OTC trades — especially if a market maker is on one side of the trade — still have a short-term impact on the market, but the growth in daily volumes on both spot and derivative exchanges is mitigating that effect.
Astle explained:
"In terms of price-action trading, over-the-counter should not have a noticeable direct impact. If it did, OTC market participants would start to self-regulate with lines cut off to traders who have poor risk management. OTC should enable price stability and reduced slippage when executing institutional size orders."
What does the future of OTC crypto trading look like?
Over-the-counter trading is an absolute necessity for high-volume crypto players like funds and large miners, as OTC desks can help them to buy and sell in bulk without attracting attention.
Additionally, we have seen that OTC desks have played a vital role in the establishment of crypto as an emerging asset class, which could ultimately increase institutional acceptance. Astle from Covario told OKX Insights that he thinks OTC trading will only continue to grow as more institutional players enter the crypto markets:
"In my view, the OTC volumes will see high growth due to institutional tickets sizes being too large to be absorbed by retail exchanges as well as the white glove service needs of sophisticated managers trading with multiple counterparties via a prime broker."
---
Disclaimer: This material should not be taken as the basis for making investment decisions, nor be construed as a recommendation to engage in investment transactions. Trading digital assets involve significant risk and can result in the loss of your invested capital. You should ensure that you fully understand the risk involved and take into consideration your level of experience, investment objectives and seek independent financial advice if necessary.
---
OKX Insights presents market analyses, in-depth features and curated news from crypto professionals.