High Gas Fees Hinder Ethereum's Capacity to Support DeFi Growth
OKX Insights' DeFi Digest is a weekly examination of the decentralized finance world.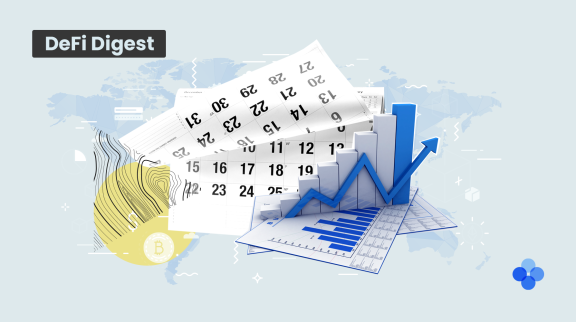 DeFi market snapshot
Despite a correction, the decentralized finance market continued its positive momentum this week as the total value locked in DeFi products rose from $8.8 billion to $9.4 billion.
Following the release of the governance token UNI, Uniswap regained the top spot in the DeFi space for having the most USD value locked. The decentralized exchange also achieved a market dominance percentage of 18.7% — though DEXs have seen a 5% decline in weekly average trading volume.
In the yield-farming sphere, Uniswap was also the largest liquidity pool, with $1.4 billion locked. In terms of decentralized lending, the total borrowing volume reached $2.1 billion — a 26% weekly increase.
UniLogin shuts down
UniLogin, a provider of Ethereum onboarding solutions, announced its shutdown on Sept. 18, citing high gas fees on the Ethereum network. According to its co-founder, Alex Van de Sande, reasonable gas fees are crucial to the project's survival.
Deploying a new multi-sig wallet for users, making Ethereum Name Service registrations and using UniLogin's relayer to add DAI transactions all require a new on-chain transaction, which requires users to pay a gas fee — something that has become exceedingly expensive following the rise of DeFi. Van de Sande added that the cost of onboarding new users is over $130 per user, which costs the equivalent of setting up a new hardware wallet for each.
DeFi fever led to high gas fees
The gas fee on the Ethereum network is the price required to conduct a transaction or to execute a smart contract on the blockchain. The gas fee is most commonly measured in gwei, which equals 0.000000001 Ether (ETH).
Following the gold rush into liquidity mining, the high gas fees on the Ethereum network have been widely discussed in the crypto community. Compound, an algorithmic money market protocol on Ethereum, released its governance token, COMP in mid-June — which marked the beginning of the liquidity mining craze in the DeFi sphere.
The release of COMP led to a huge demand for yield-farming projects, which drove up the number of transactions conducted on the Ethereum blockchain. This led to the congestion of the Ethereum network and participants paying higher gas fees to execute their transactions. As a result, the liquidity mining of DeFi tokens led to a sustained increase in daily gas fees over the past three months. The daily gas used reached an all-time high of 80.18 billion in early September.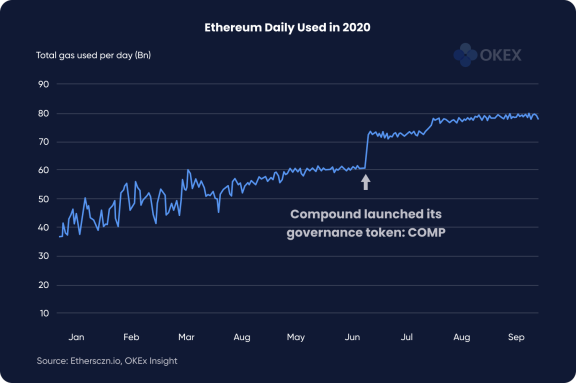 The surging amount of gas used on the Ethereum network also coincided with a spike in the average gas fee spent. As seen in the chart below, the spikes of average gas fees in four places were caused by the launches of new DeFi tokens for liquidity mining. For instance, the average gas price topped at 709 gwei in mid-June, during the launch of COMP. Other notable listings of DeFi tokens — such as YAM in mid-August, SUSHI in early September and UNI last week — also led to congestion on the Ethereum network and notable increases in the average gas price spent.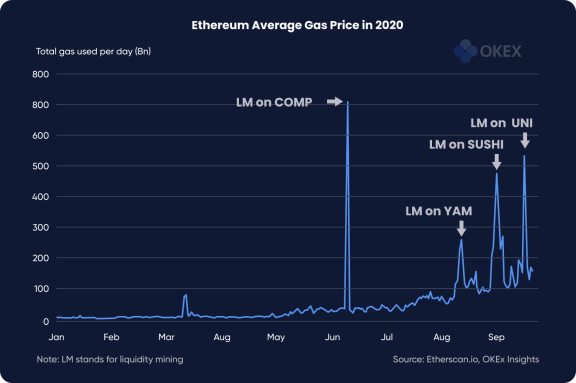 The top users with the most Ether spent also indicated that DeFi dominates activity on the Ethereum network. Uniswap v2 accounted for 30% of total Ether spent for the last 30 days, followed by Tether's 24%.

High gas fees are making Ethereum unsustainable
The popularity of liquidity mining comes at the expense of Ethereum projects that are unrelated to DeFi.
According to UniLogin's Van de Sande, the key DeFi players are pricing out other uses of the Ethereum blockchain — such as games, nonfungible tokens and decentralized autonomous organizations. This can be seen in the daily transaction volume on the Ethereum network over the past month, which has been dominated by DeFi protocols and decentralized exchanges.
Are Ethereum Layer-2 scalability solutions the way out?
The lack of scalability on the Ethereum network has once again been exposed following the DeFi-induced skyrocketing of gas fees. This also raises the concern of whether Ethereum is the right platform to support the ever-growing DeFi ecosystem. Vitalik Buterin, the co-founder of Ethereum, stressed that the solutions for high gas fees already exist via second-layer solutions. While Buterin claimed that applications with second-layer scalability solutions can handle simple payments at 2,500 transactions per second, the adoption of these applications is limited, and he urged the community to use them.
To ease the gas fee burden on the Ethereum network, some of the leading DeFi protocols are experimenting with Layer-2 solutions. For instance, on-chain synthetic asset protocol Synthetix released its second-layer solution, "Fomalhaut," on Sept. 24. Synthetix launched an incentivized testnet to trial SNX staking on Optimistic Ethereum, which is a combination of using Optimistic virtual machines and a Layer 2 solution, Optimistic Rollup. The testnet release aims to alleviate gas costs for small SNX stakers. Similarly, decentralized lending protocol Aave announced in August that it plans to replace gas fees with its own aTokens for any payments involved in ERC-20 token transactions.
While Layer-2 scalability solutions provide a glimpse of hope for the congested Ethereum network, Ilya Abugov, lead analyst at DappRadar, warned that DeFi project teams will shift from Ethereum to other blockchains if high gas fees persist. He told OKX Insights:
"Project teams compete to lower their gas fees in order to attract users and developers. Apart from Ethereum, other blockchains like IOST and NEO are launching their own DeFi initiatives. While Ethereum Layer-2 scaling solutions present huge potential to lower gas fees for users, users and project teams may start to migrate their liquidity from Ethereum to other blockchains if the upcoming Ethereum 2.0 cannot effectively solve the problem of high gas fees."
---
Ready to get into DeFi? Start liquidity mining the easy way with OKX Earn.
---
Disclaimer: This material should not be taken as the basis for making investment decisions, nor be construed as a recommendation to engage in investment transactions. Trading digital assets involve significant risk and can result in the loss of your invested capital. You should ensure that you fully understand the risk involved and take into consideration your level of experience, investment objectives and seek independent financial advice if necessary.
---
OKX Insights presents market analyses, in-depth features, original research & curated news from crypto professionals.